November 9th, 2019, wXw brings out one of the toughest nights in all of wrestling that you will see this year. wXw Germany will bring their exciting in-ring action to Frankfurt as they present Broken Rules XIX. Broken Rules has a deep lineage behind it and every wrestler wants the opportunity to compete on this card. To truly show just how tough they really are. Stipulation matches through the card will certainly assure that the fans will have their eyes glued to the matches from bell to bell. So what does wXw have in store for the fans?  Let us take a look at what is scheduled for this year's event.
wXw World Tag Team Championship
Pretty Bastards vs Arrows Of Hungary
The Pretty Bastards Maggot & Prince Ahura only won the vacant wXw World Tag Team Championship recently, and already they find themselves in quite the predicament. Arrows Of Hungary bring five years of team experience to the match. That will give them a slight edge going into this encounter.
While Arrows Of Hungary have team experience they still have not been able to add the wXw World Tag Team Championship to their list of credentials just yet. TLC matches are very unpredictable and take a serious toll on the bodies of the competitor involved. These two teams are going to leave a little piece of themselves inside that squared circle once all is said and done.
The match will be full of excitement and should easily rank up there with some of the best that the company had produced to date. Expect there to be blood, sweat, and tears as these two teams rip each other apart in their quest to be holding the tag team gold at the end of the night.
Alexander James vs Jurn Simmons
Alexander James is a wrestler who the world should be paying attention to. Nine years of industry experience have allowed Alexander James to grow into a wrestler that is astonishing audiences with his work. Despite this, he comes up against a young big man who will feel right in his element with this no disqualification match.
All of the rules are being thrown out of the window here for this encounter and you can bet that these two men will, in fact, take this opportunity in stride. Do not expect many technicalities here, the rule stipulation will have both competitors reaching for every single creative idea around the arena to inflict absolute harm upon their opponent.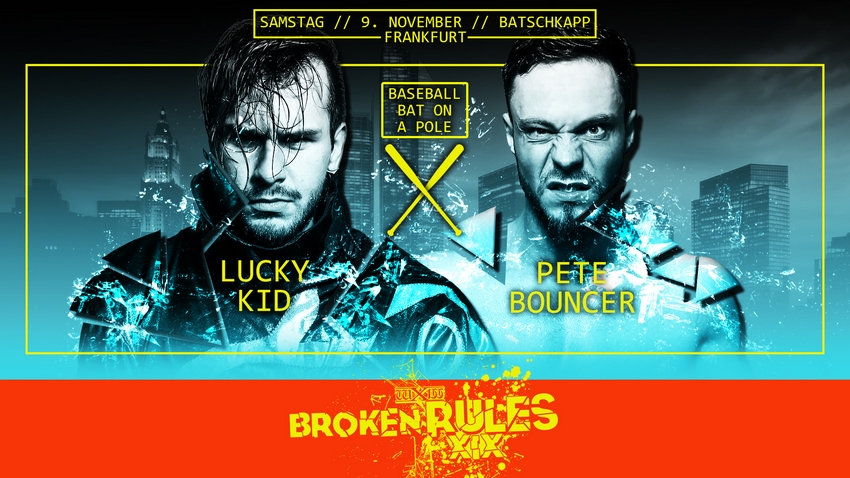 Lucky Kid vs Pete Bouncer
The match between Lucky Kid and Pete Bouncer is a baseball bat on a pole match. It is easy to make your cringe face when you hear about anything being put on a pole in wrestling, but do not worry this is not Judy Bagwell. We should be in good hands with wXw.
The match itself will be the excitement between the high flying Lucky Kid and the all-around skill set of Pete Bouncer. These two exciting wrestlers will put one another through hell just for the opportunity to gain the advantage of the baseball bat.
Lucky Kid has a speed advantage over Pete Bouncer, but Bouncer will likely look to go around Lucky Kid as much as possible in order to achieve the advantage in the match.  These two should provide the fans a delightful wrestling match leading to a a brawl of a finish.
Mike Bailey vs Julian Pace
Mike Bailey is a martial arts expert turned wrestler who has found a very strong and quick-paced combination of the two worlds in the squared circle. Julian Pace is on the rise with his exciting high flying ability.
Two extremely quick-paced wrestlers will ignite the excitement level inside the arena and provide a match with non-stop excitement and hard-hitting, high flying action that will be sure to delight even the toughest of wrestling critics.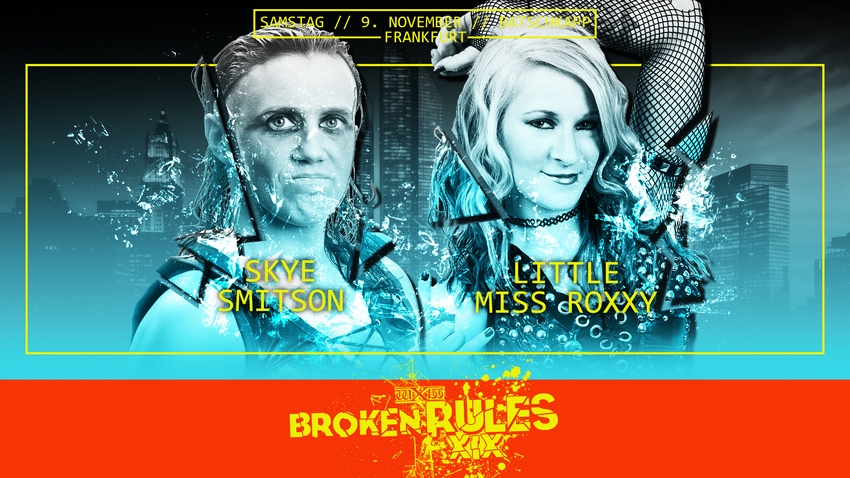 Skye Smitson vs Little Miss Roxxy
It is the battle of the British women as Skye Smitson battles it out with Little Miss Roxxy.  These two women are still stars on the rise and both have got an opportunity to step up their game here at wXw presents Broken Rules.  These two women do not hold back though as they will do what it takes to break their opponent down and picking up the victory.
Many of the rules are being thrown out the window on November 9th at Broken Rules.  While there are a couple of matches booked on the card that do not throw out the traditional rules, there are still matches that are going to make an impact. Championships and bragging rights are all on the line through the entire card. What makes it more enjoyable is there are going to be plenty of vicious and malicious moments to fill every single one of your bloody thirty needs.
wXw always delivers events that far exceed the expectations. So if you have the opportunity make certain to get your tickets booked and attend wXw presents Broken Rules XIX.