wXw is the leading wrestling company in Germany and quite arguably one of the finest in all of Europe. wXw is widely known for having been the home of many well-known wrestlers from around the globe. On Friday, March 8th, 2019 wXw is going to kick off 16 Carat Gold. It is a multi-day event that promises to offer up some of the absolute greatest matches. wXw 16 Carat Gold has been one of the biggest professional wrestling tournaments in Europe since 2006. The tournament itself has produced such winners as current wXw Unified World Champion Absolute Andy, Zack Sabre Jr., Aleister Black, Kassius Ohno, WALTER, & Sami Zayn. This all leads us to wonder who will be the next big name in professional wrestling to stand tall as the winner of the 2019 16 Carat Gold tournament. wXw Presents 16-Carat Gold.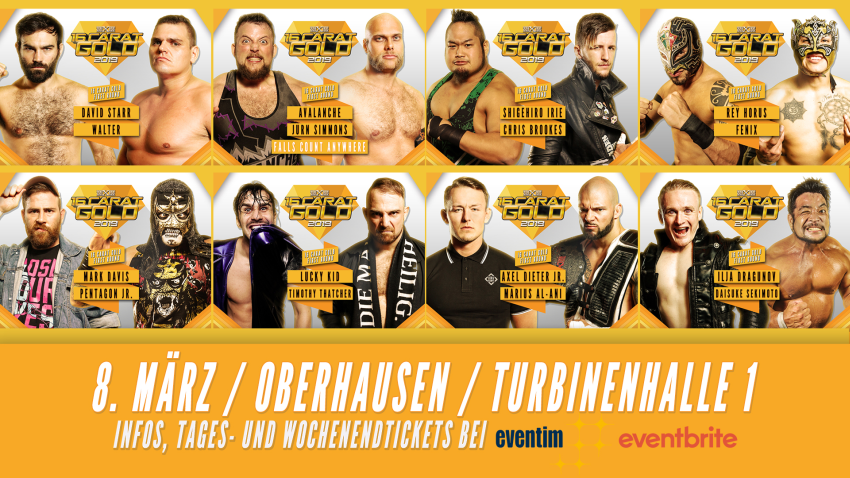 wXw Presents 16-Carat Gold tournament is going to kick off with some amazing action, we will see in the first round.
– David Starr vs WALTER
– Rey Horus vs Fenix
– Axel Dieter Jr vs Marius Al-Ani
– Mark Davis vs Pentagon Jr
– Lucky Kid vs Timothy Thatcher
– Ilja Dragunov vs Daisuke Sekimoto
– Shigehiro Ire vs Chris Brookes
– Avalanche vs Jurn Simmons
These competitors will battle it out is this grueling tournament with the winner being guaranteed a shot at the wXw Unified World Champion. The action does not stop there as day one also has another exciting matchup to deliver as well.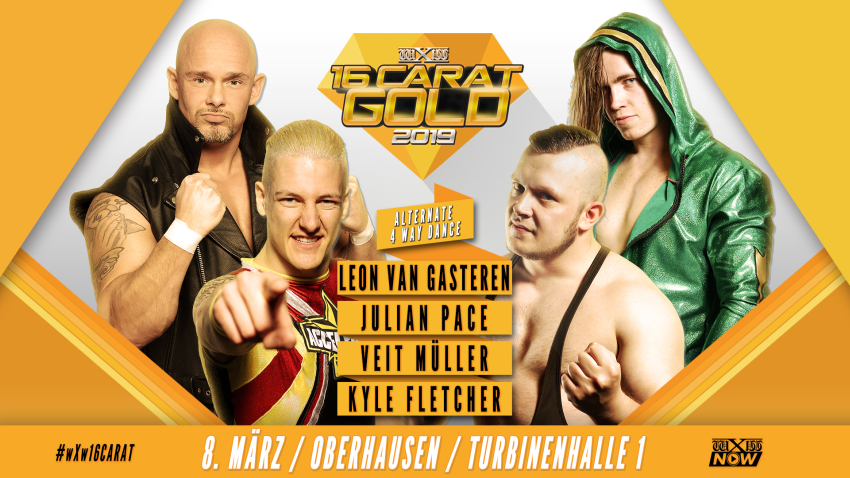 In a fatal four-way, we will also be treated to a match between Leon Van Gasteren, Julian Pace, Veit Muller, & Kyle Fletcher. This match will be full of no stop action and excitement. All of this, lands just on the very first day of this incredible spectacle.
On day 2 of wXw 16 Carat Gold tournament, some additional exciting matches will be added to the card. World Champion and former winner of the 16 Carat Gold tournament Absolute Andy will be defending his championship. He will being going up against extremely tough competition in the form of Bobby Gunns. Each of these men will have their focus on walking out as the champion, but they also will need to keep their eyes on the 16 Carat Gold tournament to see who will be their next challenger for their championship.
A name that fans around the world will be familiar with it is the wXw Women's Champion Toni Storm. Toni Storm has made a real name for herself across the globe. She was a standout with her work in the Mae Young Classic, NXT UK and NXT. On day 2 of WXW 16 Carat Gold Toni Storm faces some stiff competition. She defends her championship against Killer Kelly.
The tournament concludes on the 10th of March. Fans in Germany will be treated to an absolutely mind-blowing and memorable weekend of wrestling action. If you live outside of Germany but want to experience the excitement of the action then head on over here. Sign up for wXwNOW which is their own streaming service. wXw 16 Carat Gold begins streaming on the service on March 11th.