wXw Germany is in full swing on their way to their biggest events of the calendar year with the 16 Carat Gold weekend. Along the way to the 16 Carat Gold, there will be a stop off for wXw Germany present Dead End XIX. Dead End XIX will be live from Hamburg on Friday, February 21st, 2020. wXw Dead End XIX will be a true showcase of talent highlighted by an encounter that is certain to be a highlight reel moment from start to finish.
Unsanctioned Match
Ilja Dragunov vs David Starr
The moment that a match is unsanctioned all bets are off. There is nothing that these two wrestlers cannot and will not do to one another in their pursuit of victory. Dragunov and Starr have had a memorable war that will now see the two lock up in their rubber match. Dragunov and Starr are two of the biggest rising stars in the wrestling industry today. No matter if it is a match or a fight during this unsanctioned encounter. The one thing that you can bank on is one hell of a competitive competition between these two wrestlers.
Devlin & Davis vs Jay-AA
Davis will be teaming up with a wrestler who has made a very lasting impact on the wrestling community this year. Devlin who has been dominating in the cruiserweight division in NXT and NXT UK this year will be the partner teaming up with Davis. This pairing should make for a very exciting pairing of two incredibly gifted wrestlers. The task will not be an easy one though as the other side of the ring there will be two of the best rising talents in the business. Jay Skillet, the wXw Shotgun Champion, and tag team partner Absolute Andy have shared a massive amount of success both as a team and as singles competitors. This tag team match up features some exciting talents who will provide an unforgettable match. This could very likely turn out to be a show-stopping experience.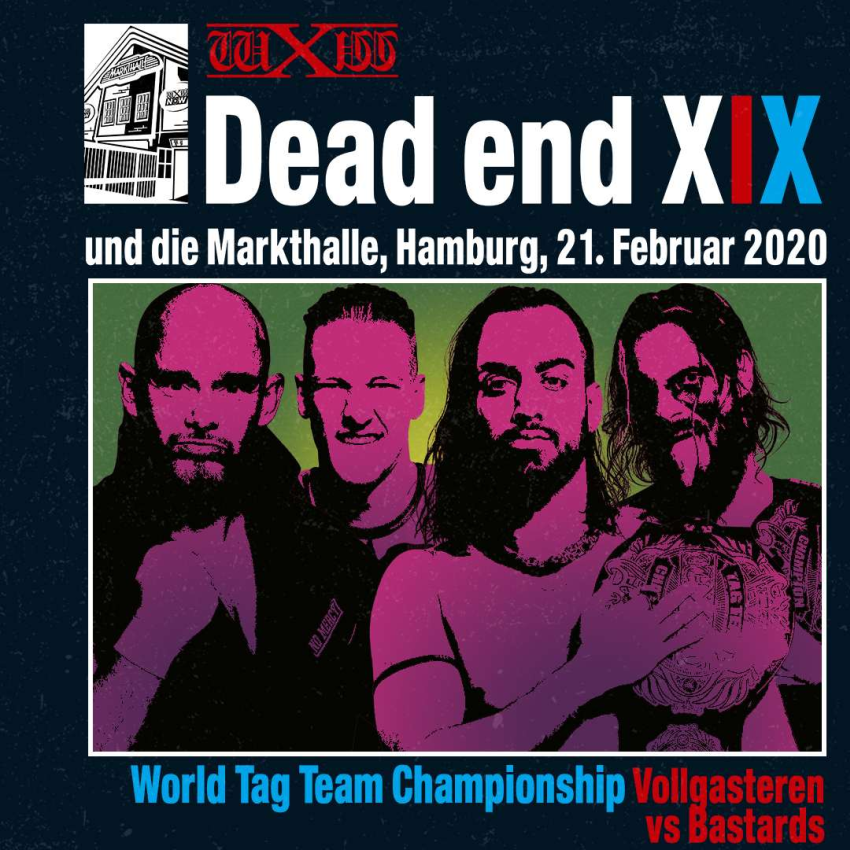 wXw World Tag Team Championship Match
Vollgasteren vs  Pretty Bastards (c)
Vollgasteren has been able to get the upper hand multiple times in recent history over their opponents for Dead End XIX. The tag team champions Pretty Bastards have more overall team experience than their opponents. However, you have to wonder if Vollgastern have got the Pretty Bastards number. The champions, however, are going to come in laser-focused. With a strategic plan in order to keep their championship gold. Vollgasteren will bring their best as they look to capture the gold. And then put the entire tag team division on alert that they are the new measuring bar inside the squared circle.
Marius Al-Ani vs Veit Muller
Marius Al-Ani a seasoned ring general, has experienced a great deal of success inside a wXw ring. Veit Muller has been applying his in-ring craft for quite a while as well. And has really shown a true growth in style over the years. These two very hard-hitting combatants are going to put on a good old fashioned hard hitting extravaganza. Marius Al-Ani will be looking to continue his rising dominance over his opponents. While Veit Muller will look to stop his opponents momentum and secure a massive win for himself. Two experienced warriors colliding in the squared circle should promise to be a must-see match.
Russ Taylor vs Lucky Kid vs Jurn Simmons vs Oliver Carter
Multi competitors matches like this one are exciting, explosive, and feature some of the most edge of your seat wrestling action. Russ Taylor, Lucky Kid, Jurn Simmons, and Oliver Carter all are extremely talented and will give it their all once the bell rings. Each of these wrestlers stands to gain a lot by securing another win to their name. With some big events on the horizon for wXw including the 16 Carat Gold event, each wrestler more then ever wants to secure a win.
Gold is on the minds of the entire wXw roster and a win in this match certainly adds some serious talking points in favor of a match with a champion down the road. More than anything though fans of jaw-dropping high paced matches are going to be glued to the action from these four wrestlers.
---
wXw – Dead End XIX is going to be another must-see event for the company and all of the talent involved. Make sure to secure your tickets to the event if you are going to be in the area and able to attend. If you are unable to attend to the live event then you can sign up through the wXw website for wXw NOW and stream the event a few days after it takes place live.
wXw deliver some of the absolute finest wrestling and extremely incredible productions. So if you are looking for a new wrestling experience then look no further then wXw as they will quickly become one of your new favorite wrestling companies. One watch and you will instantly be hooked by the wXw experience.