Mark: We're into the final 10 days folks! Xmas will be upon us before you can blink. But before that, we have the last WWE PPV of the year!... Stop cheering at the back there!... It's TLC time! So deck the halls with those tables, ladders, and chairs as myself and Marc break down the card. And try not to remember the times when TLC actually meant something :(
Marc: Don't kid yourself! Tables, ladders, and chairs mean plenty around this time of year. Often I need a ladder to get the decorations off the loft above the garage, the tables are used for our upcoming holiday dinner and we each sit on comfortable chairs while enjoying a tasty turkey.
Oh, wait, you mean the TLC pay per view meaning something? My bad totally had the meaning confused with something else. If anyone match Mark and I couldn't be more in agreement upon its the beautifully coordinated feud between Lashley and Rusev.

WWE Women's Tag Team Championship
The Kabuki Warriors vs Becky Lynch and Charlotte Flair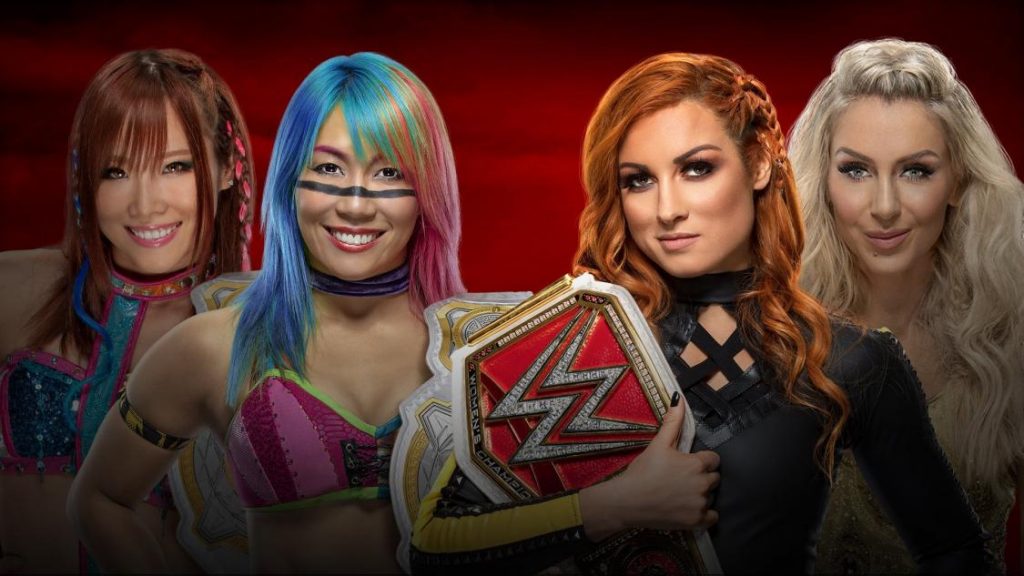 Mark: Let's roll back the clock 30 years. Hulk Hogan and Macho Man Randy Savage join forces to vanquish the greatest Intercontinental champion of all time (debatable) Honky Tonk Man. And thus the Mega Powers are formed.
The Kabuki Warriors have dismissed and given no respect to Charlotte Flair and Becky Lynch over the past few weeks. These two giants of the Women's division have teamed together to vanquish the Women's Tag Team Champions. See a connection there?
Becky and Charlotte to win the titles and sometime down the line, Becky will turn heel (much like her real-life beau Seth Rollins) and the Mega Mega Powers will explode at Mania. You're welcome ;)
Marc: Over the past couple of weeks the narrative being told goes beyond Flair and Lynch's dislike for one another going into TLC. The animosity is more about how much they dislike The Kabuki Warriors. Both Lynch and Flair faced the tag team champions in 2-on-1 handicap matches with neither of them being successful in these matches.
After losing to the Kabuki Warriors this week, Lynch was addressed in the locker room area by Flair. We say addressed because she wasn't actually consoled by her. As Flair left Lynch in the medical area, she was attacked from behind by both Kairi Sane and Asuka. Could these two former friends finally come together to become tag team champions?
Bray Wyatt vs The Miz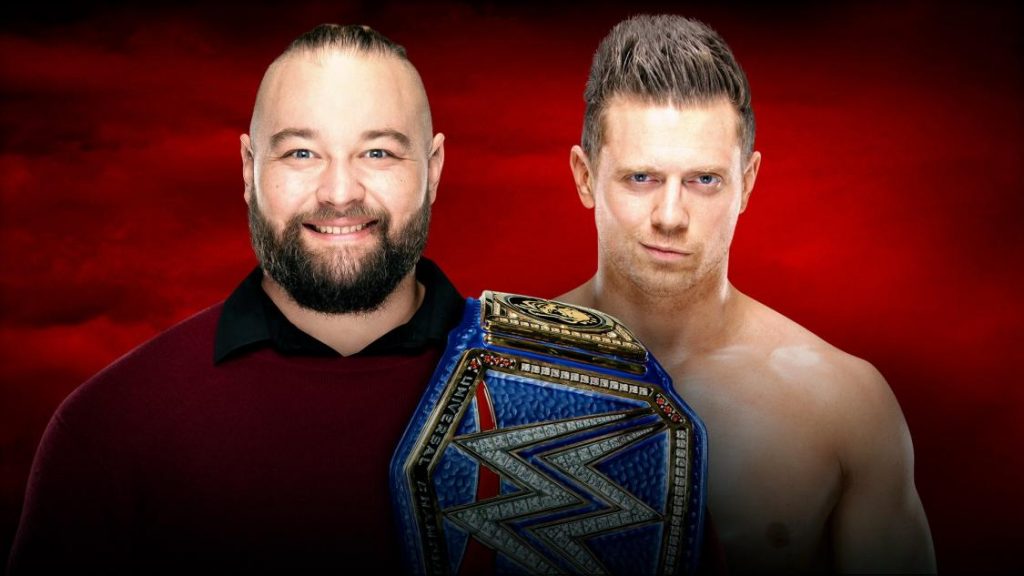 Mark: Ok this has piqued my interest. Bray will wrestle as himself (or so it looks like) for the first time since taking on his Fiend persona. I like this. This isn't a Balor/Demon kinda deal. This is Bray being Bray. The Fiend brings out the worst of him, and he doesn't think he needs the Fiend to come out and play to defeat The Miz.
Sure, it's a strange decision to throw Miz under Bray's wheels, but the story makes sense. A lot more sense than two other matches on this card, that's for sure! Miz looking out for his frienemy Daniel Bryan has caught the ire of the champ. And now with Bryan "out the way" he wants to set his sights on Miz.
Miz can go, we all know that. I'm just a bit glum that the title wasn't on the line here. Just that little bit of doubt about Bray heading into a title match against Miz? Brings back Miz vs Cena memories to me. But it is what it is. And the scenario will end with Bray standing over Miz. Sorry dude, I loves ya, but Miz…you got NO CHANCE (cue Vinnie's music)
Marc: A match that materialized seemingly out of nowhere but not exactly. The Miz has attempted for weeks to convince Daniel Bryan to stay away from Bray Wyatt.  As fans had seen Daniel Bryan accepting the invitation to 'play' with Wyatt and the result is potentially a bald Bryan.
In what was to be an episode of Miz TV, Wyatt interrupted the edition and then said he wanted a new 'family'.  As he stood there holding a picture of Miz's wife and daughters, with Miz's face missing. It is clear that Wyatt had crossed the line and we are going time to have The Miz face the challenge he likely didn't plan on facing
WWE RAW Tag Team Championship
The Viking Raiders (c) vs ?????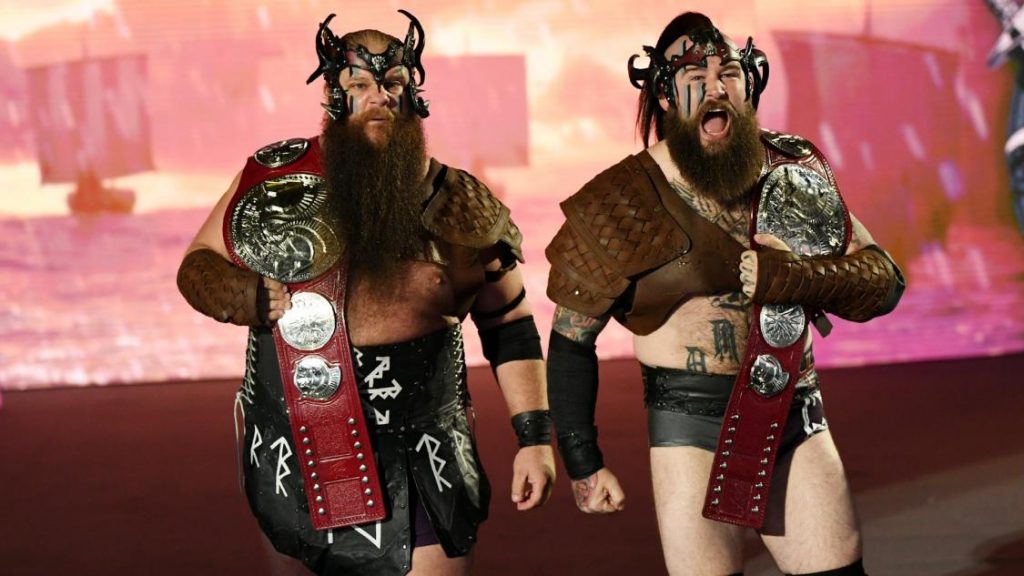 Mark: So an open challenge huh? It sounds a bit like lazy booking to me. Can imagine Uncle Vince sat in his office saying "So those Viking War Experience Raiders guys…they're so dominant. Let's put them in an open challenge! That right there is some good shit!"
And this match could be the end of them, because of that same reason. They're so dominant, and again, there's no one around to realistically challenge them. Poor long term booking strikes again. I'm calling Erik and Ivar (still hate those names) to retain…unless we get swerved and some tag team like the Rock N Roll Express, Midnight Express, Chainsaw Charlie&Cactus Jack comes out and surprises us all. And we all know THAT ain't happening, right?!
Marc: While the idea of legendary tag teams like the Midnight Express, and Rock n Roll Express would be a nice surprise at TLC. We aren't quite sure if Jim Cornette would approve of that decision, no good mother! Oddly enough, the idea of Chainsaw Charlie and Cactus Jack absorbing an exorbitant amount of punishment would certainly make sense against the likes of the Viking Raiders.
There is a strange..ish feeling a certain tag team could appear to make a showing on this night. There has to be a feeling that they are the type of tag team that has been down…since day one. There is nothing like the potential of family challenging for said tag team titles.
Aleister Black vs Buddy Murphy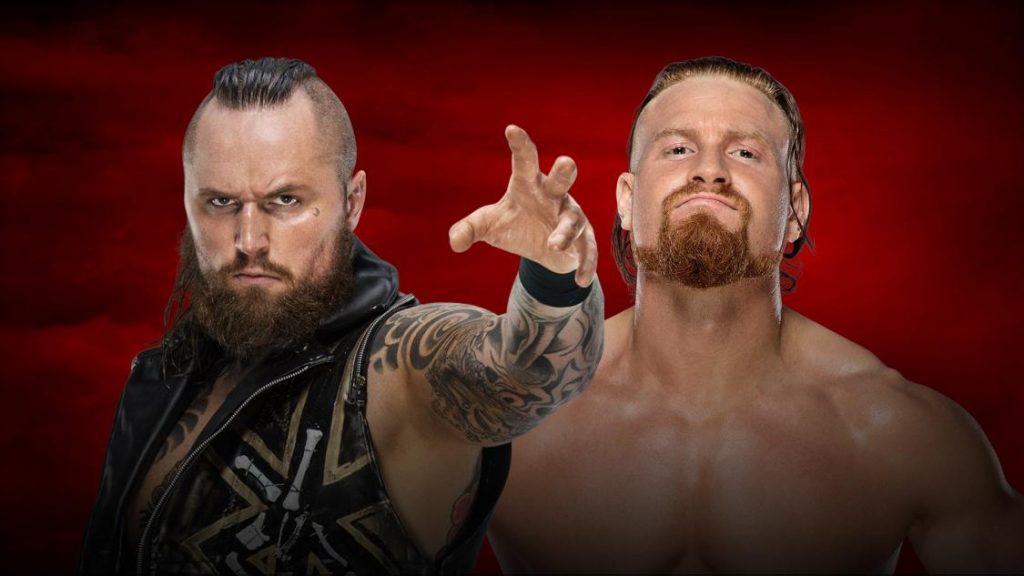 Mark: Somebody knocked on his door, and Black finally came out to play. Are we a bit underwhelmed that it was Buddy Murphy? I can see why some have made their opinions known, but not me. Buddy was a standout in 205 Live and can seemingly have great matches with anyone and anything. Broom perhaps?
Put him in the ring with somebody of the quality of Aleister Black and you really do have a show-stealer of a match on your hands. Buddy can go toe to toe with Black, while Aleister is no slouch in the wrestling department. Give them 10+ minutes and watch a quiet classic take place.
Marc: Much like Mark has said, this match is definitely exciting to see at TLC. Regardless of the result, the fact that these two will have type to contest against one another is great. It has been a few weeks now that Murphy has been knocking on Black's door and yet we never find out exactly why. We assume its to pick a fight with Aleister but maybe he's simply being neighborly. Why couldn't it just be a case of asking for a cup of sugar or simply bringing him a home-baked pie?
Noo..its seems that can't be the way! Automatically, the assumption is that Murphy is out to no good. Truth be told, its a little disappointing that so few people trust Murphy's intentions. It could be a case of one man trying to share the best-kept secret and having to knock on the other guys' door to share it.

Rusev vs Bobby Lashley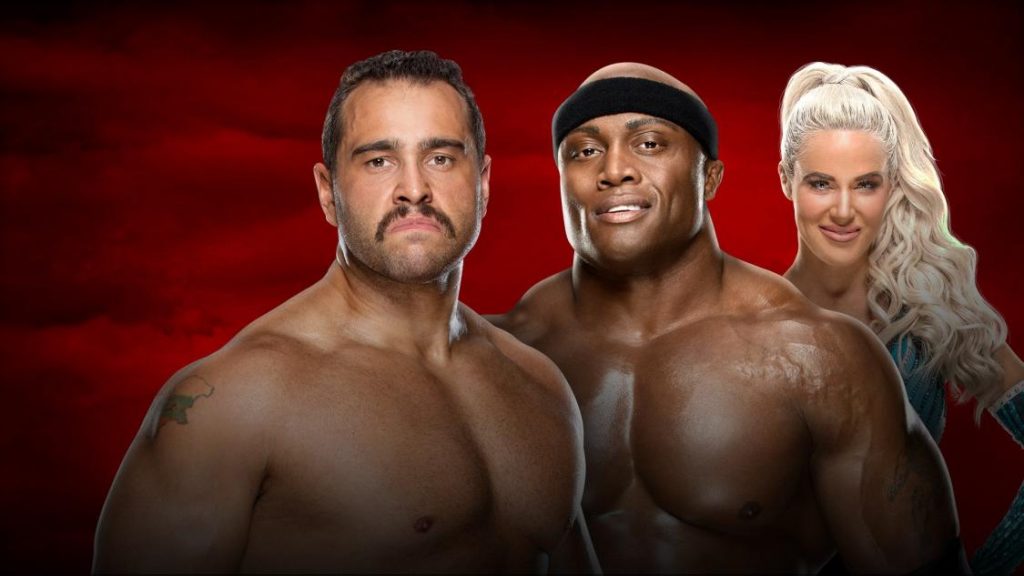 Mark: Bare with me on this one folks, my head still hurts from my bashing it on the table due to this cluster of an angle. OWWWWWWThe ONLY reason I'm talking about this is because I have to.
I have not watched a single part of this angle since Rusev was announced a sex addict. I'm sure Vince Russo is shaking his head somewhere. Anyway, I think Sunday will become Rusev Day once more with a win. That's it right? I can move on now Marc…please?
Marc: Oh, you can move on Mark, but really why not? As we discussed earlier, this storyline really is what the internet wrestling community is clamoring for more of especially at TLC! Whether its the wonderfully scripted dialogue of Lana or the thespian like acting of Lashley. It is a wonder why these segments don't earn Emmy Award nominations really. When life imitates art the storyline has been so powerful.
For instance when you can simply berate and officer and then slap them in the face and scream that it is a misunderstanding. That happens all the time! In fact, I slapped a local officer just yesterday after he stopped me. I told him that red light was only mostly red and I should it is a travesty of justice! If this doesn't earn feud of the year there really is proof that there is no justice in this world!

WWE Smackdown Tag Team Championship
The New Day vs The Revival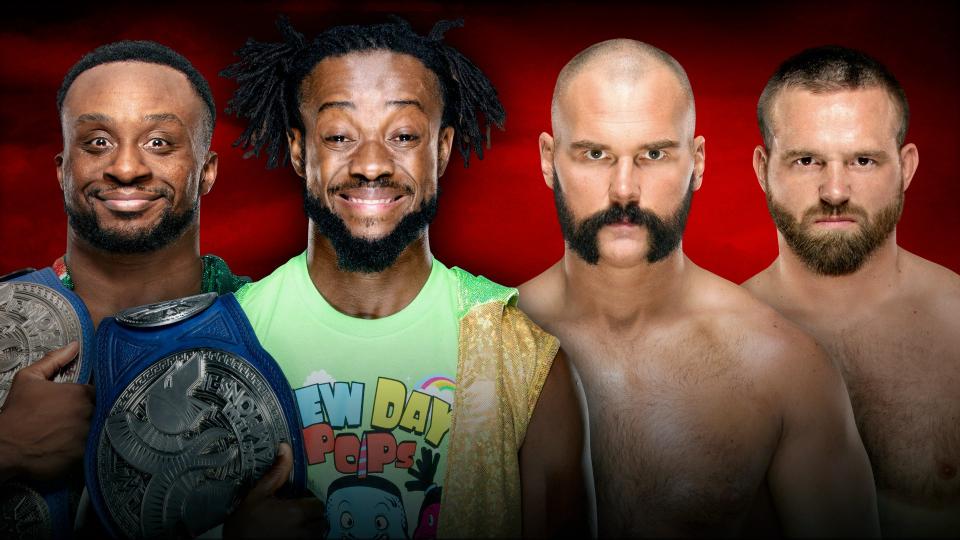 Mark: Now that abomination of a match is now out my system, let's get back on track with one of the best tag teams in the past five years, The Revival. Criminally underused by the WWE booking team but loved by fans all over. Dash and Dawson deserve so much more. But I don't think they'll get any love at TLC.
The New Day of Kingston and Big E have been and will always the go-to guys for when the division is on its knees. Which is a blessing and a curse. A blessing because it shows how well regarded the team is. They can draw those ratings and are steady hands. A curse because creative seem to rely on them too much and fail to make credible opponents out of any other teams. And due to that illogical booking, Kofi and Big E will walk out your SD Tag Team champs. Free The Revival anyone?
Marc: One team goes hard all day and all night and the other tosses pancakes…all day and all night at TLC. It's great that they'll put their extracurricular activities aside to contest against one another for the WWE Smackdown Tag Team Titles. Both teams are multiple time champions, are technically savvy and can wrestle circles against most people but that's what it's important here between these two teams.
Fans here want to talk about something completely irrelevant. For instance, why did Tully Blanchard and Arn Anderson steal The Revival's gimmick?  In fact, gimmick infringement is the worst. There isn't anything worse than being compared to another team. Will New Day be able to retain the title against the original Brain Busters in Dash Wilder and Scott Dawson?

Roman Reigns vs King Corbin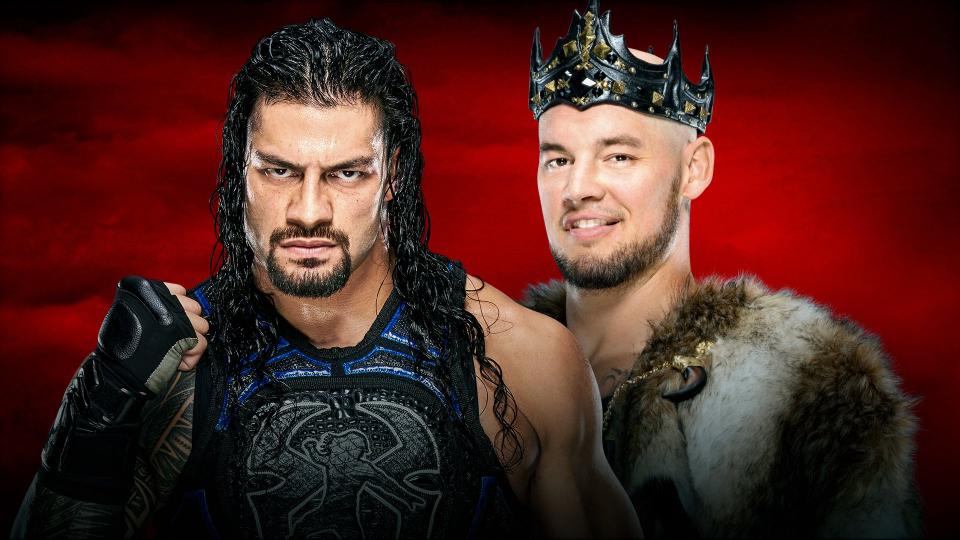 Mark: I alluded above that I am less than impressed with the Rusev/Lana/Lashley trainwreck. This "story" comes in second though folks. I know that WWE is aimed at the younger audience nowadays, but C'MON...dog food?! I'm surprised we didn't get a Tin Of Dog Food On A Pole Match!
If the rumors are true that Reigns is heading into the Rumble as the prospective winner, then you'll see a strong showing from him here. As for Corbin? He doesn't need a stupid dog story to draw heat. Fans legit dislike him. Just let him be him. Throw him into a mid-card title feud and build him slowly if that's Uncle Vince's want. But for the love of all that is good in the world…stop the damn hokey stories!
Marc: Mark is spinning tales he is! Much like himself, Lana and Rusev is the reason we're watching TLC! My concern with this matchup between Reigns and Corbin is really the number of starving dogs that could have been fed with the dog food used over the Moroccan shampooed hair of Roman Reigns (don't judge me because I'm aware of his shampoo of choice! I have hair envy, sue me!)
There is a saying about hate that is simply love in disguise. For instance, those jeers that Corbin receives are actually cheers in disguise. They could be! Pigs could fly too but we shouldn't put any money on that belief either.
For Marc Blake this is Mark Madison saying show a little TLC (and yes, were whimsical like switching how are names are spelled)
Mark Blake – @Smark_M_Blake
Marc Madison – @TheMarcMadison
Give us a like and a follow at @ProWrestlingPST on Twitter and @prowrestlingpost on Instagram.