Mark: With just the one PPV left before the "Grand Daddy Of Them All", WrestleMania 35, here are my quick thoughts and analysis of the card. As always, these thoughts are my own and not representative of Pro Wrestling Post and it's staff 🙂 as we present our preview for WWE Presents Fastlane.
---
Brandi: Fastlane's 2019 edition is fast approaching for us. In this past week's Raw and SmackDown, we finished sowing the seeds for this show. There are seven matches scheduled for the main show, with one on the pre-show. The Shield will reunite, perhaps for the last time, for a six-man tag team match. Perhaps the biggest story going into Fastlane belongs to Becky Lynch and Charlotte Flair. If Becky is able to defeat the decorated second-generation Flair, she will be added back into the Raw Women's Championship match at WrestleMania 35. With Ronda Rousey showing a darker side this past week on Raw, attacking both Lynch and Flair, it is possible she may play a part here as well. 
Marc: On Sunday, March 10th, WWE presents the 2019 edition of Fastlane. The road to Wrestlemania has been paved with a series of feuds that either will be settled or are just getting started. The evening will present the WWE universe with matches that came about for various reasons; in a couple of cases, an executive with the company mandated a match; in another case, one team coaxed another to compete. There will be the first-ever defense of the women's tag team title, a Smackdown Live women's championship match, and the reunion of The Shield. Each of these matches will likely set the stage for Wrestlemania, but first things first, here is our Pro Wrestling Post preview for WWE's Fastlane.
WWE Presents Fastlane
Andrade vs Rey Mysterio
Mark: These two have been tearing the house down for the past two months and I expect the same thing here. Why this is on the kickoff show is beyond me, but hey, I'm not Uncle Vince am I? Could this be the beginning of a tag team formation in much like how The Bar was first formed? It's been mentioned online for a while. Either way, I'm expecting an Andrade victory. He is the second coming of Eddie Guerrero!
Brandi: While this match may be only part of the pre-show that will certainly not preclude it from being great. Both are decorated and renowned Luchadores. They have also put on two great matches together in the past. With Andrade hungering for recognition, he will not hesitate to take victory by any means necessary. With the crafty Zelina Vega at his side, El Idolo has his sights fixed on destroying the Master of the 619.
Marc: Does this feud have to end? I certainly hope it doesn't soon, as a rivalry that has this much chemistry between the participants is hard to find. Whether it is a result of their mutual Latinx roots or the trust that these men have in each other, they have been making magic every time they are in the ring.
A great deal of the focus for the story has been about how Andrade wants to usurp the legacy of Rey Mysterio and has made allusions to the late Eddie Guerrero in the process. Their work with one another is rooted in Lucha Libre wrestling but represents a hybrid of contemporary styles. The strikes that Andrade land aren't typical of what is found in Lucha, but both men use the aerial assault that is intrinsic to that style of wrestling. This match, though on the kickoff show, may bring an end to their program this Sunday.
WWE Presents Fastlane
The Shield vs Baron Corbin, Drew McIntyre & Bobby Lashley
Mark: The feel-good moments will continue here with a dominant victory for the newly reformed Shield brothers. Do you really expect anything else? What sucks is that Drew McIntyre is lumped in this match. He is worth more than this, but hey I'm not Uncle Vince am I? Corbin will take the fall with Reigns picking up the win after the patented Triple Powerbomb. Wait for the Ambrose turn on Reigns 😉
Brandi: Now that Roman has put leukemia in his past once again, he makes his in-ring return at Fastlane. Standing at his side are his brothers, Seth Rollins and Dean Ambrose. They team up to take on the bully brigade of Monday Night Raw, Baron Corbin, Drew McIntyre, and Bobby Lashley. Lashley is still sour after losing the Intercontinental Championship, McIntyre still takes issue with Ambrose following the Lunatic's actions a couple weeks back on Raw. Will the Shield be able to overcome this, or will they stand tall as a unit once again? 
Marc: The story building to this match has only played out over the last couple of weeks, and the bout wasn't finalized until this past Monday. For those unaware, when Roman Reigns returned on the February 25th edition of Monday Night Raw the seeds for a Shield reunion were almost immediately planted. After Reigns announced that his leukemia was in remission, he was met at the top of the ramp by Seth Rollins. Later on in the evening, Rollins and Reigns came to the aid of Dean Ambrose after his match.
While there was no reunion then, a long stare amongst them left fans wondering if that would eventually happen. This past week on Raw, when McIntryre, Lashley, and Corbin were beating down Rollins and Reigns, Ambrose came to the ring to even the odds. After a great deal of hemming and hawing, Ambrose joined fists along with Reigns and Rollins to signal that for 'one last time' the band had come back together.
WWE Presents Fastlane
Women's Tag Team Championship
Sasha Banks & Bayley (c) vs Nia Jax & Tamina
Mark: Hands up who is expecting a title change here?…..Anybody?……Good as you're wrong if you think otherwise. Boss and Hug Connection (god I hate forced tag names) walk away still tag champs while Tamina will fade into the background once more while Nia will float around the singles title picture. Next up for the champs? Please please PLEASE let it be The Iiconics!
Brandi: This will be the first title defense of the WWE Women's Tag Team Championships since the story began earlier this year. Bayley and Sasha were able to outlast five other teams at Elimination Chamber, including Nia and Tamina, to win the titles. Nia had been taken out after going through one of the pods in an attempt to squash another wrestler. Before that, the strong Polynesian women were heavy favorites to win. Now they look for a measure of revenge against the reigning champions. 
Marc: Although the match was announced on the February 25th edition of Raw, it feels as though the match has been coming since the Elimination Chamber. These two teams, along with the tandem of 'Fire and Desire' Sonya Deville and Mandy Rose, were the last three teams in the match to crown the inaugural WWE women's tag team champions. One big moment that foreshadowed this match taking place was when Nia Jax charged at Bayley with the intention of wiping her out but crashed right into the pod instead.
Incapacitating the Irresistible Force. Bayley and Sasha Banks walking into Fastlane the champions is a testament to how their team has undergone so much stress as a tandem, and they're capturing these titles was a long time coming. Fans should anticipate a match that will certainly test the ability of the champions, considering they are likely the underdogs in this matchup.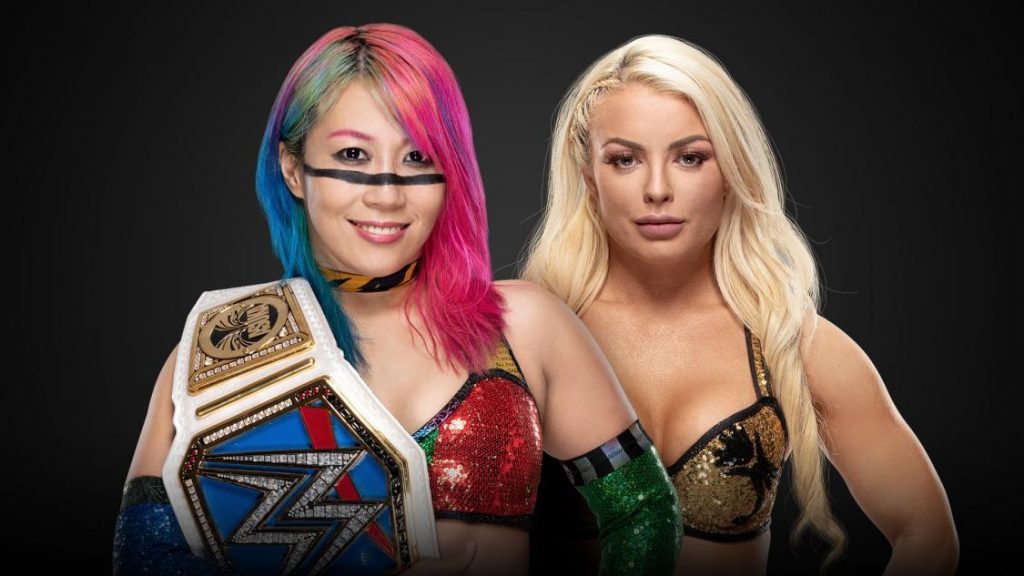 WWE Presents Fastlane
SmackDown Women's Championship
Asuka (c) vs Mandy Rose
Mark: I'm at a loss here folks. If Askua retains as expected, who steps up as her challenger at Mania? I don't think there's a credible challenger on the SmackDown Live brand, which is why I'm thinking that Mandy wins here and gets annihilated at WrestleMania in a rematch. However, hey, I'm not Uncle Vince, am I?
Brandi: Mandy Rose has managed to weasel her way into a SmackDown Live Women's Championship match. She did so by defeating Asuka in a non-title contest. As has been the case with heels since the dawn of time, she's not above cheating to win. Whether that be using the ropes or having her friend Sonya Deville provide an assist, Mandy will use whatever opportunity presents itself. The Women's Champion is not to be discounted though. Asuka was the longest reigning NXT Women's Champion and had an extremely long undefeated streak. She's a decorated and well-rounded competitor for the and success has followed her everywhere. Will Mandy be ready for Asuka? We'll have to find out at Fastlane! 
Marc: It seems like when this match was announced I either didn't hear it or was away from the television while it was happening; perhaps that is the case. However, this match taking place isn't all that much of a surprise since 'God's Greatest Gift' did pick up a victory against the champion in a non-title match. That being said, Rose did benefit from a distraction by Sonya Deville, which hurts her legitimacy as a challenger.
Smackdown Live is in an interesting predicament, as two of its top female contenders are focused on the Raw women's championship, leaving a void in the division and fewer challengers for Asuka. It could be argued that the next crop of talent to contend for the women's championship includes the likes of Rose, Deville and/or someone else that has not been granted that opportunity.
WWE Presents Fastlane
Raw Tag Team Championship
The Revival (c) vs Bobby Roode & Chad Gable vs Aleister Black & Ricochet
Mark: Why oh why have the best tag team in the company, and also the champions, been treated so poorly? The booking of The Revival has been sketchy at best, but I think (well hope) that it all changes here. A dominant win here shows the world why they're the best in the world. The beginning of the end for Roode/Gable, the coming out party of Black and Ricochet and a good match from all here.
Brandi: The Top Guys face a tough challenge here in a triple threat match. Chad Gable and Bobby Roode are both accomplished tag team wrestlers, having held gold on several occasions before. Their success together hasn't been so lucky so far, but that could change in a heartbeat. Aleister Black and Ricochet have formed a unique tag team following their call-ups from NXT. Their combination of strength, striking and high-flying will prove to be a challenge for all of their opponents. Black and Ricochet also defeated the Revival on Raw. The champions are also at a disadvantage because under triple threat rules, they do not have to be involved in the decision for the titles to change hands. 
Marc: Like several matches already mentioned, this one results from a situation that happened this past Monday on Raw. During a Raw tag team championship match between The Revival and newcomers Aleister Black and Ricochet, Chad Gable and Bobby Roode got involved. During a pre-match interview with Black and Ricochet, they faced questions as to how others may feel about their coming in and receiving a championship match.
Then, they went out with the intention of ensuring that the entire tag team division knew that they were there to make themselves heard. As the match went on, Roode and Gable came to ringside and it was clear that jealousy was going to rear its ugly head. The former champions attacked Wilder and Dawson when they fell outside the ring, leading to the championship match ending in a disqualification. On Sunday, three different teams are vying for the championships now.
WWE Presents Fastlane
SmackDown Tag Team Championship
The Usos (c) vs The Miz & Shane McMahon
Mark: Add another team breaking up here (sense a theme here?). As I alluded to in my Quick Hits, the worst kept secret in wrestling will take place here as The Miz will turn on Shane after losing the match, setting up their rumored WrestleMania match up. You can expect a great match between these two teams though, I'm a big fan of all involved. However, at the end of the day, The Usos will walk into WrestleMania as champs.
Brandi: Shane and the Miz will get a chance at regaining the SmackDown tag team championships. This past week on SmackDown Live, the Usos said they would be ready for whatever Shane wants to jump off of. As far as the Miz goes, we'll have to wait and see if he remains loyal to his partner
Marc: At a time when automatic championship rematches are no longer being granted, we still have one taking place, in this case for the WWE Smackdown tag team championships. After losing the tag team championships, The Miz spent the following Smackdown Live apologizing to Shane and taking the blame. McMahon accepted his apology. In the wake of that, Jimmy and Jey Uso came out and confronted 'The best tag team in the world' and invited them to challenge for the championships. It really seems peculiar, as heel champions aren't normally ones that encourage or provoke a challenge. A universal thought among fans is that something may not be sitting right with the tag team of Miz and McMahon. Will they regain the titles, or completely implode leading to a one-on-one match-up at Wrestlemania? It will be interesting to see what the end result will be.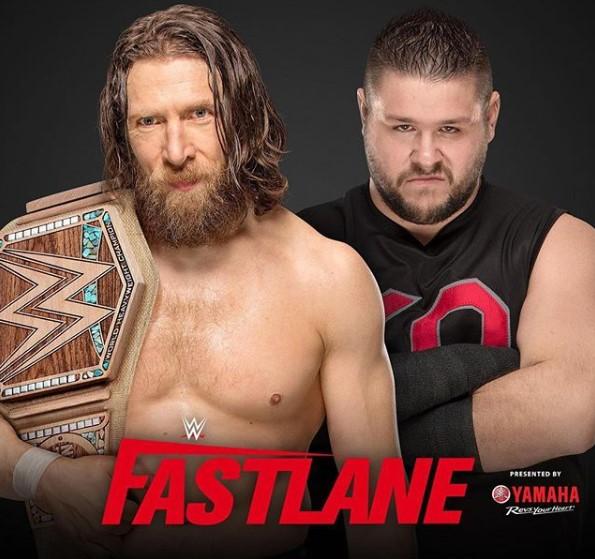 WWE Presents Fastlane
WWE Championship
Daniel Bryan (c) vs Kevin Owens
Mark: As much as I was looking forward to seeing Kofi get his moment here, I'm intrigued by this match. Captain Planet and his henchman Rowan will grab the big win here, but how? I'm not sure how Owens comes out of this looking weak. Maybe he goes down the sympathetic babyface route too long and snaps? Maybe Zayn returns and they reform? I dunno, but I do know that Kofi will get his chance at DBry and the WWE title at WrestleMania.
Brandi: Kevin Owens has made his return following his long time off due to injury. He came back on top too, being immediately inserted into the WWE title picture by Mr. McMahon. Sure, his inclusion caused Kofi Kingston to be left out in the cold, but the road to WrestleMania is not over. Also this past week on SmackDown, it seems KO may have an ally to combat Rowan on the outside. He was assisted by none other than Mustafa Ali, also returning from injury. Sure these two have squared off before, but Owens has yet to face the "New" Daniel Bryan.
Marc: On Tuesday, February 26th edition of Smackdown Live, plans for a championship match between Kofi Kingston and Daniel Bryan came to a screeching halt. Just as Kingston was about to sign the contract to make it official, an unexpected guest arrived. Mr. McMahon came out and told Kingston that he was being pulled from the match because the fans deserved the best possible matchup, and Kingston vs Bryan was not it. Instead, he announced Kingston's replacement as the returning Kevin Owens.
Even though it was a last-minute change, Owens facing Bryan isn't a step down in prospective quality in the least. Owens has returned with a new direction for his character and is a true threat to Bryan's championship. KO's recovery has been a long and hard road, but his reward is that he has been immediately gifted with an opportunity, and will be forced to excel in what is likely the main event.
WWE Presents Fastlane
If Becky Wins She Gets Added To The Raw Women's Championship Match At WrestleMania
Becky Lynch vs Charlotte Flair
Mark: Ok, we know how this is going to go. We know that Becky is going to win, but just remember the barnstormer these two women had at the Evolution PPV last year. There were no stakes there whereas the stakes here are huge. This match will have everything, yes even a run in from Ronda. She'll get involved somehow, maybe to stop both women and add even more intrigue. However, it won't change a thing. Stone Cold Becky Lynch is going to Mania baby!
Ok we know how this is going to go. We know that Becky is going to win, but just remember the barnstormer these two women had at the Evolution PPV last year. There were no stakes there whereas the stakes here are huge. This match will have everything, yes even a run in from Ronda. She'll get involved somehow, maybe to stop both women, and add even more intrigue. But it won't change a thing….Stone Cold Becky Lynch is going to Mania baby!
Brandi: As mentioned earlier, if Becky is able to defeat Charlotte, she will be added back into the Women's Title match at WrestleMania. Lynch has been on a tear ever since winning the Women's Royal Rumble back in January. Since then she's had that opportunity stolen from her by none other than former friend and rival, Charlotte. Becky has proven before that she respects Charlotte as an athlete, but will give her last breath to beat her. Becky toppled Charlotte back at Hell in a Cell 2018, and Charlotte still hasn't recovered from that stinging defeat. Add into this mix the unknown of Ronda Rousey, who has issues with both women. Based on her actions on Raw this past Monday, she could very well show up and beat them down again. 
Marc: The last-minute announcement of this match has resulted in a whole series of events. Early on during the most recent Raw, Stephanie McMahon had said that Ronda Rousey had vacated the Raw Women's championship and that a new champion was going to be crowned, with that person being the winner of a match between Charlotte Flair and the newly reinstated Becky Lynch. The only caveat was that Lynch had to sign an agreement that affirmed she would not sue WWE in the event that she is injured, or her knee injury made worse.
But right after she signed, Ronda Rousey came to the ring and seemingly turned heel, turning the initial cheers into jeers. She also asserted that she never actually vacated the women's title, reclaiming it for herself. As a result, the match between Lynch and Flair was reframed; if Lynch loses this Sunday, she cannot be in the main event at Wrestlemania, but if she wins she will be added to the match for the Raw women's championship, making it a triple threat. Rousey than proceeded to beat down Lynch and the intensity with which she did so seemed to be the result of their online exchange over the course of the last week.
On behalf of Mark and Brandi feel free to share your thoughts of our staff preview or reach out to us on social media and interact with any or all of us regarding WWE's Fastlane.
Mark Blake – @Smart_Mark_B
Brandi Wagner – @BrandiWritesPW
Marc Madison – @ProWrestlingPST