On May 29th, 2014, WWE NXT introduced TakeOver. This somewhat quarterly stable of professional wrestling has become a favorite among avid viewers, not only for its high-quality matches but its ability to spotlight the future of the industry. From Sami Zayn to Kevin Owens to Finn Balor, and beyond, TakeOver has become appointment television for many fans. This Saturday, the event reaches a milestone: its 25th event, NXT TakeOver: XXV.
As has been the case with TakeOver events in the past, XXV will feature five distinct matches, four of which will be contested with championship titles on the line. How did these matches come to fruition? Who will have the advantage going into Saturday? Who will ultimately have their hand raised by the end? In this piece, we will cover the five matches to take place at TakeOver: XXV, as well as offer predictions for each.
Matt Riddle vs. Roderick Strong
Though he fell short against Velveteen Dream for the NXT North American Championship at this past April's TakeOver: New York event, Matt Riddle has remained steadfast in the black and yellow brand. Following the aforementioned loss, Riddle found himself confronted by The Undisputed Era. This would result in the two sides clashing on various occasions. In an attempt to appease Adam Cole, who he's been at odds with, Roderick Strong took it upon himself to blindside Riddle.
This is what has led to the match at hand. One shouldn't be fooled by the laidback nature of Riddle; once the bell rings, he is as dangerous as anyone. On the other hand, Strong has shown that he is willing to do anything in order to gain the upper hand. Strong is fighting to prove himself as a solid member of The Undisputed Era. Riddle's goal is simple revenge against the man that attacked him. It's fair to expect this match to be anything but clean.
Prediction: Not every match can be contested for a championship, but this doesn't mean that it lacks the ability to steal the show. It can be argued that Riddle and Strong will be able to do exactly that in this contest. Both men are known for their hard-hitting offense, from Roderick's backbreaking techniques to Riddle's mixed martial arts. I believe that this match will end with Riddle standing tall, creating further tension within The Undisputed Era in the process.
NXT North American Championship: Velveteen Dream (c) vs. Tyler Breeze
On the May 22nd episode of NXT, Tyler Breeze made a surprise return to the brand in question. He made an impression to boot, confronting the NXT North American Champion, Velveteen Dream. They weren't shy about exchanging words, including particularly brutal digs by Dream in regard to Breeze's success, or lack thereof, on the main roster. The segment in question would end with Breeze laying out Dream, but not before making it apparent that he desired the NXT North American Championship.
It wasn't long after that it was formally announced that the two ego-centric Superstars would face off at TakeOver: XXV. With the NXT North American Championship on the line, this has become more than simple vanity affair. Breeze has competed in TakeOvers in the past, and it can be argued that this Saturday's match will be the most important in Prince Pretty's career. Will he be able to prove himself on this stage, or will he fall short against the Dream?
Prediction: When Breeze made his return to NXT, his stock rose almost immediately. One can argue that this is due to how the show presents itself compared to RAW or SmackDown, but when he made his NXT return, Breeze became a big deal. For this reason, as well as others, this match versus Dream will be one of the most anticipated. Breeze will have a strong showing, without question, but I believe that this will be one instance where the champion retains. Expect The Velveteen Dream Experience to continue following TakeOver.
NXT Tag Team Championship: Oney Lorcan and Danny Burch vs. The Street Profits (Angelo Dawkins and Montez Ford) vs. The Undisputed Era (Kyle O'Reilly and Bobby Fish) vs. The Forgotten Sons (Wesley Blake and Steve Cutler) (Ladder Match)
On May 1st, The War Raiders relinquished their NXT Tag Team Championship in order to pursue main roster success. This left a noticeable void within the NXT tag team division; after all, a division can't be complete without an undisputed champion. This Sunday, at TakeOver XXV, the aforementioned teams will square off for the vacant NXT Tag Team Championship. The stakes will be raised, and so will the championship, in a ladder match.
Who will come away the victor in this match featuring 4 of the top teams in NXT? Oney Lorcan and Danny Burch, though in defeat, have proven themselves in previous TakeOver action. The Undisputed Era are known for pulling out all the stops at these events. The Street Profits and The Forgotten Sons have arguably the most to prove, not only to the NXT Universe but themselves. One thing is certain: there will be no shortage of violence en route to the championship suspended high above.
Prediction: Though it would have been a great story for The War Raiders to drop the NXT Tag Team Championship in an actual match, four hungry teams fighting for a vacant prize in a ladder match is more than a solid consolation. As mentioned earlier, this will be a violent affair. When it comes to potential winners, a case can be made for any team. For me, however, I see The Forgotten Sons coming away the victors. With the amount of attention they've been getting on NXT programming, the next natural step would be for them to become the next titleholders.
NXT Women's Championship: Shayna Baszler (c) vs. Io Shirai
Since regaining the NXT Women's Championship at Evolution this past October, Shayna Baszler has run through numerous opponents. From Kairi Sane to Bianca Belair, Baszler has carved out a path of destruction, especially alongside her fellow Horsewomen, Marina Shafir and Jessamyn Duke. Following a particularly heinous attack on Sane, resulting in the former titleholder leaving NXT entirely, Io Shirai is out for both revenge and the NXT Women's Championship.
When one runs down the list of opponents that Baszler has defeated, not only as a champion but a challenger, it's easy to see that Shirai has her work cut out for her. In addition, she must be mindful of the collective looming threat of Shafir and Duke, both of whom will undoubtedly be in the champion's corner. On this past Wednesday's episode of NXT, though, Shirai will have an ally of her own in Candice LeRae. Will the reign of Baszler continue, or will Shirai be the one to fold The Queen of Spades?
Prediction: Throughout her time in NXT, Baszler has been nothing short of dominant. Against weaker opponents, she is a force. Against more formidable foes, she has shown that she can hold her own and then some. Every reign must come to an end, though, and I believe this will be the case at TakeOver XXV. Shirai is fighting for many friends, including Sane, and the story of her finally winning the NXT Women's Championship that has eluded her will come full circle.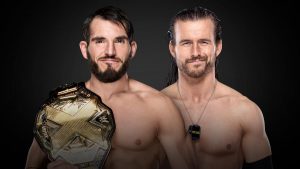 NXT Championship: Johnny Gargano (c) vs. Adam Cole
To say that the quest of Johnny Gargano becoming NXT Champion was a slow burn would be an understatement. At this past April's NXT TakeOver: New York event, Gargano realized his destiny by defeating Adam Cole to win the title in a two-out-of-three falls match. This didn't go uncontested by Cole, though, who claimed that he would have been the champion under any other situation. Gargano, on the other hand, was more than happy to silence the leader of The Undisputed Era once and for all.
On the surface, NXT is revisiting a match that they provided roughly one month ago. On the other hand, the match in question was positively received for its storytelling and sheer quality in general. As a result, it would make sense for this match to main event yet another TakeOver, an anniversary show, no less. Neither Gargano nor Cole will be focused on history on Saturday, though. The goal will be the NXT Championship, with one man defending his newly won accolade and the other desiring to stake claim to it.
Prediction: If there's one fact that TakeOver: New York reaffirmed, it's that Gargano and Cole leave everything in the ring at these events. This Saturday's main event will be no exception, though the lack of a stipulation intrigues me. How will The Undisputed Era factor into this match, if at all? How will Gargano manage to retain his championship, if he does? I strongly believe that Johnny Wrestling will overcome Cole once more and leave the venue as champion. The aftermath may also see The Undisputed Era imploding, but this remains to be seen.
To make your own predictions, and see how they unfold, catch NXT TakeOver: XXV this Saturday, June 1st, on the WWE Network.