On Friday, October 4th, from the Val Air Ballroom in Des Moines, Iowa Wrestling Revolver presents Tales from the Ring 3. This event only appears to increase with its number of men and women that want to be part of the show. It is this event, however, that also welcomes championships not only from the promotion itself on the line but from IMPACT Wrestling as well. Whether it is the X-Division or the World Championship, IMPACT Wrestling is well represented in this matchup as well. Brian Cage, Jake Crist, Jessicka Havok, Tessa Blanchard, Sami Callihan, Dave Crist, Ace Austin, Daga, and Madman Fulton are the names that are synonymous with IMPACT Wrestling are all on this card. Who will we see titles change hands when the Revolver Championship is on the line? Here is our preview for Wrestling Revolver.
The Crew (Jason
Cade

and Rich

Swann)

vs The Player's Club (Logan James and Tyler Matrix)

Swann and Cade have long been an established tag team coming together once again. This time around they face a young duo in Logan James and Tyler Matrix. Matrix is a four-year veteran of the sport, largely earning a name for himself competing for Ohio Valley Wrestling almost exclusively his first two years in the industry. For James, the three-year also began to cut his teeth competing for Ohio Valley Wrestling up until 2018. Championship seemed to have followed James over the past couple of years largely with IWA Mid-South Wrestling. As of this writing, The Player's Club in James and Matrix are two-time and current IWA Mid-South Tag Team Champions. A former trainee of Norman Smiley, Jason Cade has returned to action and the seven-year veteran is looking to make a name for himself once again reuniting with Rich Swann.
Andy Dalton & ?? vs Caleb
Konley

& ??

As advertised the rivalry continues this time around they have managed to bring others into the fold as well. For Dalton and Konley they have faced each other in Scramble Matches and other multi-person matches in the past. It will be interesting to see how they manage to pull unannounced tag team partners to participate in this contest. Who amongst them seems the most likely to be their partners? Could this be a case where Andy brings in David Dalton to challenge Konley? Who would better have your back then your brother? Could former tag team partner Zane Riley step up and once again tag with Konley? Whomever the surprize partners are, fans are likely to be treated to a highly passionate matchup.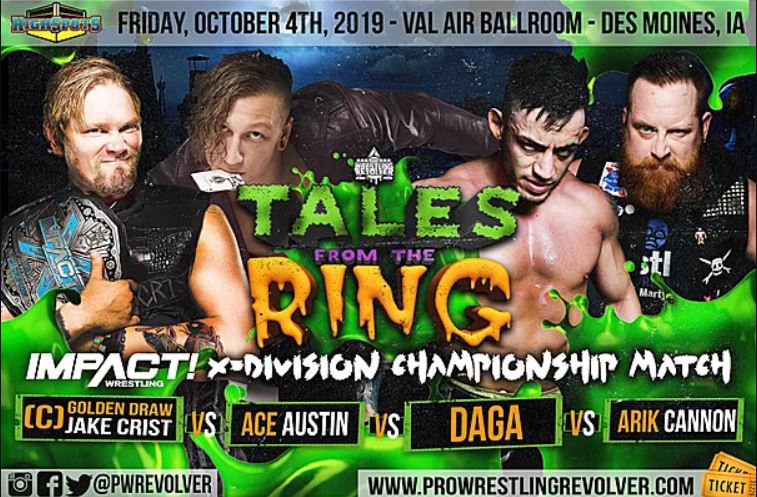 IMPACT X-Division Championship
'Golden Draw' Jake
Crist

vs Ace Austin vs

Daga

vs

Arik

Cannon

An interesting match up for sure will pit these four men in a match for IMPACT's X-Division championship. Crist holding the championship means that anyone that has had a bone to pick with him has him dead in their sights is laser-focused on the championship. If anyone in dark horse to contend with-it would-be Arik Who is the most and least likely to win in a fatal four-way for the championship? If odds play a role in any of these the champion has no greater than chance at winning than the rest of the challengers. Austin and Daga that may pose the most exciting confrontation of any one-on-one matchup. Crist is in for real battle as he faces one of the biggest threats for his championship.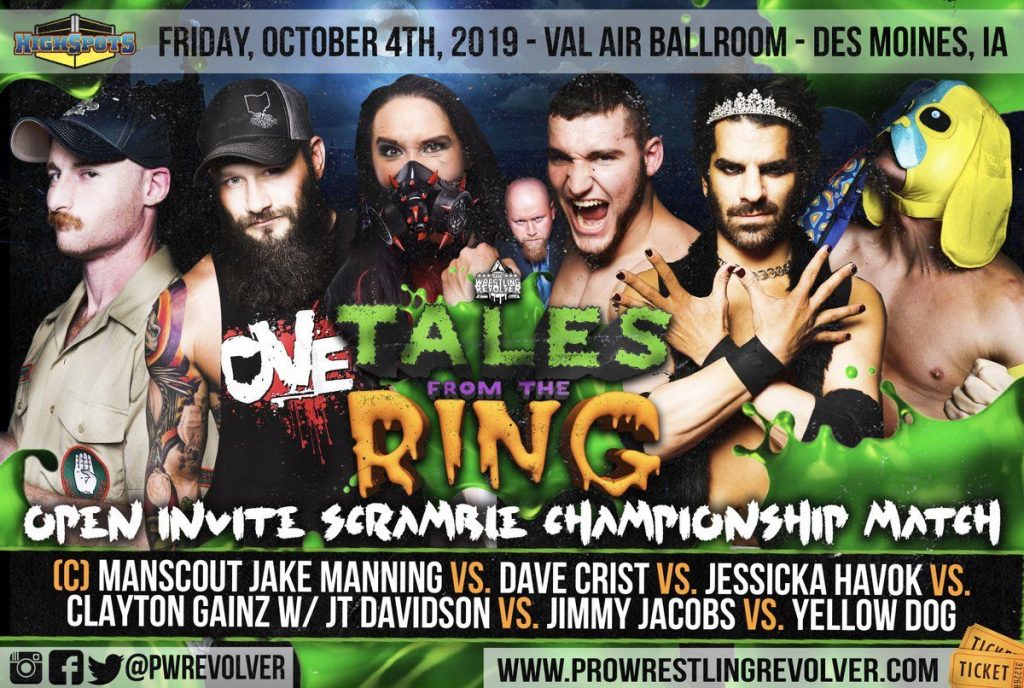 Open Invite Scramble Championship
Manscout

Jake Manning vs Dave

Crist

vs

Jessicka

Havok

vs. Clayton

Cainz

vs Jimmy Jacobs

vs Yellow

Dog

Easily one of the most fun a wrestling fan can have is watching one of these scramble matches. This time around this six-way battle will involve the likes of Dave Crist, Jessicka Havok, Clayton Gainz, and Jimmy Jacobs. A unique addition to this threat for Manscout Jake Manning's championship is Yellow Dog. For those that are unfamiliar with the masked talent, Yellow Dog brings his amusing character to the ring and has posed a new threat to Manning's title. The real violent contingent for the championship involves Havok and Crist. Both are likely to hit hard and hit often as they each look to make themselves legitimate threats for the OISC. As unusual as that acronym is so is this match's possibility. Who amongst them is likely to create the biggest challenge for the title at tales from the ring?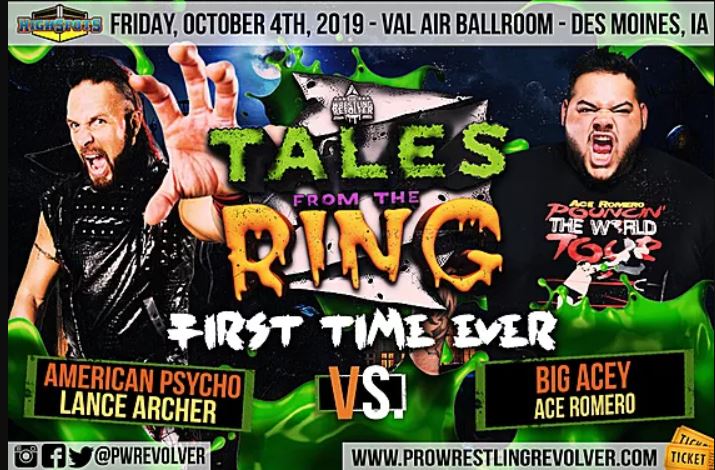 Lance Archer vs Ace Romero
In a match billed as first-time-ever, we get an intense and experienced veteran facing one of the fastest rising names on the independent circuit. When Archer faces Ace Romero the result will likely be a massive trainwreck. Who walks away the winner and who walks away may be a topic of discussion. Another question is will the ring be still standing after these two are finished with it. Romero recently competed as part of the F'N Catalina Wrestling Mixer for Wrestling Revolver. This time around Archer will bring his championship history, his longstanding history in Japan, his time with major promotions such as the WWE and TNA/IMPACT Wrestling and steps into the ring with a man as notable for his pounce as he is his overall strength, agility, and mobility. Which monster wins at tales from the ring?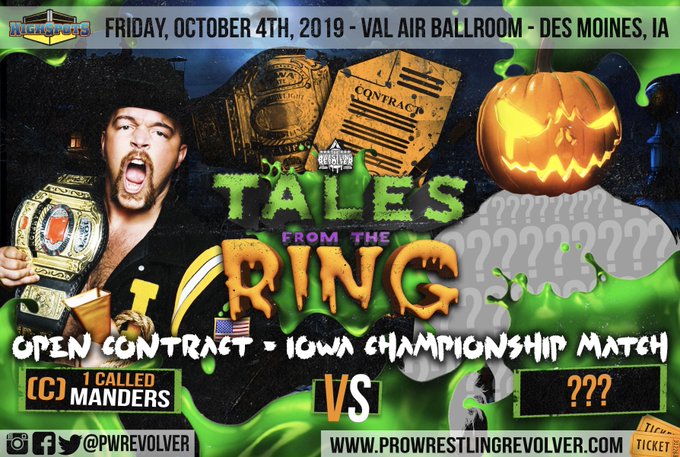 Open Contract Iowa Championship Match
1 Called
Manders

vs

?

?

Of all the matches on the card, it is likely the most difficult to predict who would challenge Manders for the Open Contract Iowa Championship match. We could always speculate who may challenge Manders for the championship. There could always be a more comical approach if the company decides to have Wrestling Tent make a return and be a threat for this match up. Could the likes of Trey Miguel or Kris Statlander be amongst the talents that come after the championship? With it being an open contract, it could literally be anyone past or present that comes to making a statement at the expense of 1 Called Manders?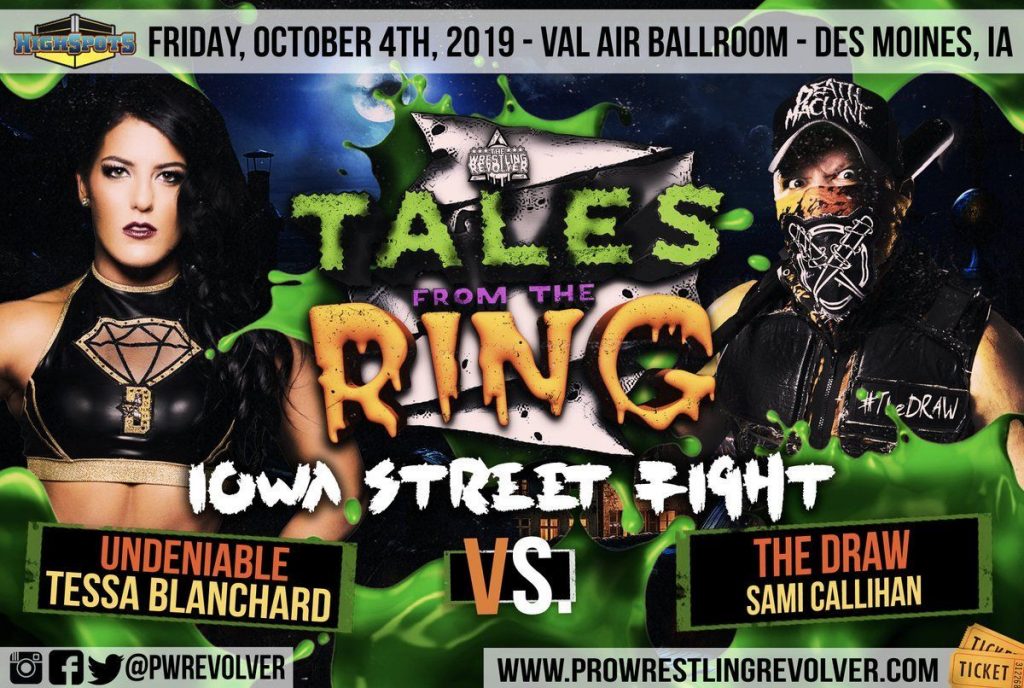 IOWA Street Fight
Tessa Blanchard vs
Sami
Callihan
Another chapter in this storied rivalry appears to be coming around to Wrestling Revolver. As Blanchard and Callihan have taken the fight to one another time and time again in IMPACT this time around they up the antae between them. This time around the two take the fight to one another in an IOWA Street Fight. Much like their battles with one another in the past this time around we have them hitting each other with everything they possibly can within the confines of a Street Fight. What weapons are we likely to see that are unlike any other street fight out there? Blanchard may have earned Callihan's respect in the past, will she take his pride this time around at tales from the ring?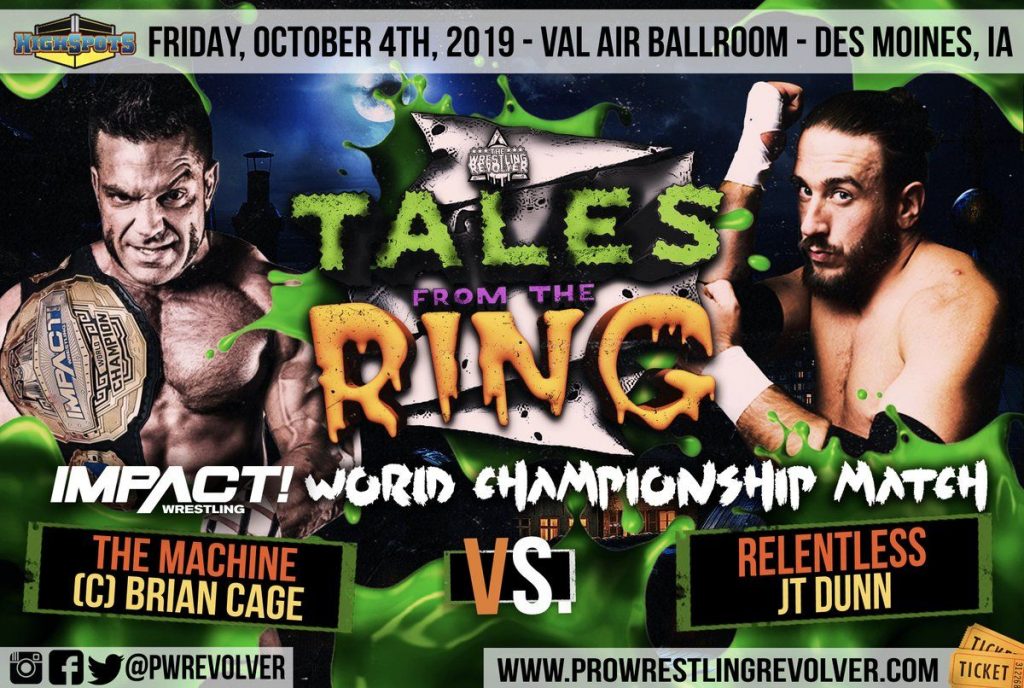 IMPACT World Championship
Brian Cage vs
JT

Dunn

Fans know exactly what the Machine is capable of doing. Cage is as capable of striking from the top rope as he is from the mat. His unique blend of strength, agility and aerial attack is likely to catch anyone off guard. This time around he faces someone that has overcome adversity and continues to move beyond forward competing at a high-level along the east coast. JT Dunn is a noted grappler holding championships in promotions such as Chaotic. He recently faced Jon Moxley while competing for Northeast. What will Dunn do when the IMPACT World Championship? He is likely to come at Cage with a fury the champion likely may not see coming. It is another stellar match up where the stakes are raised with the championship on the line at tales from the ring.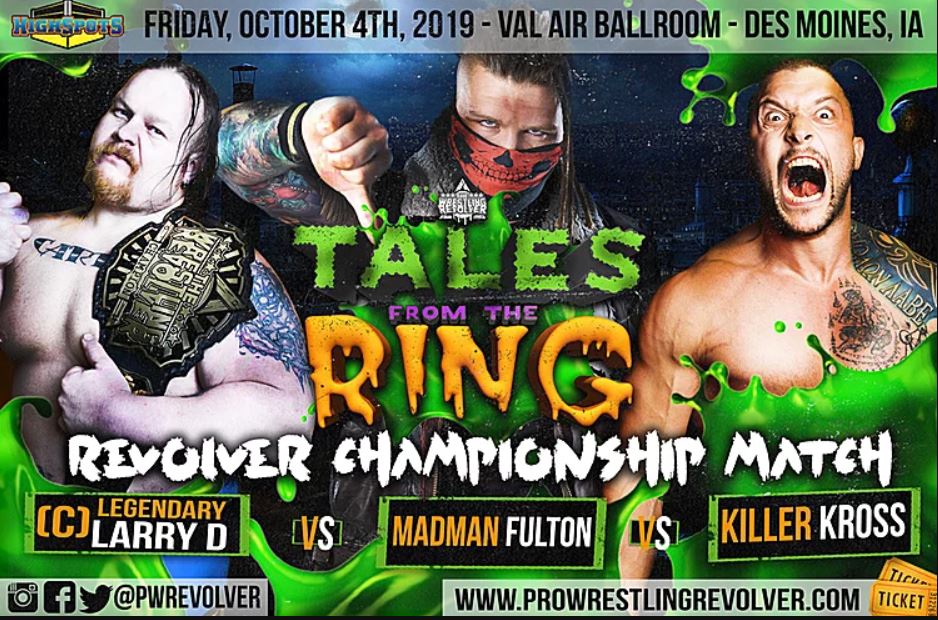 Revolver Championship
Legendary Larry D vs Madman Fulton vs Killer
Kross
This triple threat championship match should be….legendary. It is greatly due to the involvement of all parties in this match up. Whether it is Killer Cross, Madman Fulton or Revolver Champion Larry D who has his title up for grabs, the match should be hard-hitting. It really is a blend of different styles here, but the means in how they approach each match is quite different. Fulton is likely to use his size as a means to create a difficult matchup for the champion and Kross. Kross is likely to want to use intimidation to play on the psyche of the champion and the monster in Fulton. The biggest question remains if the can overcome the obstacles of the two challengers in front of him at tales from the ring.