Without A Cause: Shatter the System is nearly upon us! On November 18, in Everett Washington, we will see the sophomore effort from the folks behind the newest promotion in the Pacific Northwest. Thus far five matches have been announced. As we preview: Without A Cause Shatter the System for (11/18/18).
Preview: Without A Cause Shatter the System
Singles Match
"Classic" Cody Chhun, is a familiar face for fans of wrestling in the Pacific Northwest. He's a regular performer with DEFY, Prestige, and Big League Wrestling to name a few. Last month we saw him at WAC: A Seat at the Table. He took on JaCub Soumis in a singles match. Even though he didn't get the big "W," he impressed the crowd with his speed and technical skill. This time we will see him in a single match against "Infinite" Nathan Legacy!
Traveling south from the cold north, Nathan Legacy will be making his debut at Without A Cause. Nathan is a man of many talents, but on November 18, he will be showing us his talents in the ring. He's a regular at Pure Wrestling Association and made a name for himself in Western Canada. A new talent to me, I look forward to seeing what he's got and if "Infinite" Nathan Legacy able to hand Cody Chhun his second defeat at WAC.
Preview: Without A Cause Shatter the System
Solid Steel Championship Title Challenge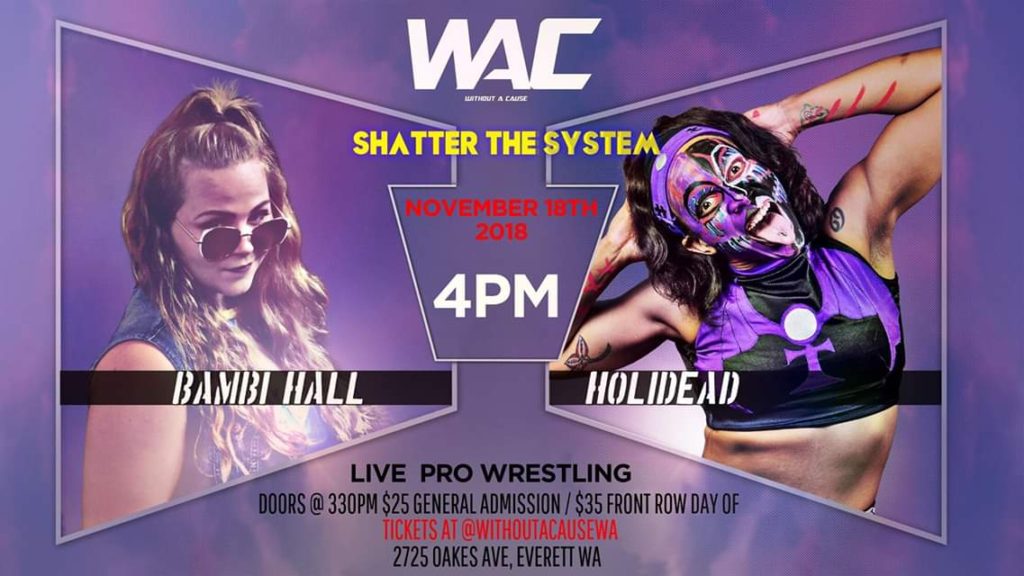 Joining us from the Buckeye State is Holidead, the current SHINE Tag Team champion, along with her tag partner Thunder Rosa. She will be making her debut appearance at Without A Cause. Holidead has proven herself against some of the best women's wrestlers in the industry today. She hasn't come all the way to Everett Washington for an easy-breezy match. She's come to challenge one of the best women's wrestlers in the region, and she's planning to take her championship!
Defending her 321Battle! Solid Steel title is Bambi Hall! This juggernaut isn't going to part with her belt so easily. She has been wrestling for over seven years and recently defended her title against her own sister. Anyone who watched that match knows Bambi doesn't go easy on anyone, not even family. This is going to be an incredible match. No doubt we'll see some impressive women's wrestling on November 18th.
Daddy's Money vs. The Stray's with Rabies Tag Match
On October 21, outside the premier Without A Cause show were two vagrants aggressively panhandling. Two fine young gentlemen passed by and were accosted by these vagabonds! Naturally, they were forced to defend themselves. There are some who believe the well behaved shirtless aristocratic men were the aggressors. Video footage was recently released, and you are welcome to decide for yourself:
The Strays (@thejudasicarus / @ImThatTylerGuy) were just on the streets last night when King Khash (@KingKhash021) and Travis Williams (@proTWilliams) took it upon themselves to manhandle the rag tag duo. pic.twitter.com/6R50xZdg6l

— Without A Cause (@WithoutACauseWA) October 22, 2018
Regardless of the video there four men decided to handle this matter in the ring. Daddy's money consists of King Khash and "The Golden Boy" Travis Williams. The Persian Prodigy and Prestige Heavy Weight Champion was in the main event last month and was narrowly defeated by Darby Allin. He is a brutal wrestler combining size, strength and technical skills into a symphony of devastation. King Khash has teamed up with Travis Williams who threatened the audience with his father's attorneys at the last WAC event when the crowd booed and heckled him. At the last event, he faced off against Dave Turner and Pitfall Jones, who pinned our golden boy. After suffering defeat at the inaugural event, both Khash and Travis are looking for some payback, and these two trust fund brats are used to getting what they want.
Here they come!
Facing Daddy's Money are The Strays with Rabies, Judas Icarius, and Tyler. These two drifters panhandled their way down from the urban decay of Vancouver British Columbia and landed in Everett. It would seem they made there way back, or maybe they never left. One could, perhaps, scour the garbage bins of Snohomish County in the coming week for a possible sighting. Last month they came into the ring to face off against Kingpin Flynn and Chris Ross. One thing I learned from that match is, you should never underestimate the survival skills of the Strays. The clash between Daddy's Money and Strays with Rabies will no doubt be one of the best matches of Shatter the System.
Steve West & Christopher Ryseck vs. JaCub Soumis & Chase James Tag Match
Christopher Ryseck defeated Chase James at WAC: A Place at the Table, in a match that was considered controversial. There are some who say Mr. Ryseck only won as a result of interference by Local Celebrity Steve Migs. This was a preposterous claim, Mr. Migs was clearly injured and wearing a knee brace, there was no reasonable way he could have interfered!
Christopher Ryseck and Chase James are having a rematch at Shatter the System, and this time, they will each be bringing in a friend. Joining Mr. Ryseck is none other than local wrestling sensation Steve West! West a veteran of 321 Battle! and DEFY is a force to be reckoned with. Chase James will be coming in with JaCub Soumis. Alumni of 321 Battle! JaCub Soumis won his match with Cody Chhun at the last WAC event. Will he be able to help Chase James take this match home? We'll see in about a week!
Preview: Without A Cause Shatter the System
Main Event Effy vs. Pitfall Jones
Last month at WAC: A Place at the Table, it was announced Effy would be coming to the November Event. As a member of the LGBTQ community, I have to say, it is an incredible pleasure to see a wrestler from my own community coming to town! Effy is well known on the East Coast, where he's appeared in some of the best promotions on the independent scene and challenged some of the top talent working today.
Pitfall Jones won the right to face Effy in last month's three-way event. Pitfall is a fantastic competitor and a regular at 321 Battle! Relatively new on the local wrestling scene; he is making his mark on the regional circuit. Going up against Effy is a clear indication that Pitfall Jones has reached the next level of his career. The true winners of this match will be the people who in the audience watching these two incredible men compete!
This is what we know of the announced matches. Without A Cause has announced Fred Yehi will also be attending the show. He is joining us fresh off a tour of Europe where he performed for wXw in Germany and Progress in England. He was the FIP Heavyweight Champion for nearly two years and as I wrote this article news broke that he is the new Real Shoot Champion! No doubt WAC has someone ready to take Fred Yehi to his limits.
In addition, Local Celebrity, Steve Migs, will be making an appearance.
It would seem he is still missing from the WAC: Shatter the System poster. I fear this is going to get ugly. We all know what happens when celebrities don't receive the respect they deserve. No doubt the powers behind Without A Cause will receive a severe rebuke and I for one look forward to this well-deserved censure.
---
This is an all-age event. Food will be available for purchase, as well as alcohol in a lounge area that maintains a full view of the ring. I don't think I need to convince you this is going to be a superb show. As of this writing, there are still tickets available. What else do you have to do on Sunday afternoon that's going to be better than this? Front row tickets are only $30 and general admission $20. You can buy tickets at https://www.brownpapertickets.com/event/3743607
See you in Everett, on Sunday, November 18 at 4:00 p.m. at Without A Cause: Shatter the System!