Without A Cause
EGO
September 15th, 2019
Everett Washington
What a fantastic lineup Without A Cause has put together for their fans. Some great visitors from out of town coming to face some of the best talent we have in our neck of the woods. WAC puts together some outstanding cards and this one is no exception. Despite the interference of Max Zaleski, no doubt one of the primary inspirations for the shows name (Ego), Taylor Bartle has outdone himself!
Have a look at what you can expect from Without A Cause Ego!
Singles Contest
"The Black Sheep" Dave Turner vs. "Cool Dad" Chris Ross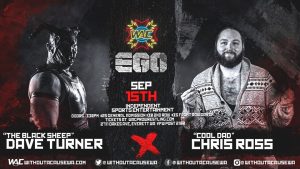 When darkness falls one hopes the Black Sheep does not invade your dreams. This behemoth is the stuff of legends. He is the horror lurks in the darkness that even the monsters fear. When he takes the form of mortal, Dave Turner, this manifestation of terror and nightmares is a frighteningly wonderful thing to behold. Those who enter the ring with this titan are destined to have their lives changed forever!
The one who dares face The Black Sheep is none other than "Cool Dad" Chris Ross. Times have been tough for our cool dad. He lost his boys, was defeated by a teenager and then a radio celebrity. What does he have left to lose you might ask? Not a lot… Perhaps this low of all lows has made Chris Ross a very dangerous opponent. We'll see in only a few short days at Without A Cause EGO.
Tag Team Match
The Strays vs. Border Patrol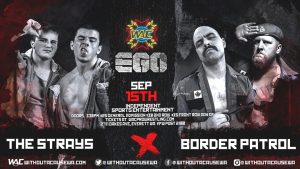 Recently there has been video footage released showing two border patrol officers harassing our two favorite homeless youths from the wastelands of British Columbia. Can't a person sleep in a dumpster in peace? Apparently not!
Judas Icarus and Tyler Elliot are no doubt dodging the heat as they make their way to Everett Washington for September 15th show. Hot on their trail will no doubt be Officer Nick and Large Sarge, of Border Patrol. Sounds like these Canadian officials are cleaning up the streets, we'll see if our two dumpster dwelling kids can stand their ground in Everett, or if they'll be going back in a paddy wagon.
Singles Competition
"The Devil Himself" Drexl vs. Chase James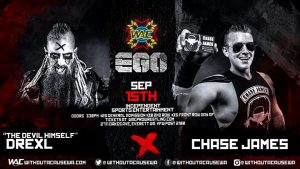 The population of hell has decreased by one. The Devil has come once again. It is rumored that Max Zaleski is proficient in the art of demonology. Who else could conjure Drexl back to the ring at Without A Cause? Folks bring your crucifixes and holy water, you made need it for this match.
Facing the devil is a former champion, Chase James. Having had the championship stolen from him, this incredible young talent is going to have to grind his way back to the top. If you have been paying attention to Mr. James' social media, you know he's been training and hitting the gym hard. He's getting ready for a comeback and he's going to start with one of hell's most dastardly denizens at Without A Cause EGO.
Fatal Four Way Competition
"The Golden Boy" Travis Williams
vs.
Spyder
vs.
"Dirty" Andy Dalton
vs.
Jet Knight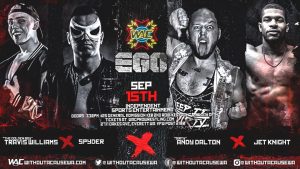 "The Golden Boy" Travis Williams is on a winning streak. When you disregard the rules and do whatever it takes to win, it sometimes pays off. This is without the tactical approach Mr. Williams uses when he enters the ring. It's about winning the game, not how you play. This has served him well in the ring.
The second opponent in this matchmaking his Without A Cause debut is Spyder. Your friendly neighborhood Spyder Warrior will be coming to Everett Washington to show us what he's made of. He's faced a few of our regulars such as Daniel Makabe and 4 Minutes of Heat. He's been making a name for himself here on the West Coast. We'll see if he makes a name for himself on September 15th!
The third entrant is "Dirty" Andy Dalton! Fans of Wrestle Circus are familiar with this gentleman. If not, you may have caught him on Impact or Ring of Honor. This second-generation professional wrestler is an outstanding talent. If you aren't a fan already, you will be after this match.
The final opponent is a local star on the rise, the incredible, Jet Knight! This gallant knight has an axe to grind with Travis Williams, his opponent from last month. Even though he lost against the Golden Boy, there's little doubt this time, he's going to pull out every trick in his playbook to make this match something for all of us to remember.
Singles Competition
Daniel Makabe vs. Eddie Osbourne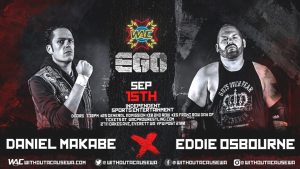 We've enjoyed Daniel Makabe at Without A Cause for a while now, it would seem he's becoming one of the regulars on their roster. This is especially good news for those of us who are fans of this technical genius. He's faced some tough competition over the last few shows; Zach Cooper, Erick Stevens, and Hammerstone, just to name a few. On September 15th Daniel Makabe will be facing one of his toughest competitors yet.
Making his way south of the boarder is Canadian heavyweight and member of the Moonshine Mafia, Eddie Osbourne. He's been at Without A Cause before, and he's proven himself to be one of the most entertaining personalities we've seen. It should come as no surprise to anyone that Mr. Osbourne has been ranked as one of the top 500 Professional Wrestlers in the business. This match could steal the show!
Tag Team Match
4 Minutes of Heat vs. Young Muscle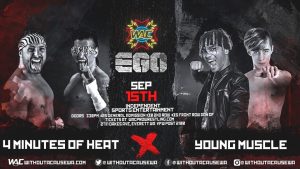 Eddie Pearl and Ricky Gibson have been on a hot run at Without A Cause. 4 Minutes of Heat has an undefeated record at WAC and they have faced some tough competitors. If Without A Cause decides to introduce a Tag Title, this team is likely going to be at the forefront of the belt contention.
Fresh off a win against the Strays last month, Young Muscle, Jaiden, and Nick Wayne are coming to test their metal against 4 Minutes of Heat. These two gentlemen are rising stars in this region and there is little doubt they are the future of professional wrestling.
In this match, you are going to see some impressive flying from Young Muscles and some wrestling shenanigans from 4 Minutes of Heat. This is going to be truly entertaining as Without A Cause presents EGO!
Singles Competition
"All Ego" Ethan Page vs. "Local Celebrity" Steve Migs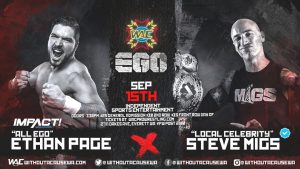 He's big! He's tall! He has got an ego nearly as large as he is! He who has the greatest ego of all, Ethan Page will be making his Without A Cause debut. This Canadian powerhouse has worked for some of the best promotions in the business. Impact, CZW, Bar Wrestling, and Evolve are just a few of the places he's worked for. If you don't know this talent be prepared to be impressed. As a side note, it is important to acknowledge that Ethan Page is twitter verified…
Facing "All Ego" Ethan Page is none other than our "Local Celebrity" and Twitter Verified Champion, Steve Migs. The almighty Migs has long been the target of malignant forces behind the curtain at Without A Cause. For months evil dictators, drunk on imagined power, kept Steve off the promotional posters. It was only through the sheer demand of his adoring fans that Migs was added to promotional material. Ever since Without A Cause has experienced unprecedented success. Now they have brought in a twitter verified opponent to try and dethrone our local celebrity. No matter what happens in this match, every move Steve makes in that ring will all be for the children!
Championship Match
Chris Bey vs. Jake Atlas
While Chris Bey may have won his belt under… questionable circumstances, he is without question a formidable opponent. Former champion, Chase James, was never pinned. Instead, he was ambushed by Steve West while Chris Bey pinned Jordie Taylor. Chris returned home with a new belt and the new Champion of Without A Cause. On September 15th he'll be making his first title defense!
Flying in from California is perhaps one of the brightest stars currently on the rise in the business. He's currently the PCW Ultra Light Heavyweight Champion and an exceptional talent! Jake Atlas! This talented professional has had a tryout at the WWE and there is little doubt he's going to go far in this business. He has been an inspiration to many, and it will be a joy to have him join the Without A Cause family!
"Farewell to Referee" Aubrey Edwards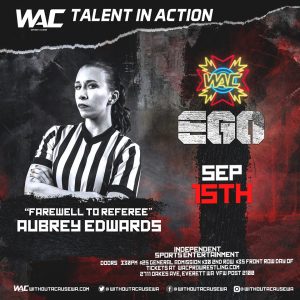 Wrestling is a dynamic business. It's always changing and evolving. We have the unique opportunity to see people in the infancy of their career. We watch them grow, develop and emerge into magnificent talents. Every once in a while, we see someone explode into the sky on a level that only happens to a handful of people. To watch someone's dream come true is one of the absolute pleasures life has to offer.
On September 15th we will say farewell to one of our own. It will be a bittersweet moment. Seeing Referee Aubrey Edwards ascend to the pantheon of stars above is something we could not be happier to see at Without A Cause EGO. What an accomplishment and what an honor it is to watch great things happen for someone who is very deserving. The bitter part comes as we hear fans having to come to accept we may not have her at our shows as often. However, we will not revel in the sadness and instead be happy for our beloved referee. We are lucky to have been spectators in what is going to be an amazing persons career.