On Sunday, October 21st, 2018 Without A Cause presents their inaugural show, A Seat At The Table. Taking place in Everett, Washington. It is the debut edition of the event with a great deal of excitement built around the show. With the addition of incoming stars Thunder Rosa, Priscilla Kelly, and Darby Allin, the event will prove to be something special to see. The event presents some exciting possibilities from all involved. Who will walk away as the winners? Who won't walk away? Will grudges be created? Will fans leave as excited as they are coming in? Here is the Pro Wrestling Post preview for Without A Cause.
Jacub

Soumis

vs. 'Classic' Cody

Chhun
As a staple of DEFY Wrestling, Chhun is another solid addition to the Without A Cause debut event. The former student of the late Buddy Wayne continues to carry his memory with him. This time will face possibly his biggest test to date as he stands across the ring from the current co-holder of the WCWC tag team championship Jacob Soumis. Make no mistake, Soumis is as capable a singles wrestler as he is a tag team competitor, but that will be put to the test on this evening.
These men appear to match up very well physically with one another. As a current champion, Soumis knows the pressures that one has to endure in the ring. While no title is on the line in this match there is still pressure to be faced. Who will walk away as the winner in this matchup of up and coming talent out of the Pacific Northwest?
Ashley Dunn vs

Kaden

Talbain
With the addition of Dunn, the 28-year-old talent out of the UK, Without A Cause will showcase a new and exciting brand of wrestling when he faces Talbain. As only a three-year pro, Dunn has still accumulated a wealth of match experience in that short time. How will he adapt to a new environment and a raucous crowd?
Talbain, meanwhile, is from the Canadian west coast and brings with him extensive knowledge that many may not be aware of. He has a look and feel reminiscent of the Four Horsemen, and uses the brainbuster and the cross-armed northern lights bomb to great effect, showing that he is skilled and innovative while retaining that retro-feel. His hard-hitting and quick style has made him very special to watch. This matchup could be the match of the evening.
Multi-

man match to face

Effy

at Nov 18th show
Dave Turner vs Pitfall Jones vs Travis Williams vs

?

?
This four-way matchup has a very special feel to it. As noted, it is setting the stage for Without A Doubt's upcoming show in November. There is a ton of experience in this matchup, and these three professionals will hit hard and hit often as they square off to decide Effy's next competitor. While it is hard to pick a winner, Dave Turner may have the advantage of moving forward. It still isn't known at this time who the unnamed opponent is that will take the fourth spot. This lack of information could affect the preparation of the others and lead to an underdog winner. That last addition could prove to be the dark horse going into this matchup.
Darby

Allin

vs

King Khash
This match has all the makings of something truly special. When the wrestling skateboarder takes on the self-made star in King Khash the result will be fireworks. Both men are well known around the Pacific Northwest indie scene.
Having already faced each other on DEFY Wrestling shows and crossed paths at Prestige, Kash and Allin are set to once again make this match up very special. And since this is the main event of the evening they will not do everything in their power to get the better of the other. Being able to claim to be the winner of the FIRST EVER main event in Without A Cause history will prove to be something special.
Thunder Rosa  vs. Priscilla Kelly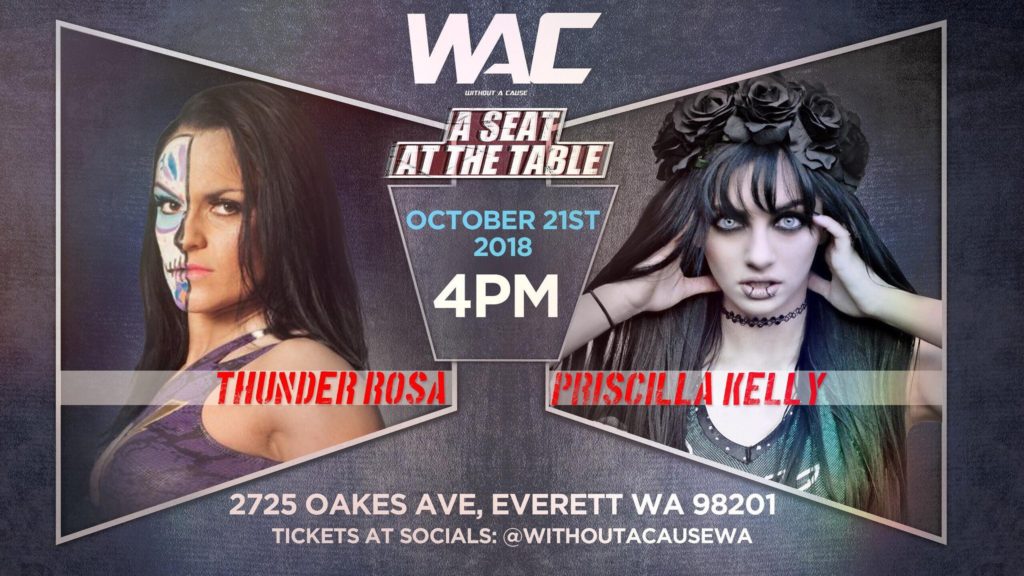 This first time ever match-up presents an incredible opportunity for both women. Kelly has begun to build a name for herself on the independent scene competing in a number of different promotions. Another exciting opportunity saw Kelly compete in WWE's Mae Young Classic. Despite not being successful in her match up, she still didn't make an impression on the viewers in attendance.
Kelly will stand across the ring from Lucha Underground's Thunder Rosa. Rosa brings a wealth of knowledge and experience to the ring. This match is sure to get the Pacific Northwest wrestling fans on their feet as these two premier athletes go toe to toe with one another.
---
To read up on an early preview along with ticket information for Without A Cause click here.