Over the course of Friday 4th and Saturday 5th of October, RIPTIDE Wrestling will present three shows. RIPTIDE Wrestling have dubbed this their Brighton Spirit Weekender, and its centerpiece is a tag team tournament for the newly made Brighton Spirit trophy. As per usual, RIPTIDE have spared no expense in bringing in names from the UK scene and further afield. Let's have a look at what they have lined up for us.
UPDATE!!! Since publication RIPTIDE have announced major changes to the card due to Pretty Deadly dropping out of the Weekender. Lots of new tag teams in the Brighton Spirit Tag Team Tournament, which you can see in RIPTIDE's tweet below.
// Brighton Spirit Changes //

Looks like this thing just got blown wide open!!

Enter FIVE new teams:@ChuckMambo + @PureTKC@TheOJMO + @fsmills @danielmakabe +@OBEYBrookes @ShaneSabre + @Kody1Lane @kurtismo + @TheRobLias

??️https://t.co/wi3VNq2MHD pic.twitter.com/6EKxO5omhq

— RIPTIDE Wrestling (@RIPTIDEwres) October 2, 2019
ORIGINAL PIECE ***
Firstly, we were due to have the long-awaited match of Chuck Mambo vs Spike Trivet. A spanner was thrown into the works, however, when trivet broke his arm at PROGRESS Chapter 95 a couple of weeks back. Exactly what will happen with Mambo's Brighton Championship defense has yet to be determined. Trivet has sent an ominous message though, stating that a new, fourth member of MvE will be on hand. Could it be TK Cooper? Candy Floss? Paul Robinson? Time will tell.
Cara Noir vs Su Yung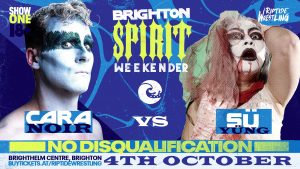 Now then, this one has the potential to be the spectacle of the weekend. In one corner, we have the Black Swan of British wrestling. And in the other, we have the dark and mysterious Undead Bride. It looks like a match made in heaven to my eyes.
To a large extent, the theatrics of the characters involved will be more important than the moves performed during the match. Su Yung's jilted, vengeful lover is a very dark and tortured character. She is a very accomplished grappler, but the character is what truly stands out. Cara Noir has been the breakout star on the BritWres scene over the last year or so. Although slightly softened at the edges, his is also a dark, somewhat tortured, character. His ballet-infused character is melded with a martial arts background to create something truly special.
This will be a truly fascinating contest between two wrestlers at the top of their game. You have to think Yung will edge it however, as part of Cara Noir's deal is that he never wins.
Prediction: Su Yung
Brighton Spirit Tag Team Tournament: The Rascalz, Besties In The World, Medusa Complex, Pretty Deadly
// Brighton Spirit Trophy //

Here is the prize for this weekend's tag team tournament.

Made from recycled materials collected from the beaches of Brighton.

4th – 5th October#BrightonSpirit ?✊
??️ https://t.co/m7jKKskUz9 pic.twitter.com/YuZ9ZzFqR9

— RIPTIDE Wrestling (@RIPTIDEwres) September 29, 2019
Whilst not officially set to crown RIPTIDE tag team champions, the effect of this tournament is very similar. The Rascalz, Besties In The World, Medusa Complex and Pretty Deadly all vie to win the Spirit of Brighton trophy.
There's a truly unique mix of talent in this match. You've got the hard-hitters in Millie McKenzie and Charli Evans. The high flyers in The Rascalz and Besties. And the bruisers in Pretty Deadly. Who is going to win is a really tough one to call. all four teams have their strengths and weaknesses, and I'm sure they'll all leave it all in the ring.
Prediction: Medusa Complex
Chris Brookes vs Daniel Makabe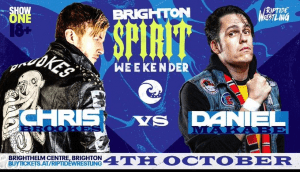 Daniel Makabe is a gent who is making great waves over in the UK at the moment. A match with A-Kid for Breed Wrestling set tongues wagging, and made him very much a man in demand. Chris Brookes is on a bit of a downer at the moment after his Schadenfreude faction was banished from Fight Club Pro. Two men on slightly different career trajectories, then.
Expect this to be fast and furious. You have two very creative individuals in the match, likely trying to outdo one another throughout. Throw in the fact that Makabe will be looking to further add to his reputation, and we could be looking at something quite special in this match. Despite all that, Brookes does have good form for RIPTIDE, so for me, there can only be one winner.
Prediction: Chris Brookes
Jordon Breaks vs Speedball Mike Bailey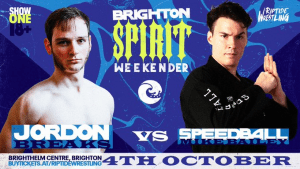 Despite being a Canadian, there's something about Mike Bailey that always make him seem the local hero. This will be tested when he faces off with genuine local hero Jordon Breaks, a man born and raised in Brighton.
Stylistically, the two competitors are a mile apart. Breaks is a chain wrestler who uses lots of submissions to try and get the win. Bailey relies upon his martial arts background, mixed with some spectacular high flying. Based on the fact that Bailey tends to hurt his knees quite often during matches, I think Breaks may have the edge in this. If he can lock in a tight kneebar or the like, then Speedball may have no choice but to tap out.
Prediction: Jordon Breaks
Big Swole vs Chakara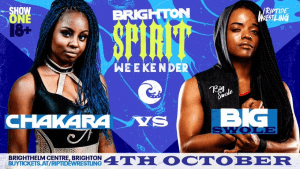 We have a battle that will is sure to leave a mark on both women next as Chakara meets Big Swole. Chakara might have met her match here, as Big Swole isn't someone that she will be able to push around in the style she's become accustomed to. Swole is a wrestler on the cusp of breaking through into one of the majors and must be looking at every match as something to increase her rep.
It could be that we're looking at a fairly lengthy battle here, with neither wrestler wanting to give the other an inch. Logically, for my money, you'd have to say the homegrown talent has to take the victory here, though. This should be an excellent match, however.
Prediction: Chakara
Cassius' Pride Of Brighton Open Challenge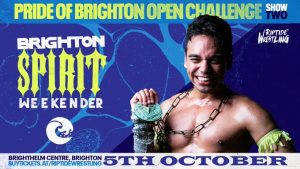 Brand new, and inaugural, Pride of Brighton champion Cassius will be defending his title. he has elected to do so in that great wrestling tradition of the open challenge. Cassius is someone that the RIPTIDE fans have taken to their hearts. A likable presence, with solid in-ring work, he has become popular with kids and adults alike.
So whom could his mystery opponent be? It could be any of the three that I mentioned for Chuck Mambo's defense (TK Cooper, Paul Robinson, Candy Floss). It could be someone closer to the man himself, someone that Cassius has recently faced. Mike Bird is a name that springs to mind, as he defeated Cassius on the same day that he won the Pride championship. Look for Neon Cassius to get his win back here.
Prediction: Cassius
All of this and much, much more besides will taking place over the course of RIPTIDE Wrestling's Brighton Spirit Weekender. I'm not able to make it to this one personally (sigh), so if you're attending have a great time. Let us know what you're most looking forward to in the comments below for RIPTIDE Wrestling Brighton Spirit Weekender.