It might be Friday the 13th but the residents of Riot City will test their luck inside the squared circle as Riot City Wrestling presents Battle For Supremacy.  2019 has been quite the exciting year for Riot City Wrestling and they are capping it all off in a very big way with the card set for Battle For Supremacy.  Two Australian legends locking up in what will be nothing short of monumental.  The action will be red hot at the HQ Complex on Friday, December 13th, 2019, so let us take a look at what is in store for Battle For Supremacy.
RCW Championship Match
Rocky Menero vs Big Brodie Marshall
Rocky Menero and Big Brodie Marshall are two legendary names in Australian wrestling.  The fact that these two men have been around the ring as long as they have and this is the first time they will lock up makes this a match that as a fan you simply do not want to miss out on.  Rocky Menero and Big Brodie Marshall are long into their storied careers so it is also a strong possibility that this could be the one and only time that these two men lock up in the squared circle.
For all of the wrestling fans who are constantly looking for fresh matches well they do not get much fresher than this encounter.  Rocky Menero has been tearing it up as the RCW Champion defeating each and every one of the top opponents that the company has put in his path.  Big Brodie Marshall is going to be hungry to capture the RCW Championship and add another very special accolade to his career.  Expect a very technically sound encounter between these two veterans as they go about stealing the show at Battle For Supremacy.
Brother vs Brother Street Fight
Jett Armstrong vs Nick Armstrong
The story of two brothers looking to reign supreme over the other.  This is the third time that these two brothers have locked up recently.  Former tag team champions turned bitter rivals, the Armstrong brothers are always going to put on a very entertaining wrestling match.  This time however there is not going to be just a wrestling match, the street fight stipulation means that this is going to be an all-out war.  In their two recent encounters, Jett Armstrong managed to best the champ his brother Nick.  Nick blames his brother for everything that he has lost and now wants revenge at Battle For Supremacy.  Do not expect these two brothers to take it easy on each other.  this bad blood has been brewing for quite some time and it is ready to explode on Friday, December 13th.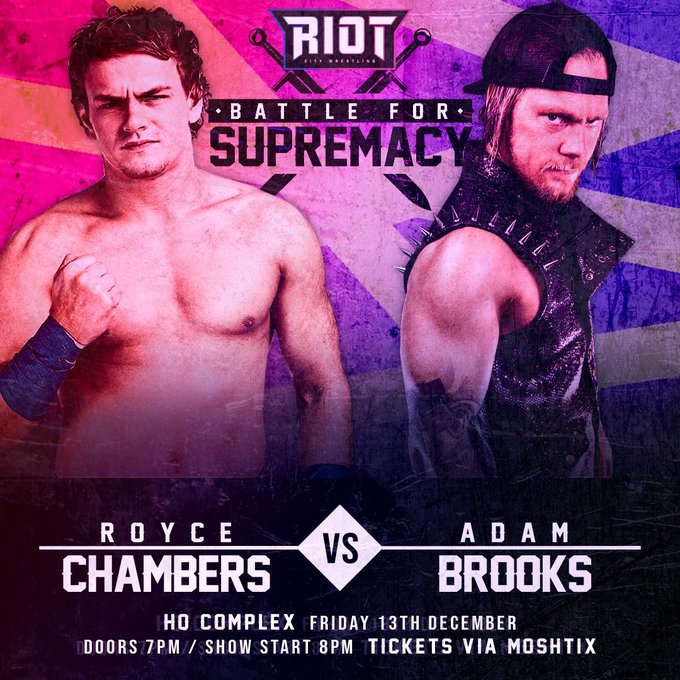 Royce Chambers vs Adam Brooks
If you really enjoy a match full of athleticism, speed, and high flying then you are in for a real treat when Royce Chambers goes one on one with Adam Brooks.  Royce Chambers is one of the best high flyers in all of Australia, while Adam Brooks has made his mark all over the world with his in-ring ability. When these two collide it is without a doubt that the match is going to be one that keeps fans on the edge of their seats.  Adam Brooks is one of the names that the world will very soon be familiar with as he continues to cement his name all over the world, and if you tune in to this match you will not forget the name of Royce Chambers who will put on a show like no one else.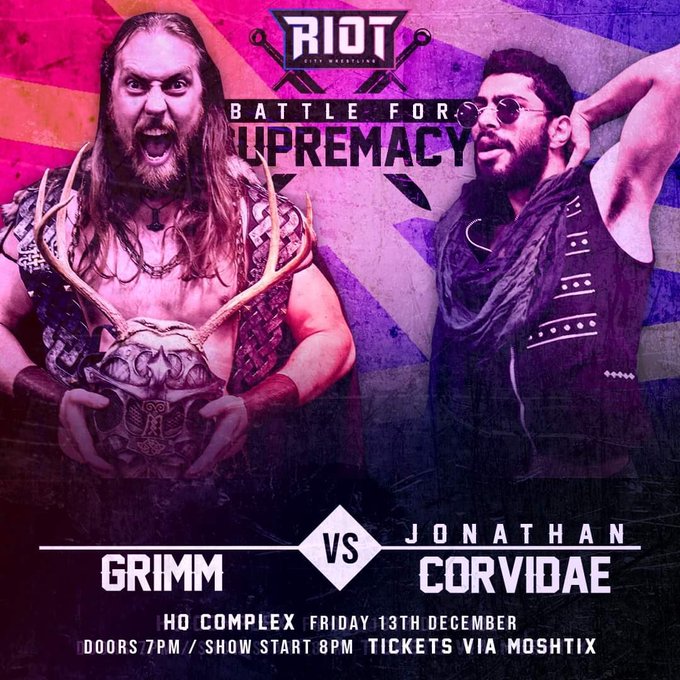 Grimm vs Jonathan Corvidae
Jonathan Corvidae wanted the opportunity to meet Grimm inside the squared circle and his request has been granted.  Grimm is one half of the RCW Tag Team Champions and he now looks to go inside the ring for a one on one match.  Will Jonathan Corvidae get the better of the tag team champion in a singles match, or will Grimm has his opponent well scouted as we head into this collision at Battle For Supremacy?
There is only a matter of a couple of weeks left in the year of 2019 and looking back it has been one hell of a ride for the residents of Riot City.  Time and time again classic matches and encounters took place and now it all leads up to this one final show of the year.  Huge names and big encounters are on the card giving fans some truly amazing wrestling to look forward to when the residents of Riot City clash at Battle For Supremacy.
Remember that Riot City Wrestling produces their shows and provide them for free on their YouTube channel, so make sure to show them your support by subscribing to their channel and watching all of the incredible wrestling action that Riot City Wrestling continues to provide time and time again. Battle For Supremacy boasts a very action-packed and exciting card for everyone to look forward to and to remember the great and successful year that was 2019.  So tune in to Battle For Supremacy and prepare yourself to be ready to riot.