It's the start of a new era for PROGRESS Wrestling at Chapter 101: Dalmations! On January 19th, Matt Richards assumes ring announcing duties on a permanent basis following Jim Smallman's departure. Richards has also taken Smallman's place on the booking team alongside Jon Briley and Glen Joseph. There's an absolute belter of a main event scheduled, featuring a wrestler who could be an absolute megastar. Let's have a look at what the new booking triumvirate has in store for us.
Cara Noir vs Eddie Dennis (c) – PROGRESS Title Match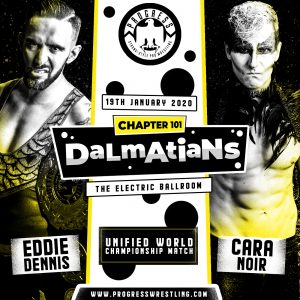 Both Eddie Dennis and Cara Noir have been on an absolute tear through PROGRESS since September of last year. Dennis, of course, captured the PROGRESS Unified Title in controversial fashion at Chapter 95. Noir has faced off against Pete Dunne and contested an excellent series with Ilja Dragunov. It was only a matter of time before the two of them crossed paths due to the dearth of main event challengers to the Welshman. Personally, I'd put the title on Noir: the man is an absolute megastar in the making. Fluid in the ring, possessing of a real connection with fans (without the use of words), and having a unique character. Dennis has been fine in his role as PROGRESS Champion, but it would be nice to have a truly beloved babyface on top for a while. That being said, I don't think that PROGRESS thinks Eddie's run has run its course and so…
Prediction: Eddie Dennis
Paul Robinson (c) vs A-Kid – Proteus Title Match
Paul Robinson defends the Proteus title against a debuting A-Kid in his first defense since Chapter 99. Much to the annoyance of the crowd at Chapter 100, he competed in a non-title four-way match so you'd expect chaos in this one to make amends. Yes, the KO or submission rules are in effect as Robbo's reign continues. The young Spaniard will face a baptism of fire. The former Team White Wolf member will be looking to make a big impression in PROGRESS. There aren't many bigger ways to do so than by dethroning the inaugural Proteus Champ. Saying that I don't see A-Kid becoming a man and claiming the belt. Robbo has a lot more to bring as the champion and should reign for some time yet.
Prediction: Paul Robinson
Jinny vs Mercedez Blaze – Women's Title Match
Jinny makes the first defense of her second reign as PROGRESS Women's Champion against Mercedez Blaze. At Chapter 100, the champ made her intentions clear for this championship run. She wants to make the women's division the most talked about facet of PROGRESS and establish the title in the main event. I personally think there's a lot of work that needs to be done for that to happen, but I have no doubt that someone like Jinny can help facilitate that. Mercedez Blaze made her debut for the company at that same show in a mixed tag match. I'm not sure what qualifies her for a title shot in kayfabe which is the heart of the problem with the women's division. It needs a steadier hand-building the competitors up and more focus on storylines et al.
Prediction: Jinny
Kyle Fletcher vs LJ Cleary
Two fellas are traditionally known for tag team wrestling go one on one as Kyle Fletcher clashes with LJ Cleary. Usually featured in Aussie Open and More Than Hype respectively, these two lads have an opportunity to show what they're really capable of. The last time Cleary was in a PROGRESS ring was during the Newcastle – Manchester weekender last July. Fletcher made his return to the company (in all-new ring gear) at Chapter 100, in a losing effort. They have a broadly similar style to one another, utilizing the top rope liberally and moving around with the ring with real haste. I just wonder if Cleary will become a regular, or whether this is simply another guest appearance for the Irishman. The answer to that question likely reveals the winner of the match.
Prediction: Kyle Fletcher
Destination Everywhere (The OJMO & The NIC) vs Do Not Resuscitate (Spike Trivet, William Eaver & Danny Duggan)
The war between Destination Everywhere and Do Not Resuscitate gets knocked up a notch (bam!) as Spike Trivets returns to action. This will mark the first time Lord Trivet has wrestled in a PROGRESS ring since the Proteus Rumble last September. Now that the de facto leader of the group has returned, it would be nice to see DnR move up the card a bit. Destination Everywhere hasn't really clicked for me so far. They just seem a bit of a random assortment of lads without having anything in common apart from their hate of DnR. They're the equivalent of The Union from the WWF. Remember them? Based on LST's return, and the lack of cohesion in DE this can only really go one way. The only possible wildcard could be if ousted DnR member Chuck Mambo makes an appearance.
Prediction: Do Not Resuscitate
More Than Hype vs Pretty Deadly
The remaining members of DnR, Pretty Deadly, face off against the remaining members of More Than Hype in a tag team extravaganza. Pretty Deadly seems to be the chosen ones in PROGRESS as they mow everybody down that stands in their way. Their addition to the Do Not Resuscitate faction has only bolstered their potential and positioning on the card. More Than Hype join stablemate LJ Cleary in their excursion to PROGRESS. Again, are they set to become regular faces, or is this another stop off to do the job for someone? I think the latter option is more than… likely.
Prediction: Pretty Deadly
Ilja Dragunov vs Mark Andrews
Now, this is an interesting companion piece to the main event. Ilja Dragunov and Mark Andrews have strong ties to each of the Unified Title contenders and their match might leave some narrative threads dangling for that title match. In terms of what may actually happen in the ring, this could be a bit of a cracker. Dragunov always brings a lot of intensity and realism to his matches. Mandrews is making headway into being a well rounded, annoying shitbag of a heel. He's toned his high flying repertoire down considerably to fit his new persona. Together I think their styles should mesh to create something quite dynamic.
Prediction: Mark Andrews