For the first time ever, on September 14th, PROGRESS runs through an entire Natural Progression Series in one fell swoop! Traditionally taking place over a number of months, the Natural Progression Series is an elimination tournament that usually grants the winner a title match of their choosing.
Previous winners were Mark Andrews, Flash Morgan Webster, Pastor William Eaver, Toni Storm and Mark Davis. That's a killer's row of talent, and quite the list for the sixth winner to join. Let's have a look at the opening rounds, shall we?
On paper, Veit Muller vs The OJMO is a real mismatch as the German vastly outweighs the young Brit. The OJMO is a talent who is quickly rising in reputation across many companies after working his way up in the manner of a young lion. Muller is a slightly more unknown quantity as he was unable to make his scheduled PROGRESS debut a couple of chapter back. The newest member of Ringkampf does enjoy bullying his opponents in a similar fashion to Walter, and so his pairing with OJMO should be very interesting.
Cara Noir vs Dan Moloney represents two very different styles. You have the darkly flamboyant Cara Noir, with his ballet-inspired character in one corner. In the other stands a bruiser who enjoys a good fight in Drilla Dan Moloney. We'll see finesse versus power; martial arts versus fist fighting; theatricality versus brutality. This is certainly a very interesting first-round contest, in that it's big enough to be the final.
Who doesn't like a bit of comedy shenanigans in their wrestling as a change of pace? Gene Munny vs Scotty Davis will likely provide that fix for a lot of people. Munny, and his taped up nips, and Irish prodigy Davis make their respective PROGRESS debuts with a reputation for having fun (Maggle). But don't let their comedy stylings fool you – both are incredibly adept at the art of professional wrestling.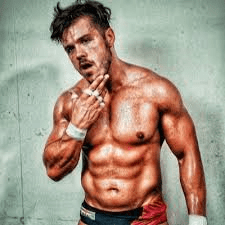 Last year's finalist takes on a debutante as we see Danny Duggan vs Malik at the end of round one. Malik is known as someone who enjoys battering people with extreme prejudice. Duggan is somewhat of a steamroller himself, so this should be the old irresistible force meeting the immovable object. We will hear both men's screams, but what will be left of them for the subsequent rounds?
Tournament winner prediction: Cara Noir. The tournament should be used to build a new star within PROGRESS, and the Black Swan fits the bill of a topline talent for my money.
LAX & Eddie Kingston vs Chris Brookes, Jonathan Gresham & Lucky Kid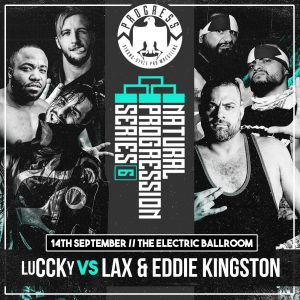 Finally, as an extra special attraction, we have the culmination of the feud between CCK and LAX. The teams are joined by Lucky Kid and Eddie Kingston respectively in this six-man tag street fight match. Yowza!
This feud has been raging for just over a year after LAX debuted for PROGRESS in a losing effort to CCK last August. LAX evened the score in December in one of the best matches I've ever seen in person. The last encounter between the two teams ended in a double count-out due to CCK's unscrupulous methods. The stage is set for an explosive finale to the tale before LAX set sail to the good ship AEW.
Prediction: LuCCKy
This is sure to be an absolute cracker of a show; one that offers the intrigue of a tournament format coupled with a main event caliber six-man tag. Absolutely go out of your way to catch this one if you're able.