Melbourne City Wrestling on Saturday, June 8th, 2019 are presenting Tensions Rising.  This event is going to be the edge of your seat level excitement.  MCW are right in the middle of crowning a brand new MCW Intercommonwealth Champion.  The MCW Intercommonwealth Championship was held by Slex who also won the MCW Heavyweight Championship as well.  Slex recently relinquished the Intercommonwealth Championship which birthed a tournament to crown a brand new champion.
Photo / melbournecitywrestling.com.au
At MCW Presents The War To Settle The Score the MCW Intercommonwealth Championship tournament began.  In some incredible first round matches that proved just how much this prestigious championship means to everyone on the roster.  Lochy Hendricks, Ritchie Taylor, TD, and Danny Psycho all were victorious and move on to the semi-finals which are taking place at MCW Presents Tensions Rising.
Photo / melbournecitywrestling.com.au
TD vs Danny Psycho
These two young men are really opening some eyes after their first round in this tournament.  TD may be looking for his new found friends to have his back in this encounter, but that is not to say that he does not have the talent to get the job done on his own as well.  Danny Psycho will not hesitate to capitalize on this opportunity and end the run of TD and look on to the finals which will take place in July.  Both of these two wrestlers have the heart, skill, and determination that is truly required in order to possess the MCW Intercommonwealth Championship.
Photo / melbournecitywrestling.com.au
Ritchie Taylor and Lochy Hendricks by every definition would have to be considered top names to take this entire tournament.  This match right here would work as your top of the card match during any event, and here we as fans are being treated to it as the semi-finals in the MCW Intercommonwealth Championship tournament.  This is a very difficult match to try and call and it is certain to be very back and forth with both men possessing all the skills to take this entire industry by storm.  Expect to see one hell of a match between these two men as they look to secure their place in the finals in order to be crowned the new Intercommonwealth Champion.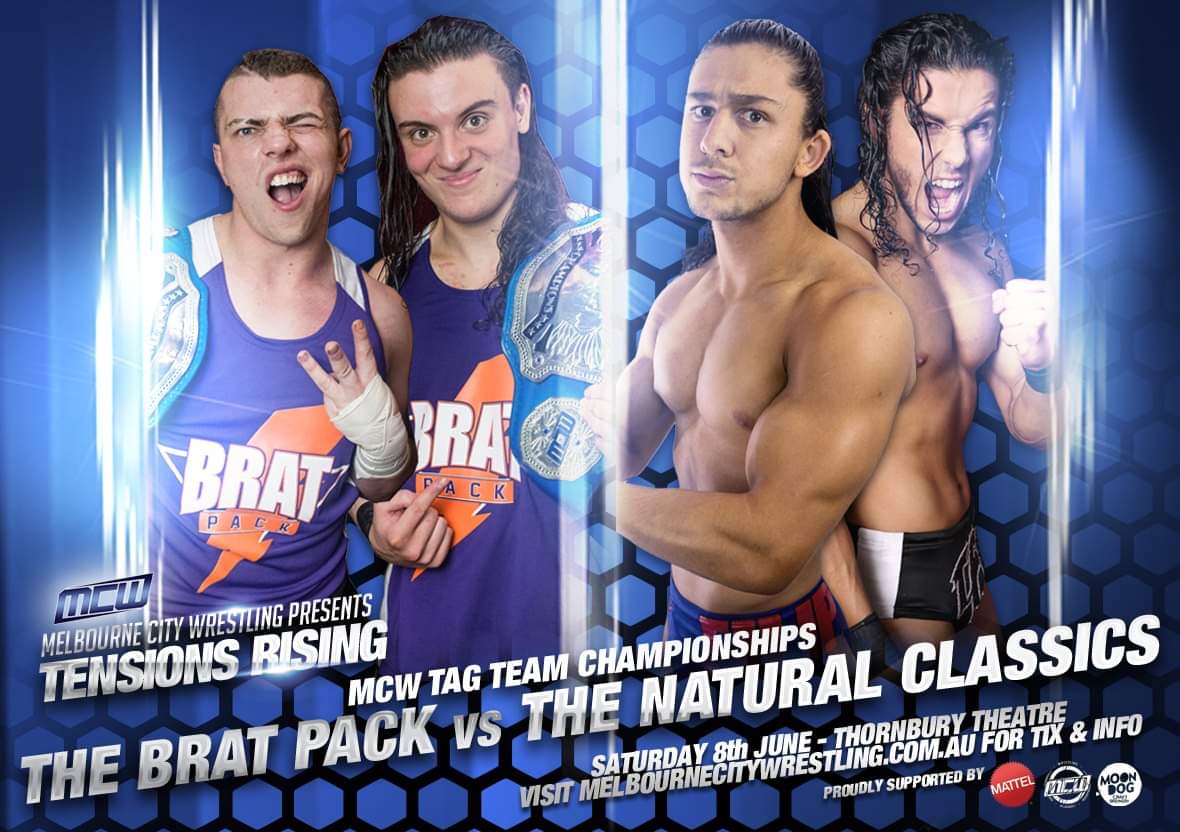 Photo / twitter.com/mcitywrestling
MCW Tag Team Championship Match
The Brat Pack vs The Natural Classics
The Natural Classics have returned to MCW and have answered the challenge set out by the MCW Tag Team Champions The Brat Pack.  Now at Tensions Rising the championship belts are on the line and The Natural Classics want to put an end to the incredible run of The Brat Pack.  Love them or hate them The Brat Pack are taking the tag team division in wrestling by storm, and they want to continue to run over their competition.  This match is going to be one for the ages so wrestling fans make sure you tune in to MCW Tensions Rising to be a part of witnessing this tag team championship match.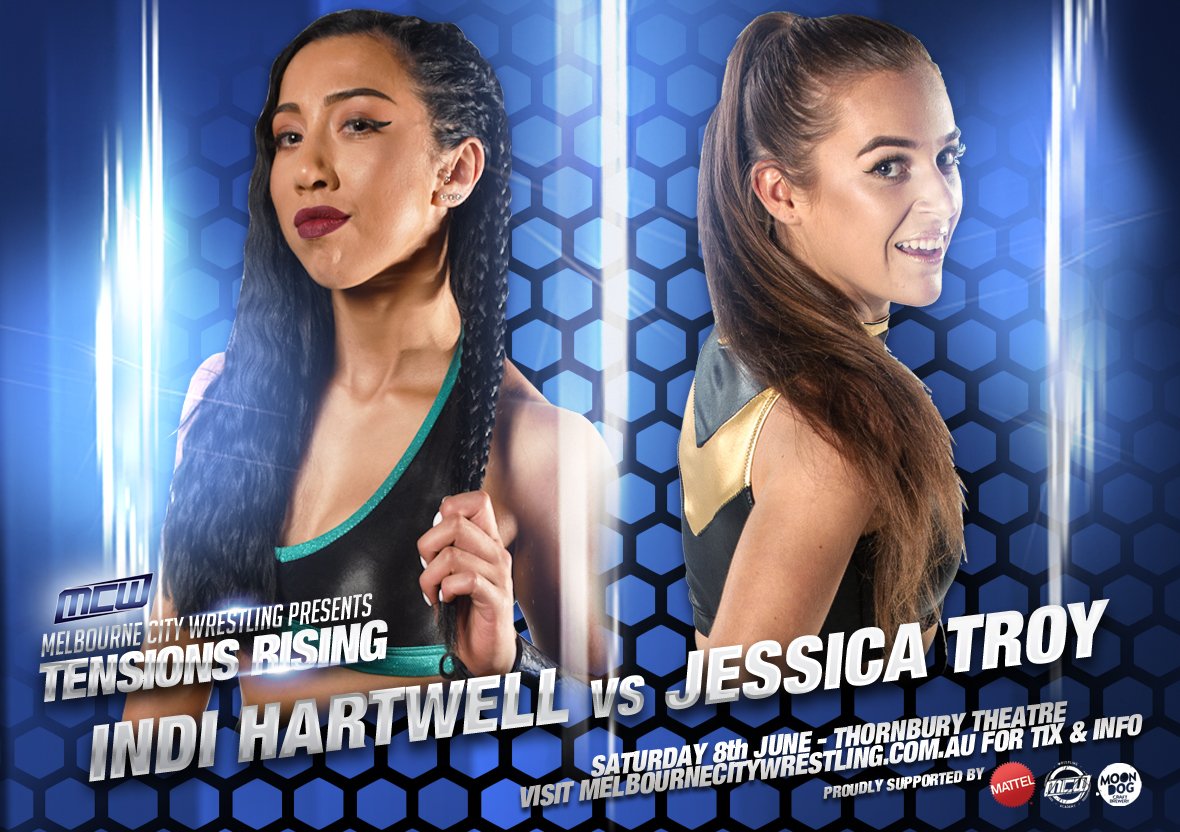 Photo / twitter.com/mcitywrestling
Indi Hartwell vs Jessica Troy
When it comes to the women of wrestling in Australia the two names that instantly are on the minds of fans at the moment have to be Indi Hartwell and Jessica Troy.  These two women have been tearing it up all over the Country and continue to be a thorn in the side of one another.  This match is an opportunity for one of these two women to escalate their rising star to a whole new level while also putting a slight bump in the road for their opponent along the way.  Indi Hartwell and Jessica Troy could easily turn out to be the show-stealing match as these two women go to war with one another.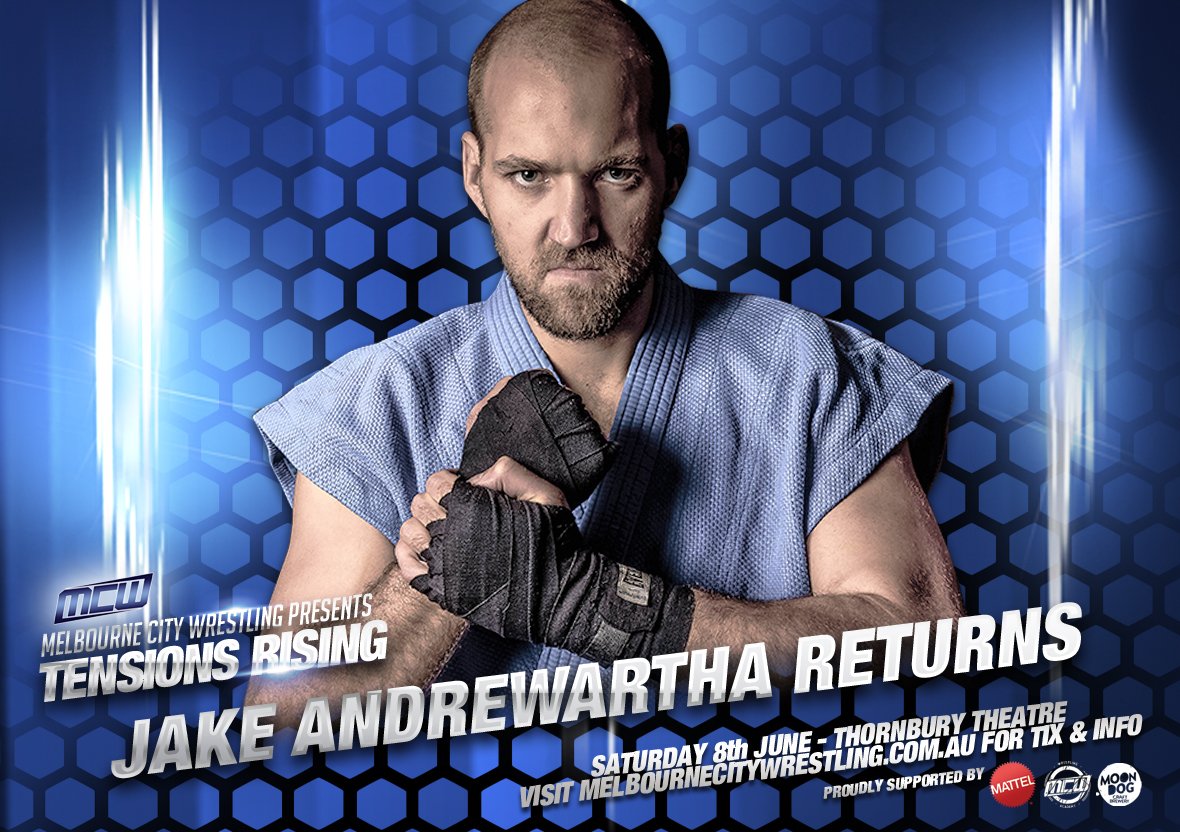 Photo / twitter.com/mcitywrestling
Jake Andrewartha is returning to MCW on June 8th.  Jake Andrewartha created a social media blackout so there are many people wondering about what he has been up to.  Hopefully, many answers to many questions will be answered when Jake Andrewartha returns to MCW.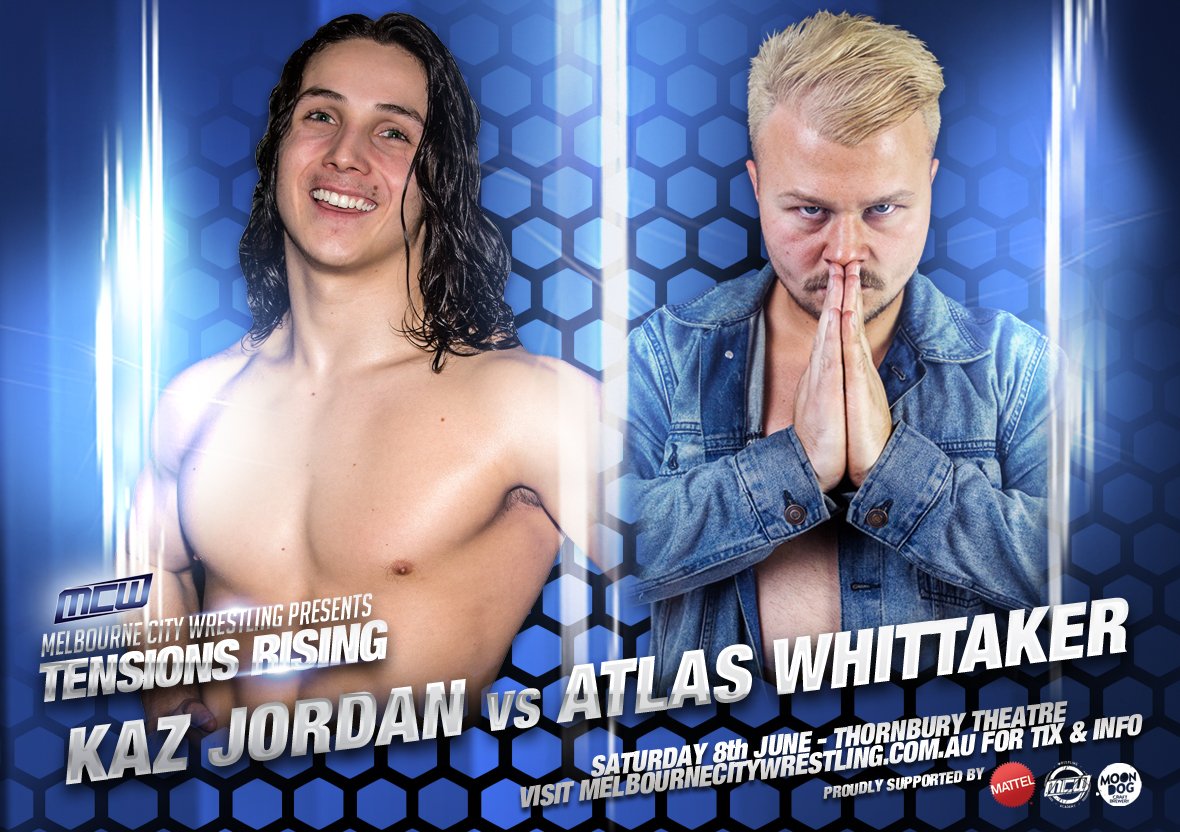 Photo / twitter.com/mcitywrestling
Kaz Jordan vs Atlas Whittaker
Kaz Jordan recently aligned himself with Emmanuel and TD and will likely have them in his back pocket ready to strike if things begin to look bleak in this matchup.  Atlas Whittaker is tough as nails and going to bring the fight in this one, hopefully for his sake though the numbers game does not become an issue and this match is given the proper one on one treatment that it truly deserves.
MCW Presents Tensions Rising is going to be a night to remember.  This card is absolutely jam-packed with exciting wrestling action and should once again prove why Australia is one of the best markets in the wrestling world today.  Expect the unexpected as always from MCW when they present Tensions Rising on Saturday, June 8th, 2019.  Remember that you can catch previous MCW action through their streaming service that you can find at http://melbournecitywrestling.com.au 
There is also a selection of MCW events available through our good friends over at POWERSLAM.TV and if you want to try out their service you can get yourself a one-month subscription by using the coupon code MUNSONED, so go and give them a try as well and enjoy many of hours of some of the best independent wrestling from across the world.