Melbourne City Wrestling and Evie's Disco Diner are teaming up again to bring wrestling fans another action-packed women's wrestling card with G.IRL5.  On Sunday, November 17th some of the best names in Australian wrestling will do battle inside the squared circle.  The G.IRL events have become one of the most popular events on the Melbourne City Wrestling calendar.  The card for this event is once again looking like another classic from the women of Melbourne City Wrestling, so let us take a look at what is in store for G.IRL5.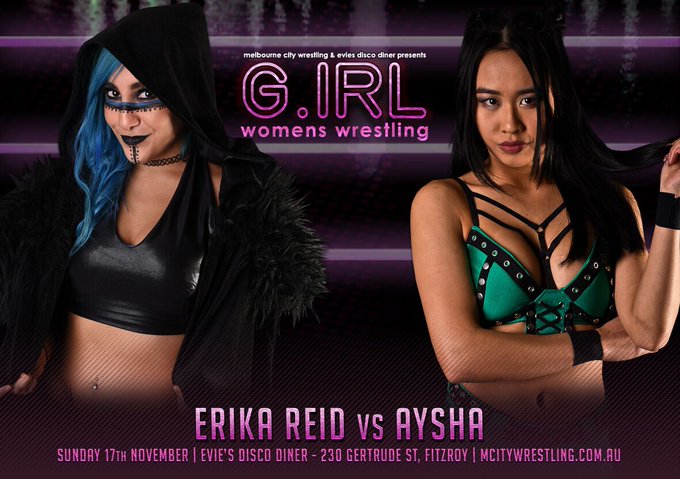 Erika Reid vs Aysha
Erika Reid is making her return back to the MCW ring this Sunday at G.IRL5.  Erika Reid an outstanding champion in WWA has been dominating the division for over a year now, having only made her professional debut 3 years ago this is a wrestler soon to be on everyone's radar.  Aysha is another up and coming name that fans need to get familiar with.  Reid's opponent, Aysha will be stepping inside an MCW ring for the very first time this Sunday.  Aysha will be looking to make a massive impact with a win at G.IRL5 but Erika Reid brings a lot of skill to the ring that will be hard to overcome.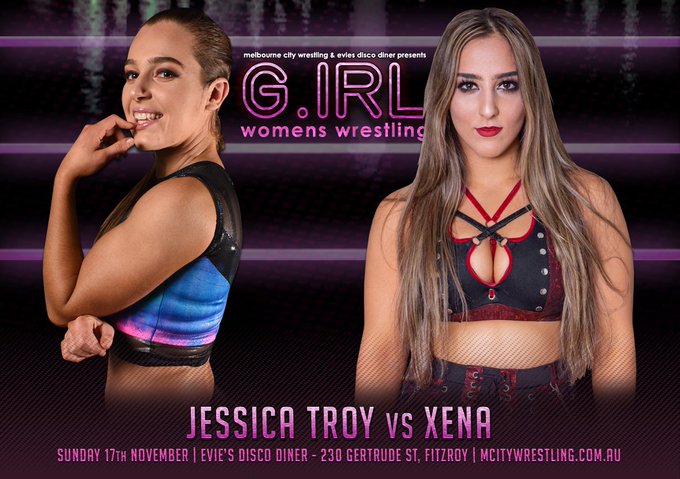 Jessica Troy vs Xena
A match with the ability to go off the rails in a very exciting way is the battle between Jessica Troy and Xena.  Xena is completely unhinged and unpredictable making it a very difficult task to prepare for a match against her.  If there is any name in Australian wrestling right now that is able to go toe to toe with any unpredictable competitor it would definitely be Jessica Troy.  Jessica Troy is currently the PWWA Champion where she has managed to overcome some of the toughest challenges that have been thrown her way.  It is without a doubt that these two women will not be afraid to go to some dark places in order to inflict harm on their opponent.  The end result of this match should be a match that will have fans talking even after the final bell is rung.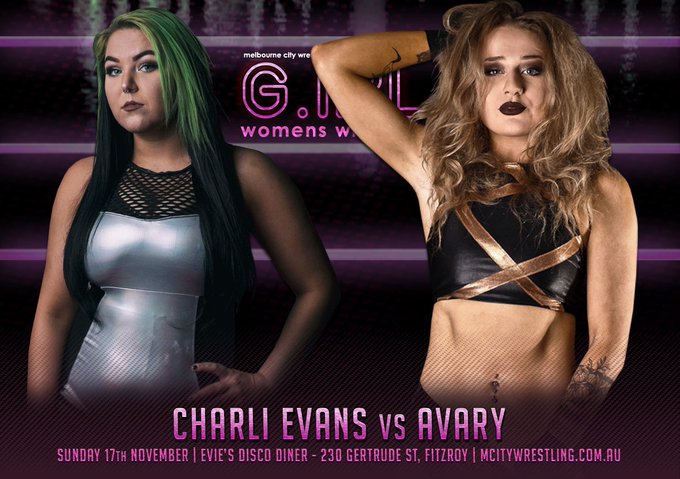 Charli Evans vs Avary
The last time Charli Evans was in an MCW ring was back in 2017 and the landscape certainly has changed since then. Evans has been really working hard to make a name for herself quick and the world is starting to take notice. Avary has quickly become one of the biggest rising stars on the Australian scene and has started to truly make the MCW ring her own. Avary will be looking to show Charli Evans just how much the game has changed since the last time she stepped in the MCW ring. This match will be no disqualifications which mean anything goes when these two, step inside the ring this Sunday. Charli Evans and Avary both provide fantastic in-ring skill and charisma to boot which should help to electrify the crowd at G.IRL5.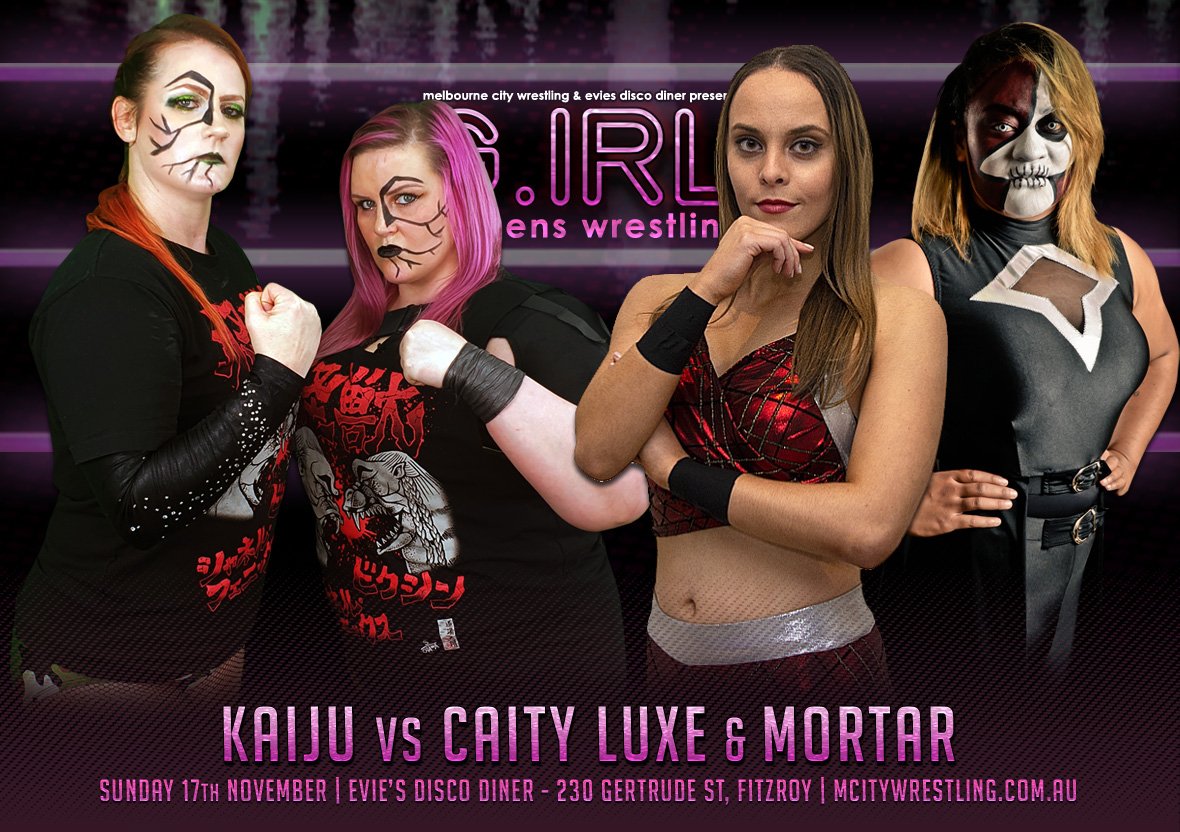 Kaiju vs Caity Luxe & Mortar
Vixsin and Chanel Phoenix the team of Kaiju will be in action this Sunday.  This team is lethal as a unit, they know one another like family and it shows in their teamwork.  Caity Luxe & Mortar may not share quite the same level of team experience as Kaiju but that does not mean they will be at any disadvantage by any means.  Caity Luxe and Mortar will bring in-ring experience and toughness with them and if they can find the right rhythm they could just end up dominant over their opponents.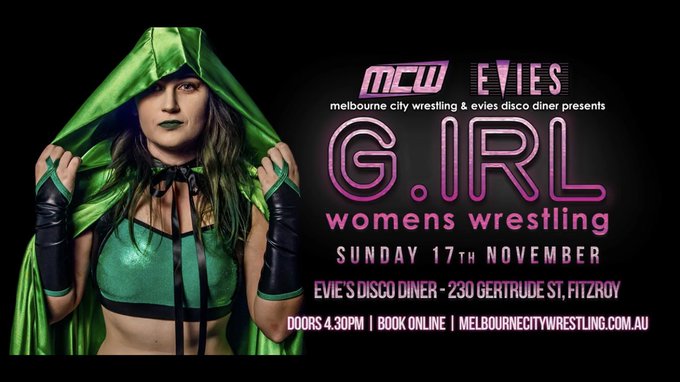 Lucille Brawl Debuts
This Sunday at G.IRL5 exciting up and comer Lucille Brawl is making her MCW debut.  Lucille Brawl is a very exciting new name to be coming to Melbourne City Wrestling, fans that will be in attendance for this Sunday's event will be able to one day say they were there when Lucille Brawl made her MCW debut.  Head over to the MCW Twitter page in order to watch a short video from Lucille Brawl as to what has brought her to stepping inside the MCW ring.
The Melbourne City Wrestling event calendar is always packed full of amazing wrestling action. A very packed card already announced and with the promise that both MCW Women's Champion Steph De Lander and rival KellyAnne will be in the house, this is certain to be a night you will not soon forget.  The G.IRL events have become a staple for the company putting them on with Evie's Disco Diner where the shows are also hosted. G.IRL is not just an event for fans of women's wrestling it is an event for fans who enjoy wrestling as these future stars rise to the occasion and deliver one of the most memorable events of 2019.
If you are looking for tickets to the event then head on over to here in order to get yours booked ready for this Sunday.  This Sunday MCW and Evie's Disco Diner presents G.IRL5 and it will without a doubt be one of the best wrestling cards of the entire year.