Saturday April 27th 2019 the Thornbury Theatre is going to be on fire as the women and men of Melbourne City Wrestling (MCW) present Fallout. Challenges have been issued and debuts will made on this incredible night of wrestling action in Australia. So what exactly are fans of Aussie based wrestling in store for? Well let us break down what you will see when Melbourne City Wrestling presents Fallout.
In what became one of the biggest reveals for MCW Fallout was the announcement of the MCW debut of wrestling superstar Millie McKenzie. Millie McKenzie is a young British born wrestler who has made a very rapid rise in the wrestling community at a very early age. Millie only made her debut in 2016 and has already been featured on two episodes of NXT UK. This goes along with the long list of accomplishments that Millie has already managed to accomplish while traveling the world. Kelly Anne will be the opponent for Millie McKenzie upon her debut which does not make this debut an easy task in any way. Kelly Anne is still absolute furious about her recent loss to Avary and will look to overcome that loss by putting a dark cloud over the MCW debut of Millie McKenzie. Kelly Anne is one dangerous opponent but if she underestimates the British sensation then Millie McKenzie may just get her MCW career off to a winning start at Fallout.
Julian James the manager of Helter Skelter had a post match warning that he sent out to Preseton & Payne. The result of Julian's warning led the MCW management to book a tag team encounter for MCW Fallout. Helter Skelter are a scary duo and under the guidance of Julian James they seem to be a near impossible team to put a stop to. Preston and Payne however are not going to allow Helter Skelter to impose any fear upon them and you better believe that they are going to be up for the challenge on April 27th at MCW Fallout.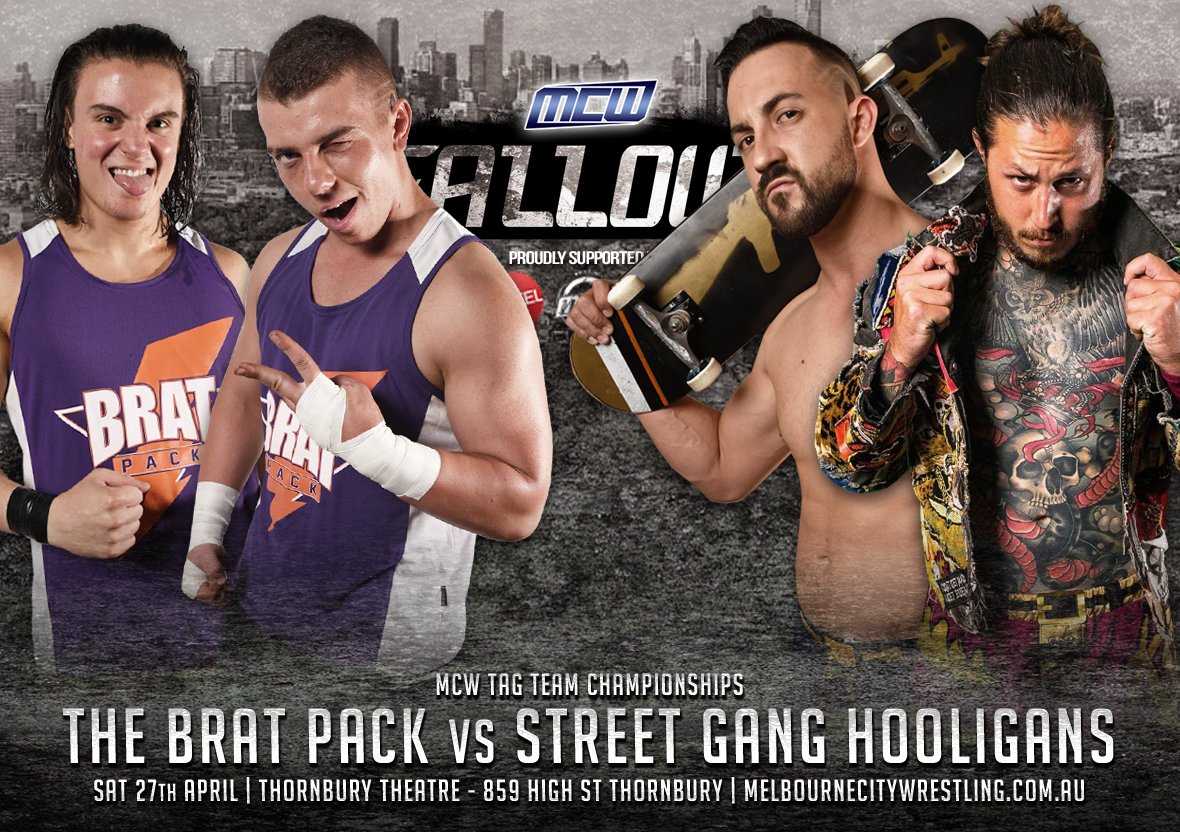 Photo / twitter.com/mcitywrestling
The Brat Pack are going to look to continue their run as the MCW Tag Team Champions, however standing in the way of that run is the Street Gang Hooligans.  These two teams are going to be in a all out war when the 27th rolls around.  The Street Gang Hooligans will clearly need to be on top of their game as The Brat Pack have the champions advantage.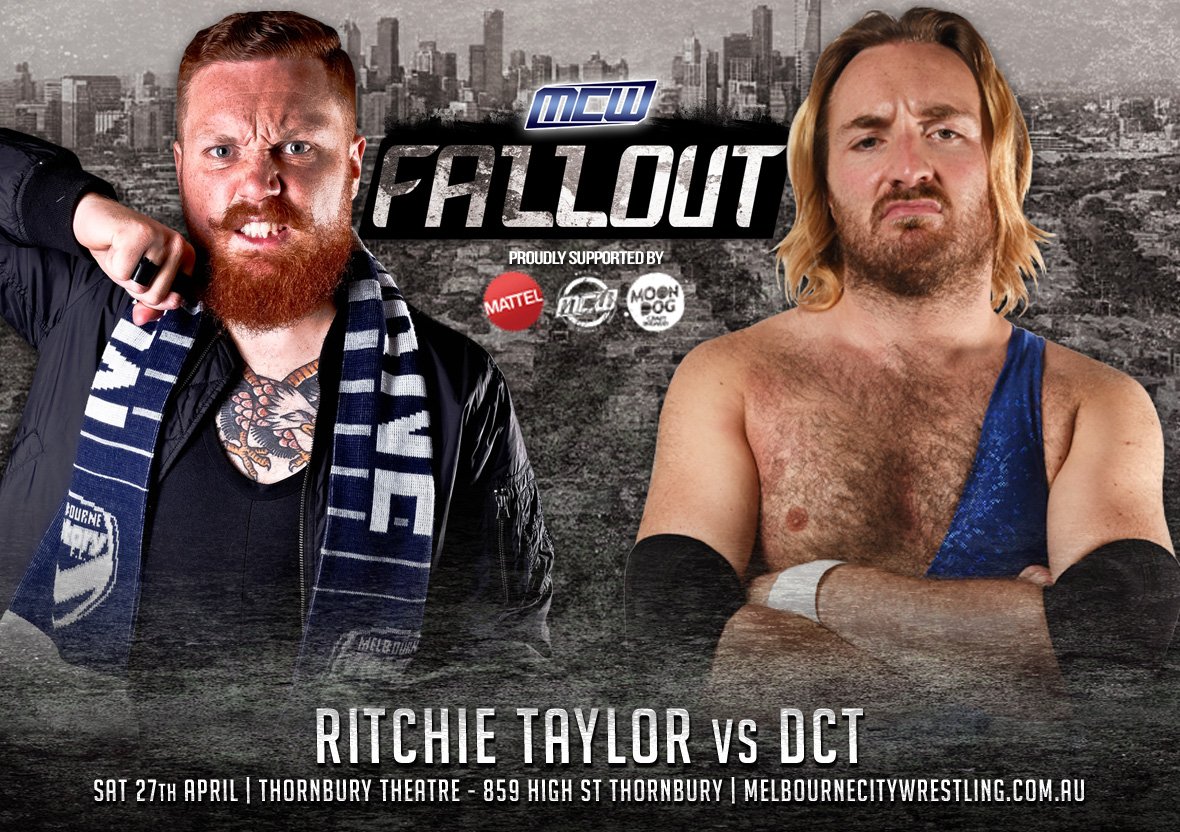 Photo / twitter.com/mcitywrestling
You can bet that MCW Fallout will be loaded with hard hitting wrestling action.  Ritchie Taylor and DCT though will deliver hard hitting at the absolute finest of quality.  Who will walk away victorious in this one?  Well the better question might be to ask who will walk away from this match still in one piece?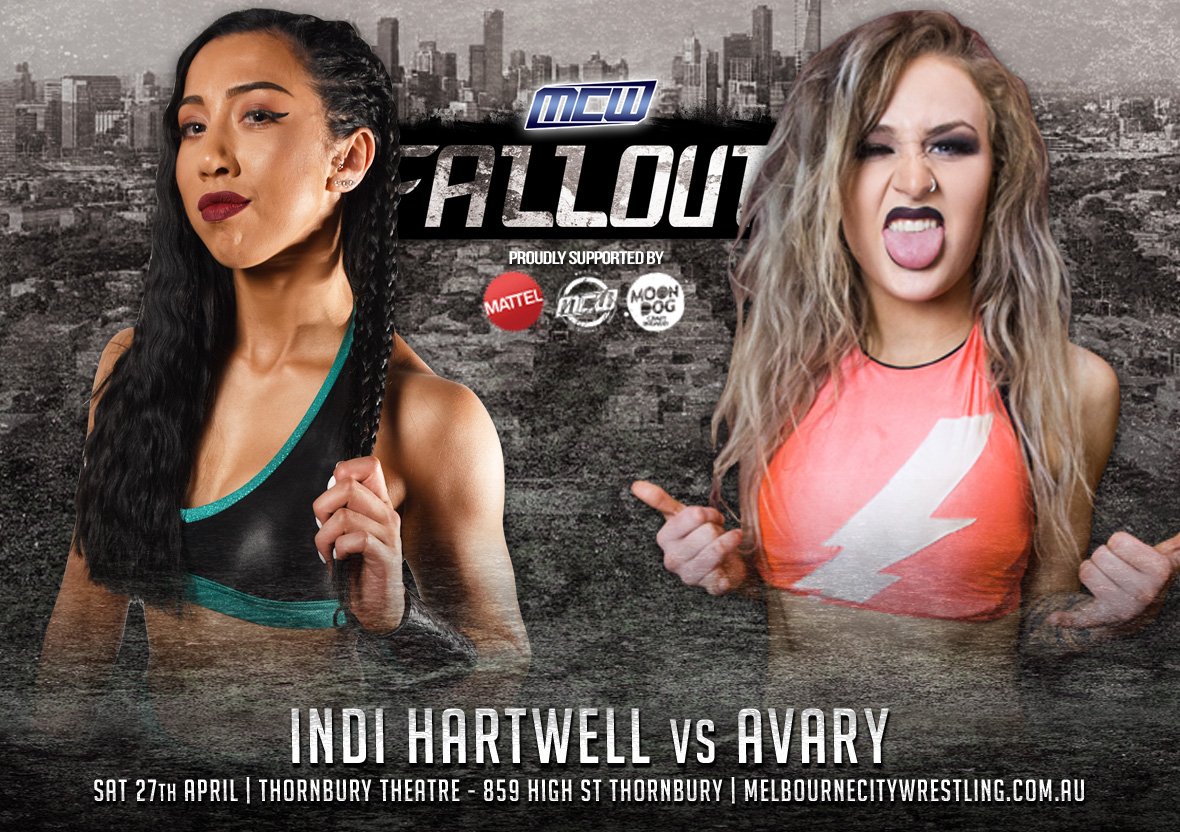 Photo / twitter.com/mcitywrestling
A couple of weeks ago Indi Hartwell issued a challenge to Avary.  The MCW management then made the decision to sanction this encounter and make it official for MCW Fallout.  Two of the top women in Aussie wrestling today will collide in what will be a memorable encounter.
MCW Fallout has a very memorable card so if you have the opportunity to get tickets do that immediately because this event is almost sold out.  If you can not attend the event then you will want to check out the MCW streaming service available through their website.  Get signed up and take in all the events put on by MCW.
To read past previews or reviews for Melbourne City Wrestling click here.