The new year has sprung and Melbourne City Wrestling is ready to roll out a new year of exciting wrestling action.  Melbourne City Wrestling returns to the Thornbury Theatre on Saturday, January 11th, 2020 as they present Vendetta.  MCW Vendetta always kicks off the new year with a bang and there is a lot to be excited about with the card for this year's show.  Make sure that you head on over to melbournecitywrestling.com.au and make certain that you do not miss the live MCW experience.
If you wish to experience watching Melbourne City Wrestling events, and you do not live in or near Australia, there is an on-demand service available through the company's website. You can take in all past events and new ones are added as they become available as well.  Vendetta has some matches that you will not want to miss, so let us take a look at the card for this year's event.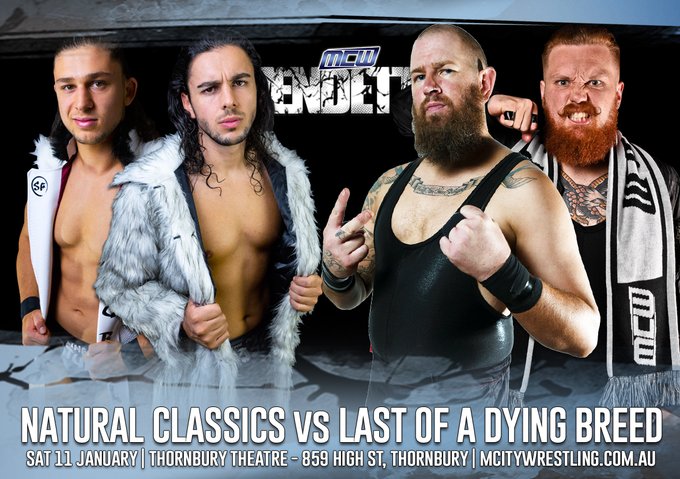 Natural Classics vs Last Of A Dying Breed
The old saying that opposites attract can be applied to this match.  Natural Classics and Last Of A Dying Breed have completely contrasting styles inside the squared circle. When they bring that together, an epic collision will result.  Tome & Stevie Filip, the Natural Classics, have quick-paced technical skills that are a real sight to see.  The only ones who will not be wowed by the Natural Classics are their opponents Mike Burr and Ritchie Taylor, two hard-hitting, no-nonsense wrestlers who are going to look to slow the pace of their opponents.  These two teams squaring off against one another are bound to have everything that all wrestling fans want to see.  This match will really kick start the new year off perfectly.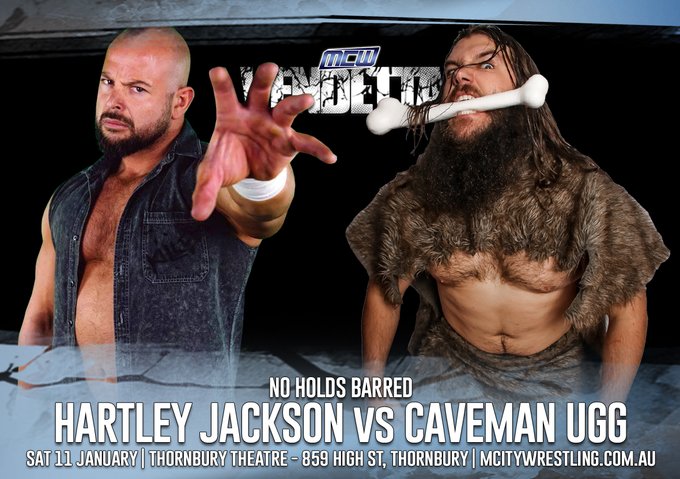 No Holds Barred
Hartley Jackson vs Caveman Ugg
The rivalry between Hartley Jackson and Caveman Ugg has been heating up more and more ever since their encounter with one another last October.  MCW has sanctioned a No Holds Barred match between these two heated rivals for Vendetta.  If you are up for a good old fight, a slugfest, and a true war, then you will absolutely love the match between Jackson and Ugg.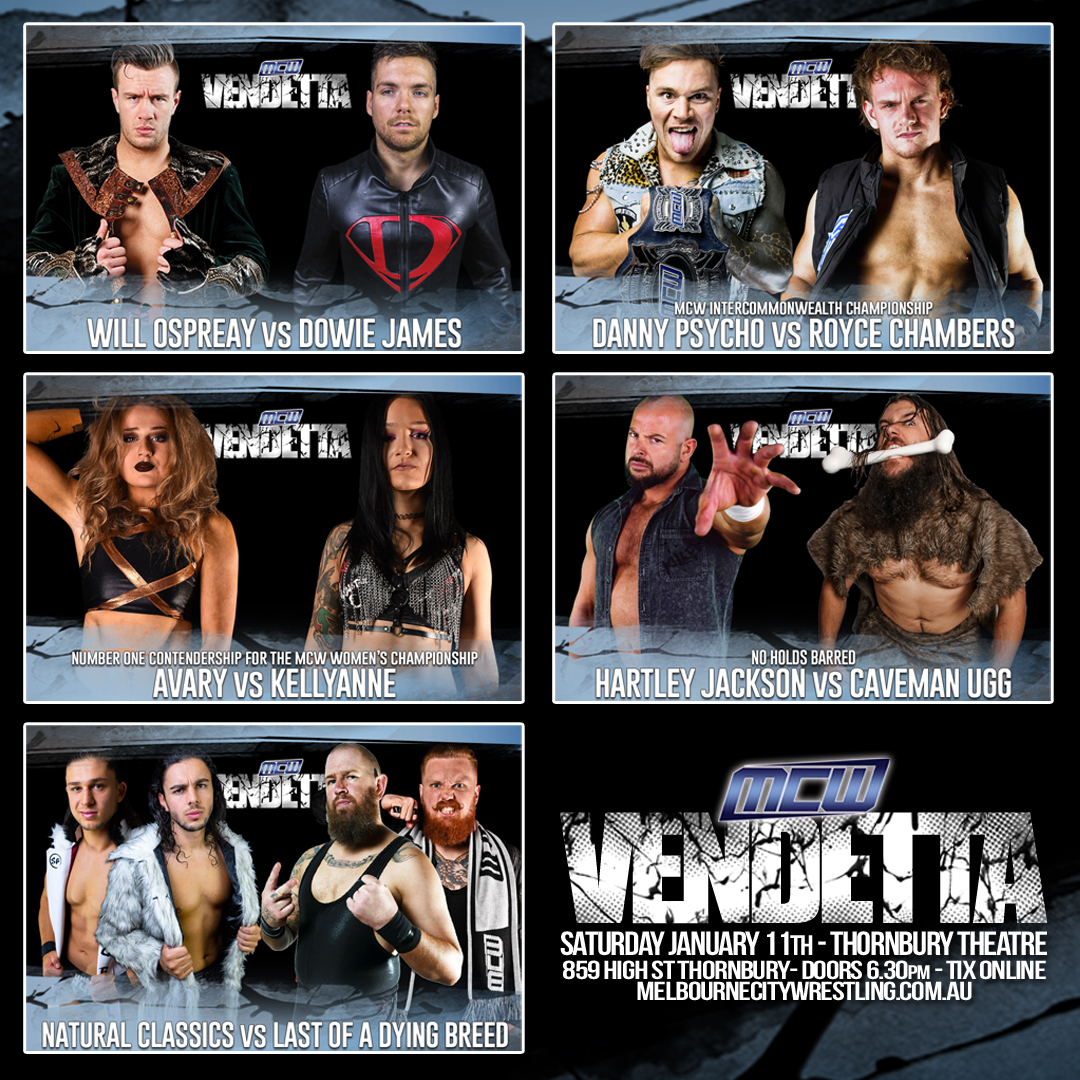 Avary vs KellyAnne
The MCW Women's Champion Steph De Lander will be busy with a championship opportunity outside of the company on January 11th.  De Lander will want to find out the outcome of the match between Avary and KellyAnne.  The match is a number one contender match for the MCW Women's Championship.  Avary and KellyAnne are both incredibly gifted wrestlers who will put out their absolute best in order to come out with the victory.  With a championship opportunity on the line, these two wrestlers will show heart, strength, and determination to prove they have what it takes to step up to De Lander.
MCW Intercommonwealth Championship
Danny Psycho vs Royce Chambers
The MCW Intercommonwealth Championship is the workhorse championship.  Wrestlers who hold the MCW Intercommonwealth Championship defend it with honor. They let the world know just how much that championship means to them and to the company.  Danny Psycho became the champion in 2019 during a champion-crowning tournament. Since then, he has lived up to the prestige of the title.
The fans are clearly behind the champion and look forward to another athletic encounter. On this night, the championship goes on the line against the excellent talent Royce Chambers.  The challenger Chambers is going to have to prove just how hungry he is in order to conquer Psycho.  This match is going to be another of the legendary battles that the company has held for the title.
Will Ospreay vs Dowie James
Will Ospreay is returning back to MCW and the fans in Melbourne could not be more excited.  Ospreay, the world-renown talent,0 always brings a world of excitement inside the squared circle.  Dowie James will provide real competition for Ospreay though and will look to accelerate talk of his name with a defeat over Will Ospreay at Vendetta.  It is, without a shadow of a doubt, the match will end up being the talk of the show.
An epic card assures that fans will go home happy as we kick off the new year.  MCW always gives it their all. Production values are incredibly well done and the action inside the ring is always top-notch.  These are true professionals inside and outside the ring and they provide us all with a great professional wrestling experience.  MCW Vendetta on January 11th, 2020 is certain to be the talk of the wrestling world.