May is a very busy but rewarding month for fans of Melbourne City Wrestling.  In the same weekend that the women will continue their extremely successful series with Evie's Disco Diner G.IRL4 then men will get to have a show just the night before.  Saturday, May 11th MCW Presents Brewery Brawl.  It is time to get your drink on and watch some warriors of the squared circle battle it out.  In a one on one encounter contested in Scottish rules, Mike Burr will take on DCT.  Now the rules of a Scottish rules match is there 5 3 minute rounds, after each round, there is a 30-second break where each competitor has to consume an alcoholic drink and a shot.  Talk about a Saturday Night drinking game to the extreme and a match that will be extremely entertaining especially once we get to that final round.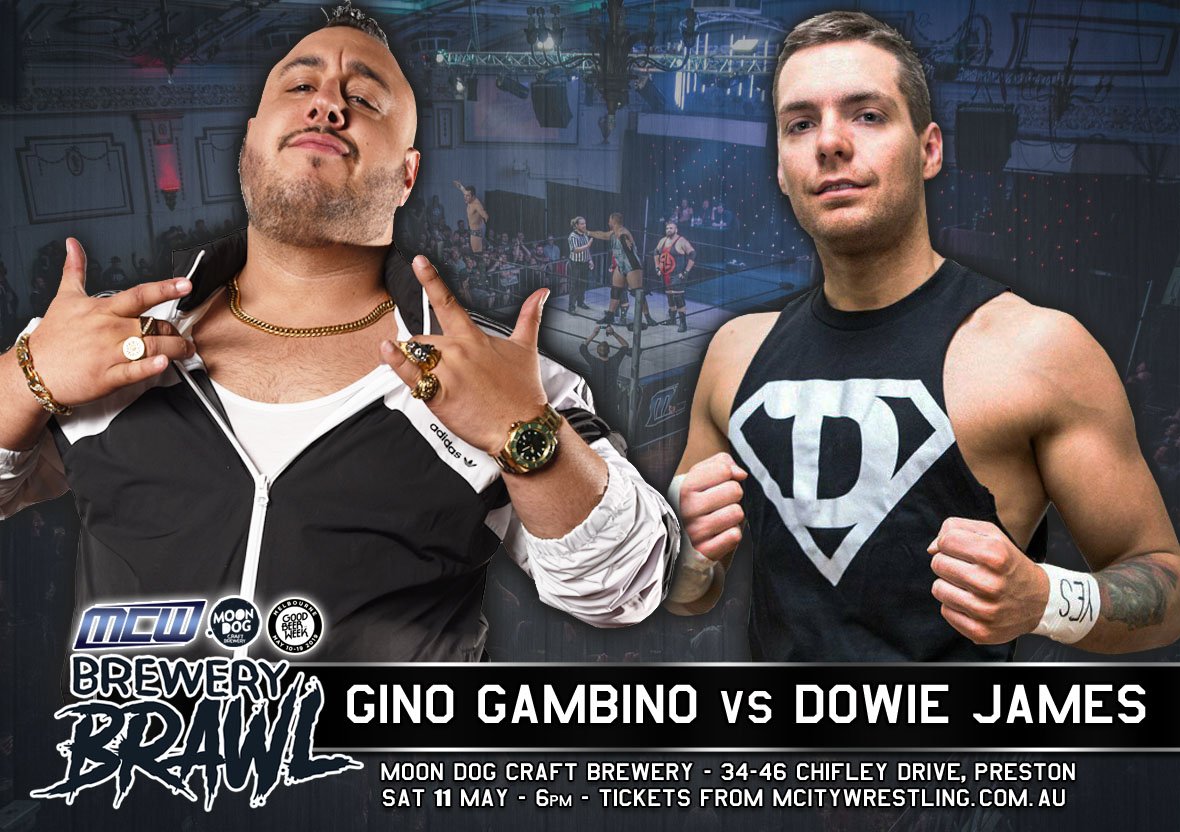 They were once friends, tag team partners, and even champions but on Saturday, May 11th all of that is going to be thrown right out the window.  Gino Gambino and Dowie Jame are going to absolutely tear one another apart.  This match has such a deeply rich history behind it that it draws your attention right into it.  There is a true reason to be well invested in the story with Gino Gambino and Dowie James.  Gino Gambino and Dowie James want to really cement their status as singles competitors and they are willing to do so at the expense of their once inseparable partnership.
There is a lot of buzz in Australia with the arrival of Session Moth from the UK.  Session Moth brings another dynamic to the already growing scene in Australia.  Avary is one of the absolute finest wrestlers in Australia and once again will want to continue to remain on top of her game.  Session Moth Martina is always out to have a lot of fun everywhere she goes, however, Avary will not have fun on her mind as she will want to absolutely humiliate Session Moth Martina.  The fun and games may just be enough though to get under the skin of Avary and allow for Session Moth Martina to pick up a very big win at MCW Brewery Brawl.
When you are the one with all the gold then you quickly become the biggest target in the company.  That rings ever so true for MCW World & Intercommonwealth Champion SLEX.  SLEX is definitely a man who is up to the task as a double champion, and while many will want to take a chance only the best of the best are truly going to be able to stand toe to toe with SLEX.  That being said at Brewery Brawl the best of the best is going to be taking a shot at SLEX.  Lochy Hendricks easily one of the top flight names in Australian wrestling and a man who will soon be making his mark on the rest of the world and that is Lochy Hendricks.  Hendricks is making his way to Florida soon as he has signed a contract with NXT but Lochy Hendricks would love to make one of his final statements be that he defeated SLEX and became the brand new MCW World & Intercommonwealth Champion.  This is going to be a show-stealing match and the main event worth paying attention to.  These will be two names that the wrestling world is certainly going to be talking about very soon.
Saturday, May 11th, 2019 it is time to go and get your drink on and watch some of the best wrestling possible.  MCW presents Brewery Brawl is being held at the Moon Dog Craft Brewery.  Grab your beers and reign out those cheers because once again we are being treated to a very exciting card from Melbourne City Wrestling as they present Brewery Brawl.
To read our preview on Melbourne City Wrestling's recent Clash of the Titans event click here.