On Friday, September 6th from Portland, Maine Limitless Wrestling presents Know Your Enemy. With a stacked card of talent including names and faces either familiar to Limitless or making their debuts with Limitless Wrestling it is sure to be a special night for all involved. One of the key matches of the evening appears to be the battle for the Limitless Wrestling championship between MJF and the 'retrosexual' Anthony Greene. The card also includes matches involving the likes of the Maine State Posse, JT Dunn, and Kevin Blackwood also amongst them. How many of these matches are likely to have some form of result leading to a future championship match for whoever is the Limitless Wrestling Champion after Know Your Enemy is complete? It could very well be that case once the dust is settled.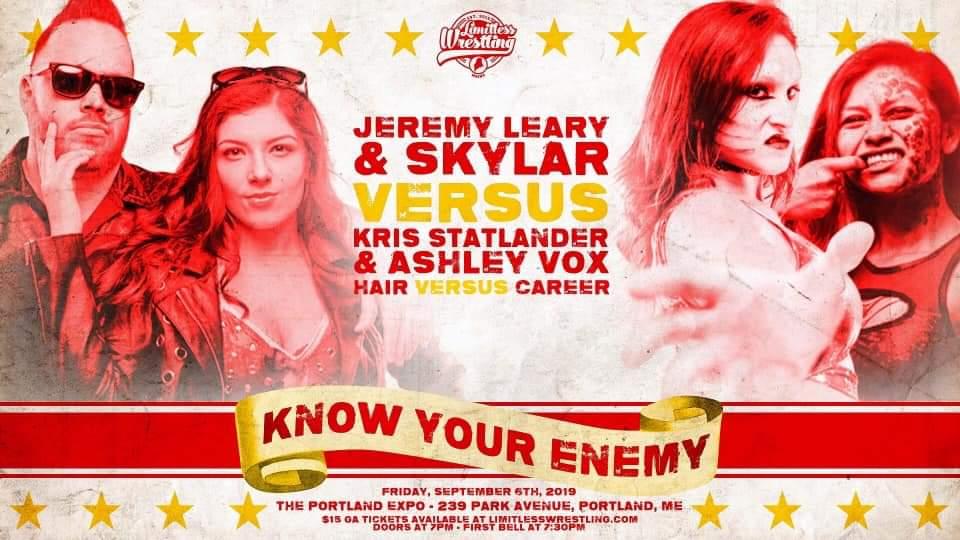 Hair vs Career
Jeremy Leary and Skylar vs Kris Statlander and Ashley Vox
A tag team match with an interesting stipulation being placed upon it for this particular matchup. Here, we have the tandem of Leary and Skylar putting Leary' luscious hair on the line against the tandem of Statlander and Vox. The caveat here is that it is Statlander's career in Limitless Wrestling. Depending on which is of greater value to the other it would seem that the idea of losing your career as opposed to having your hair eventually grow back would be the biggest difference between the two. One of the more unique things about these stipulations is that they are also dependent on their tag team partners. So much like a tag team championship being lost by one person submitting or being pinned it is in fact it could be very well up to Skylar or Vox who could be the ones in the match potentially being the very reason the result is what it is.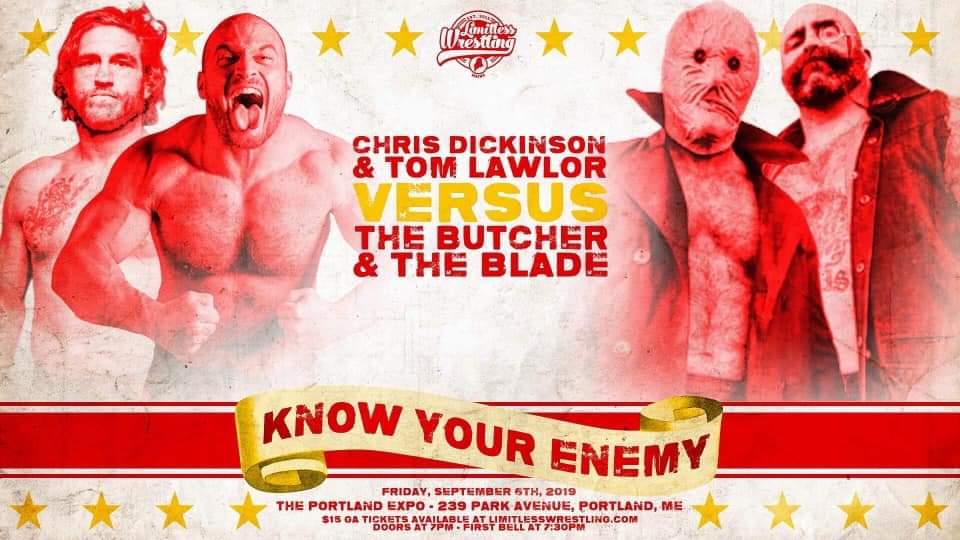 Chris Dickinson and Tom Lawlor vs The Butcher and The Blade
What a collection of talent in this match is simply staggering. The inclusion of the former MLW Heavyweight champion suggests that we are sure to see an array of stiff strikes that will put Andy Williams and Pepper Park on notice. That is if they allow themselves to be. The hunting and the rather menacing looking duo are prepared to strike Dickinson and Lawlor with everything that they are. Dickinson is a regular with Limitless as has Williams and Parks become so as well. Will the new combination of Dickinson and Lawlor have enough chemistry as a tag team to disrupt everything that The Butcher and the Blade have going for them? It is sure to be a contest fans sitting at ringside best be prepared to have a closer look at the action than they anticipated.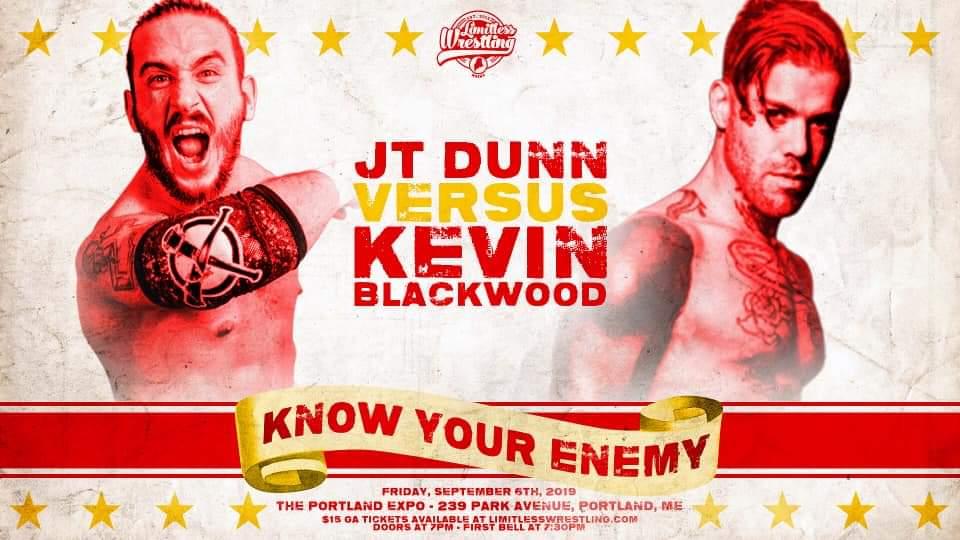 JT Dunn vs. Kevin Blackwood
Hit hard and hit often is the theme of this matchup. When the talents from the East Coast do battle it is sure to be a confrontation no one is anticipating will be for the weak at heart. With tenured veteran Dunn facing fast-rising Blackwood it appears as though the two are sure to come at one another with everything they have. Blackwood returns to Limitless Wrestling after being a part of the Vacationland Cup tournament this past July. In the case of Dunn, Limitless is amongst his homes and sure to be one that will be hard-pressed for him to walk away as anything, but the victor. It is sure to be a battle between two men asserting themselves in hopes of contending for the Limitless Wrestling championship.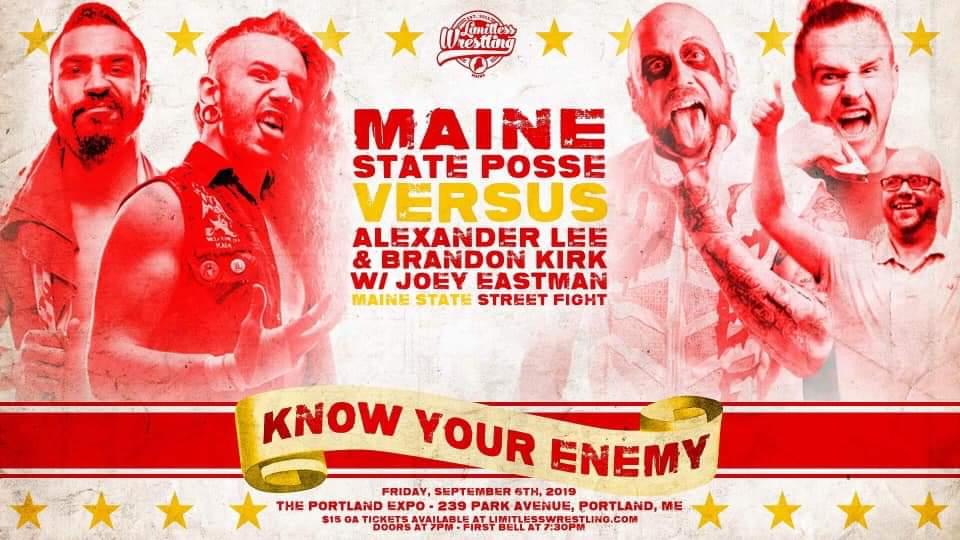 Maine State Street Fight
Maine State Posse vs Alexander Lee and Brandon Kirk with Joey Eastman
Limitless Wrestling mainstays, the Maine State Posse have their work cut out for them against the likes of Lee and Kirk. Kirk has been honing his craft for less than a decade and Alexander Lee who is more seasoned of the two. For those that weren't aware Lee at one point competed under the name of Scott Vegas. What is interesting to note about that isn't that it was his name, but he teamed alongside Alex Chamberlain and collectively they were known as the Main State Posse. Despite being connected by a team name that is where the similarities end between the current incarnation of the Main State Posse and the team name that Alexander Lee. Who amongst them will be likely to walk away as the winners and have bragging rights going forward?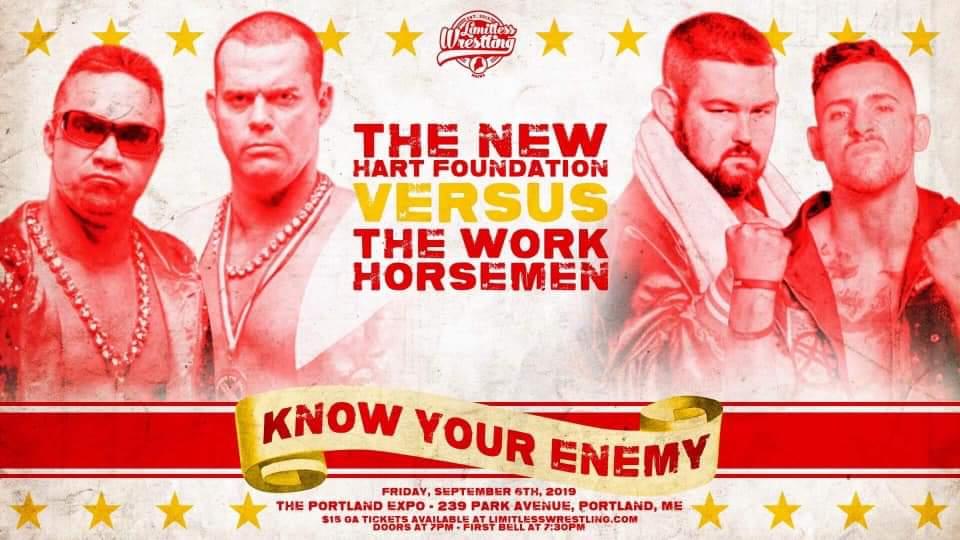 The New Hart Foundation vs The Work Horsemen
If there was ever a match that had its name etched in the annals of wrestling history it was this tag team match. For Teddy Hart and Davey Boy Smith Jr fans have become aware of their growing success in promotions such as Major League Wrestling. For Anthony Henry 'the 5-star king' and JD Drake 'the New Age Enforcer' fans are once again getting exposure to an old school wrestling tag team made in the ilk of the Four Horsemen that is every bit as rough, tough and stiff as their predecessors. They are quickly earning a reputation for being two of the finest talents out of the mid-south area for their ability to dissect their competition. If a Limitless Wrestling Tag Team Championship is likely to be a consideration in the near future these are two teams that could be considered likely contenders for those championships after Know Your Enemy.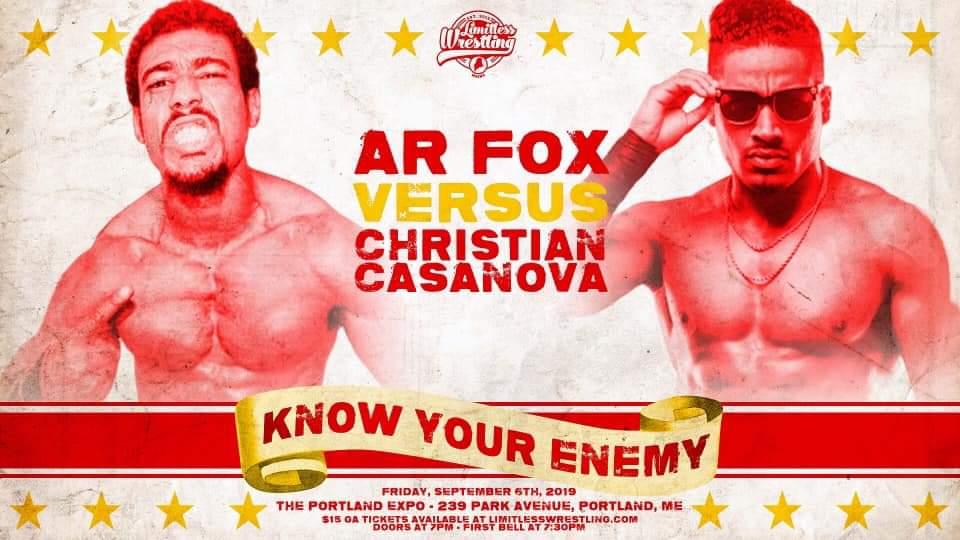 AR Fox vs Christian Casanova
Stand back as these two extraordinaire talents attack each other from every which angle. 'The Thriller from New England' looks to take out long-time Limitless standout, AR Fox. In Fox, fans of Limitless are aware that the twelve-year veteran is as committed to showcasing his singles skills as he has been in the past along the likes of Fyah Fox teammate Myron Reed. Fox, is currently one half of the EVOLVE Tag Team Champions alongside Leon Ruff. However, Fox's singles championship reigns have been notable holding titles for the likes of AAW Pro, Pro Wrestling Revolver and as the EVOLVE champion as well. Massachusetts own Casanova is currently reigning supreme as the Chaotic Wrestling champion as well. Regardless of the result, this contest will surely bring both men's exposure to greater status at Know Your Enemy.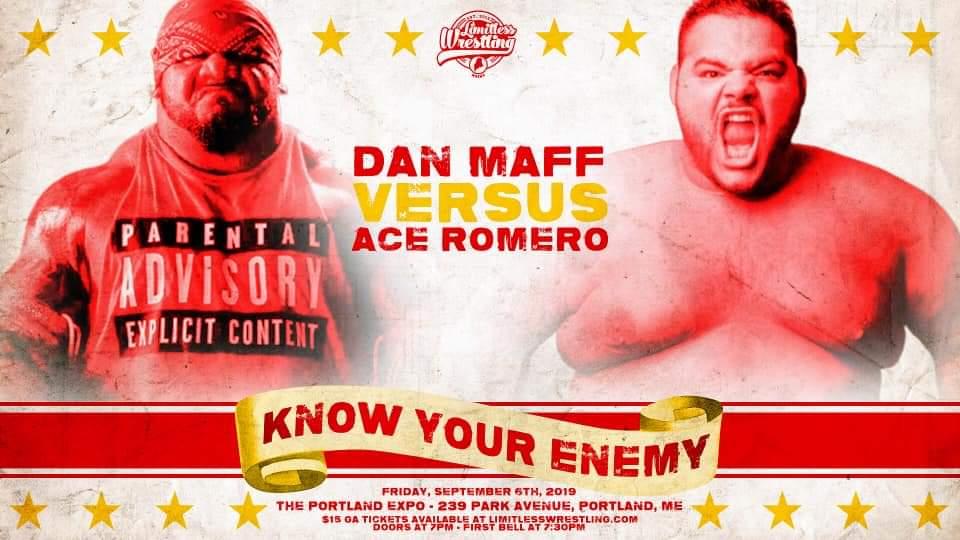 Dan Maff vs Ace Romero
What a mass of humanity as some old school wrestling commentators would say when referring to this matchup. Maff and Romero are sure to sneak up and surprise everyone with their battle on this night. The biggest discrepancy between the two is likely to experience as Maff is a well-traveled veteran. That said, Romero has been on point being part of major television publications such as MLW and as part of AEW's Casino Battle Royal. The two men are sure to take several risks as they are likely to not only hit each other but also hit several planchas and risks outside the ring on one another. Maff has recently competed for the PCW ULTRA Heavyweight championship, but this matchup could likely set him up to contend for the Limitless Wrestling Championship. Will Romero be able to answer the challenge at Know Your Enemy?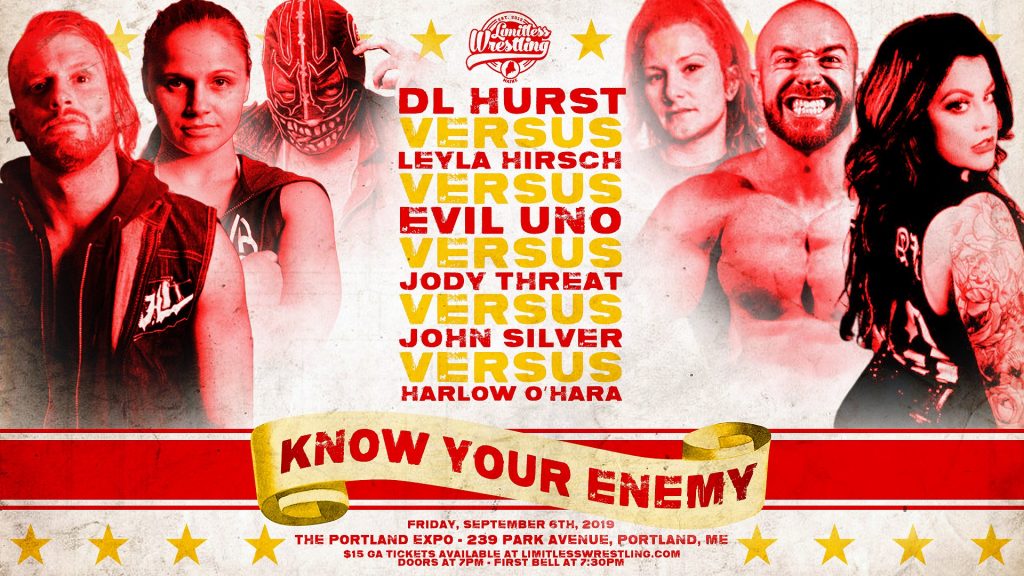 DL Hearst vs Leyla Hirsch vs Jody Threat vs. John Silver vs Harlow O'Hara vs ???
One of the hottest matches taking place today is the scramble match in independent wrestling. This is no different as it appears that Limitless Wrestling has a number of notable faces taking part in this particular scramble match up. While the poster above showcases The Dark Order's Evil Uno it should be noted that he has been pulled from the matchup. The result leaves one spot unaccounted for with the question is who fills that sixth spot. Two of the fastest rising stars on the scene in Jody Threat and Harlot O'Hara are involved in this match along with familiar faces such as DL Hearst to the Limitless crowd. A scramble winner is always difficult to choose and this time is no different who among them appears to be the one to make a statement in this contest at Know Your Enemy?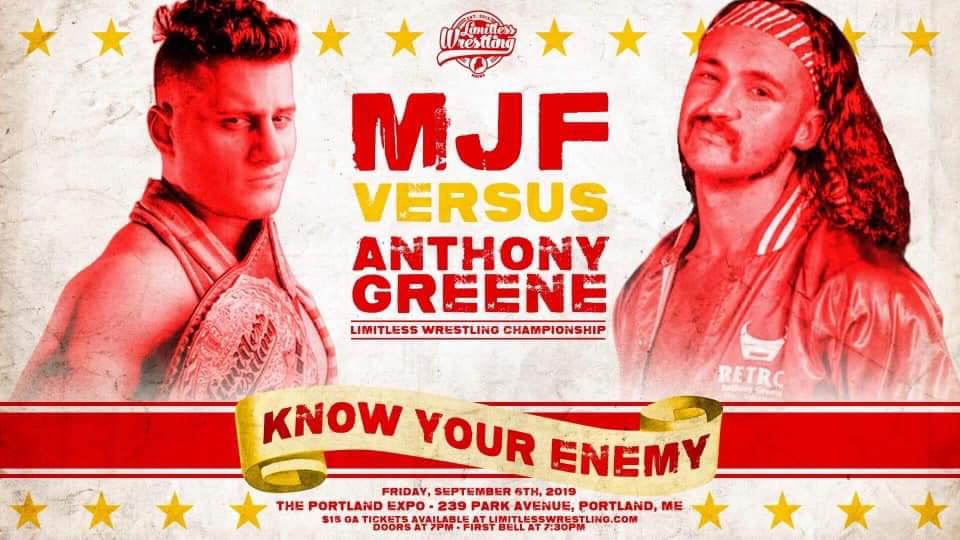 Limitless Wrestling Championship
MJF vs Anthony Greene
This contest is between two men that had major ties to Limitless Wrestling, but for very different reasons. In the case of MJF, he is the inaugural Limitless Wrestling champion walking away as the first very champion in the promotion's existence. The achievement is unlike what anyone else in the promotion could ever claim to have. However, in the case of Anthony Greene for anyone that has followed his career is fully aware that Limitless Wrestling is about as close to home as any promotion could possibly get. It is amongst the first company's where Greene cut his teeth as a professional and one where he recently captured the Vacationland Cup. Could this finally be his coronation for the retrosexual to become the champion he had always been destined to be? MJF will want to put a stop to that dream rather quickly at Know Your Enemy.