It's the end of a decade and independent wrestling has changed, permanently, for the better. For the New York-based House of Glory Wrestling, that change came a month ago as entrepreneur Master P became the minority owner. Now, with a new direction, new competition and new challengers on the way, HOG celebrates it's 9 years of existence with House Of Glory Nine9!
---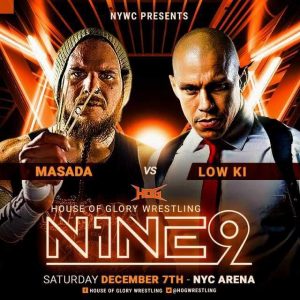 Masada vs. Low Ki
In my head, I started a "Masada's gonna kill you" chant for Low Ki. Man, this may be one of the most brutal matches in HOG history based on these two starts lineage. For Low Ki, we instantly go from a more light-hearted match, and loss, to Leroy Green to a possible blood bath. Masada brings a very brash and rough house style to any match he's in so this may be a little gory for the weak at heart but heart eyes for the New York crowd. However, there's a reason why he's known as "The Professional"… and this will be just another mark on the modern-day hitman's resume at House of Glory Nine9.
Prediction: Low Ki survives (and wins)
——-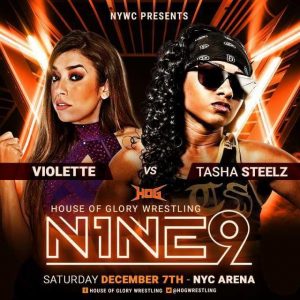 Violette vs. Tasha Steelz
In the lone women's match of the night, the face of HOG Women's Wrestling Violette looks to take on the talented Tasha Steelz. Steelz has been trending across Northeast indie region and from the looks of it, she may be the woman to watch in 2020. But lineage and familiarity of the HOG squared circle puts Violette ahead of the curve here in what should be an entertaining match-up. These ladies have a chance to really put a stamp on a rebuilding division so I expect them to show up and show out. Expect the "The Boricua Badass" to pick up a victory here.
Prediction: Tasha Steelz gets the W
——-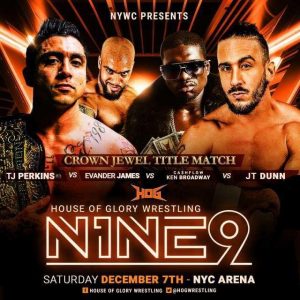 TJ Perkins (c) vs. Ken Broadway vs. JT Dunn vs. Evander James for the House of Glory Crown Jewel Championship
Celebration Cut Short ???

Just as The New Crown Jewel Champion @MegaTJP looked to celebrate his victory he runs into the inaugural Crown Jewel Champion "Ca$hFlow" @cashflowKB . What could this mean for #HOG9 in just 9 days ?

For Tickets To #HO9 Visit https://t.co/DiJtQb7zg3 pic.twitter.com/QYInAGLdgZ

— House Of Glory (@HOGwrestling) November 28, 2019
Sheesh. Whoever is the higher-ups at HOG now is literally throwing TJ into the fire here. So you put the new champ against the inaugural champ, a literally rising star and the workhorse of the Northeast region indies. Really? This is a guaranteed show-stealer. False finishes and all. I expect Evander to continue to raise that stock with a breakout performance in this match. JT is gonna do JT things as usual. The story here may be the interaction between Perkins and Broadway, who came face to face after No Limit. Regardless, TJ gets the win and a possible build towards the future in a rematch for the title with Mantequilla. Or based on last month's encounter, will Ca$hflow Broadway join the fray?
Prediction: TJ Perkins eeks out the win
——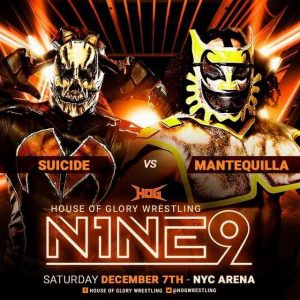 Mantequilla vs. Suicide
At No Limit, Mantequilla was distracted by an appearance from TJ Perkins' alter ego and resident video game superstar Suicide, which helped the former WWE Cruiserweight Champion become HOG's new holder of the Crown Jewel Championship. So with revenge on the mind, Mante seeks to pick up a victory over the red & blue-clad high flyer. I will admit, I love that we are getting some true storylines and continuity in HOG so I expect this story to carry on into 2020. It will be highly entertaining; it will be luchador, fast-paced and it will more than likely be the co-main event… and for that HOG's Tranquilo Titan gets the victory, and in my opinion, a date with TJ for a title rematch.
Prediction: Mante wins in a HOG instant classic
——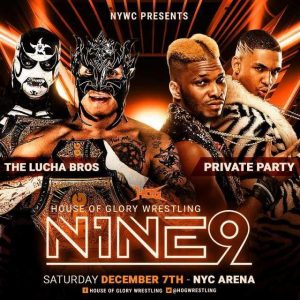 The Lucha Bros vs. Private Party for the House of Glory Tag Team Championships
AEW aside, when these four get in a ring you have to expect nothing but a 5-star match. Slowly but surely, the HOG tag titles lineage has become a highly prestigious between these two teams and previous champs, Proud N Powerful. In a match made for a Dynamite main event or even an AEW PPV, Private Party gets this match in NYC for an "elite" homecoming. While Pentagon & Fenix are the epitome of tag team wrestling and will put on an amazing bout per usual, the wave of love since the passing of Matt Travis may just ride the VIP Section Kings to a new reign.
Prediction: Private Party, with MBK on the wrist tape, become new House of Glory Tag Team Champions
——
The Nature Boy Returns ‼️‼️‼️

Joining us to celebrate our Ninth Anniversary on December 7th making his return to House Of Glory will be The Two Time Hall Of Famer "The Nature Boy" @RicFlairNatrBoy

For Tickets To #HOG9 Visit https://t.co/DiJtQb7zg3 pic.twitter.com/OiMzSRjB0d

— House Of Glory (@HOGwrestling) November 24, 2019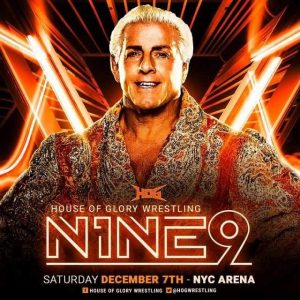 With the legendary 'Nature Boy' Ric Flair in attendance to celebrate the almost 10 years of 'Glory', along with WWE's Charly Caruso also at the event, once again HOG looks to be the talk of the town after an eventful night.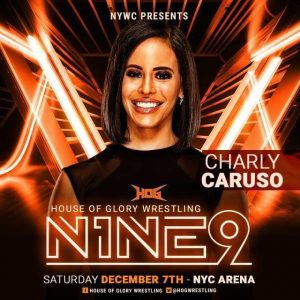 If you are planning on attending House of Glory Nine9, make sure to purchase tickets at HOGWrestling.net!