Game Changer Wrestling (GCW) returns with dual shows, giving fans a weekend full of action, mayhem, and violence this Saturday and Sunday! This first preview covers Saturday's December 7 show, "GCW Presents WOMBAT 2", at The Gypsy Joe Arena in Tullahoma, TN at 5:00 PM PST.
If there is one thing to say about this event, it comprises a card full of interesting sounding first-time gimmick and stipulation matches, as wrestlers from new and old generations collide.  We are absolutely salivating over the prospects of what the "Waffle House Death Match" may behold between Juicy Jimmy and Logan Stunt.  And the "Dollar General Gift Card On A Pole Match" between Effy and GQ is also a first.  Keep on reading, as the rest is covered in detail below!
"Long. Live. GCW" will follow the next night, Sunday, December 8, early in the day at 1:00 PM PST.  The good news is, both events can be purchased for live streaming on Fite.TV for $19.99.  Just keep an eye out for the package titled "Tennessee Two Pack."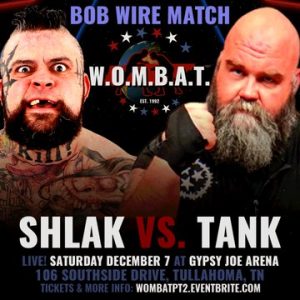 SHLAK vs Tank – Bob Wire Match
Get ready as two beasts, Shlak and Tank, will bleed like pigs and try to commit murder in the midst of steel barbed wire.  Shlak is a GCW mainstay and rising star among the deathmatch scene.  Known for big muscles, tattoos and impaling the heads of his enemies with tattoo needles and bagging them over the head with a plastic grocery bag before he finishes them off entirely, he is pure intimidation, to say the least.
Tank was a mainstay in IWA Mid-South from roughly 2005 to 2009, known for bleeding a gallon of blood and still clobbering the life out of his opponents, he is a classic brawler at heart.  Be prepared to step out for this match if blood makes you queasy, as this one will not be for the faint of heart.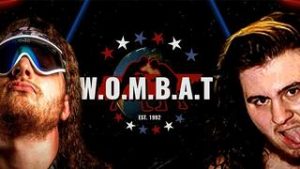 Jimmy Lloyd vs. Kung Fu Janela
Just when we thought Joey Janela was out from the GCW ring for good, he makes his return as Kung Fu Janela for WOMBAT 2, to take on "The Prince of American Hardcore" Jimmy Lloyd.  Jimmy Lloyd has had an incredible last two years, but not solely because of his advancement in the deathmatch scene.  He has also proven he can stand on his two feet and keep up with the fastest and the best that are thrown at him.
Both Janela and Lloyd have evolved very much, finessing their wrestling skills and demonstrating an ability to shock and awe fans even without depending on high-risk hardcore wrestling stipulations and bloodshed.  This match could go in any direction.  We could see a classic drawn-out chain match with both competitors demonstrating their impressive arsenal of kicks, which are an absolute beauty.  Or we could certainly see the doors, chairs and possibly light-bulbs brought in for a bit of the ultraviolence when these two aren't busy kicking each other's heads off.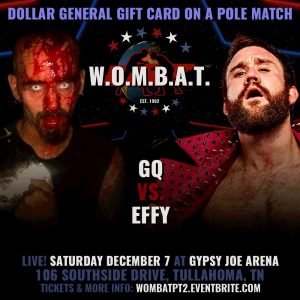 Dollar General Gift Card On A Pole Match
Effy vs. GQ
Indy sensation Effy takes on old-school deathmatch brawler GQ, as the Dollar General gift card is up for grabs on the pole, and what a prize it is to behold! Effy has proved as of lately he can hang with the toughest, biggest and baddest.  And GQ is certainly a competitor with risk written all over him.  The enigmatic Effy certainly has demonstrated he isn't afraid to shed some blood, but GQ is lived and breathed ultraviolence in his prime.  Win or lose, expect this match to demonstrate just how versatile Effy is in this business, as he adapts to any stipulation thrown at him.
Amish Heritage Title Match
Levi Everett (c) vs. Tony Deppen
One of the best technical grapplers and chain wrestlers in the business today, and GCW mainstay, Tony Deppen, takes on the ultraviolent Amish man Levi Everett as he makes his GCW debut.  This is Levi Everett's time to shine and prove he can keep up with the best, as he is relatively new in the profession and has much to prove.
Everett is a mainstay from the relatively small Wild Championship Wrestling Outlas (WCWO) based in Kentucky, having made his debut in 2018.  He has had a couple of opportunities in IWA Mid-South in recent times, but certainly, this matchup against Tony Deppen is his highest-profile match yet, potentially.
While most people would bet their money on Deppen, it would be an earth-shattering upset if Everett somehow walked away from WOMBAT two as the victor.  GCW is very much giving Everett an opportunity of a lifetime with this booking, as this could be Everett's breakout match, even if he loses.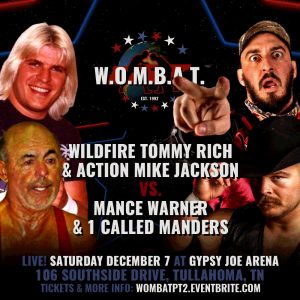 Tullahoma Turmoil Tornado Tag Team Match
1 Called Manders & Mance Warner vs Mike Jackson & Tommy Rich
Manders and Mance Warners have found potential comradeship in their southern roots as they team up to take on two very old school southern in Mike Jackson & Tommy Rich.  While Mike Jackson never quite reached the stardom of other NWA stars in its days, his in-ring psychology can certainly compensate for his age, having taken on greats such as Ric Flair countless times, as well as Bob Backlund, Jake Roberts, and Eddie Gilbert.  He is a true legend in Georgia, nearing 70 years old, it will be quite impressive to see if he can keep Manders and Mance Warners in check.
Tommy Rich, also well into his 60's, was a former NWA World Heavyweight Champion and Smoky Mountain Wrestling Heavyweight Champion back in the day.  While he started his career in the mid-1970s, he took off in Georgia Championship Wrestling in the 1980s as he won a number of impressive championships.  In WCW, he had the opportunity to feud with big names such as Ricky Steamboat, Terry Funk, Brian Pillman, and the Great Muta.
1990's wrestling fans may best remember him as the leader of the Full Blooded Italians in ECW, where he took on the nickname of "The Big Don." His list of championships is extensive and he has career success written all over him.  While he and Tommy Rich may be wearing down in their old age, Manders and Mance should not discount their tough-as-nails work ethic in the ring just yet, as they may be in for more surprises than expected.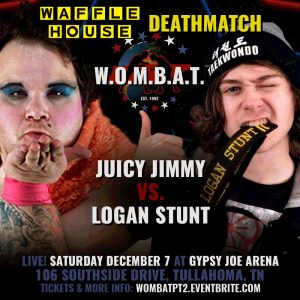 Waffle House Death Match
Juicy Jimmy vs. Logan Stunt 
While it remains to be seen what exactly a Waffle House Death Match may entail, fans of hardcore wrestling can hopefully rejoice in the punishment that will unfold as Juicy Jimmy and Logan Stunt come head to head with each other.  Logan Stunt, the lesser-known brother of AEW superstar, Marko Stunt, may be looking to follow in the footsteps of his brother's stardom.  This match may be exactly the proving grounds for which he will demonstrate his aptitude in the ring.
But before that can transpire, Logan Stunt will have to survive what looks to be over 300 pounds of meat on Juicy Jimmy.  Logan Stunt could be flattened and bulldozed by the big man, but then again, his size and speed may prove to be an advantage for him.  After all, his brother, Marco Stunt, has scored bigger upsets over wrestlers just as large in size.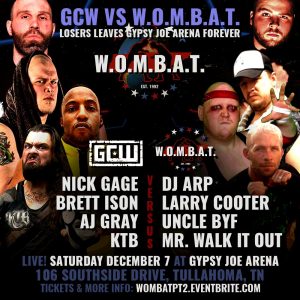 GCW vs W.O.M.B.A.T.
Finally, all-out war will ensue as GCW takes on the best of WOMBAT! Nick Gage, Brett Ison, Aj Gray and the beast, KTB, take on in DJ Arp, Larry Cooter, Uncle Byf and Mr. Walk It Out.  Whoever loses will have to leave the Gypsy Joe Arena forever.  This could definitely entail some serious booking issues should GCW mainstays Nick Gage and KTB's team lose this matchup!
---
Catch the action on Fite.TV and settle in for some good old fashioned slobber knockers as new school collides with old school in a battle for hearts and minds at GCW W.O.M.B.A.T. 2!