It has been another merry Christmas this year, but things are about to get all the merrier, and bloodier, as GCW closes out the year with Jimmy All The Way. Get out the egg nog, add your favorite supplements and cozy up, because bells will be jingling to plenty of hard knocks that come along with the carnage of this stacked card. GCW airs live on Fite.TV tonight, December 26, at 8 PM, live from the Voltage Lounge in Philadelphia.
If you didn't get what you wanted for Christmas this year, do not worry. Jimmy Lloyd, Shlak, Dan Maff and plenty of other GCW stars are here to help take the edge off, with some much-needed ultra-violence to help resolve one last end-of-the-year resolution for us all. It wasn't a white Christmas this year in Philadelphia, but that's okay, as we have a new GCW champion in Rickey Shane Page to hopefully close out the year with a bang, and with plenty of white florescent light-tube dust to go along with it!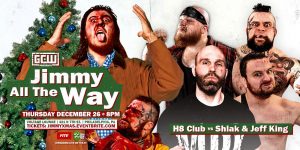 H8 Club vs Shlak & Jeff King
Nick Gage and Matt Tremont team up to take on Shlak & Jeff King in what will most likely be one of the bloodiest affairs of the evening. But perhaps what is on most minds is not so much who may win or lose this match, but where is Rickey Shane Page, the new GCW Champion? Nick Gage is no longer the champion, as he lost the title cleanly earlier this month to AJ Gray. Moments later, Page swooped in and took the title from him in mere moments in a match that immediately followed.
The situation is complicated, given that Gage did not lose the title to Page, but they certainly had unfinished business that had been simmering to a boiling point these last few months. Among all the violence that will transpire between these ultraviolent competitors, one can not help but wonder if Page will show up and make his statement heard. Is the war between Gage and Page finished, or is it just beginning?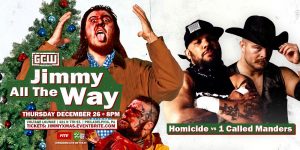 Homicide vs 1 Called Manders
The rising 1 Called Manders once again has an opportunity to prove he is cut out for the wrestling business and not just another rookie that comes and goes, as he takes on one of wrestling's most violent and aggressive in Homicide. Certainly, it would be a game-changer for Manders' career if he could score an upset victory over Homicide, but if he can simply put up a solid fight, he can still walk away from this proving ground with something to gain for his career.
Manders has been booked on GCW cards more often as of late, which is a very good sign for any newcomer or rookie trying to make it in the independent scene today. Perhaps this high profile matchup will be the test of survival which determines whether he remains a semi-regular on GCW's cards, or moves on to become a mainstay.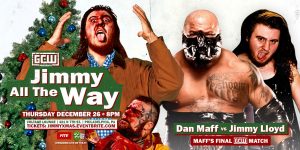 Dan Maff vs Jimmy Lloyd
Dan Maff, a powerhouse juggernaut of brute strength, takes on the "Prince of American Hardcore" Jimmy Lloyd in a matchup that will certainly be one of this evening's finest at GCW Jimmy All The Way. And it better well should be, given the event is named after Jimmy.
Jimmy started his career as a deathmatch wrestler, proving himself in the world of ultraviolence. But he demonstrated aptitude is also taking on some of wrestling best, most agile and fastest competitors as of lately, proving he can keep up with them. But this matchup with Dan Maff shakes up the pattern as of late and could force Jimmy to go back to the drawing board. Jimmy is presented with this rare occasion in being the small man in this matchup, going up against the much larger, stronger and tough-as-nails Dan Maff.
Furthermore, Dan Maff may not come from the world of ultraviolence, but perhaps he can be described as one well versed in his endurance in the world of old school hardcore wrestling. After all, he was trained by none other than Homicide.
If Jimmy Lloyd can be described as a punching bag or a pincushion that can endure plenty of bloody punishment and still stand upright, then Dan Maff can be described simply as a  concrete cinder block in both his aptitude and physique. He's taken some of the stiffest chair shots to the skull and stood unfazed. Eventually, concrete does chip, shatter and crumble, but a lot of work has to be done to get there.
This match will certainly be a test of resilience between these two competitors, and the path to victory will not be a pretty sight. Whoever walks away victorious, one thing is likely certain: both these men will be licking their wounds tonight and will be throbbing and aching by tomorrow morning.
Christian Blake vs. Jordan Oliver
Blake Christian and Jordan Oliver will take to the skies in showcasing some of the best that aerial high flying wrestling has to offer going into GCW Jimmy All The Way. Both these stars have had tremendous years, becoming mainstays in GCW as of late. Jordan Oliver made his debut in Major League Wrestling earlier this year, while Blake Christian had the honor of making his in-ring debut for PWG in Los Angeles. Both these men's careers have been in an upward trend this year, but tonight, we will see who is the better man as this match's outcome could go either way.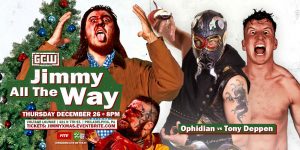 Ophidian vs Tony Deppen
Though not a veteran, Tony Deppen has cemented himself as one of the most versatile, well sounded and best junior weights in the business today, with plenty of victories over big names, and championship titles to go along with it going into GCW Jimmy All The Way.  Deppen is known for pushing competitors to their limits, and sometimes taking them beyond. Joey Janela has stated his most taxing matchup was against none other than Tony Deppen.
As Deppen takes on the veteran in Ophidian, one of the finest lucha wrestlers to come out of Chikara, this match is made all the more unique given both wrestlers' roots in the Chikara promotion. 
Ophidian is a trainer at Chikara's school, and it has pretty much been the platform to most define Ophidian's career and overall prestige as one of the best in the business for the past decade.
Tony Deppen also got a solid start to his career in CHIKARA and remains a mainstay there, though not nearly as iconic to the promotion as Ophidian. But Deppen has continued to build his name up in GCW and elsewhere, and probably would much like to see his stature elevated within the much renowned CHIKARA promotion very much.
Ophidian and Deppen have clashed once in CHIKARA in November of last year, which resulted in a victory over Deppen, unexpectedly.  But Deppen has grown much since then, in skill and prominence. Tonight, as these two clash, Ophidian is perhaps feeling the heat as the outcome of this match will certainly reverberate upon his reputation in CHIKARA, being one of its most iconic stars.
As these two CHIKARA mainstays go head to head tonight, certainly this match has the potential to elevate Deppen's name within the promotion, while undermining Ophidian's.  In terms of psychology, reputation and symbology to the CHIKARA league, there is a lot on the line in this matchup, especially for Ophidian. Certainly, this match will demonstrate the best skills these two have to offer, but the potential outcome is where most of the excitement is at in this match, more so than most matches.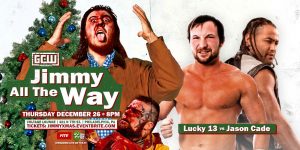 Lucky 13 vs Jason Cade
Jason Cade takes on the long-time CZW veteran Lucky 13, perhaps one of the most underrated junior weight wrestlers in the business today. Lucky 13 has lightning pace, while he is also known for incorporating deathmatch components into his matches on occasions. He shows little fear while demonstrating a high pain threshold, coupled with superb chain wrestling abilities and aerial agility.
Jason Cade, also from CZW, is still in his mid-career, debuting in 2012 and perhaps still waiting to earn the big jumpstart his career thirsts for. Though his charisma sometimes translates to arrogance, lively describes him well. If one doubts his abilities, his matches with Shane Strickland, ACH, Tony Deppen, and many other big-names are proof enough he can not only keep up with the best but drop jaws and bring spectators to their feet.
Perhaps Lucky 13 and Jason Cade will be a foil for each other in this matchup, in demonstrating best in class cruiserweight wrestling by two talents which are perhaps underappreciated in the business. Keep an eye on this match, as Lucky 13 or Jason Cade could both prove to be this evening's dark horse.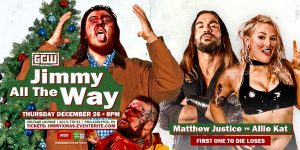 Matthew Justice vs Allie Kat
Matthew Justice is one of the newest up and coming tough guys in the wrestling business.  Though he debuted in 2006, his career is finally beginning to shine, having consolidated a number of championship titles over the last few years, and ranked number 473 in Pro Wrestling Illustrated's top 500 wrestlers in the world in 2018.
Matthew Justice is no stranger as of late to mixed-gender matches, having taken on Kris Statlander just last month at Beyond Wrestling. Tonight at GCW Jimmy All The Way, he takes on Allie Kat, who made her GCW debut this past Summer. Certainly, Allie Kat has a lot to prove going into this matchup and she can not afford to take a loss, given that she's signed to take on former GCW champion Nick Gage next month.
The match was originally for the GCW championship, but since Nick Gage lost the title and Rickey Shane Page is now the champ, suddenly her quest for a title shot is a bit more complicated and less straight forward.  She may just have to prove herself even more so now, given the current circumstances that did not work out in her favor. Only one problem can be solved at a time, however, and the much intimidating Matthew Justice is what currently stands in her way at this moment.
Catch the action tonight, December 26, on Fite.TV, as GCW Jimmy All The Way is certainly looking to close out the year on a high note.