The 4th of July holiday arrives soon here in the US! For the independent wrestling scene, this means that it's time for another round of GCW's Backyard Wrestling. Last year's event instantly became a cult classic among fans, but this year's show just may top the first one. Many remember the standout match between Alex Zayne and Tony Deppen that put Zayne on the independent wrestling map last summer. Who's going to get everyone's attention this year in the backyard? The only way to find out is to watch this Saturday afternoon on FITE.tv! Game Changer Wrestling presents Backyard Wrestling 2.
Game Changer Wrestling Presents Backyard Wrestling 2
Match 1: Paco Loco vs. KC Kwik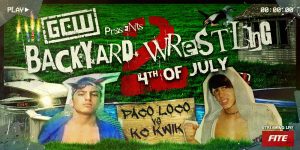 You may not be familiar with their backyard names, but you'll definitely recognize the Dirty Daddy and Kip Osborne when they get wild in this match. Chris Dickinson, going by his yarder name Paco Loco, will take on KC Kwik this 4th of July. Can you imagine how crazy things are going to be when you turn both these guys loose on an unsuspecting suburban yard?
Match 2: Kyle Smiley vs. Logan Stunt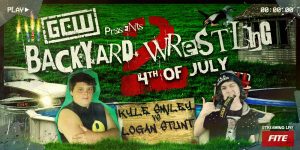 Who would have ever guessed that fresh faced backyard hero Kyle Smiley would grow up to be such a beast? KTB may not look exactly the same as his Smiley days…in fact he's a hell of a lot more intimidating. That's no problem, however, for Logan Stunt. Whether it's in the backyard or in the ring, Logan goes up against the biggest monsters and gladly takes the biggest risks for the greatest rewards. I've got a feeling we're going to see something very frightening and mind-blowing in this match, but we're all going to love it.
Match 3: Nasty Leroy vs. Dilfboi Daltano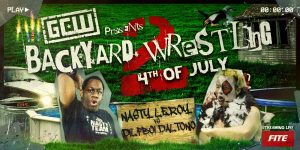 That Nasty Man makes his GCW debut in the backyard! Joey Janela made the announcement recently on his Instagram Live (aka the Janela Zone) that his good friend Nasty Leroy would have his first GCW match. What better booking could you ask for when you have Leroy going up against Dilfboi Daltano in the backyard? I'm hoping this will be the first of many GCW appearances for Nasty Leroy, but I'm pretty excited to see how he'll do in his debut.
Match 4: Yarder Legends vs. New School Yarders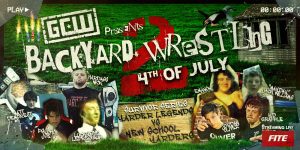 It's pretty certain that this Survivor Series 4 vs. 4 bout will be the most insane match on the card. Just look at the lineup – we've got Jordan Oliver teaming up with Blake Christian (going by his yarder name of Kid Grapple) along with Emanon (Jimmy Lloyd) and Mayday Jack Williams (better known these days as Cole Radrick). Their opponents? We get to see Nick "Hardass Nick" Gage team up with big Matt Demorest, Psycho Joe, and Lucky the Leprechaun (Lucky 13). This is a promising mix of high flying and brawling, but the real winners will be everyone watching in attendance and at home.
Match 5: Rickey Crash vs. Alex Zayne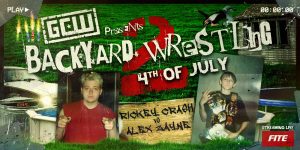 Oh hell, who invited Rickey Shane Page to the party…and who told him he could use his yarder name? Rickey Crash (hahaha, nice picture) will bring his no-fun style to the party as he goes up against Alex Zayne. I think that, just like last year, Zayne will have a hell of a memorable moment in this match. 'Rickey Crash' has already made the declaration that fans watching at home were not encouraged to gif this match. That lets me know fully well that this match will be one for every video clip and gif maker to watch!
Match 6: Kombat Kid vs. Tony Deppen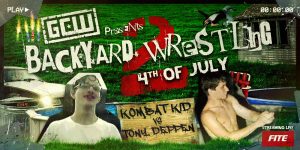 I love both these guys. Tony Deppen and Chase Burnett can get absolutely nuts when they want to. I bet this one will be one where either guy will do something memorably insane. Knowing both Burnett and Deppen, one will surely try to outdo the other. I can't truly predict the winner here because both these guys are so damn unpredictable.
Other yarder names with recognizable faces we'll see include Vampyro (Facade), Dexter White (Atticus Cogar), and JJ Escobar (JJ Allin). Also appearing at Backyard Wrestling 2 will be Denver Colorado (Beyond Wrestling promoter Drew Cordiero, who I absolutely can't wait to see). Don't miss a moment of this 4th of July backyard party with the outlaws – order it now on FITE.tv!