The year is about to come to a close as Dragon Gate hosts its last big event of the year, Final Gate 2019. This year for Dragon Gate has been a huge improvement with return of PAC going in full swing, Ben-K stepping up to be their new top star, and the return of Ultimo Dragon. Let's bring this year to a close as we talk about Dragon Gate's next show with a card nobody should sleep on. Let's break down the card.
Tag Team Match
Tribe Vanguard (KAI & Kagetora) vs. Mochizuki Dojo (Yuki Yoshioka & Keisuke Okuda)
Our first match of the night as we have Tribe Vanguard members, KAI and Kagetora taking on two members of Mochizuki Dojo, Yuki Yoshioka, and Keisuke Okuda. Usually, they start with a ten-man tag match with random members from different stables just to fit them on the card, but it looks like they wanna deliver an actual card with these two units fighting against one another. Mochizuki Dojo was on a roll for a while and they want to keep that ball rolling with a win over Tribe Vanguard here. Which one of these teams will win?
Battle Royal
Super Shisa vs. K-ness. vs. Shachihoko BOY vs. Punch Tominaga vs. "brother" YASSHI vs. Kota Minoura vs. Mondai Ryu vs. Oji Shiiba vs. Jimmy
It looks like our multi-man match is happening next and it's in the form of a battle royal this time around instead of another tag match. We got ten people involved in this match and this could either be something fun for the fans or it could lead to a title opportunity down the road. Nobody knows but who cares? They just wanna have a good time and deliver a great show. Which of these ten men will win?
Singles Match
KAZMA SAKAMOTO vs. Dragon Dia
Preview: Our next match will be our first singles match of the show as KAZMA SAKAMOTO is set to take on the protege of Dragon Kid, Dragon Dia. Dragon Dia has been making some progress this year to slowly rise up to the top and be like his mentor. Recently, Dia was offered to join the Mochizuki Dojo but he would turn it down due to the fact that he believes Dragon Kid is his only trainer, what a thoughtful guy. It's a big match for Dia as KAZMA is no laughing matter as he can be as ruthless and as scary as he looks. If Dia wants to get to that next step, he's gonna have to go all out to get that victory. Will Dragon Dia win or does KAZMA knock him down a peg?
Singles Match
Naomichi Marufuji vs. 'Hollywood' Stalker Ichikawa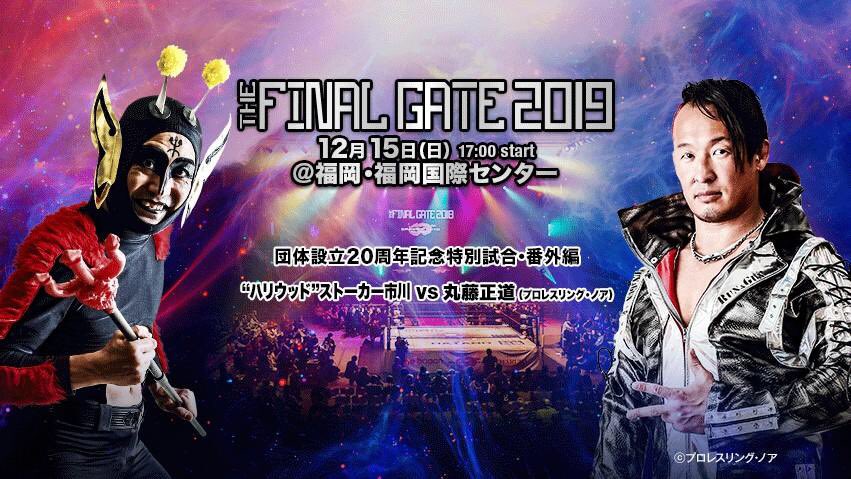 Preview: We already had Dragon Gate's 20th Anniversary tour but that doesn't mean we have extra content for the tour coming at a later date! Our next match is a special match as 'Hollywood' Stalker Ichikawa will take on NOAH's Symbol, Naomichi Marufuji. Not sure how they were able to book this match but it's a big deal since this will be Marufuji's first time wrestling in a Dragon Gate ring during his long career. What can you expect from this match? A shit ton of comedy as Stalker is known as one of the best comedic wrestlers in Japan that will have you laughing out of pure joy. Will it lead to another future appearance from Marufuji or a potential partnership with NOAH? Nobody knows, so you may as well enjoy what you get with this match. What hijinks will ensue?
Six-Man Tag Team Match
Ultimo Dragon, Ryo Saito, & Yasushi Kanda vs. Dragon Kid, Masaaki Mochizuki, & Masato Yoshino
Our next match is a six-man tag team match as Ultimo Dragon teams up with Yasushi Kanda and Ryo Saito to take on Masaaki Mochizuki, Masato Yoshino, and Dragon Kid at the Final Gate. This is a special match since Ultimo taking on all three of his opponents are considered dream matches since he hasn't fought Masato and Kid in singles, and the last time he fought Mochizuki one on one was in 2002. A lot of excitement is what you're going to see in this match and maybe a little bit of hilarity from Ryo being involved in the match. This could be a very fun match if R.E.D doesn't get involved, but could unlikely happen due to them all being busy tonight. It should be a fun tag match and can't wait to see how it plays out.
Open the Brave Gate Title Match
Kaito Ishida (c) vs. Jason Lee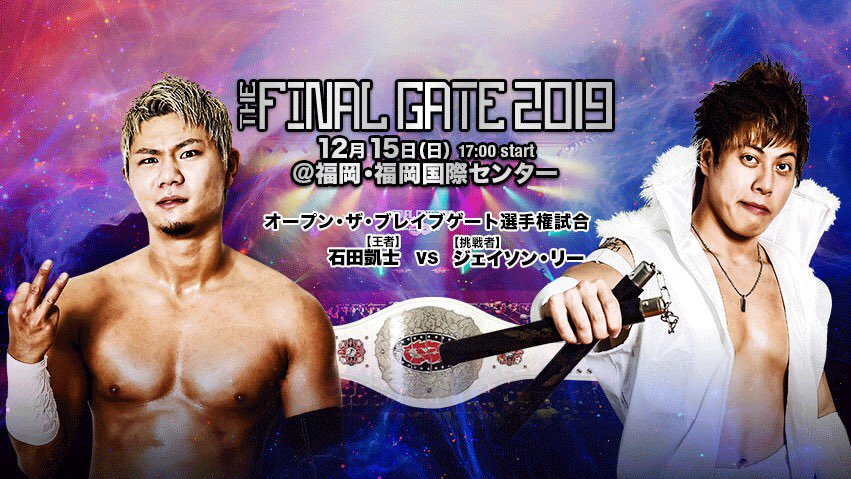 We now have our first title match of the evening as R.E.D's newest member, Kaito Ishida will defend his Open the Brave Gate Championship against his former unit member, Jason Lee at the Final Gate. Last week, Kaito Ishida left MaxiMuM to join R.E.D and it left Jason furious that he could betray them like this. Kaito joined due to them being too focused on Ultimo Dragon coming back as he now joins Eita's crusade to get Ultimo removed from Dragon Gate. Jason Lee looks to halt Kaito's new momentum and take the title with him. Will Jason Lee win his first singles title or does Kaito retain?
Open the Triangle Gate Title Match
Strong Machines (Strong Machine J, Strong Machine F, & Strong Machine G) (c) (with Shogun KY Wakamatsu) vs. Natural Vibes (Kzy, Genki Horiguchi and Susumu Yokosuka) and R.E.D (Diamante, H.Y.O, & Takashi Yoshida)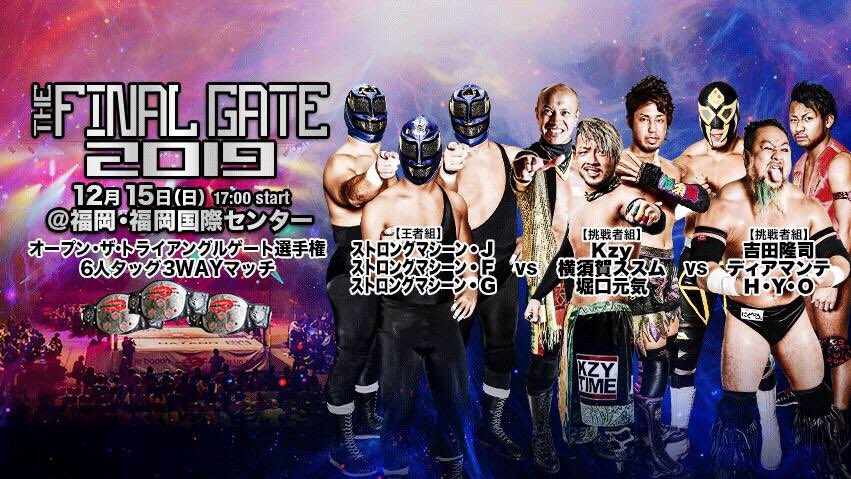 It's now time for our next title match as we now focus on the Open the Triangle Gate Championships at the Final Gate. The Strong Machines will defend their titles against members from Natural Vibes and R.E.D. Strong Machine has been undefeated ever since they have arrived at Dragon Gate and Strong Machine J won the Tokyo Sport Award for being Rookie of the Year, so they've been a very impressive team for these set of titles. Natural Vibes has the record for most title defenses with those belts and they look to reclaim them for the second time. R.E.D is also looking to get their belts back after losing them to Strong Machine on July 21st. Will Strong Machine continue to be undefeated or will we have new champions.
Open the Triangle Gate Title Match
R.E.D (Eita & Big R Shimizu) vs. Tribe Vanguard (YAMATO & BxB Hulk)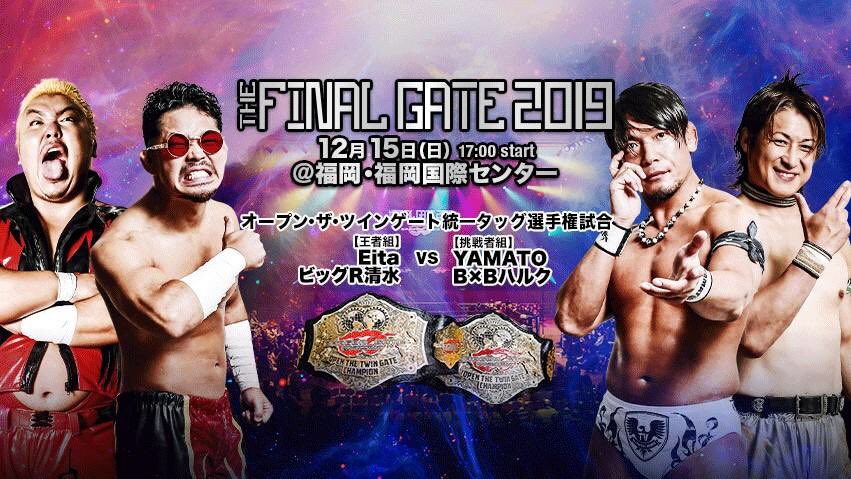 In our the Final Gate semi-main event, we have R.E.D members, Eita and Big R Shimizu defending their Open the Twin Gate Championships against members of Tribe Vanguard, YAMATO, and BxB Hulk. While I'm sure Eita would love nothing more than to find a way to ruin Ultimo Dragon's life in Dragon Gate, he would have to put it on hold for tonight so he could focus on his title match. YAMATO and Hulk were champions before until they had to vacate the titles last year due to Hulk being injured. YAMATO and Hulk are looking to reclaim the titles they never technically lost while R.E.D looks to keep whatever title they can to prove why they're the strongest unit in Dragon Gate. Will YAMATO and Hulk win the belts for the second time or will R.E.D retain?
Open the Dream Gate Title Match
Ben-K (c) vs. Naruki Doi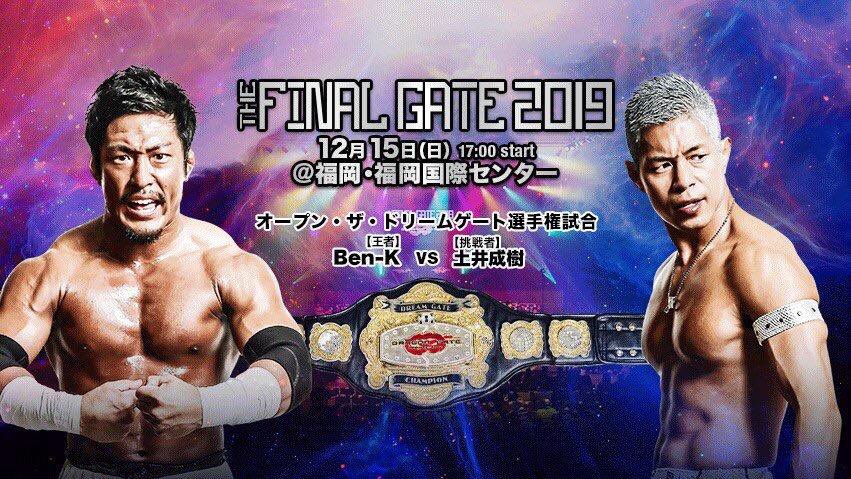 Preview: It's now time for our main event as Ben-K defends his Open the Dream Gate Championship against MaxiMuM member, Naruki Doi. Ben-K has had a breakout year during his career as he won the King of Gate Tournament this year, ended PAC's undefeated streak since his return, and would defeat some big names, especially wons he failed to capture the title against last year. The two do share a small history as Ben used to be apart of MaxiMuM until last November when Ben did betray him to join what is R.E.D now. Ben has matured and is on his own as he wants to fight Doi properly this time as the new champion of the company. Will Ben-K still climb the ranks as champion or does Naruki get the victory?
Don't forget to watch The Final Gate if it has you interested and you can subscribe to the Dragon Gate Network site to watch this live as it will also have English commentary for those that need it. It should be a great show to end the year and cannot wait to see how it unfolds.
Predictions
– KAI & Kagetora
– K-ness
– Dragon Dia
– Naomichi Marufuji
– Kaito Ishida
– Natural Vibes
– R.E.D
– Ben-K