Dragon Gate Champion Gate in Osaka 2019Hello everyone and welcome to my first preview for this website. My name is Mathew Sarpraicone and this is my first time writing for the Pro Wrestling Post as I'll be covering various promotions in the Japanese wrestling scene. The first show I will be talking about will be from the promotion Dragon Gate and this is a preview for their upcoming big show on March 3rd called Champion Gate in Osaka 2019. I will be going through the card from top to bottom along with adding a prediction to the end of each one. Let's not waste any time, shall we? Let's get right to it.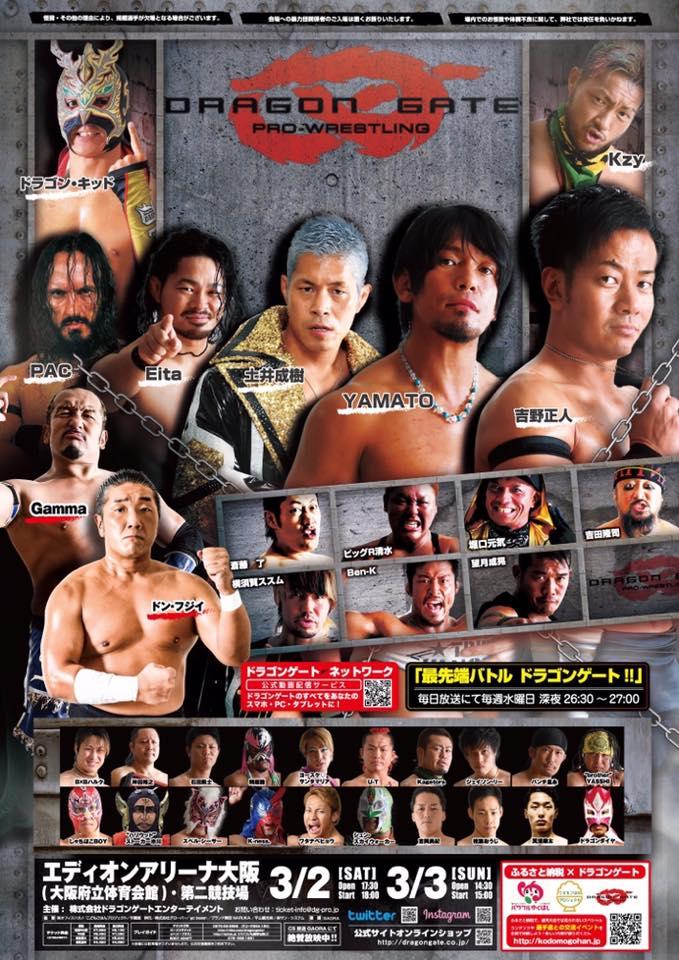 Six Man Tag Team Match
Masaaki Mochizuki & K-ness., "brother" YASSHI vs. Ryo Saito & Don Fujii, Gamma
Preview: If you're familiar with Japanese wrestling in general, then you're aware of the show mostly being tag team matches and with Dragon Gate, it's mostly people from different units teaming up to fight one another without any story involved and just for the sake of the show. Ryo Saito and Don Fujii are usually a great team together and work well Gamma a little bit when they do six-man matches together. K-ness has an Open the Brave Gate Championship the night before, so he could very well walk into this show as the new champion. It's sure to be an exciting opening bout and worth a viewing.
Tag Team Match
Tribe Vanguard (YAMATO & Kagetora) vs. MaxiMuM (Masato Yoshino & Jason Lee)
Preview: We now have a regular tag team match with Tribe Vanguard members, YAMATO and Kagetora taking on members of MaxiMuM, Masato Yoshino and Jason Lee. We got four incredibly talented people in the ring fighting against each other with two former Open the Dream Gate Champions as well, so you can definitely expect a great match to happen here. Since BxB Hulk is still injured, Kagetora could be a possible new partner for YAMATO while getting a chance to possibly go for the Open the Twin Gate Championships again. Will YAMATO and Kagetora win the match or will Masato Yoshino and Jason Lee get the victory?
Singles Match
Kaito Ishida vs. Takashi Yoshida
Preview: Our first singles match of the night where we have Kaito Ishida taking on Takashi Yoshida. No particular story going into this match since we're still in the undercard of the show and this is pretty much another showcase match between the two. We got a battle of strength from Takashi Yoshida and agility from Kaito Ishida, so it all comes down to which style will come out on top. Will speed win the match or power runs him down?
Tag Team Match
MaxiMuM (Naruki Doi & Dragon Kid) vs. Mochizuki Dojo (Yuki Yoshioka & Hyo Watanabe)
Our next tag match has two students from the Mochizuki Dojo, Yuki Yoshioka, and Hyo Watanabe taking on Naruaki Doi and current Open the Brave Gate Champion, Dragon Kid. This is a match between the veterans going against the future of Dragon Gate, which Mochizuki took under his wing to groom them up into the future. This could be a great opportunity for Mochizuki Dojo if they get the win, especially if Dragon Kid retains the title against K-ness the night before since either of them would be in line for a title match if one of them somehow pins Kid. Will they be able to pull it off or will the vets school them?
Six Man Tag Team Match
Natural Vibes (Kzy, Susumu Yokosuka, & Genki Horiguchi) vs. R.E.D (Eita, Yasushi Kanda, & KAZMA SAKAMOTO)
Preview: We have another six-man tag team match with Natural Vibes members, Kzy, Susumu Yokosuka taking on R.E.D members, Eita, Yasushi Kanda, and KAZMA SAKAMOTO. Natural Vibes lost their Open the Triangle Gate Championships at Final Gate against R.E.D after breaking the record for most title defenses with the title. If R.E.D does somehow retain the titles the day before this show and if Natural Vibes somehow gets the win over them, they could very well have another chance to try and go for the titles again. Will R.E.D foil their plans or will Natural Vibes be one step closer to getting those titles back?
Open the Twin Gate Championship Match
Big Ben (Big R Shimizu & Ben-K) (c) vs. Tribe Vanguard (U-T & KAI)
Preview: Our first title match of the night is the Open the Twin Gate Championship match with Big Ben defend their titles against Tribe Vanguard members, U-T and KAI. The two teams fought each other at the Truth Gate show on February 10th and U-T would pick up the win after a miscommunication occurred with Eita accidentally hitting Ben-K with a chair. Due to the result of the match, KAI and U-T would use this opportunity to challenge them one more time and this time, it would be for the titles on the line. Big Ben now has a chance to avenge their loss to them while retaining their titles at the same time. Will Big Ben retain or will lightning strike twice and we'll have new champions?

Dragon Gate Champion Gate in Osaka 2019
Open the Dream Gate Championship Match
PAC (c) vs. Shun Skywalker
Preview: It's now time for our main event as we have the Open the Dream Gate Championship on the line as the current champion, PAC is scheduled to defend the title against Shun Skywalker. This will be PAC's second title defense during his reign as champion since he won it from Masato Yoshino back in December. This match came about after PAC had his first successful defense against Kzy during the Truth Gate 2019 tour on February 10th (amazing match by the way and should check it out), and PAC said everyone would fear him now after he destroyed Kzy and asked who else would be brave enough to fight him.
This will be where Shun Skywalker came out and he would issue a challenge to PAC for the title and while he was mocked by R.E.D, PAC was amused by the challenge as he would put him over saying he was a great fighter and is generous enough to accept his challenge for the title, and that's how we got here. This will be Shun's first singles title match with the company and has gained a lot of momentum over the past couple of months and pulled off some big names like Ben-K as he now looks to get the big one. Even if Shun will come off short, he'll still have a chance to make a name for himself. Will we have a new champion or will PAC continue his path of dominance.
Has this show gotten your attention? How are you able to watch it? Well, you can watch it on Dragon Gate's streaming service if you go to https://dragongate.live/ and you can watch it live for 1500 yen a month. If you don't wanna pay the extra yen, then they have a standard package for 999 yen but you would have to wait three to four weeks after the air date for it to come online for them. Either way, it is a company to look forward to if you're interested in Japanese wrestling mixed in with some Lucha Libre. Hope you all enjoyed the read and enjoy the show if you watch it.