DEFY Dragon Spirit
March 8th, 2019
Washington Hall
Seattle Washington
In their third show of 2019, DEFY has returned to Washington Hall for Dragon Spirit! What a card they put together for this show! They continue to prove they have a knack for cultivating top notch talent and putting together some of the most unique and imaginative matches possible. You often get to see wrestlers facing opponents you are unlikely to see occur at any other promotion. The card on March 8th is no exception.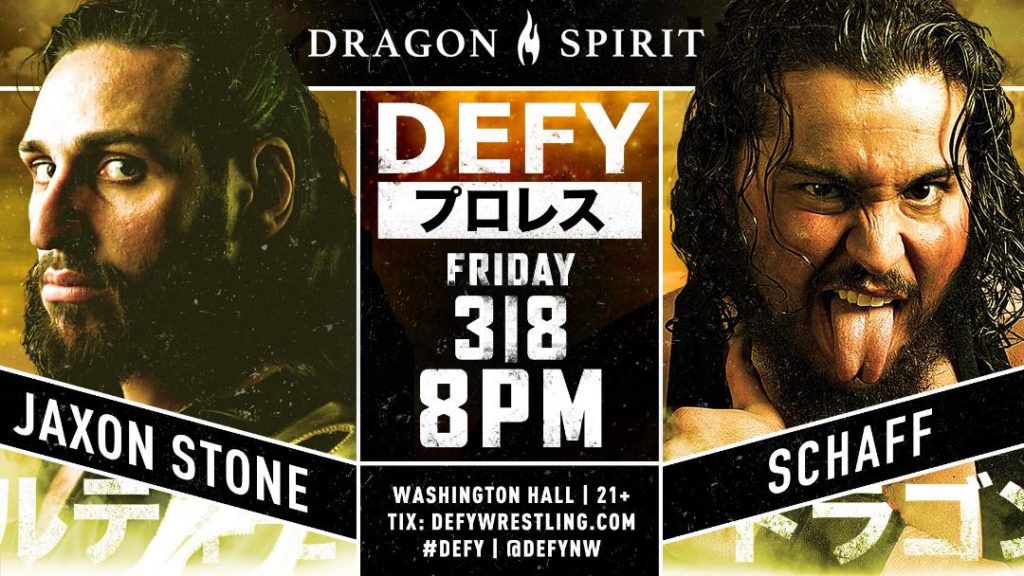 Jaxon Stone vs. Schaff
Singles Match
Former professional baseball player turned Pro Wrestler, Jaxon Stone, will be making his debut here in the Pacific Northwest at DEFY Dragon Spirit! This native Texan has been making his presence known throughout North America and Europe. He and his tag partner are the current IHWE Tag Team Champions! They have held this title for nearly three years and counting! This man doesn't dial in for his matches. He shows up and destroys his opponents!
Has Jaxon bitten off more than he can chew by coming to face Schaff? Our local sensation has been making his rounds in the region and there is no sign he's losing momentum. Schaff has earned his moniker as "The Baddest Motherfucker in Professional Wrestling." He has participated in some of the most highly talked about matches at DEFY. There is little doubt these two power houses are going to give us a show that will be one of the highlights of the evening.
Artemis Spencer vs. Ethan HD
DEFY Championship Match
Making a title challenge is Ethan HD, one half of the tag team and former champions, the Amerikan Gunz. While many at DEFY have mostly seen him as a tag team wrestler, Ethan is a highly experienced and accomplished singles competitor. This man has held ten championship titles in his own right throughout his career. Ethan is unquestioningly a champion and he has set his sights on Artemis Spencer and the DEFY Championship title.
Artemis Spencer has successfully defended his title twice since winning his belt in December. While Ethan HD has proven he's not above using some questionable tactics to win, Artemis is no stranger to facing such dirty strategies. His last title defense was against MJF and his arsenal of bedlam laden moves.
These two men are well matched. This is going to be one of those competitions that will likely be close and could easily go either way. As a result, we will all likely be sitting on the edge of our seat through the entire match!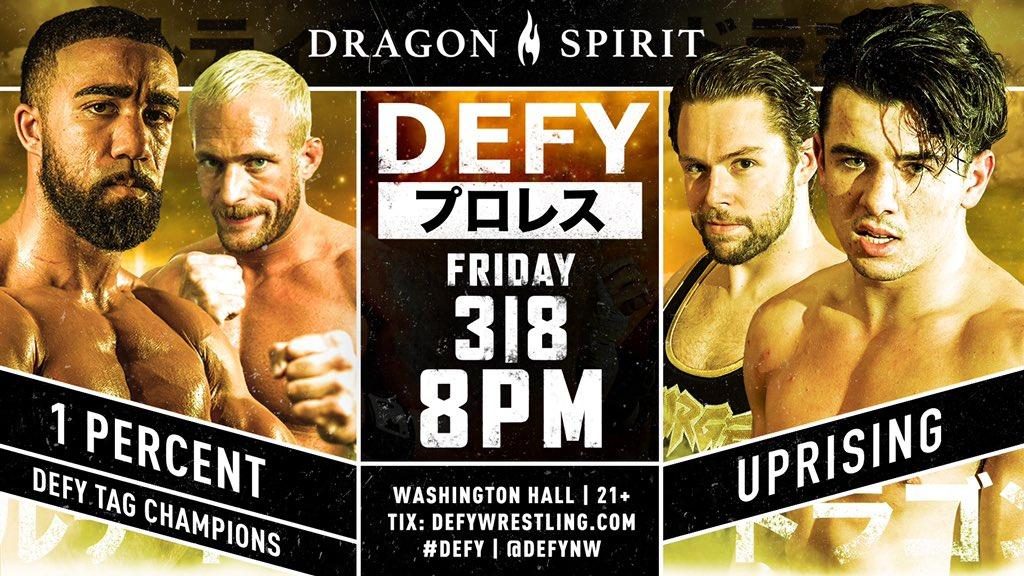 1% (Jorel Nelson & Royce Isaacs) vs. Uprising (Eli Surge & Judas Icarus)
Tag Team Championship Match
Jorel Nelson and Royce Isaacs, the 1%, will be returning to Washington Hall to defend their DEFY Tag Team Championship belts. These two talented men have impressed the audience at Washington Hall last month when they defeated the Amerikan Gunz to take the belts for themselves… and they look good in those belts. It seems unlikely they intend to see their reign cut short.
Facing the champions will be Uprising, consisting of Eli Surge and Judas Icarus! These two young men hail from Canada and made their debut at Washington Hall last month in the Ten Man Survival Tournament. Judas Icarus came very close to winning this tournament match only to be eliminated by King Khash. Both Eli and Judas have been working together for a while now and it would seem they are ready to test their metal against the 1%!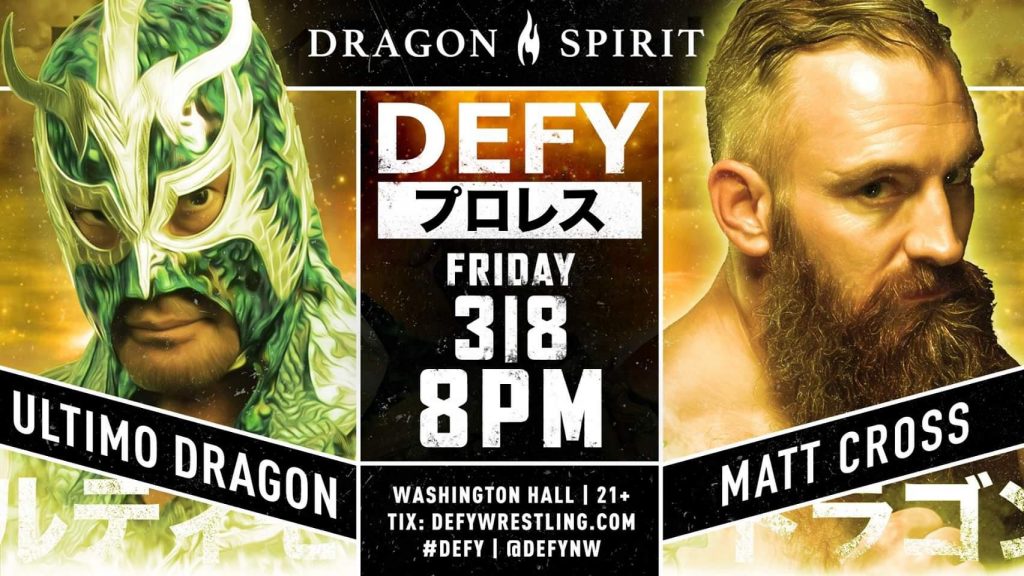 Ultimo Dragon vs. Matt Cross
Singles Match
It is difficult to image many people need an introduction to Ultimo Dragon. This man's career has spanned over four decades! He's worked with promotions all over the world and worked with two of the biggest, WCW and WWE. There is hardly a name in the history of professional wresting over the last thirty years he hasn't worked with. He is a true luminary among his peers, and there are few in pro wrestling world who have a resume that can stack up to his.
Stepping into the ring with Ultimo Dragon is a man who is no stranger to DEFY! Matt Cross, a.k.a. Son of Havoc, has made appearances at DEFY since the very beginning. He is without question one of the most respected performers in the industry. It is difficult to imagine a better person to put in the ring with Ultimo Dragon than Mr. Cross.
At the end of 2019 when the DEFYANCE votes on their favorite match of the year, I wouldn't be surprised to see this one being a strong contender.
Randy Myers, Sonico & Cody Chhun vs. The Pride Guillermo Rosas & Carl Randers & Big Jack
Trio's Match
Here we see "Classic" Cody Chhun continue his conflict with the Pride, Guillermo Rosas and Carl Randers. It would appear the Pride has recruited a new member, Big Jack! With King Khash traveling east to conquer Japan, the Pride is down a member. Is Big Jack being recruited or is he simply doing them a favor?
Cody has chosen his partners well for this match. He's called upon the preeminent Luchador in our region, Sonico! Along with the undead ghoul will be the Weirdo Hero himself, Ravenous Randy Myers! Not only is Randy one of the most talented wrestlers on the DEFY roster of regulars, I heard… from a friend of course… that he's the best kisser!
This is going to be a highly entertaining match. Each one of these men has their own unique style and approach to competing that will make this anything but dull.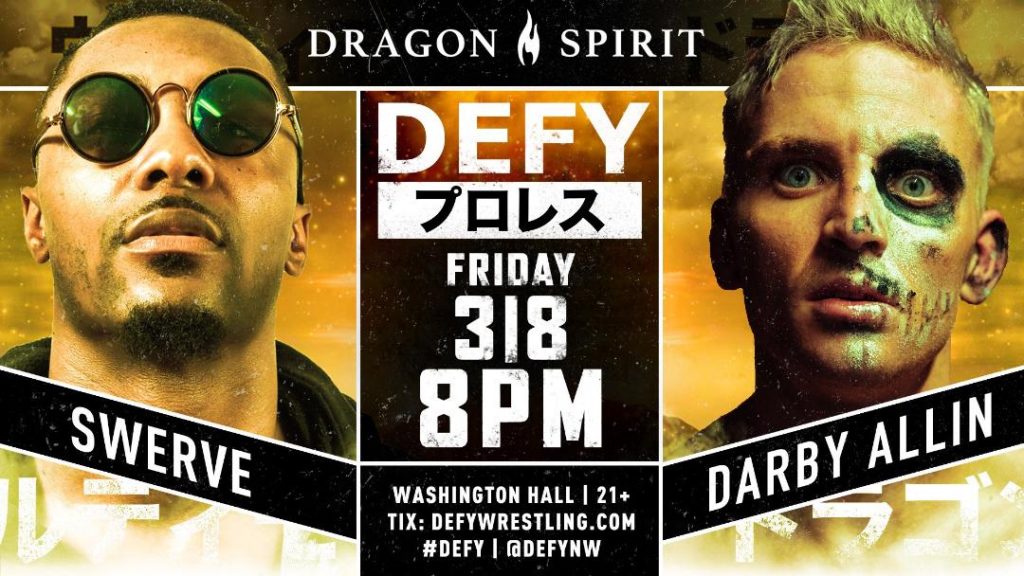 Shane Strickland vs. Darby Allin
Singles Match
Few are more pleased than the DEFYANCE to see Shane Strickland making another appearance at Washington Hall. Every time we see him it feels like we're on barrowed time. It is no secret he's being scouted for exclusive contracts that could see him absent from DEFY for a very long time. Having him at Dragon Spirit is fantastic news! Every time he steps into the ring you know it's going to be good. P
His opponent is a local sensation who has seen his star on the rise over the last year. Darby Allin is returning to DEFY to face former champion Strickland. It wouldn't be a surprise if Darby isn't planning to use this appearance as a stepping stone to get his own shot at the DEFY Championship. One way or the other, Darby is a vicious combatant who is incredibly resilient and full of surprises. Never count Darby out, he has a knack for making a comeback in every match!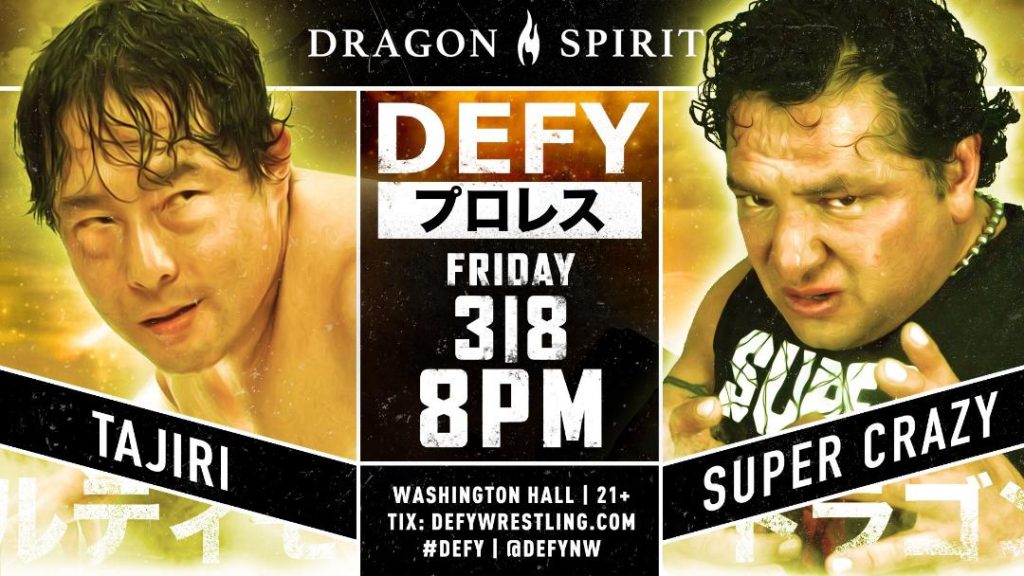 Tajiri vs. Super Crazy
Singles Match
On March 8th we have the privilege of hosting yet another luminary in the world of Professional Wrestling! Yoshihiro Tajiri will be making his DEFY debut against Super Crazy! It would be easy to believe this is too good to be true. This man has worked for the biggest promotions in the industry including ECW, WCW and WWE, among many others. Once again, the folks behind DEFY have proven they are able to bring the best of the best to the Pacific Northwest!
Super Crazy has been to DEFY before, and we are more than pleased to welcome him back to face Tajiri! Like his opponent, Super Crazy has worked with nearly every major promotion in the industry in his illustrious career. He has been doing this for an astonishing thirty-one years, making his debut in 1988. This is a man who has had an outstanding career and everyone at Washington Hall is going to be in for an incredible night of wrestling!
DEFY Dragon Spirit is a 21 and older event. VIP entry typically begins at 7:00 p.m. General Admission at 7:30 p.m. with a bell time at 8:00 p.m. Food and drinks are sold by Lunchbox Laboratory. The talent typically sells merchandise and photos before the show, during intermission and after the show.
If you want to see some of the best professional wrestling the industry has to offer? Be at Washington Hall on March 8th!