DEFY Never Dies 2nd Anniversary
January 19, 2019
Washington Hall, Seattle WA
Two years! It's hard to believe how much a promotion can grow and change the landscape of a region in two years. Yet here we are, history has been made and now we move into our third year of some of the best professional wrestling on the independent circuit today. As DEFY Wrestling presents DEFY Never Dies.
DEFY has lined up a number of events on Saturday January 19th to celebrate their two-year anniversary. Earlier in the day, at 3:00 p.m. Monteasy will be performing with a live band The Wavy Pillman Experience! He will be performing his ode to Shane Strickland "Swerve City." But that isn't all they have planned! Shortly after Monteasy will be sitting down with Shane Strickland himself to record a special edition of the Swerve City Podcast. It is rumored there will be some special guests for this event, and if it's anyone who's scheduled to be on the DEFY card later in the evening, you know it's going to be a spectacular show.
The folks behind DEFY wrestling have put together an incredible card for us on this event. Unfortunately, our usual master of ceremonies, Steve Migs, will not be joining us. He apparently has a gig that evening with his band, Bruiser Brody. But we are not completely forsaken! Joey Ryan, a pillar in the indie scene, the king of dong style, well be there to handle the mic. However! He will not be alone. Joining him at the helm will be Rich Bocchini! This gentleman is famous for his voice over work on tv and for promotions across North America.
As the date grows closer, we thus far have five official matches announced. It is not unusual for DEFY to have at least one unannounced match per show. It is recommended you pay close attention to social media in the week leading up to Saturday January 19th for possible new announcements.
D2S 10X Elimination
DEFY 2 Survive
Last year at their one-year anniversary they had a ten-person elimination match. The winner of that match was none other than the current DEFY Champion, Artemis Spencer. If they employ the same rules as they did last year there will be two teams of five who will eliminate their opponents with pinfall or submissions.
We can only speculate who might be in this match. It seems plausible members of the Pride, Carl Randers, Guillermo Rosas and King Khash could be on one of the teams. That is, of course, if DEFY doesn't have other plans for this particularly fantastic faction. Then there are past participants such as Sonico and Nick Radford who might make an appearance. They have used some spectacular new talent of late such as Danika Della Rouge and Chase James, it seems possible they could make an appearance. There is also plenty of fresh talent in the region to bring in. Guerrero De Neon, comes to mind as well as Travis Williams. According to some sources Big Jack has returned to the Pacific Northwest recently. It is a certainty more than a few fans would be pleased to see him make his return to the DEFY roster. This could be a great opportunity to see him reenter the ring at Washington Hall.  
At this point we can only speculate who might be a part of the elimination match. Stay tuned to find out how this one goes! If the winner of this elimination match goes on to be the DEFY Champion by the end of the year, we might see a trend forming.
Tag Team Champion Challenge
Amerikan Gunz vs. The 1%
Ethan HD & Mike Santiago vs. Royce Isaacs & Jorel Nelson
Here we have the Amerikan Gunz, Ethan HD and Mike Santiago making another title defense. So far, they have managed to defend their titles against Bandito & Flamita, LAX and No One Lives (Formerly No Lives Matter). Every one of their defenses have been hard fought battles, proving these two men are more than talented and able to hold their own against some of the best tag teams in the business today. Will their championship survive their fourth title defense?
Not if the One Percent has anything to say about it. Royce Isaacs and Jorel Nelson are making their second appearance at DEFY as a tag duo. Jorel has been at DEFY before as a singles competitor and he's also a native of the region. It seems likely this young man would like to stake his claim on his home town and his partner Royce seems more than happy to go along for the ride. They won their match at PDX 3 City of Thorns, we'll see if they have enough momentum to claim the championship for themselves.
Singles Match
"Classic" Cody Chhun vs. Robbie Eagles
Cody Chhun is riding a great wave here at Washington Hall! When he comes out into the ring there are chants of "Chhun's House!" The crowd here loves him, and rightfully so. He is one of the brightest stars on the rise here in the Pacific Northwest and this kid is going places. In recent months he's been targeted by the Pride faction. Will he escape their attention at DEFY Never Dies? For some reason, it seems unlikely.
Facing Cody Chhun is a visitor coming to us all the way from Australia! Robbie Eagles has been in the game for over a decade, and this high flyer is the current WSW Heavyweight Champion and he's been a regular at New Japan Professional Wrestling. This member of the Bullitt Club has made his mark on the Australian and Asian continents, now it seems time for him to show Washington Hall what he's made of.  
Trio Match
DNW vs. SCU
Schaff, Randy Myers & Shane Strickland vs. Frankie Kazarian, Scorpio Sky & Christopher Daniels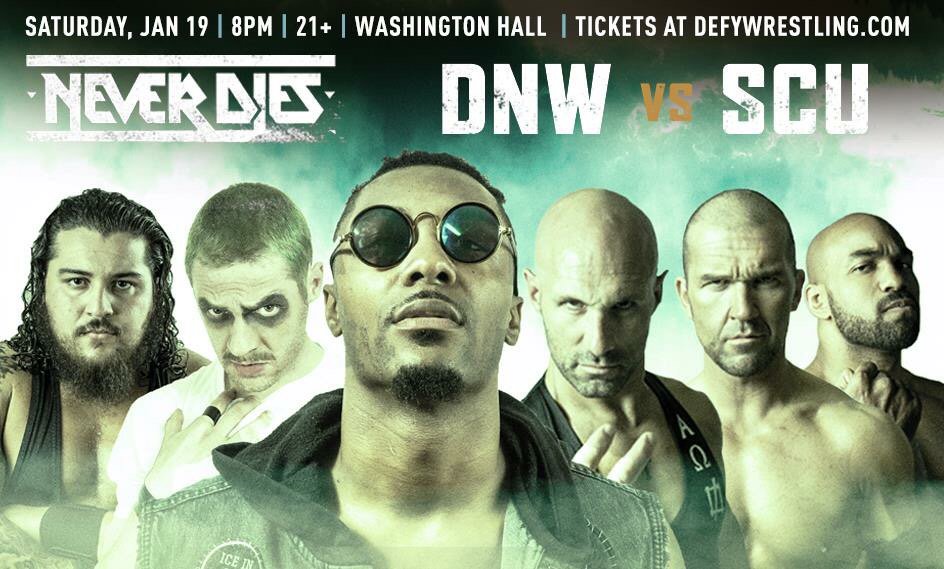 When DEFY released the details of this match there was a collective gasp among fans. Southern Cal Uncensored is perhaps one of the best-known trio team working today. We've seen Scorpio Sky at DEFY this last summer as a singles competitor against Dezmond Xavier. However, Frankie Kazarian and Christopher Daniels will be making their DEFY debut. These three men are perhaps best known for their work at Ring of Honor and NJPW… but you probably already knew that!
Assembled for the purpose of sending SCU back to Southern California with their tails between their legs is Team DEFY! DNW consists of local favorites, Schaff, Randy Myers and Shane Strickland. These three men are the best of the best and the folks behind DEFY could not have put together a better team to represent their promotion in this match up. There is little doubt who the crowd will be behind on January 19th!
DEFY Championship Challenge
Champion Artemis Spencer vs. Dezmond Xavier
Newly crowned DEFY Champion Artemis Spencer will be making his first title defense! He has been with DEFY since the beginning and when he won last month at DEFY On Edge, there has never been such an emotional response at Washington Hall. Artemis Spencer is the face of DEFY and he is loved! Like all things Championships are not forever. Will Artemis' championship survive his first title challenge? Not if his challenger has anything to say about it!
Dezmond Xavier is returning to Washington Hall for his second appearance at DEFY. This high flyer, who is also a member of the Tag Team the Rascalz, currently holds two Tag Team Championships. It would seem this young man from Dayton Ohio would like to add a championship of his very own. Make no mistake. Dezmond Xavier is a real threat to Artemis Spencer and this is likely going to be a match we talk about in the years to come.
* * * *
DEFY is a 21 and older event, with food and drinks provided for purchase by Lunchbox Laboratory. Doors open for VIP's at 7:00 p.m. and General Admission usually begins around 7:30 p.m. with the show starting at 8:00 p.m. Talent typically mingles with the audience before and after the show where you can purchase merchandise.
The concert and Swerve City Podcast shows require a separate ticket to attend and there is limited space. Go to https://www.defywrestling.com for details.