DEFY Doomsayer
September 27, 2019
Washington Hall
Seattle
Since the debut of DEFY in 2017, they have brought in some of the greatest talent in the business. We've also had the pleasure of watching several talents go from being loved stars on the indie scene to becoming one of the few chosen for the stratosphere. We were so lucky to see Shane Strickland go from being our champion to one of the fresh new talents in the WWE. DEFY presents their Doomsayer event this coming Friday.
Tonight, we say farewell to another talent we've seen go from a local talent into a nationally acclaimed wrestler on the independent scene. Now he is coming back one last time to before his star enters the sky. Darby Allin will be one of those names we can say, 'I saw him back in the day.' As he says goodbye to us, he stands on the precipice of taken that next step to what is bound to be a glorious career at AEW.
On Friday, September 27, DEFY has put together Doomsayer, which is bound to be one of the most memorable shows in their promotional history. The line up is impressive with only a handful of matches announced.
Tag Match
K.O. Crazy vs. Amerikan Gunz
(Super Crazy & Guillermo Rosas) vs. (Ethan HD & Mike Santiago)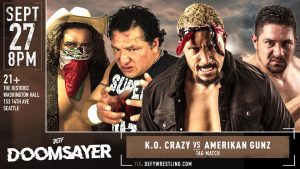 If ever there was an award for putting some of the best matches you'll find in the pro wrestling world, DEFY would be a major contender. K.O. Crazy matches one of the greatest wrestlers of all time, Super "F'N" Crazy, with a local young man, Guillermo Rosas, who is destined to share a similar career trajectory as his tag partner. When these two come together they share a ring chemistry that is amazing.
Facing K.O. Crazy is former DEFY Tag Team Champions, the Amerikan Gunz! Ethan HD and Mike Santiago have earned their way to the top at DEFY's tag division and there is little doubt they are going to fight their way back. The years of experience and talent shared between these two men has few equals in the business and these two competitors love the smell of blood. You can expect they are going to give K.O. Crazy everything they've got!
Singles Match
Killer Kross vs. Douglas James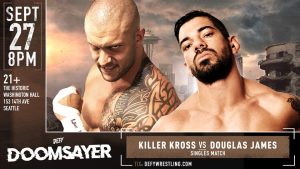 It's hard to imagine there are many fans of pro wrestling who don't know who Killer Kross is. He's been a regular with Impact and many are familiar with his work at Lucha Underground and Lucha Libra AAA Worldwide. He's faced some of the greatest talents in the business and he's making his debut at DEFY to face one of our very best!
Douglas James has become a part of the DEFY roster, and with the way the audience loves him it seems only natural, he has become one of our favorite regulars. He is a lean, fighting machine who is hungry for more. DEFY appears more than willing to offer up a steady diet of incredible talent for Mr. James to prove himself against. There is one thing we have come to know, if Douglas James is in a match, it's going to be a major highlight of any card.
Singles Match
Bestia 666 vs. Rey Horus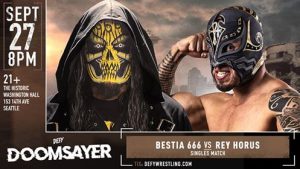 We are in for a special treat on Friday night! Bestia 666 is making his DEFY debut and there is no doubt this gentleman is going to leave Washington Hall with a slew of new fans! This second-generation luchador has been working countless promotions in Mexico and has recently been appearing on MLW.
Welcoming Bestia 666 to DEFY is a gentleman we've seen a few times before. None other than Rey Horus! Who better to face off against such a formidable opponent? Rey Horus is a truly fantastic talent and you can count on this match being a truly great thing to behold. Fans of Lucha style wrestling are going to be super happy with this one!
DEFY Championship Match
Schaff vs. Joey Janela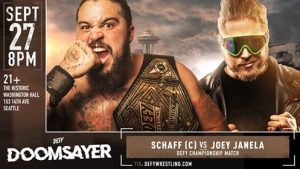 The DEFYance is thrilled beyond belief to have Schaff holding the championship belt. The Baddest MFer in Professional Wrestling has without question become the new face of DEFY. Though he has had his belt for only a short time, this incredible wrestler is about to face one of the toughest opponents he is likely to ever face for his championship belt.
One of the most beloved fly-ins' at DEFY is returning. Joey Janela! Needless to say, White Claw is going to sell out in Seattle on September 27th! We're always happy to have a little New Jersey in Seattle when he comes to town. But if you think he's going to take it easy on Schaff, I think you have another thing coming. This is going to be a terrific match!
Singles Match
Cody Chhun vs. Darby Allin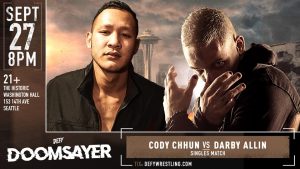 This is the match everyone is waiting for. Darby Allin's final match at DEFY, probably for a very long time, possibly ever. This is a bittersweet moment as we say goodbye and wish this spectacularly talented young man our best. Darby's roots are here in our region. We will always be a part of his journey and he is a part of our history. For his last match before joining the exclusive roster at AEW, he will be facing one of the rising stars in our region…
Cody Chhun is one of the greatest talents in our region and he will be entering the ring with someone he knows well. These two have come out of the Buddy Wayne Academy and they have been on a journey together. At Doomsayer their paths go in different directions. Whether their paths will cross again, we can only speculate and hope. We have this match; one we will remember in the years to come and we can say we were there for DEFY Doomsayer.
At this point, we have five matches officially announced. We may see more announced in the days leading up to September 27th. Pay attention to social media for any announcements. Also, it is not unusual for DEFY to surprise us with a match or two at the show, that are not announced ahead of time. Don't be surprised if they don't keep a couple of matches under their belt for the audience at DEFY Doomsayer.