DEFY Age of War
January 3, 2020
Seattle Washington
The first show of 2020 is upon us! DEFY Age of War is shaping up to be an incredible card with some matches the fans are certain to love. On January 3rd there will be no better place to be in the world of professional wrestling than Washington Hall.
With six matches announced, it is already obvious this is going to be an evening we talk about in the years to come. With our champion Schaff making a heel turn at the last event – and the incredible talent they are bringing in such as Matt Sydal and Matt Cross – this is going to be one hell of a show.
Here is the run down thus far:
Singles Competition
Sonico vs. Hammerstone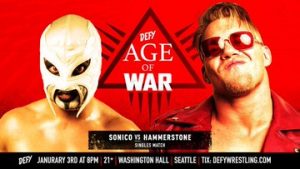 Our high flying lucha ghoul is home from his Japanese tour. This young man is one of the hottest commodities in the business and he's being flown all over the country by promotions eager to showcase his talent. Sonico has long been one of the favorites in the region and on January 3rd, he is going to be taking on one of his biggest opponents yet!
Hammerstone was soundly defeated by Schaff at Wrestle Summit 2 last month. Is their grudge finally over? Neither seem particularly like the forgiving type. Regardless, if their grudge is over or not, Hammerstone is returning to face Sonico. While Hammerstone if much larger than his opponent, he will have to overcome Sonico's speed and ring cunning if he wants to get the big "W" on Friday night!
Singles Competition
Cody Chhun vs. "Golden Boy" Travis Williams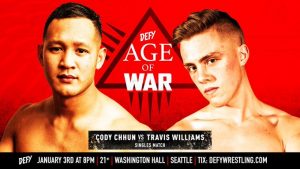 Cody Chhun is flying high right now. He's getting matches outside the region at some of the best promotions around such as PCW Ultra. Last month he nearly seized the PCW Ultra Championship from the clutches of Jake Atlas and for a moment we all thought he had. Even though he didn't get the belt that night, he proved to the wrestling world he is a major talent and the path in front of him is paved with gold.
It would appear someone on the DEFY roster would like to rain on Cody's parade. "The Golden Boy" Travis Williams no doubt bullied the powers behind DEFY to get a match with Cody. Like his opponent, Travis is fast and very calculating in the ring. He isn't afraid to bend, if not break, rules and there is no limit to his ambitions.
Tag Team Competition
Reloaded (Jacky Lee and Shareef Morrow)
vs.
4 Minutes of Heat (Ricky Gibson and Eddie Pearl)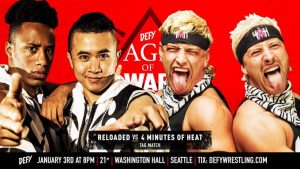 We have two tag teams making their Washington Hall debut. First, we have the Canadian duo Reloaded. This fantastic team consists of two very talented young men, Jacky Lee and Shareef Morrow. These two know how to fly, they aren't afraid of the top ropes, and they can move at astonishing speeds. Those who have not seen Reloaded in action are in for a treat.
Their challengers are none other than 4 Minutes of Heat. Both Ricky Gibson and Eddie Pearl have been making their mark on this region. Last month they made an unexpected appearance interfering with a match involving the Amerikan Gunz.
It will be interesting to see how this plays out. Given the bad blood that will be mixing in the locker room, there is a high likelihood we may see other players get involved in this.
Tag Team Competition
Psicosis & Guillermo Rosas
vs.
Uprising (Judas Icarus & Eli Surge)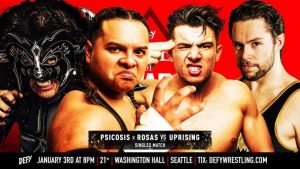 On January 3rd a wrestling luminary will be making an appearance at Washington Hall. Psicosis will be in the building and partnering up with local favorite Guillermo Rosas. It would appear these two will be going down the Old Town Road together, reaping havoc and mayhem on their opponents.
Psicosis and Rosas will be facing off against the Uprising. Judas Icarus is reunited with his partner Eli Surge who spent the latter half of last year recovering from an injury. No doubt the DEFYance will be celebrating his return on Friday Night.
This one is going to be an amazing match. Psicosis has been on the wrestling scene for nearly three decades and he is always an incredible talent to watch. Rosas, Judas, and Eli are three amazing members of the DEFY roster. They have yet to disappoint!
Trio Competition
Schaff & the Amerikan Gunz (Ethan HD & Mike Santiago)
vs.
Artemis Spencer & Warbeast (Jacob Fatu & Joseph Samael)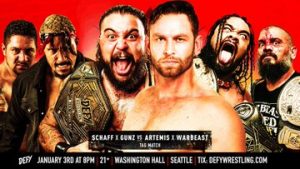 Last month, we watched Schaff make an unexpected heel turn at the end of his match with Hammerstone. It probably comes as no surprise that in-house bad boys the Amerikan Gunz, Ethan HD, and Mike Santiago are providing back up to the DEFY champion.
Facing off against Schaff and his minions of evil is our former champion Artemis Spencer. But our former champion won't be standing alone. Warbeast, Jacob Fatu and Joseph Samael will be joining Artemis in the ring.
This is going to get ugly. Everyone in the ring has either won or lost a championship title from the other. This may be one of the most contentious matches of the night, if not in the history of DEFY.
Singles Competition
Matt Sydal vs. Matt Cross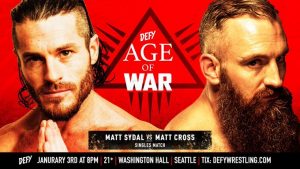 War of the Matts! These two men have both been at DEFY on multiple occasions and both are practically regulars and loved by the DEFYance. On January 3rd we will see two titans of the professional wrestling industry step into the ring with one another. This is going to be amazing and the kind of match the powers behind the curtain had the genius to create.
With the experience both these men have, this will be nothing less than spectacular and may very well be the match of the night. Word of advice: After this match starts, try to remember to breathe.
DEFY Age of War, is a 21 and older event. Food and drinks are provided by Lunchbox Laboratory. Talent are typically available before, during intermission and after the show for pictures and merch sales.