This Friday, CMLL will celebrate 86 years with Aniversario. 86 years of making history. We know that this event is the most important event in CMLL like Wrestlemania is to WWE or Triplemania to AAA. This event closes the rivalries that the luchadors have had in the last few months. CMLL has decided to have in the main event a Seven Person Cage Match. On the line, is their hair! Another important match is Mask vs Mask between two micro stars. Also, they give us a match for CMLL Women's Championship and CMLL Trios Championship. So, lets not waste time and let's get to the card!…
Stigma, El Audaz, Rey Cometa vs Misterioso Jr, Tiger, and Virus
The first match features three great tecnicos. On one side you have three spectacular guys that love to hit aerial moves. El Audaz has had a great year and in this event, he must give his all to his army of fans to show that he should be in better/higher profile matches. On the Rudo side, we have a lot of experience with Virus "The Little Master" and Misterioso Jr. Virus is called the Little Master and he is full of technical wizardry and has a great submission game. Misterioso Jr has had great moments throughout his career but now he needs to get the victory. The last partner is Tiger, the brother of Puma King. He reinforces the rudo side with his youth and his speed.
Prediction: This match will be to the tecnicos and it will be to thrill the crowd.  
Dulce Gardenia, Diamante Azul, Titan vs Hijo del Villano III, Hechicero, and Rey Bucanero
Another match much like the first one. This match, has no rivalry but will once again pit Tecnicos versus Rudos. Dulce Gardenia is an exotic luchador, and over the last few months, he won the opportunity to be part of this card. He has charisma and a great wrestling base, but he will support two great luchadors in Diamante Azul and Titan. 
Azul has strength and power, and Titan has picked up a lot of different styles in Japan and ROH. This team is full of different styles. But in front of them is basically the same formula. Hijo de Villano Jr has been confronting Atlantis Jr throughout the year and he has shown great passion like his father. Hechicero has great technical skills and he always surprises us with his moves. Rey Bucanero with his experience will try to defeat the tecnicos.
Prediction: This match will be Rudos to lose.
CMLL Women Championship
Dalys vs Marcela
CMLL Women Championship is on the line here. Marcela gave the opportunity to the winner of the Universal tournament who is Dalys. This match will be great. Two girls who have given their all to the sport that they love. And now, in this match, they will be showing all their experience. Dalys has searched for these types of challenges. Marcela arrives from Japan and her only thought is to get her hands on the championship.
Prediction: Marcel will win this match.
Mephisto, Angel de Oro, Niebla Roja vs Gran Guerrero, Euforia, and Soberano Jr
This match will be an incredible sight at CMLL Aniversario 86 . And this about to mixed the teams with the side tecnico with one rudo and the side rudo with one Tecnico. The first team is Chavez Brothers who are Angel de Oro and Niebla Roja have been representing CMLL in the Crash and now, they need to be complemented with Mephisto. But, the other side is part and great rivalries of Chavez Brothers who are Los Guerreros Laguneros Gran Guerrero and Euforia but they will have in their side Soberno Jr. We need to remember that Soberano Jr has wrestled with Guerreros at Arena Mexico and Arena Puebla. This match has all the ingredients to be a great match and overall to continue the war between Chavez and Guerreros. Prediction: Los Guerreros Laguneros and Soberano Jr will get the victory.

Mask vs Mask match
Microman vs Chamuel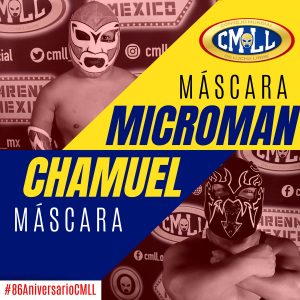 This match, I could call the match of the event for CMLL Aniversario 86. These guys are in Micro division, they are superstars. Every match that you watch of them, always you are satisfied for their work. The rivalry born weeks ago. Microman and Chamuel had a single match weeks ago where Chamuel got the victory with he cheat the referee. He got off his mask and threw it to Microman. Now, this match doesn't only be the mask in the line also, they have the responsibility that Micro division could be in great events and in the main events. So, we hope all their hearts and sweat in the ring. For the Mexican Culture, the mask is the most sacred and they know that the mask is the part of his career. So, the end of this rivalry will be in a great event, great crowd and overall great place who is Arena Mexico. Prediction: The most charismatic luchador Microman will get the victory.
CMLL Trios Championships match
NGD (Sanson, Cuatrero, and Forastero) vs Valiente, Mistico, and Caristico
Another rivalry and another challenge at CMLL Aniversario 86. NGD is the faction that step by step, they have been gained in CMLL's place. They are a great Trio or Tag Team. They are rudeness but they have worked to combine together and they have worked to make a strategy to weaken their opponents. The side tecnico, they know that and their counterattack is with their speed and highflyers. These Championships have been in the line some times but Caristico and his partners need to show that they could be better champions. This match will be spotfest. For me, this will be the second match of the event. And this match will have everything to show us why. Prediction: The reign of NGD will remain.
Cage match: The last Luchador in the ring will lose his hair
Ultimo Guerrero vs Ciber The Main Man vs Negro Casas vs Barbaro Cavernario vs Volador Jr vs Big Daddy vs Gilbert El Boricua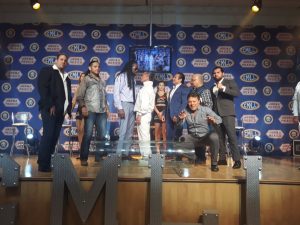 The main event to close CMLL Aniversario 86 will be a Cage Match where a last luchador will lose his hair. About this match, CMLL's programming made this match a few weeks ago. The principal rivalry is Ultimo Guerrero and Ciber, they have fought about a year, but in the last weeks Gilbert has a fight with them and he asked them about a match between them. The rest of the luchadors had a rivalry in Grand Prix Tournament, Volador Jr, Negro Casas, Cavernario, and Big Daddy were the last challenges and Volador Jr got the victory but in the end. All fought between them. The challenge was made and now, these histories have been placed in a ring and a cage. So, this will be interesting and the match will be tremendous. Prediction: Big Daddy will lose his hair.