I can't speak for everyone else ever, but watching some of Vice Network's second season of Dark Side Of The Ring at times was pretty hard. Particularly with subjects I was close to—some real characters like Owen Hart and Herb Abrams. Owen Hart was really was an example of Heaven on Earth.
I spent significant time with Owen Hart. First in Japan in the early '90s, when he shined over there with an incredible Juniors division. The one led by Jushin Lyger/Keichi Yamada and his famous workhorse dojo that was separate from NJPW's overall one. Owen was always serious about his craft, from his innovative aerial offense to his mat and chain wrestling. From classic Calgary Stampede to NJPW to his U.S. indie debut on Joel Goodhart's TWA in 1991. Then, the long stretch in WWF showed his big kid fun side that we all treasure to this day. The master rib artist we all loved.
Owen Hart and The Ribsters After Him
He was following in the footsteps of Bill "Percy Pringle/Paul Bearer" Moody to earlier "champeens" like Fred Blassie, Mr. Fuji, Johnny Valentine, and Buddy Rogers. As well as the earliest major rib artists in Vic and Ted Christy. They always asked me about him as if he might try duplicating and modernizing their classic practical jokes. Rewatching and having to re-dwell on all those feelings of loss during the Owen DSOTR special was brutal. Just like the emotions from the first documentary of Dark Side Of The Ring season two about someone, I also traveled the road with globally. Extremely difficult to re-live and re-dredge up feelings long stifled but now unearthed. But it also reminded many of us why we miss Owen each day. And some of his real and biz family members like Smith Hart.
Owen was one of the most gifted wrestling athletes, particularly in Japan. Even though father Stu said Owen was the quickest, most straightforward of these boys to break in, Owen's priorities were first to his family. Making sure he provided for Martha, his wife, and their kids. Owen was one of the few boys like Chris Candido to pull out his wallet and show the latest family photos. Owen Hart hung with me when I returned to Japan in 1990 to New Japan's famous Keio Plaza hotel. Here he messed a bit with Leon "Vader" White's character mask when Leon had left his luggage on a sofa for a few minutes. And also with Leon's then-famous shoulder cover fairly substantial gimmick. The one that blew smoke out from several openings at the top.
***
He and another Calgary athlete also showed their playful sides. Calling up and waking Stan Hansen from the front desk phone. Calling Stan's AJPW/Baba hotel room (he was also on tour there simultaneously) at midnight. We thought Stan would be pissed, but he zoomed over to join us. He probably wanted my photos from some of his earlier U.S. matches for Leroy McGuirk to a significant 70 Atlanta Christmas show bout. Bill Watts would later take over for from Leroy in his MidSouth To UWF great promotions.
When Owen was with the WWF, any time I was photographing one of their shows near where I lived, he and later Bret would ask to be driven after the show to their aunt's house. I think Helen Hart's sister lived in the very upscale Piedmont area of the East Bay. Their aunt and uncle were wonderfully gracious folks. No attitude even though they lived amongst millionaires up there. Both Owen and Bret Hart would always beam when they'd see their family there. But they still made it a point to see them when they were in the area, even when Bret came into Oakland to see some of his favorite teams like the A's and Raiders.
Owen Hart And Respect
I already had a world of respect for him, but seeing that was something every time he came to the San Franciso/Bay Area (which I think was also where Bret met his future wife from Italy). Owen once again showed his masterful rib prowess to me in 1992. At a NATPE mega T.V. syndication annual Convention of Network and Cable Broadcasters, we were both at WWF, and WCW (as well as other, smaller wrestling promoters with TVs like Mario and Angelo Savoldi) paid for giant booths each year to show their affiliates (when both still had syndicated TV around the country in addition to their respective cable channels) some love and support. Plus, WWF had a ring set up, and the only match held before those in attendance that year was Owen/Koko B Ware vs. Neidhart, and I think one of the Beverly Brothers.
Owen pulled some elaborate ribs on not just his brother-in-law Anvil but also Koko putting cat food in Koko's gym bag. Plus, even wearing a T-shirt to the ring of a cat with a bird in its mouth both in the back and walking to the ring. Owen reminded me of a later Kevin Stein/Kevin Owens in the ring, mouthily jawing with his partner, opponents, and anyone watching them work(wrestle). Not calling out spots, of course, but just loudly saying whatever pooped into his brain. I told Kevin this after seeing him talk nonstop years later at a great as usual PWG match he had either against Chris Daniels or Samoa Joe.
***
This was when early PWG was still at its very first home near the Los Angeles famous Sunset Strip section in my Los Feliz/Glendale neighborhood "borough." Like Owen, Kev was too loud to ignore talking away hilariously with his opponent and the fans. But always clever stuff coming from both. And funny as hell. Like Owen recounting to the fans when Kevin Von Erich teamed with Kerry in Japan. Kevin years earlier apparently didn't know that most Japanese puroresu fans knew English(possibly even learning it, so they knew what the Gaijin/foreigners were saying in-ring, in promos on tv, etc.).
So he yelled out IN ENGLISH at the other tag team(I think it was to Riki Choshu? and Super Machine or Massa Saito) at Korakuen, "Kerry's going to do the Discus(punch), and you better sell BIG!" Out loud. So loud, all the fans heard it. The fans(and the boys in the back) seemed to laugh all in unison, and Kevin later said he felt a bit embarrassed to have exposed the biz like this in the '80s. Owen loved that story but never relayed it to the marks. Owens's ribs were all over the place, though.
***
I think to teach even Corny/Jim Cornette how best to pull a fake phone rib to the locker room stuff like itching powder in a jock and trunks or Ben Gay in/on sunglasses doo-rag or cap of someone set to go out and wrestle. And he was the only one I'm aware of with the balls to pull a rib on legit tough guy Curt Hennig who most knew(ala Peter Maivia, Billy Robinson, Haku, Scott Steiner) you didn't mess with.
I was a family photographer for the family on 12/15/95 in Calgary for both the private 80th birthday party for Stu as well as what they said was the 45th anniversary of his essential and grand Stampede promotion. Stampede had a long working relationship with many Japanese, the U.S., and European promotions and young green(i.e., "piss") boys, particularly form NJPW like super young Keichi "Lyger" Yamada, Hiroshi Hase, Keiji Muto, and others came thru so the Harts could finesse them. And of course, with the magazines I wrote and shot for documenting their success outside of Japan, they returned as more accomplished and polished conquerors.
***
That "Stu Hart/Stampede Bump." Owen Hart picked me up at Calgary Airport the day before, along with his then-best WWF pal and roommate in the late Louie Spicolli. We laughed at Owen, cursing bigtime at the nonstop snow downpour that neither Louie nor I would have the guts to the drive-thru. Owen was also driving super fast since he knew the route and got us all there to base safely. That was Owen. He later gave me the dungeon tour, where I burned through at least 15 PanX and Tri-X film rolls. That was the Owen we still love and miss.
The loving family man. The smiling prankster(another repeat rib of his was calling/waking up a wrestler-not Hansen; at 2 am acting as the hotel manager and telling them their credit card was denied and that he or she had to vacate their room immediately or the cops would throw them out) and of course the ultimate in-ring athlete. The great friend and the guy who always stood up for himself when he felt things weren't right or ethical. The hero, even seconds before we lost him.
***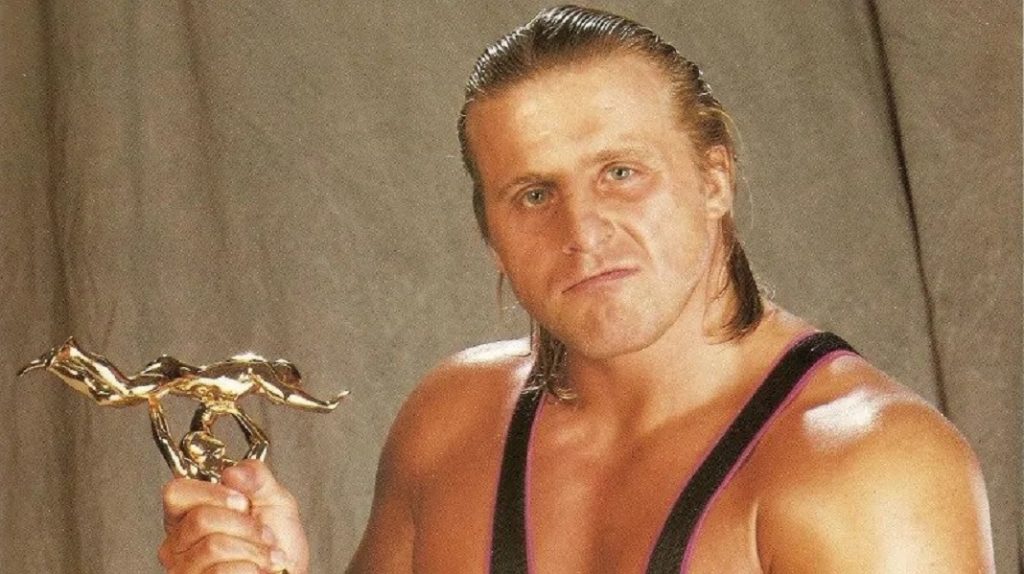 When I was in Japan working/shooting for all the many newsstand magazines we still had at the time(compare that to now with just PWI Magazine thankfully still around but now about every two months), I also wrote and shot for WCW and later their magazine when Dennis Brent was the editor. Owen Hart and another NJPW star suggested if I hadn't yet been to the famous Americanized Tokyo district of Roppongi, that we hit that for an afternoon(yep, the birthplace of Roppongi Vice). When Meltzer and I later went over to Japan together, I, in turn, took him to Roppongi Hard Rock Cafe restaurant, where Chris had taken me to see what absurd prices Owen and I thought they were charging even then. $37 U.S. for a burger and fries plate, $16 for a glass of O.J.
And it wasn't better when we went after another NJPW show to a so-called American Denny's for late night/early morning breakfast with some other friends. The hamburger patties inside the oversized buns were about the size of a quarter just as they were at the many burgeoning McDonalds quickly popping up there. Later Vader himself would take us to his then-favorite dining spot, Olympiad Korean BBQ near the Shibuya, Japan J.R. line train outlet. He knew we'd all been bitching about the small food portions everywhere, save the Bento Box lunches NJPW, FMW, AJPW, Universal, AJW would provide us on the road to/from the show.
Owen Hart and Friends
Olympiad was mega; we all agreed. $28 U.S. total fee for all the food you could eat and all the beer and sake you could imbibe. Sure, you had to cook the thinly-sliced steak and chicken (and vegetables) at the tableside hibachi-like stoves and do all the work yourself, but it was all-you-could-eat. And after several hours, that was all-we-could-eat. We were finally stuffed and happy.
One of Owen Hart's top wrestler pals and I were part of Inoki's World Wrestling Peace Festival show and overall concept. Inoki's attorney, Steve Nakada, had hired me to be flown from my NorCal home back to L.A. every week to handle their publicity and for the event overall. But payments were slow or non-existent, and the thing looked to be heading south from its excellent intentions. This was before his grander success with the next two-day show in dangerous North Korea for the current leader's late father Kim and allegedly(most snuck the rails and got in free, but visually with all those people, it still was a great visual or as we say now "optic") with a two day reported/alleged total of over 300,000 people outdoors for the card capped by Inoki vs. Flair.
***
Back to the Peace Festival, Inoki had also led fans to believe (and told Steve and I to put in the daily press releases) that most all major wrestling companies would participate and would have "dream matchups" pairing WWF vs. WCW wrestlers, AAA vs. CMLL/EMLL talent as well as NJPW wrestlers against those from AJPW and more. As we got closer to it, WWF refused to participate, and neither AAA's Pena or CMLL's Paco Alonso would allow their luchadors to be in the same ring with one another.
That they'd instead send matchups pairing their own in-house talent against each other. I was tired from them being continually late on payments(thankfully, they paid for my flights directly) and then the constantly-changing, erratic scenario for the show itself. And found a longtime friend who'd recently left WWF where he helped their talent to cut their promos, etc., agent-type work in Bob Cartago who'd just moved to L.A. and could do a far better job amidst chaos than I.
***
We were all amazed Cartago and I before him, could handle all that pressure and what a great show it ended up being, although the crowd size wasn't what it should've been. I think Cartago never got his pay at all and so ended up keeping legal rights to the alleged 8-camera shoot footage, which never was sold and advertised to fans as a DVD box set. Sort of like how all the shoot interviews filmed at the very first WrestleReunion in Tampa also never got released. Joey Styles, Bill Apter, me, and the late/great Lance Russell were the announcers for these sit-downs pairing guys with history.
***
For example, there was a panel with Piper, Buddy Rose, and Ed Wiskowski(who also wrestled on the associated nighttime wrestling card) all discussing promoter Don Owen's great Portland, OR territory that was the last one to bite it(or survive ala Jerry Jarrett/Memphis) after Vince Jr went national. The remaining territories died one after another. Even after that last Eddie Einhorn Wrestling USA/America string of TV shows failed to get the NWA, AWA, and perhaps Gagne, Bill Watts, and Jarrett to work together en-masse, to attempt to take down the ever-growing WWF.
***
Owen, when I told him about it, just couldn't believe no one was going to be able to get the VHS or DVD's of that Peace Festival show to watch. I was recently looking online to see how many people have posted my photo series of Owen I posed with Madusa/Debbie at Joel Goodhart's 2nd to last TWA show circa late 1991 in Philly.
TWA was the predecessor to ECW, and Todd Gordon worked underneath and with Joel in that star-laden group. Good guy Joel thankfully resurfaced two years ago out of the blue when he attended his first of two(so far) Cauliflower Alley Club annual reunions in Vegas (go to caulifloweralleyclub.org to join and membership is still only $25/year after some 53 years as "the helping brotherhood of the biz" as I like to call it, helping out wrestlers in financial need). And Joel has a book on his life and TWA coming out soon, hopefully with my photos of his fantastic cards in it.
Owen Hart and The US Indie Debut
Owen Hart again had his U.S. indie debut on this '91 show against one of Keichi/Lyger's top NJPW trainees(Owen won, of course, and the crowd not only went nuts for the 4+ star excellent match where some of the ropes broke down, limiting their normal flying abilities but also threw money into the ring after the finish, Lucha-style). Backstage, Owen told me, he was astounded at several of the Philly/Jersey fans who chanted "Chop Suey" at the NJPW star (whose name escapes me). Still, he had the famous IWGP Jr Title match at Tokyo's Big Egg Dome arena on 3/21/91, where I shot for WCW Magazine as the only Gaijin in attendance. The other 19 were all Japan mag regular photographers, and I'd just been put into Japan's prestigious Japanese Wrestling Professional Photographer's Association.
Next column, I'd like to talk fond memories of Stu Hart's 80th birthday party the family asked me to come up and stay with them to shoot. Stu's birthday was a private family party first at the cordoned-off restaurant(no fans), which then spilled over to their home. Everyone on the show, including legends like former NWA Jr Champ Les Thornton, Spoiler Don Jardin(who worked with Mil Mascaras at the latter's MSG and WWWF debut in '73 although Don had to have his face exposed thru his mask, Mil, of course, had his mask intact or as he told me, "I'd never would've gone there in the first place.")
***
My shots at the private family party show a happy Owen and Martha Hart with their two beautiful and productive kids(who've grown up to be amazing adults as we saw on Vice's Dark Side of the Ring Owen-specific documentary a week ago), young Nattie, Teddie Hart and the late/great Mathew Annis who died of that flesh-eating bacteria horrible virus that was Corona-scary in its own right. All Japan tag legends Kroffat and Furness were there, and I posed that second "Dan Kroffat," aka Phil Lafon with his namesake in Stu's lead 60's and 70's babyface in the real Dan "King Krow" Kroffat for their only-ever photo-op.
Jericho, Scott Hall as Razor, 123/Lightning Kid aka XPak Shawn Waltman was there, Rhonda "Bertha Faye" Singh, who threw up at the party after a bit too much bubbly onto the shoes of Stu, Brian Pillman, and Dory and Terry Funk of all people. There's one shot of Owen, Bulldog, Spicolli, Ronda Singh, all talking to each other that is as painful to look at now, knowing they're all gone too soon. As hard as watching that Dark Side documentary on Owen Hart.
Owen Hart: Before the Tragedy
The wild stuff aside, that party stays with me. This was the last time I saw all the Hart family in unison before Owen Hart died in that tragedy, outside of Bret leaving after the screw-job for WCW. Pillman and Rhonda would also tragically leave us along with Bulldog. But there on that night on 12/15/95, the entire Hart Family was still a family. Full of love and respect, and everyone getting along with each other. And of course the incredible Helen and Stu even with us. Boy, does everyone miss our Helen and Stu? Still.
By Dr. Mike Lano
Pro Wrestling/Boxing/MMA/Rock Concert Magazine Photographer/Writer Published Globally Since 1966 – please holler at me at wrealano@aol.com.
The critically acclaimed #350Days stars Bret Hart, Superstar Billy Graham, and 3 dozen all-time legends. It's available worldwide on Amazon, iTunes, Google Play, & Xbox, and all major cable systems. Click here to view the trailer for 350 Days.