Time marches on while it certainly doesn't always feel that way. Welcome, all to May.  There is also talk of deconfinement coming, step by step. There's a custom made segue for the Money in the Bank pay per view event which will take place on May 10th. The most intriguing aspect of this show is that we will cross the Mason-Dixon line and head up North to WWE headquarters in Stamford, Connecticut. Featured matches include Carmella against Mandy Rose and Otis vs Dolph Ziggler.
One can say that the first step on the road to deconfinement is leaving the very familiar Performance Center and heading to bold new territory. Keep in mind that the MITB ladder matches will take place on the HQ roof. It will include stops on every floor from the lobby up. It is kind of like a guided tour but with a few broken tables and some good-natured looting and pillaging. Readers know conference rooms, were made to be ransacked.
Tonight's show will have a significant impact on the forthcoming PPV. The third and final spot for the Smackdown participant in the Men's MITB encounter will be determined. It will involve a singles match between Dolph Ziggler vs Otis. The latter is out to demonstrate that being lovestruck while having championship aspirations can go together nicely.
Lots of unfinished business here, not a match for the weak of heart in the Dolph vs Otis match.
Otis is still seething with anger vs Dolph Ziggler being Sonya DeVille's accomplice in sabotaging his Valentine's Day rendezvous with Mandy Rose. While all's well that ends well, what could be better than teaching Ziggler a further lesson by putting an end to any MITB aspirations he may have. We now leave karma to briefly focus on Carmella.
On the Woman's side, Carmella will try to bounce back from last week's tag team loss by earning the final SD spot in the Woman's MITB match. Having Mandy Rose as her opponent makes for quite the challenge for the Staten Island native. This certainly will be no moonwalk. Even Neil Armstrong will confirm that.
While both men have their spots in the MITB clash, prestige and momentum will be on the line when Daniel Bryan clashes with King Corbin. Don't forget that while Corbin emerged victorious last week over Drew Gulak he did so with the aid of Artist Collective. Like that bad cold, you can't seem to shake off, ever-present.
We will also see installment number four of the Jeff Hardy saga, all this as a warm-up to a forthcoming program with Sheamus. The charismatic enigma is entering the final year of his WWE contract while his brother Matt has revitalized his career in AEW.
The New Day will face-off against the Forgotten Sons. While the formidable newcomers weren't the ones who initially wrecked last week's celebrations, they did take it upon themselves to layout the New Day as The Lucha House Party and The Miz and Morrison fled to safer grounds.
The show begins with Daniel Bryan cutting a promo stating that he loves new challenges and that this year's MITB match certainly provides him with a wonderful opportunity to risk it all for another shot at championship gold.
He harkens back to 2011 when winning the MITB match and goes on to vanquish the Big Show was a pivotal moment in his career.
Bryan's sole regret, the fact that his friend and coach Drew Gulak will not have his chance this year to live a pivotal moment of his own.
King Corbin makes his majestic entrance and informs Bryan that" My kind makes your kind suffer." The leader of the Yes movement retorts by calling Corbin a loser for failing to take advantage of his 2017 opportunity further pointing out that only 4 of 23 MITB winners have been unsuccessful. Up next, a very good match between the competitors.
Daniel Bryan vs King Corbin
At the very outset, Bryan began working on Corbin's left leg hitting a series of strong kicks. Classic veteran move neutralizing the King's height advantage and a considerable one at that.
Just before the break, Corbin stymies Bryan with a stiff right hand. The former golden gloves champion then throws Bryan out of the ring before ramming his arm into the ring post.
Corbin is still in control when we return but does find himself in a measure of trouble when Bryan gets a pair of two counts after some quick roll-ups. The King would counter with a stiff Clothesline and a two count of his own.
Corbin is hurled into the barricade off of a Suicide Dive on Bryan's part. Back in the ring, Bryan hits a Missle Drop Kick off the top rope and peppered Corbin with another series of kicks and was able to reel off three consecutive two counts.
Corbin would counter seconds later with a Deep Six, once again, only a two count. After being nailed with a Super Kick to the ear by Bryan, Corbin hits Bryan with a ladder. This led to immediate disqualification.
Winner: Daniel Bryan
Daniel Bryan would exact a measure of revenge. He would apply a Yes lock to Corbin, who was laid out on a ladder in the center of the ring. Out to rescue, the King in no time was Cesaro and Shinsuke Nakamura. The inevitable beat down followed. Bryan is flung into the ladders, adorning the ringside area.
While this match had many exciting moments and top-caliber execution, the ending was a tad predictable.
Braun Strowman is next up and on the mic. The champion again having to deal with the skeletons in his closet having been Bray Wyatt's proverbial black sheep. Strowman declared the past is the past. Stroman is interrupted by Bray Wyatt and the Firefly Funhouse. It is storytime!
Bray read us the story of the Black Sheep. The tale was told of the Black Sheep who selfishly abandoned his shepherd. In order to find greener pastures, the shepherd would be abandoned by all the other animals and later lose everything.
Wyatt wanted the book to have a happy ending. He was cut off by Strowman who stated:" I'm through with this puppet show….if you have something to say, come down to the ring and tell it to my face."
Wyatt though would meekly wave goodbye setting up for next week's face to face encounter. Advantage Strowman, for now, that is.
Someone looking ready for a possible title run is the Celtic Warrior who was to follow immediately. Sheamus is furious for being overlooked. He is playing it smart and is socially distancing himself from any semblance of sunlight. We can only hope he takes Vitamin D supplements.
Sheamus vs Leon Ruff
While Ruff did start the match with a burst of energy, his drop kicks barely even rattled Sheamus. Sheamus followed this up, with a Brogue Kick.
Winner: Sheamus
The fourth installment of Jeff Hardy's road to redemption is shown. Sheamus stuck around to let everyone know that while Jeff Hardy will appear next week, so will he! This feud is been clear for take-off!
Otis and Mandy discuss their MITB qualifying matches set for tonight. Mandy's versus Carmella is in fact in the on-deck circle.
Carmella vs Mandy Rose
Carmella got off to a stupendous start but did not keep the momentum on her side for long. Mandy Rose would seize control when out came none other than Sonya DeVille, mic in hand. Sonya waxed nostalgic over she handed over her MITB berth to Mandy. Sonya went on which inevitably distracted Mandy leaving her vulnerable and as one might expect, to Carmella's benefit. The Staten Island native decked Ms.Rose with a Superkick and laid claim to the sixth and final spot in the Women's MITB ladder match.
Winner: Carmella
DeVille would then snap and ruthlessly pummel Mandy Rose. Luckily,  Charles Robinson held the aggressor back. Sonya shouting, however," I will ruin your life."
Backstage, an awkward encounter between Dolph Ziggler and Otis, both checking of course on Mandy's well being after the beating she took moments earlier.
The New Day vs The Forgotten Sons
A tag team encounter would follow between The New Day and The Forgotten Sons. The two competing tonight are Steve Cutler and Wesley Blake. The Miz and the Shaman of Sexy, self-proclaimed of course, join in on commentary. They stated and re-stated that the Forgotten Sons with their military background should know a thing or two about respect. They should have enlisted the help of the greatest tag team of the 21st century to climb to the top of the division.
The pace was quick, the action hard-hitting. Especially impressive when you consider this was their initial hook up against each other.
Early on, Big E had a very easy time outpowering and dominating Wesley Blake. The New Day would hit five counts of two over the ex-servicemen while unable to put them away. The Forgotten Sons would have rare flashes of effectiveness but the operative word is rare.
Then, the upset of the Spring. Steve Cutler would leap from the second rope and drove his knees into Kofi's chest. This enabled Blake to pull off the three count. The Forgotten Sons won the match. The match will not be forgotten, any time soon. This win putting the Sons on the map and for a lengthy and fruitful spell as well.
Winners: The Forgotten Sons
Banks tried to appease Tamina before her championship match vs Bayley at MITB. Seconds later, Bayley joined the fray and both she and Banks were crushing Tamina. Lacey Evans would save the day. Although a melee would follow. Nice to see ex TNA standout Sonjay Dutt attempt to restore order. Dutt currently employed as a producer-road agent by the E.
Sonya Deville is also backstage and is offering Dolph Ziggler some valuable and heartfelt words of encouragement before he faces Otis in their qualifying match. Ziggler, ever confident and collected assures Sonya that the likes of Otis may have their moments and participation awards they inevitably become losers in the end. Ziggler vows to win the MITB match and climb to championship heights again.
Otis vs Dolph Ziggler
The contest we've been waiting for, the Wrestlemania rematch between Otis and Dolph Ziggler is upon us. At stake, the third and final SD spot in the MITB thriller slated for the 10th of May.
The working-class hero took advantage of Ziggler being slow out of the gate and maintained a firm controlling grip with his power game and surprising agility and speed. As we've stated before, Otis with his impressive amateur background is much more than a sad sack comedy act.
Otis is immediately after hurled into the ring barricade vs Ziggler. Ziggler was in the driver's seat. A pair of textbook drop kicks felled Otis.
While on spaghetti legs, Otis hung tough. He even attempted a Caterpillar on his foe but Ziggler moved out of harm's way. When he raked Otis' eyes and hit a ZigZag, it appeared that the big man had played his aces.
Otis miraculously found a burst of adrenaline, blocked the kick, hit his Caterpillar, and put Ziggler away with an Elbow Drop. Amor Vincit Omnia, love does conquer all. Otis punching his ticket to Stamford, ready to make that climb.
Winner: Otis vs Ziggler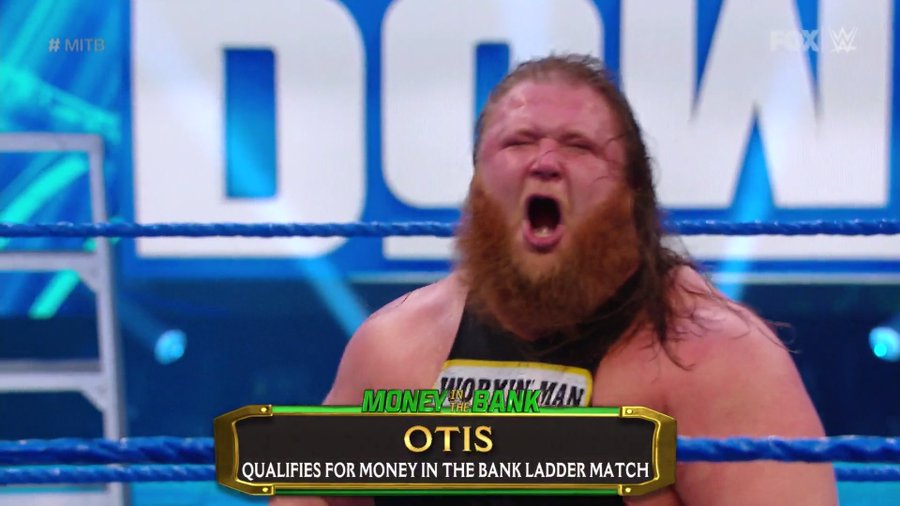 The strength of the show was the quality of the matches. The Forgotten Sons triumph was a breath of fresh air. It was a harbinger of them being major players down the road. Sonya DeVille did another excellent job on the mic.
Next week's show includes; Braun Strowman and Wyatt face-to-face as well as the Sheamus and Hardy program. Smackdown succeeding on all counts tonight. Nicely done indeed.