Only 3 days removed from the largest event on the Pro Wrestling Calendar, the unforgettable conclusion to the epic Johnny Gargano and Tommaso Ciampa Saga played out tonight. This, along with the crowning of a new contender to the Queen's throne. From Orlando Florida, home of the WWE Performance Centre, This is NXT!
Women's Championship Number 1 Contender Ladder Match: Io Shirai vs. Tegan Nox vs. Chelsea Green vs. Candice LeRae vs. Dakota Kai vs. Mia Yim
TONIGHT! @wwenxt! LADDER MATCH! If @ImChelseaGreen doesn't win, we riot! pic.twitter.com/hXnY6NZ0bT

— Matt Cardona (@ZackRyder) April 8, 2020
This week's edition of the Black and Gold brand kicks off with high octane action in the women's division. There's a new NXT Women's Champion after Night 2 of Wrestlemania, and a new challenger must be determined.
Coming out first is Io Shirai, followed by Tegan Nox. The next figure out from the entrance isn't a competitor at all, but rather brand ambassador and hype man Robert Stone; out to introduce the representative of the Robert Stone Brand Chelsea Green. Mia Yim and Dakota Kai are the next two out, with Candice LeRae making her way to the ring shortly after as the final competitor. 
From the beginning moments after the bell, Dakota Kai's equalizer Rachel Gonzalez makes her presence known by attacking a fallen Yim, who has been dumped out of the ring by The Captain of Team Kick. Gonzalez attempts to get a ladder to Kai but is stopped by LeRae and a well-timed dropkick underneath the bottom rope.
Chaos inside and outside the ring as a brawl-for-all has broken out with each athlete jockeying for top position and advantage in the match, which ends up with Dakota singled out and taking punishment from every other fighter in the match!
Green and Yim outside the ring, bitter rivals Nox and Kai inside the ring after some recovery time. Tegan channels her inner big-man by hitting a chokeslam on Kai and then proceeds to engage in a tug-of-war with Green for a ladder to climb up and reach the briefcase with. Their attempts are thwarted and a second ladder is positioned in the center of the ring, bringing the total count up to 2.
Yim climbs the ladder but Candice drags her down, only to eat a Soul Food Arm-Breaker from Mia.
Yim tries a second ascent but eats cold steel to the back via a well-placed chair shot from Green. Green takes Yim to the corner where a bridging ladder awaits, only to have her scheme backfire when her leg becomes caught in the rungs after an errant kick. Mia Yim capitalizes with a chair shot to the exposed leg and Chelsea rolls away in pain. 
Io Shirai enters the fray and slingshots Yim face-first into the bridged ladder. Io pumps herself up and begins to climb the ladder towards victory. Unfortunately, Gonzalez has other plans and makes her presence felt once again by toppling over the ladder Shirai is using. Shirai turns this around and uses her agility to land on her feet on the top rope and transition to a Flying Cross Body onto the gathered competitors on the outside!  
.@shirai_io has never been one to be afraid of heights. #WWENXT #LadderMatch pic.twitter.com/87ulHVHfNr

— WWE NXT (@WWENXT) April 9, 2020
Gonzalez begins working quite literally as an extension of her friend Dakota Kai; leveling the other match participants and then hoisting Kai on her shoulders, beginning to climb the ladder herself. Yim breaks up the two-woman totem pole and LeRae takes out Kai on the ladder, sending her crashing to the mat.
In the corner, Yim attempts to Powerbomb Gonzalez through a conveniently placed table on the outside.
Just when it seems that Yim won't be able to harness enough power, Tegan Nox comes to the rescue and dishes out some long-deserved revenge on Gonzalez by assisting in the Powerbomb; sending the Kiwi's henchwoman down into an explosion of timber! 
Her chance to relish the victory is cut short when Kai sends Nox onto a ladder on the outside of the ring with a vicious kick to the face, splitting the ladder in half. Kai then heads up one side of the set-up ladder, meeting LeRae at the top who is on the other side. Io comes into the ring and takes out both women. LeRae dishes out some karma via a German Suplex to Shirai. Robert Stone then lets his client know that she's all clear, but Green cannot make the ascent due to her leg injury from the chair shot. Robert Stone then climbs the ladder himself, pulling Green with him in the process. Io and LeRae won't stand for this and topple the ladder over to wipe out the Robert Stone Brand.
A new ladder is set up and, after some back-and-forth on the top rung between Io and LeRae, Shirai gets the upper hand and sends Candice down onto the bridged ladder, allowing her to remove the briefcase and win the match!
Winner and NEW Number One Contender: Io Shirai 
Finn Balor Has a Message For WALTER
A video replay detailing the issues between Finn Balor and Imperium is shown. Once the footage has aired, a taped message from Balor is played. 
"You'll learn that the title you hold…is on borrowed time" – Finn Balor
Killer Kross is Coming
Speaking of time, another vignette for the upcoming debut of Killer Kross is shown; a number of still images ending with a clock striking 12.
Ever Rise vs. Indus Sher w/Malcolm Bivens
The dominant Indus Sher, accompanied by their mouthpiece Bivens, make their NXT in-ring debut against the spunky Ever Rise. While Ever Rise utilizes their speed effectively, it isn't enough to ward off the physically dominant Indus Sher. A Flying Elbow from the top turnbuckle and this one is over.
.@Malcolmvelli must've LOVED this! @RealRinkuSingh & @gurjar_saurav steamroll the competition in their #WWENXT in-ring debut! pic.twitter.com/iKwrfpIbx1

— WWE NXT (@WWENXT) April 9, 2020
Winners: Indus Sher
Adam Cole Isn't Dreaming
A video message as shown from Cole, mock congratulating Velveteen Dream for defeating Bobby Fish. But lightning doesn't strike twice. Cole warns Dream to stop coming at him like he has, against the greatest NXT Champion of all time.
"Maybe one day I'll wake up and feel like ending an experience. Or shattering a spotlight. And unfortunately, there won't be a thing you can do about it. And that, Velveteen Dream, is Undisputed." – Adam Cole
The Former and the New Champ
Charlotte Flair and Rhea Ripley are interviewed separately. Flair says that Ripley was "alright" but in the end, she bowed down to the queen, just like everyone does.
On her end, Ripley simply says that Flair was better than she expected.
Tommaso Ciampa vs. Johnny Gargano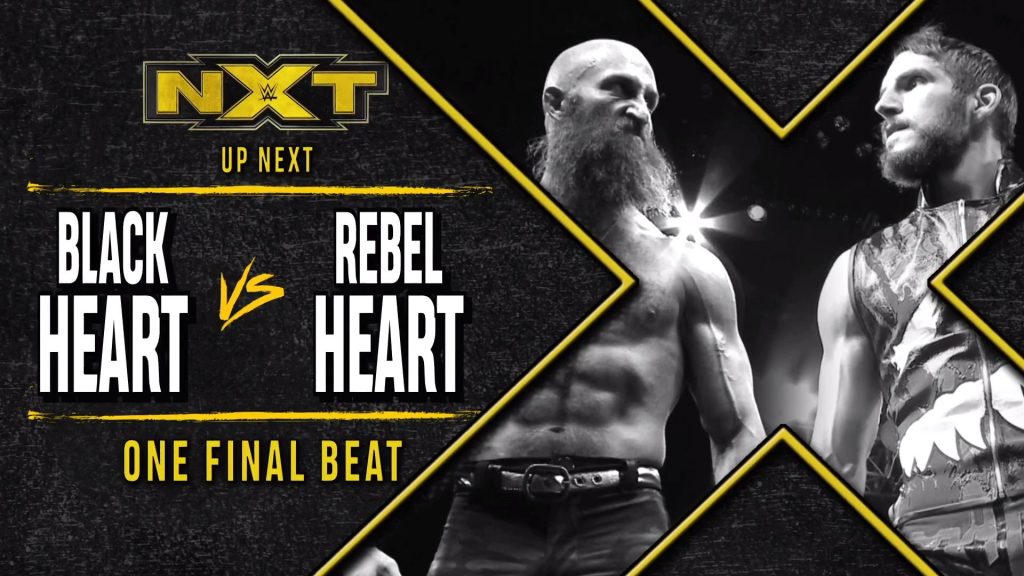 Main Event time as a car pulls up to an undisclosed location as the Blackheart faced the Rebel Heart. Johnny Gargano gets out from the driver's seat and Candice LeRae exits from the passenger side. She gives Gargano a package and then drives the car away.
Triple H and Ciampa are waiting inside. Triple H tells the two that he doesn't care what happens when he leaves, as long as there is a winner. Drake Maverick is there as referee to make the winner official, and that is it. Triple H leaves and both Gargano and Ciampa enter the ring.
The fierce enemies began yelling at each other who will be the winner, and the brawl begins. Ciampa attempts to use the steel steps to strike Gargano. He begins to run his mouth, questioning the validity of Gargano's claims that the two of them were brothers. Drake asks if Gargano wants to stop.
"He ain't gonna stop. He's Johnny Wrestling!" – Tommaso Ciampa
Somehow Gargano is able to get the upper hand by taking a powder to the outside. He gets a hold of Ciampa's leg and smashes it into the ring post. Gargano then begins to pop off at the mouth, bringing up the injuries Ciampa has sustained. 
Gargano continues his beatdown outside the ring, using various objects around the venue to inflict punishment. He mockingly tells Ciampa he expected more of him. Johnny Gargano gets Tommaso Ciampa into the ring and uses a chair to target every single surgery that Blackheart has endured. Shot to the shoulder for the labrum, shot to the leg for the ACL, and finishing it off with a shot to the spine. 
Gargano runs Ciampa to the steel chair that is not set up in the corner, but Blackheart is able to come around and clams Johnny Wrestling through the chair himself! It's Ciampa's turn to dish out some punishment as he begins to play with Gargano around ringside. During his walk, he discovers a medical crutch and begins to utilize it as a weapon.
"You always talk about my actions, never the intent." Torn ACL, I did that for YOU, not for them! – Tommaso Ciampa
Johnny Gargano is able to get his hands on a fire extinguisher and sprays Tommaso Ciampa in the face with it. Johnny then attempts to put Ciampa through the table next to them, but it's Gargano who is the one who is on the receiving end of a furniture rearrangement. 
In something that hasn't been heard in many matches before, referee Drake Maverick pleads with Ciampa to stop, telling him he doesn't have to do this as Ciampa sets to work cutting the ropes that secure the canvas to the wooden slats of the ring. Ciampa disputes this, telling Maverick that he WANTS to do this.
Johnny Gargano attempts to escape through the exit, sending rolling road cases to hit Tommaso Ciampa. Tommaso takes shelter under a semi-trailer, and then scales up the top and goads Johnny into joining him. After exchanging punches, both men leave the top of the truck and come back into the ring, where the crutch and a trashcan lid come into play. Johnny Gargano pulls Tommaso Ciampa up by the beard
"This is what you wanted Tommaso, you're a failure… you're a failure… You're a failure as a man… you're a failure… as a husband, a failure as a father" – Johnny Gargano
Shockingly, Tommaso Ciampa begins laughing like a madman as Johny Gargano lays blows on him. This throws Gargano off, which Tommaso takes advantage of by grabbing his crutch and turning the tables on Gargano. Ciampa then uses it to put a crossface on Gargano, which Gargano gets out of by clawing the eyes of Maverick!  Maverick rolls out to the edge of the ring and eats a mistimed boot from Ciampa.
With no referee, the two foes go back at it until Candice LeRae enters the ring, on the verge of tears, begging both men to stop. She pleads with Ciampa, telling him to just finish it and go on his way. Ciampa hesitates, so LeRae takes matters into her own hands (and feet).
"Fine, I'll finish it!" – Candice LeRae
LeRae turns and kicks her husband square in the crotch, sending Gargano slumping down to the canvas. 
Gargano goes for the pin but then has a change of heart. Emotions overcome Blackheart as he begins to cry. Gargano, on the ground, apologizes. So does Ciampa. Both say to the other that they never meant for it to come to this. 
All of a sudden, from out of nowhere, Candice re-emerges and knocks Tommaso square in the groin and begins laughing. Gargano begins laughing himself, pulling a protective cup from inside his pants and revealing collusion between husband and wife from the get-go!
"You Lose! You Lose!" – Johnny Gargano
A piledriver to the exposed beams of the ring and this one is over, signaling the final beats of The Blackheart
Winner: Johnny Gargano
LeRae and Gargano leave the building into their waiting car and drive off as NXT for April 8th goes off the air. 
Perhaps @CandiceLeRae was the one we ?????? should've looked out for after all. #WWENXT #CiampaVsGargano #OneFinalBeat @JohnnyGargano @NXTCiampa pic.twitter.com/Z6Su2cvkRF

— WWE (@WWE) April 9, 2020