Welcome to NXT Weekly for 10/4/22. I am your host, Kelly Dishnow. Let's get to it. Wade Barrett welcomes us to the CWC to kick the show off. Barrett introduces us to Sudu Shah and, for one night only, Byron Saxton. Barrett explains that Vic Joseph is on his honeymoon with Mackenzie Mitchell and should be back next week.
The new NXT graphics ditched the colorfulness of 2.0 and going more back to the original black and gold look with some additional white mixed in. I like the new graphic personally.
Pretty Deadly's State of the Commonwealth Address starts things off. The NXT Tag Team Champions rattle off all of the teams that they've beaten and said there's nobody left. The Brawling Brutes team of NXT alums Ridge Holland and don't call me Pete Dunn Butch.
They have their own separate music from Sheamus, so they could be a welcome addition to the Smackdown tag team division. Holland says that they came to fight, so they fought with Pretty Deadly before the champs bail.
That was an interesting way to start the new "era" of NXT and of course, sets up our main event match for tonight. It's a simple formula.
Toxic Attraction arrives and were greeted by Alba Fyre's bat. Jayne and Dolin get hit so Fyre can jump in the truck, which takes off. We are to assume that Mandy Rose is in the truck and the scheduled six women tag is now off.
NXT Weekly for 10/4/22
Oro Mensah vs. Carmelo Hayes
Our opening match is Oro Mensah taking on Carmelo Hayes with Trick Williams at his side. We get a really competitive match from both of them. It went back and forth with lots of near falls. Hayes capitalized on a Mensah mistake to get in a Codebreaker and top rope leg drop to score the victory.
Winner: Carmelo Hayes
After the match, Hayes said he was sticking around to see who was going to qualify for the North American Championship Ladder Match that was up next.
It was a really good match between the two. Hayes is at the top of his game and may be main roster bound soon. Mensah looked great here and could have a bright future in NXT.
NXT Weekly for 10/4/22
Andre Chase vs. Von Wagner
The NXT North American Championship Ladder Match qualifier is next, with Andre Chase, backed by Chase U, taking on Von Wagner with Robert Stone in his corner. Chase had the early advantage, getting in the Chase U stomp spot in.
Stone tried to interject himself but Thea Hale dropped him with an impressive body slam. Chase was watching what was going on on the outside instead of Wagner but still got a near-fall roll-up. Wagner then got serious and wiped out Chase to qualify for the ladder match.
Winner: Von Wagner
After the match, Wes Lee literally appeared out of nowhere to attack Hayes, but it is quickly broken up. The match was decent. Chase got his usual spots in before Wagner wiped him out. Wagner is a threat to win the ladder match.
Nelson Frazer was watching a TV back in the NXT lounge with Sanga offering words of encouragement for his match next week. Veer Mahaan walked in, dressed similarly as Sanga, and shared a telepathic moment with Sanga.
They've been teaming together on the NXT Live event tour, so I would expect their team to become official in the next week or so. If you build them upright, they could be a threat to The Usos tag titles.
Lash Legend cuts a promo backstage on her way to the ring for her match next. Before we can get to Legend's match with Wendy Choo, we need to see Greyson Waller showing up and telling someone to go park his car.
NXT Weekly for 10/4/22
Wendy Choo vs. Lash Legend
Legend hits Choo with the pillow before Choo sends her to the floor. Choo tried for a dive to the floor on Legend, but Legend caught her and took over on Choo. Choo managed to rally back and hit Legend with a top rope splash to pick up the win.
It was another short match that was okay. Choo looks more polished in the ring than Legend does, though. Legend still feels like a work in progress.
Wes Lee was backstage and said that Hayes just got his receipt. Lee is ready for the ladder match and the title. Channing "Stacks" Lorenzo shows up to blame Lee for intentionally injuring Tony D'Angelo in their qualifying match last week. That should set up a match between the two next week.
Gallus talks about getting "indefinitely suspended" for attacking officials last week. They say that they will be ready when they come back.
There is a video package for the NXT Women's Tag Team Champions, Kayden Carter and Katana Chance. They talked about their dreams and goals, touching briefly on when Chance stepped away for a little bit. It was a nicely done package.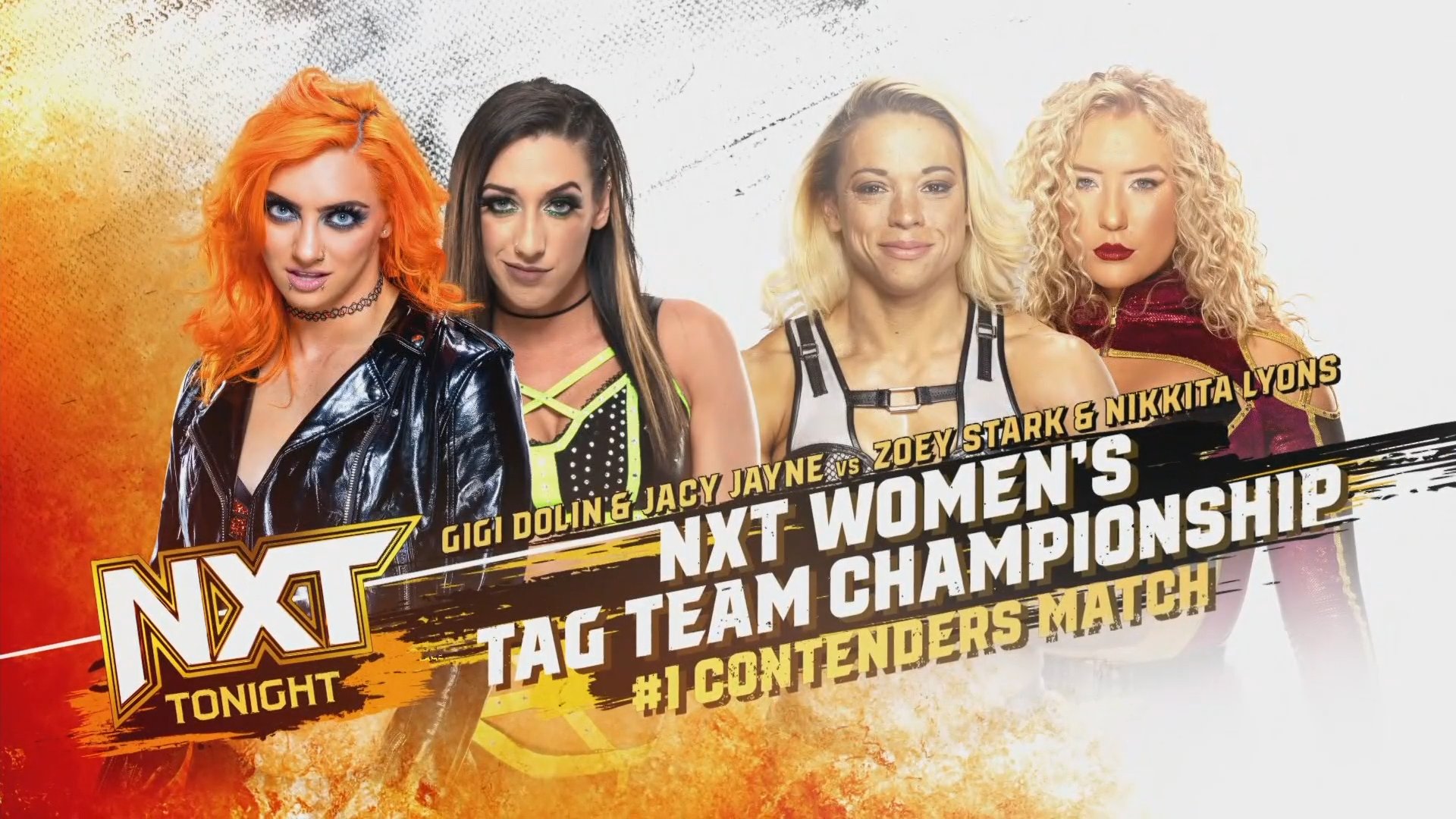 NXT Weekly for 10/4/22
Nikita Lyons & Zoey Stark vs. Toxic Attraction
The originally scheduled six women tag between the team of Alba Fyre, Nikkita Lyons, and Zoey Stark and all three members of Toxic Attraction is now Lyons and Stark taking on Jayne and Dolin in a #1 Contenders Match. The match was pretty good and the teams worked well together.
Lyons showed off her power and Stark showed off her technical skills. Jayne and Dolin always worked well together. Dolin got a little sloppy at times, like falling down before Stark hit her with the springboard cross body block. Chance and Carter were shown watching the match backstage, scouting their next opponent.
Stark and Lyons would overpower Toxic Attraction and pick up the win to become the new #1 Contenders for the NXT Women's Tag Team Championship.
Winners: Zoey Stark and Nikita Lyons
The match was a nice little showcase for the Stark/Lyons team. They've been impressive since teaming up together, and they had impressive singles runs. I think Dolin and Jayne are just waiting for Rose to drop her title so they can stay up at Smackdown.
A video package plays for Ilja Dragunov talking about his recovery from an ankle injury that forced him to give up the NXT UK Championship. Dragunov turns his attention to his Halloween Havoc opponents and says that he is ready for the triple threat match to become champion again.
The Grayson Waller Effect with Grayson Waller, Cora Jade & Roxanne Perez
The Grayson Waller Effect talk show was up next with his guests Roxanne Perez and Cora Jade. Yeah, this isn't going to turn into a fight or anything. There is a scroll bar of alleged social media comments, and it was way over the top as you would expect. There was also a Picture in picture box with a camera always on Waller.
Waller mentioned that these two ladies will have a match at Halloween Havoc. Perez said that her and Jade wanted to do things together, like being what the Four Horsewomen meant to them. Perez said Jade got jealous once Perez got a tad bit ahead of her, and he dropped the whole nice girl act.
Waller interjected that they will have a Pick Your Poison match in two weeks' time with the entire WWE roster as fair game. Waller also said that their Halloween Havoc match will also be a Spin the Wheel, Make a Deal match. The wheel appeared on the stage. Waller went to spin it, and it landed on Weapons Wild Match.
The Girls Gone Wild and start fighting in the ring. The Mizforce rejects hit the ring to break that up. While all of that is going on, Apollo Crews pulls a Hornswoggle and appears from under the ring to pull Waller underneath with him. The crack security team has no clue as they still try to break up the catfight in the ring.
Waller emerges from under the ring a minute later, crawling away with his eye messed up and his clothes all ripped up to end the segment.
The Perez/Jade match should be really good. Their first outing was good, and now it has a street fight-like stipulation attached to it. I think Perez should pick up the win there. As for Waller/Crews, let's just hope this doesn't end up with an Eye for an Eye Match.
Joe Gacy and Schism are trying to recruit someone whose face you don't see backstage.
Duke Hudson vs. Julius Creed
Duke Hudson is in the ring for his match against Julius Creed. They had a spat backstage that lasted longer than the match. Five moves later, Julius Creed is the victor.
Winner: Julius Creed
That's not a good look for Hudson. Let's hope he gets back on track.
After the match, Brutus Creed punches Hudson, and Damon Kemp appears on the hornet's nest. The Creeds were ready to fight, and Kemp suggests a match with between him and Julius with Brutus's career on the line. Julius accepts with the added stipulation of an Ambulance Match.
That match should be really good, given the dual stipulations. No word on when the match will be taking place yet. JD McDonagh is watching highlights of his opponents talking about how he'll defeat them.
There was a video package highlighting the best of three series between Axiom and Nelson Frazer. The winner next week earns a spot in the North American Championship Ladder Match.
Xyon Quinn vs. Hank Walker
Before his match with Xyon Quinn, Quincy Elliott warns NXT newcomer Hank Walker, who was with his security buddies, to watch out for Quinn.
Their match was not a total squash, with Walker getting a couple of moves in before Quinn finishes him off. After the match, Quinn was lining Walker up for another move, and Elliott comes out to prevent it.
Walker looked impressive, and the crowd seems to like him. It'll be a nice little story to tell. I'm always impressed with Quinn but keep waiting for him to take that next step up. I hope he gets the chance soon.
Winner: Hank Walker
Cameron Grimes is backstage trying to talk some sense into the person Gacy was trying to recruit but gets attacked by Schism. Gacy tells the person that they passed the initiation and welcomed them to the group.
We still didn't see their face, so it'll be interesting to see who the person is.
Just before the main event, NXT Champion Bron Breakker is getting interviewed backstage about his Halloween Havoc match when Javier Bernal interrupted. Breakker told him he'll see him next week as the opening match. I think it'll be an easy win there.
NXT Weekly for 10/4/22
NXT Tag Team Championship
Pretty Deadly (c) vs. The Brawling Brutes
It's main event time with Pretty Deadly defending the NXT Tag Team Championship against Smackdown's Brawling Brutes. This match was really good. The Brawling Brutes came so close to winning those tag titles on so many occasions you felt like it was possible the titles were going to change hands.
The match was pretty back and forth throughout as well. With the momentum on their side, the Brawling Brutes were picking up near fall after near fall until Imperium showed up to distract them and allow Pretty Deadly to pick up the win to retain their titles.
Winner: Pretty Deadly
The Brawling Brutes and Imperium fight to the back, leaving Pretty Deadly in the ring. The teams of Enofe/Blade and Riggs/Jenson appeared to close out the show staring down Pretty Deadly.
Tonight's show was pretty good for the first night under the new branding. The match to Halloween Havoc has been good so far, and it continued tonight. I'm hoping that the three-man booth was just a one-time-only thing and something going forward. Vic Joseph and Wade Barrett have a really good dynamic together, and the third wheel might take away from it. We'll see where it goes next week.
You can catch me on Twitter (@ciscowebwiz76) with any comments or discussion.
What do you anticipate will happen this past week's edition of NXT? Share your thoughts in the comments section below.
******
Stay tuned to Pro Wrestling Post for this and additional stories from the wrestling world. Readers can rely on Pro Wrestling Post to be their daily source for everything inside the squared circle. As a result, readers can expect daily news, history, and more. Also, please visit WWE NXT's official website here for information on the brand and upcoming events.