We kick off this week's edition of NXT UK featuring the main event that will consist of an appearance by Mustache Mountain's Trent Seven against Noam Dar. The first match of the evening features a returning talent.
Oliver Carter vs Ligero
A South African native in Carter he steps into the ring with Leeds, England's own masked superstar. It was a match that was intended to showcase just how much Carter needs to assert himself and how Ligero is trying to move to the next level. Mutual respect by both men begins the match and demonstrations of agility follow suit. With a stalemate taking place both men regroup and Ligero believes he has Carter but Carter is able to roll through the move. Ligero attempts a dropkick but follows up with a stiff knee strike. He then covers Carter but only for a count of two.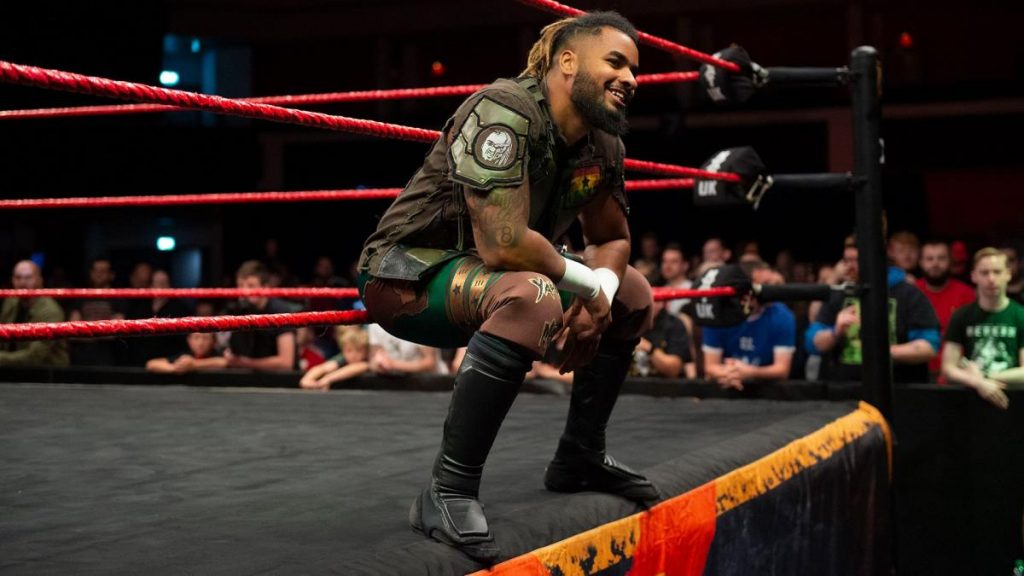 Both men return to a vertical base and Carter then regains the advantage by hitting a belly to belly overhead strike. Ligero rolls through a suplex attempt by Carter but is able to take Ligero out. The masked superstar hit a stunner and then follows up with a superkick.  He then hits a springboard tornado DDT for the three count.
Winner: Ligero
Walter appears at the WWE NXT UK provides them drill a number of trainees in the ring demonstrates what bases they have i. Once Walter gets in the ring he isn't playing but chopping everyone and sends all the trainees home suggesting none of them should even be there to work.
WWE Network announces that NXT UK is moving Thursday starting next week. Also as of next week, our own Mark Blake will be taking over the NXT UK brand.
Tyler Bate makes his way to the ring for the first time since his loss at NXT UK Cardiff. Once in the ring, the fans begin to chant Tyler Bate's name. He spoke about how it as one of the toughest nights of his career. Bate said he felt was letting the audience down. He said that he isn't going anywhere. It was at this time the Irish Ace Jordan Devlin came to the ring to confront Bate and his acclaim that he took Walter to the limit. Devlin said Bate's performance was a performance of a lifetime and the impressed everyone but him. He said that he failed despite being given an opportunity by Johnny Saint.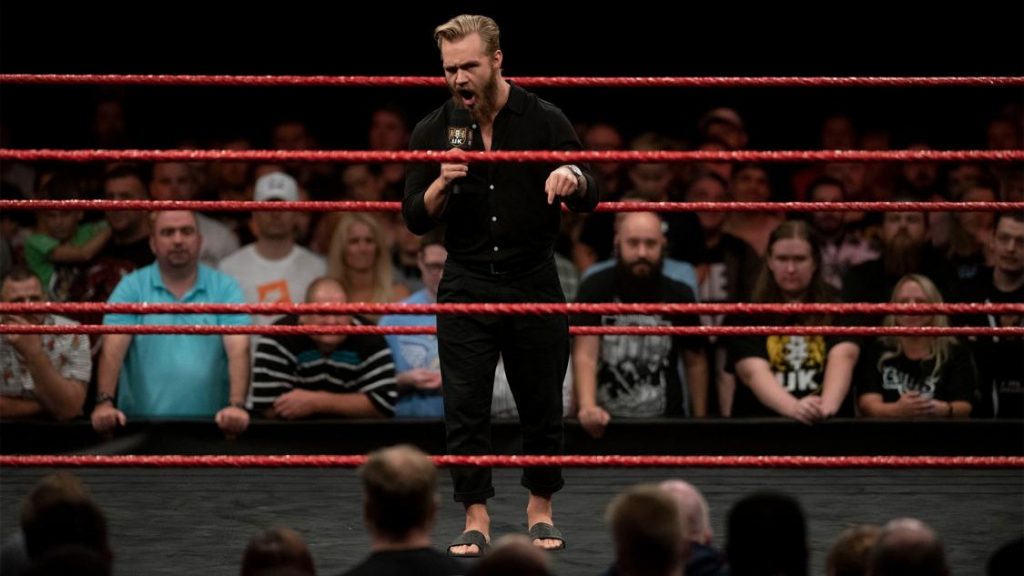 In fact, Devlin scoffed at the notion that Bate pushed Walter to his limit. He said that that's a lie that only Devlin has what it takes to beat Walter. That if he was in the ring with Walter that he would be standing there now with the WWE NXT UK Championship. Devlin ends his promo by calling himself a man and Bate a boy. Chants of Big Strong Boi break out as Bate takes the mic and tells Devlin how embarrassing it will be when the boy puts the man on his a**. Bate begins to pursue Devlin who backtracks to the backstage area.
We then get highlights of TakeOver Cardiff with Tegan Nox addressing the experience. He didn't expect others to recognize her other than the girl that tore her ACL in her left knee a year after tearing her ACL in her right knee in the Mae Young Classic. Nox shares her frustration and how much pain she endured after the injury and how she was motivated to work through the pain and prepare to return. She addressed how she has become better, faster and stronger since the injury. Next week Kay Lee Ray faces Tegan Nox face each other one on one.
After a break we see Noam Dar preparing for his main event match against Trent Seven later on in the show.
Nina Samuels vs. Dani Luna
Samuels makes her way to the ring first and she seems like someone that would benefit working alongside Jinny as their personalities are quite similar. Luna is a Cardiff, Wales native that was trained under NXT UK Tag Team Champion Mark Andrews. This is her first match since her debut loss to Rhea Ripley. Fans are certainly behind Luna but Samuels intends on not allowing the powerlifter in Luna walks away with a win over her. Samuels is caught by Luna who hits an elbow. Samuels lures Luna in and then drives her neck across the middle rope. Samuels really pushes the referee's five-count to the limit and attempts to make a pin but only for a count of two. She then crosses Luna in a straightjacket preventing Luna from moving and having to exert energy.
Eventually, Luna gets to her feet, drives Samuels to the corner turnbuckle followed by flipping Nina over. Dani Luna hits a suplex and driver and makes a cover but only for a count of two. A wounded Samuels makes her way to the ring apron and catches Luna across the top rope draping her neck first across the top rope. Samuels hits a kick and then a slingshot and twisting splash into the ring. Samuels catches Luna with an elbow but is caught her as well with a fallaway slam. Samuels hits a running kick and a final act finisher for a pin and three count win.
Winner: Nina Samuels
Trent Seven is then approaching for his main event match later on in the evening against Noam Dar which is slated to happen after the next break.
After the break, we see that Isla Dawn will face Piper Niven next week when NXT UK moves to Thursday's beginning next week.
Noam Dar vs. Trent Seven
Dar makes his way to the ring first followed by Seven. Nigel McGuiness sings Dar's praises as he makes his way to the ring. With both men in the ring, fans begin to chant 'Trent Seven Army' to the tune of the White Stripes song Seven Nation Army. Dar clutches Seven and bites him after Trent attempts to get a hold of his hair. Dar takes down Seven with a side headlock and pulls at the mustache of Seven. Dar whips Seven to the ropes but is hit with a crossbody splash off the ropes. A legdrop and pinning attempt by Seven leads to Dar kicking out at two. With Seven distracted by the referee, Dar grabs the mustache of Trent. Fans are clearly behind Seven and jeering Dar. They begin to call Dar 'Super Loser' for his heinous actions against Seven. Dar is relentless in his beatdown of Trent Seven. Once in the corner, Seven begins to kick back out of the turnbuckle on Dar.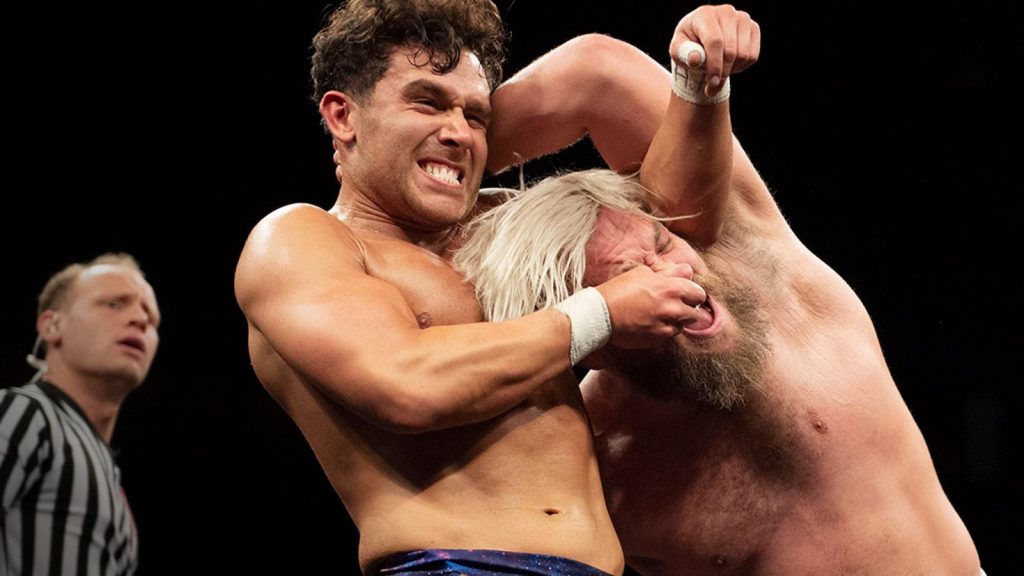 Once back on his feet Dar hits several uppercuts returning Seven to the mat. Dar attempts a Tyler Driver 97 but Seven begins to fight back even faking Dar out and hitting a DDT in the middle of the ring. The leader of the  Trent Seven Army hits a German Suplex and then a Michinoku like driver and then a tope suicido on Dar. With Dar, Seven attempts a corkscrew senton but Dar stops him. Seven eventually hits the Seven Star but Dar kicks out at two. Fans once again are into this match as Dar clutches at the eyes of Seven. He then hits a running boot to a prone Seven in the corner. Dar then hits a clothesline to the back of the head of Seven and follows that up with a pinning attempt but only for a count of two. Dar grabs Seven's towel and wears it him and rubs it all over himself as Trent hits the Seven Star Lariat. While in the ropes, the referee continued to count as Seven refused to break the hold by the five count.
Winner via disqualification: Noam Dar
After the match, Dar is celebrating with the towel in his hands kissing it and mocking Seven in the process. These two have to be headed for a collision once again sooner rather than later.
Here at ProWrestlingPost.com, we continue to jockey out coverage with our own Mark Blake will take over our NXT UK coverage with NXT UK: UK Inclination beginning next week.