A familiar review with a new outlook and name. The Canadian / English allegiance goes back over 150 years. In fact, the relationship between Canada and English is tied to the Queen. We have her face on our currency and now one proud Canadian has an opportunity to boast about the NXT UK talent in what is Canadian Comprehension this time featuring Sid Scala against Kassius Ohno.
We get a flashback of two weeks ago with Sid Scala accepting a match with Kassius Ohno and being knocked out and defeated. The decision on having a British Rounds Match being the next match between Ohno and Scala on NXT UK.
The show kicks off reminding fans that a British Round match taking place between Scala and Ohno.
Travis Banks vs. Tyson T Bone
Auckland New Zealand native comes to the ring first prepared for the challenge of Tyson T Bone. McGuiness is mocking Banks being pleased with his level of competition but ultimately losing. Banks takes the fight immediately to Bone. He repeatedly drills T Bone and ultimately brought him to the match but was caught with an elbow himself. T Bone then gains the advantage over Banks and attempts a pin but only for a count of two. T Bone continues to work on Banks and stomp on his stomach and chest time and time again.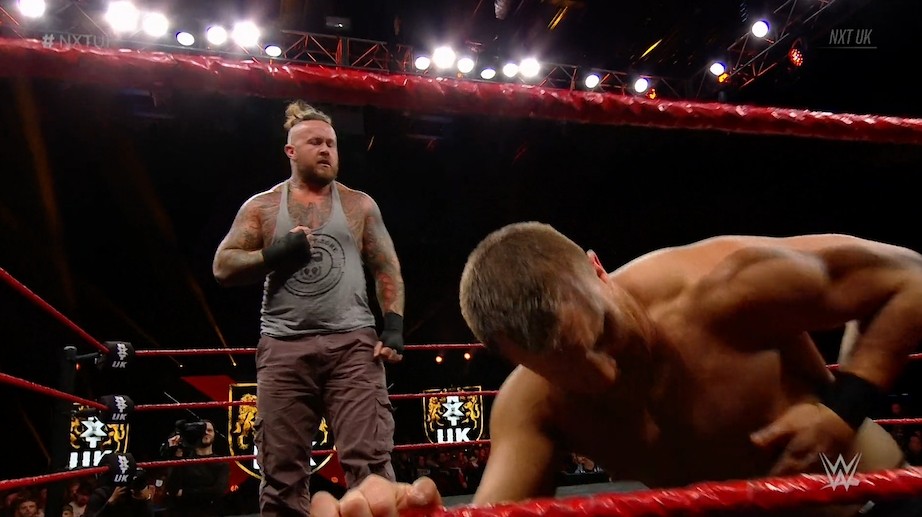 T Bone then begins to work on the neck and shoulder of Banks. Once back on his feet Banks attempts to use his feet but the bare-knuckle strikes of T Bone have him momentarily regain the advantage. It appears as though Banks is putting caution to the win with strike after strike on T Bone eventually even hitting a double foot stomp off the top rope. T Bone hits a half and half suplex on Banks but Banks kicks out at a count of two. T Bone attempts a suplex but Banks turns it into a small package for a three count pinfall and the win.
Winner: Travis Banks
Banks appears to really be nursing the injury trying to catch his breath as he is heading back to the backstage area.
We get Mark Coffey and Wolfgang interrupts an interview and spoke of how they were never defeated for the NXT Tag Team Championships and that they are still the number one contenders for the title.
After the break, Rhea Ripley's familiar this is my brutality ushers in the former NXT UK Women's Champion to square off against Irish-born wrestler Debbie Keitel.
Rhea Ripley vs. Debbie Keitel
Upon the opening bell, the audience begins to chant 'Rhea's Gonna Kill You' towards Keitel. Ripley says to Keitel welcome to the NXT UK and slaps her twice and gets caught with a Riptide finisher after eating a boot. Ripley makes a pin for the win.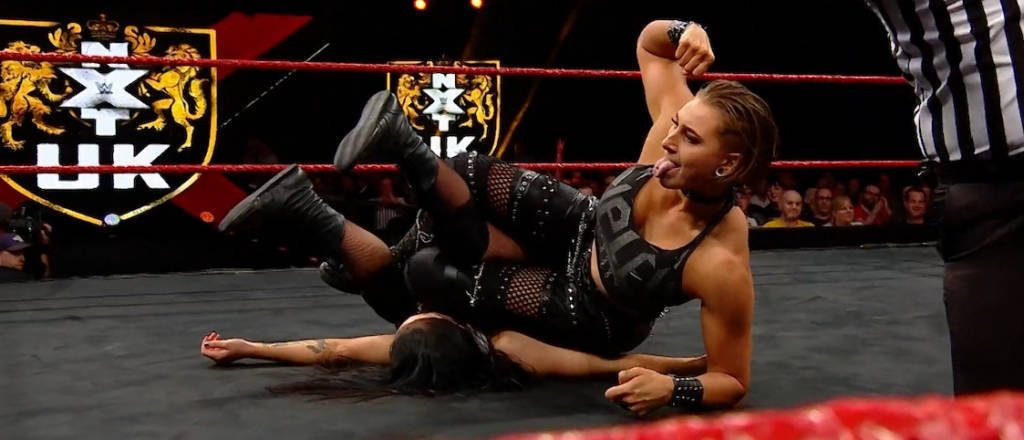 Winner: Rhea Ripley
After the match, Ripley picks up the microphone and says that it is time she gets her NXT UK Women's championship. She said that no one can compete with her physically and break her mentally. To which Jinny and Jazzy Gilbert come out and say that Rhea has a bigger problem to deal with in Jazzy Gabert. Gabert stands on the apron and after attempting to choke Ripley, Rhea takes her out with a big boot. As Jazzy attempts to make her way back in the ring she is held back by Jinny leading her to the backstage area.
Noam Dar is on a megaphone annoying Trent Seven the two exchanges words after being pulled apart leaving the two men to walk in their own separate directions.
Scala is being shown support by NXT UK General Manager Johnny Saint.
Joseph Conners vs. Kenny Williams
We get what both McGuiness and Williams are said to need a 'must-win' in this match up. Connors brings the fight to Williams early on. Williams regains the advantage of hitting a flying back elbow and then a bulldog in the turnbuckle on Connors. However, as Connors hits a reverse neckbreaker. A much more aggressive Connors continues his fight on Williams. After a scoop slam, Connors then begins to stretch Williams. Williams fights off an abdominal match and hits a sling blade on Connors and continues to hit an array of slaps and chops and then a springboard elbow. Williams hits a pump kick and then hits a kick and a springboard back elbow on Connors follows a roll through. Connors takes out Williams with a front face plant and the three count win.
Winner: Joseph Connors
After the match, we get highlights of TakeOver Cardiff and Cesaro's match against Ilija Dragunov. This fierce and stiff battle between them showed just how hard their battle with one another was. Cesaro had nothing but high praise for Dragonov's performance after their match up. We then are reminded that Oliver Carter will be returning after his recent loss to Joseph Connor.
Kay Lee Ray was interviewed from earlier in the day discussing the returning Tegan Nox. She downplayed her calling her a year a local girl with two broken knees that she can take any day. It is announced that both Ray and Nox will face each other in two week's time.
Also, it is announced that Trent Seven will face Noam Dar on next week's episode.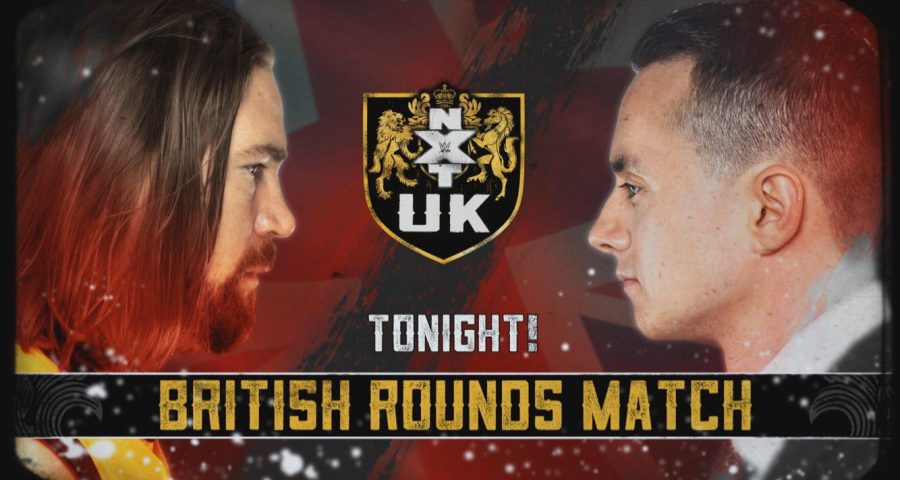 British Rounds Match
Sid Scala vs Kassius Ohno
Stipulations include; 6 x 3-minute rounds,
The winner must gain either of the following: Two pinfalls or submissions, one knock out, or be ahead on falls at the end of the final round.
Kassius Ohno makes his way to the ring as the Knockout Artist comes to the ring and is then followed to the ring by Sid Scala. Scala has the fans behind him early in this match. McGuiness states that Scala's ring gear is reminiscent of Johnny Saint. Ohno and Scala lock up for the first round as the clock is ticking and it eventually leads to Ohno locking in a side headlock and down to the mat. Scala is able to break free and into a collar and elbow tie-up. Sid uses his hand to lure in Ohno who bites and Scala is able to break free.  After the end of round one, both men have ankle locks of their own. The rest period is unique to wrestling fans but in comparison to North American fans would be typical in a boxing or MMA match.
We have a second-round ahead with Scala locking in a neck vice but Ohno breaks free of it and eventually, the two are at a standstill. Ohno leverages Scala's shoulder but then breaks free and then both men eventually to get the better of one another as the second round comes to an end.
As we start the third round both men attempt to size each other up. But Ohno gains the advantage on Scala with eventually having Scala eventually clocked with a roaring elbow knocking Sid out. Ohno then pins Scala ending the round and giving Kassius the 1-0 advantage.
With the fourth round upon us, Ohno closes in on Scala and eventually scoops him up and slams him to the mat. Scala is clutched in a vice neck grip and talked down to by Ohno. Ohno then clutches the neck of Scala. Scala attempts to fight back but Ohno regains control trying to work on the neck. Sid begins to fight back and breaks the hold of Ohno who then gives him a chop to end the round.
Scala is crawling to his corner and the fifth round begins. Scala attempts to bring the fight Ohno who is completely stretched by Ohno in the process. While in an abdominal stretch, Ohno drives fists and elbows on Scala. Scala fights back driving knees to Ohno and attempts to stagger him in the process albeit momentarily. The official is in the face of Ohno as Scala hits a cross body but only for a count of two. Ohno appears to be saved by the bell as Scala brought the fight to the knockout artist.
As the final round begins, the referee pulls Scala off of Ohno who hits a fireman's carry roll through. Ohno regains control and clubs a forearm on Scala. Scala is locked in but Ohno gets rocked in the back of the head. Ohno waits as Scala makes his way to his feet. Scala hits a crucifix attempt to a pinning attempt. Ohno hits a big boot but Scala then pulls in a backslide for a 1…2…and the time expires.
Winner: Kassius Ohno
Scala is distraught when he was on the verge of tying it up but the time expired upon his final pinning attempt. They replay the attempts made by Scala who sits in the ring frustrated by his attempts. Ohno walks away claiming he is Johnny Saint calling.