Walker: Ladies and gentlemen, welcome to the NXT TakeOver: In Your House 2021 Preview! This show is going to be an incredible one, and we're excited to present to you the rundown for Sunday's card. From the reinstatement of a long-forgotten championship to a bombastic Fatal 5-Way Match for the NXT Championship – it's time to preview NXT TakeOver: In Your House 2021.
Marc: Much like Walker said above the WWE's NXT brand presents TakeOver : In Your House for the second consecutive year. This year's event has proved to be even bigger than the last one. While championships matches are key components to this pay-per-view there are several matches that may have major implications after TakeOver. Which match stands out most that doesn't have title implications? Yes, NXT TakeOver In Your House is here, some call Todd Pettengill or Dok Hendrix this event is sure to hit so hard our parents are likely to feel it.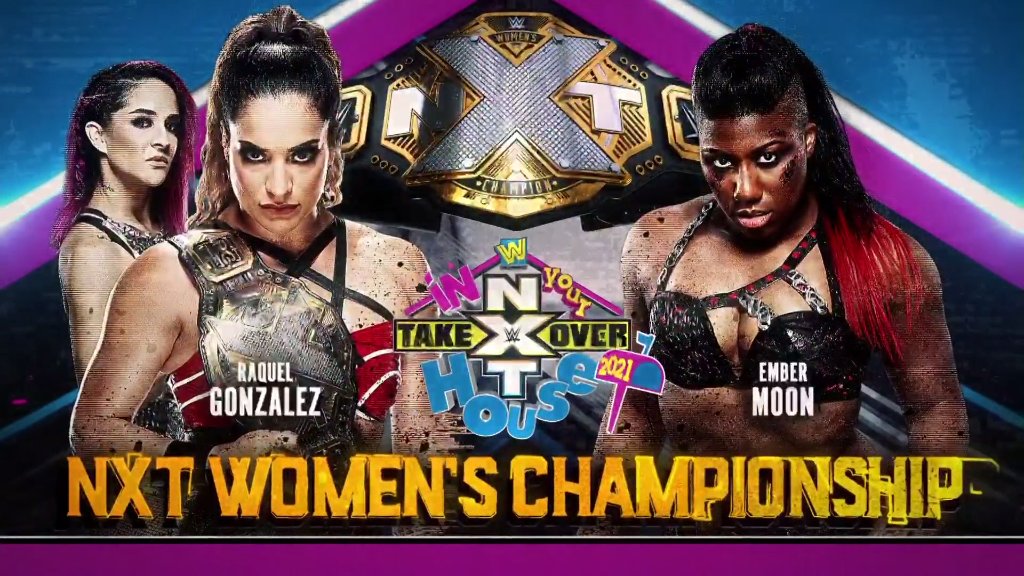 NXT Women's Championship
Raquel Gonzales vs Ember Moon
Walker: Our first championship contest comes when Raquel Gonzalez faces off against Ember Moon. With Moon being a former NXT Women's Champion, she knows what it takes to hold the strap. This match spawns from both women's prior tag team feud. While Gonzalez and Kai may have fallen to Blackheart and Moon, Gonzalez has held on to the NXT Women's Championship for the past two months.
Moon and Gonzalez have gone back-and-forth blatantly attacking each other all over the Capitol Wrestling Center. Most recently, Ember Moon picked up a victory over Dakota Kai on NXT. However, it would be via disqualification. While her win-loss record may carry her momentum forward, the attack by Gonzalez on last week's episode definitely won't. Will the former NXT Women's Champion become the new NXT Women's Champion at NXT TakeOver: In Your House?
Marc: Walker's rundown of the history of Raquel's ascent to the top can not be understated. The challenge of Ember Moon is surely based on the actions of Gonzalez. One has to wonder how well Moon will fair against the current NXT Women's Champion. This most recent episode certainly shined a light on the former NXT Women's Champion and what she is capable of doing to the current champion if granted the opportunity. The question is will that same opportunity presents itself at both women face one another this Sunday?
With size and stature tends to be in the favor of the champion, experience is certainly in the favor of the challenger. While it is clear that the intangible in this matchup is the presence of Dakota Kai outside, one has to wonder if Moon's partner Shotzi Blackheart may in some way play a part in this matchup.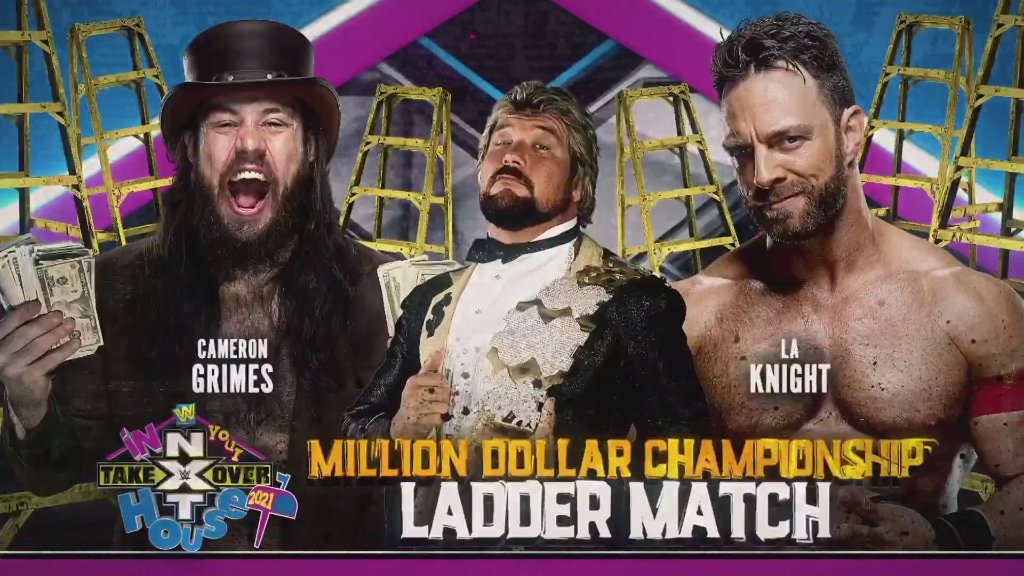 Million Dollar Championship
Cameron Grimes vs LA Knight
Walker: Last week on NXT, Ted DiBiase would make a surprise announcement. DiBiase would announce the return of the Million Dollar Championship, and informed Cameron Grimes and LA Knight that the two men would have to "climb the ladder of success"… literally! At NXT TakeOver: In Your House, Cameron Grimes and LA Knight will compete in a ladder match for the newly reinstated Million Dollar Championship.
Both of these men have recently suffered losses to Jake Atlas on NXT television within the past month, so we find both individuals even on the momentum spectrum. With this being LA Knight's first big NXT TakeOver feud, will we be seeing the Million Dollar Championship around the waist of the recently debuted superstar? Stay tuned to find out!
Marc: Walker brings up an interesting point noting that both challengers have recently picked up losses to Jake Atlas. Wouldn't it be interesting to see that despite both Grimes and Knight battling for the Million Dollar Championship that it is in fact, Jake Atlas walking away with the title? While the notion is certainly a stretch it definitely incorporates Jake Atlas (if there even is any) in this matchup.
With the announcement by Ted DiBiase that the winner will become the new Million Dollar Champion, it is sure to elevate one of these men. Both are sure to have a completely different standing on the brand. In one instance we have someone that appears to have everything it takes to be a Millon Dollar Champion and one that may have the resources but in no way looks the part. It's as though the Beverly Hillbillies or Green Acres is presenting itself in this match.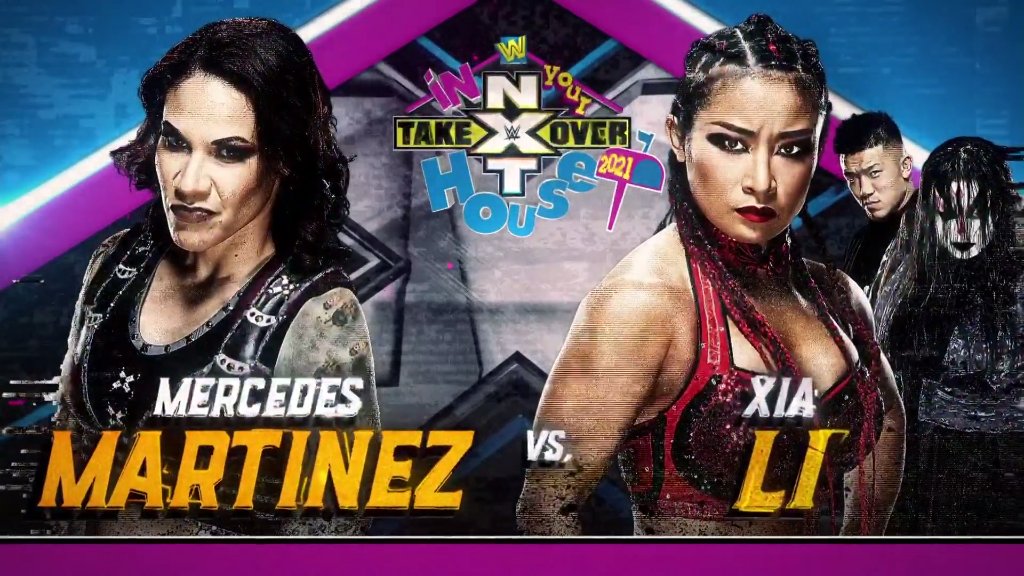 Xia Li vs Mercedes Martinez
Walker: In this match, we have the recently announced contest between Mercedes Martinez and Xia Li. On last week's edition of NXT, Xia Li would attack Mercedes Martinez before Martinez's scheduled match against NXT newcomer Amari Miller. While Martinez would go on to defeat Miller in 19 seconds, Xia Li has definitely gotten into the head of The Latina Sensation. This victory gives Martinez some momentum heading into this weekend's pay-per-view.
However, if you want to talk momentum, you have to talk about Xia Li's six-match winning streak on NXT television! These two women are set to square off in an intense bout at NXT TakeOver: In Your House. Who will come out on top? Stay tuned for more on that one!
Marc: To be marked or not to be marked, that is the question. It's more of a statement than it is a question. But in the case of this match let's say for all intents and purposes it's a question. Since her reinvention, a major NXT TakeOver match-up has been what many had been hoping for Xia Li. The invocation of Tian Sha into Li's persona she has needed something to show growth.
As Walker said above, Li had gotten into the head of Martinez. Despite Martinez saying acting as though it didn't the sheer allure and frightening presence that comes with Tian Sha had play into her psyche. What will happen when Li and Martinez face each other? Will Li finally achieve retribution for her loss at the Mae Young Classic?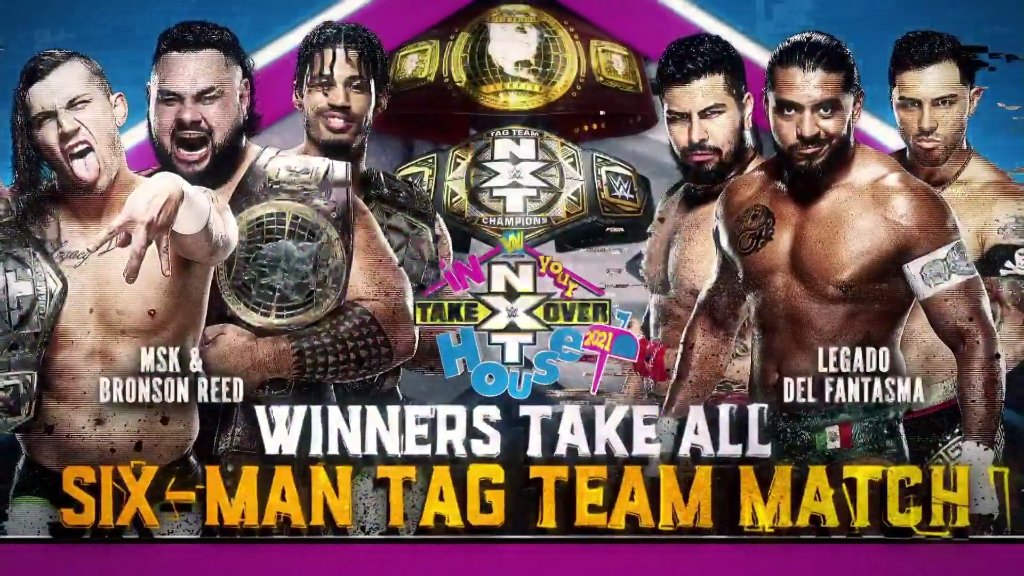 NXT TakeOver In Your House 2021
Winner takes all
Six-Man Tag Team Match
Legado del Fantasma vs Bronson Reed & MSK
Walker: Last week on NXT, Legado del Fantasma would challenge Bronson Reed and MSK to a winner-takes-all match for both the NXT North American Championship and the NXT Tag Team Championship. Reed and MSK have been coming to each other's defense for weeks now, and these fighting champions are ready to defend their titles against the 205 Live renegades.
In their first encounter, MSK defeated Legado del Fantasma in an NXT Tag Team Championship contest. With this being the first winner-takes-all match in NXT history, the stakes have easily heightened. Will Legado del Fantasma etch their names in the history books with more NXT gold? Find out this weekend on NXT TakeOver: In Your House.
Marc: The entire notion of the match is pretty intriguing. Despite not having a true build between these six men beforehand, this last-minute addition has proven a great deal is at stake. The growing animosity between Santos Escobar and Bronson Reed reached a favored pitch a couple of weeks ago. When Reed crushed Escobar against the plexiglass thwarting his efforts to help Wilde and Mendoza, there was no turning back.
The inclusion of Nash Carter and Wes Lee in this match says as much about who they are as champions as it is the ongoing rivalry between them and Legado del Fantasma's Joaquin Wilde and Raoul Mendoza. Will the champions be able to retain or will Legado del Fantasma walk away with all the gold?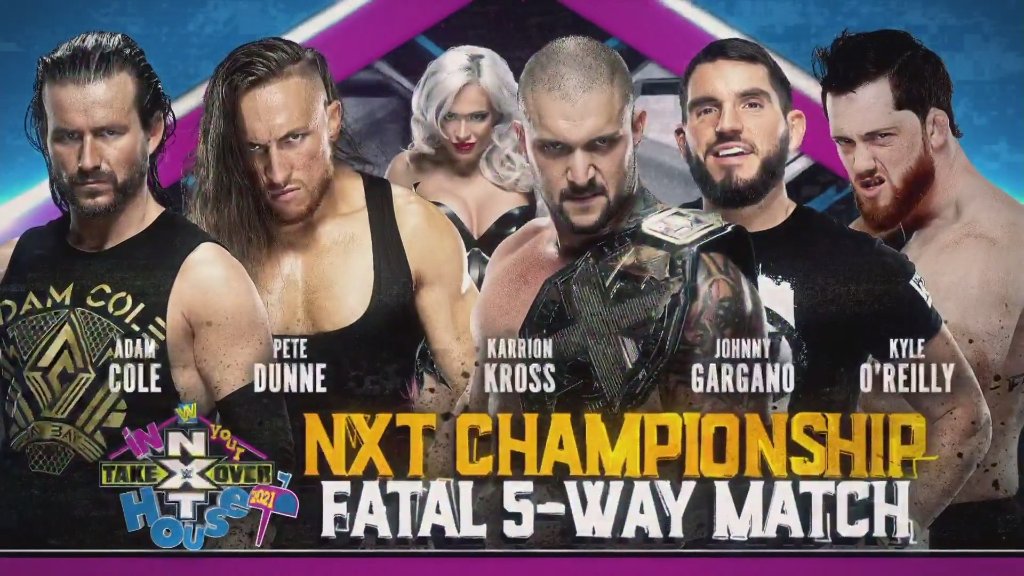 NXT TakeOver In Your House 2021
 NXT Championship Fatal 5-Way Match
Adam Cole vs. Johnny Gargano vs. Karrion Kross vs. Kyle O'Reilly vs. Pete Dunne
Walker: Finally, we have our main event of the evening. NXT doesn't hold many multi-man matches for championships, but when they do they are stellar! (Ex: the original NXT North American Championship ladder match.) This match would come around after a returning Adam Cole would crash the triple threat #1 contender's match on NXT weeks ago. Instead of hosting a rematch, General Manager William Regal announced a fatal-5-way for the NXT Championship.
Kross has had a dominant reign so far, but the increased number of opponents he is facing makes this situation even more turbulent. With O'Reilly coming off of his hot feud with Adam Cole, could Kyle O'Reilly hold his first singles title in the company? Will Johnny Gargano prove the NXT North American Championship to be his stepping stone back into the main event? Will Karrion Kross bury the entire roster? We'll find out this weekend on NXT TakeOver: In Your House!
Marc: Much like Adam Cole said, 'they ring the bell to make him look special'. If anyone going into the NXT Championship, fatal 5-way walked away looking like a millon bucks, it was the former NXT Champion. The most recent battle between all five men left only one person standing. As NXT was reaching its final moments, each participant played an integral part of the ending of the show. The intention was certainly meant to show fans who exactly would be the last one standing. When we thought it would be the current NXT Champion, Karrion Kross we were sadly mistaken.
With each participant staking claim to the title, there can be only one. It was as important for Kross to assert himself as the dominant champion he has been built to be. If any match will put the doubters in this place it is this one. Kross needs to have a prominent showing to prove the end is here!
Agree or disagree with what we had to say share your thoughts with Walker Stewart here @AlwayzWalker and Marc Madison here @TheMarcMadison