On Friday, Oct 14th, 2022, NXT aired another episode of Level Up on Peacock (United States) & WWE Network (everywhere else) as we review NXT Level Up for 10/14/11. We have 3 matches on the go we got tag team action as Ikemen Jiro teams up with a debut Tank Ledger to go against Bryson Montana & Duke Hudson.
Also, we had Dante Chen is in some 1-on-1 competition against Myles Borne & the main event, Diamond Mine's Ivy Nile goes against Lash Legend.
NXT Level Up for 10/14/22
Tag Team Match
Ikemen Jiro & Tank Ledger vs. Bryson Montana & Duke Hudson
Ikemen Jiro & Duke Hudson starts us off; Hudson uses his power early as he runs over Jiro with a shoulder. Ikemen makes a tag to Tank Ledger and Ledger & Hudson lock up. Side headlock from Hudson, and then they collide in the middle of the ring with neither man budging.
Hudson buries a knee to the gut of Ledger, then makes a tag to Bryson Montana who works the arm of Tank. He switches to a side headlock, but Tank avoids a charge with a leap and gets a hip toss. He goes to the arm and tags in Jiro, who comes off the top with a double axe handle.
Tag back to Ledger and double team elbow followed by a double splash that only gets a two-count. Hudson baits Tank to turn his back which lets Montana get in a shot from behind. Tank fights out of the corner but gets cut off from making the hot tag.
Montana back in and he drops an elbow to the back, but gets dropped with a belly 2 back suplex then makes the tag back to Jiro who springs in with a strike and starts firing off jacket punches. Springboard moonsault followed by the Ikemen Slash to get the win for his team.
Winners: Ikemen Jiro & Tank Ledger

We go backstage to Kelly Kincaid is interviewing Myles Borne about his match with Dante Chen later on tonight & she asks him how he plans to continue his momentum after getting his first win last week. Borne thanked his fans for their support and said he will keep it going as long as they are behind him.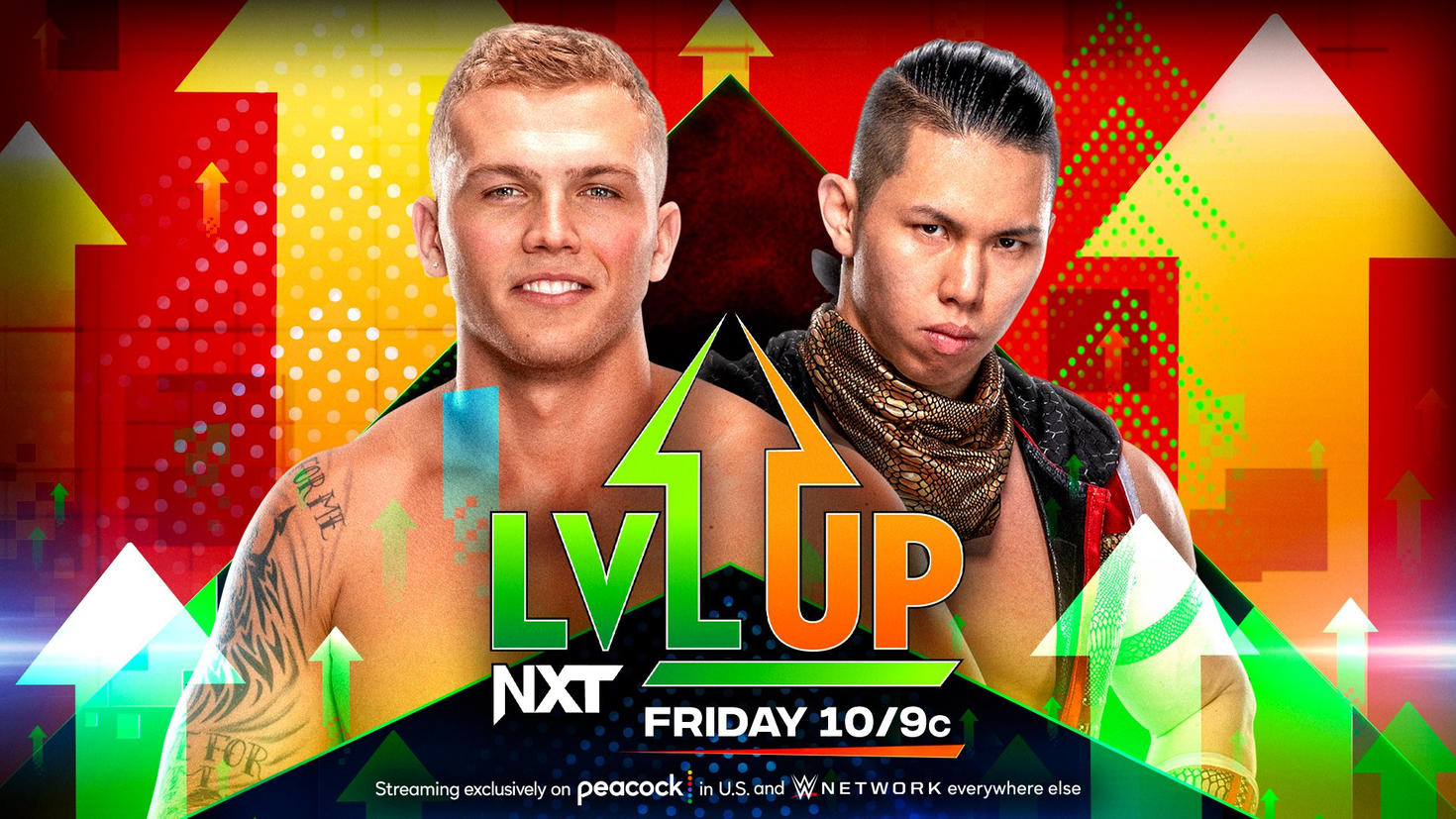 NXT Level Up for 10/14/22
Dante Chen vs. Myles Borne
Dante Chen stuffs a takedown attempt and works the arm but Myles Borne counters but gets caught with an arm drag. Borne with a back flip to avoid Chen and shows off his athleticism.
Chen is not impressed and goes back to the arm and takes things to the mat. Borne gets a roll-up for two as he counters an arm drag, but gets caught on the mat again. Things start to pick up as Borne tries to rally, but misses a charge in the corner. Chen gets a running boot to the face hooks the leg & Borne kicks out then he goes back to the arm.
Borne hits a hip toss from and then another hip toss. Borne nails Chen to the match with an overhead belly to belly. Chen gets a roll-up for two. Chen tries to go after the arm again, but Borne counters and ends up planting Chen to the mat with a Lifting Flatliner that puts Chen away.
Winner: Myles Borne

NXT Level Up for 10/14/22
Ivy Nile vs. Lash Legend
Lash Legend goes right after Ivy Nile & she hits a clothesline in the corner. She shows some power as she tosses Nile across the ring. She works a cravat as Nile fights off her back. She breaks with a throw and starts firing off kicks to the midsection and leg.
She takes Legend to the mat and buries a knee on her windpipe she hooks the leg but Legend kicks out at 2. Nile connects with a crossbody goes for a another cover but Legend kicks out at 2.
She connects with a Superman punch in the corner. Legend back with a delayed double under hook suplex for a two-count. Legend drops a knee on the shoulder and works that on the ropes. Nile fires back with right hands, but eats a pump kick. Nile throws kicks from her back and gets a roll-up for a 2 count.
Legend gets an elbow and then connects with a clothesline hooks the leg, but Nile kicks out. Legend misses an elbow and then a clothesline. Nile goes back to the kicks and gets a standing enzuigiri then a running kick in the corner, but Legend swats her away. Nile locks Legend in the Dragon Sleeper, and she taps out immediately.
Winner By Submission: Ivy Nile

What did you think of this past week's edition of NXT Lvl Up? What do you anticipate happening on next week's show? Share your thoughts in the comments section below.
******
Stay tuned to Pro Wrestling Post for this and additional stories from the wrestling world. Readers can rely on Pro Wrestling Post to be their daily source for everything inside the squared circle. As a result, readers can expect daily news, history, and more. Also, please visit WWE NXT's official website here for information on the brand and upcoming events.