Welcome to the post-Christmas edition of the NXT Inquisition. With the holiday season coming to a close, WWE's black and gold brand continues to move forward. In this episode, we bear witness to plenty of action, including an NXT North American Championship Open Challenge. Who will answer the call? This, and more, will be covered in the Inquisition!
This "Happy Holidays" episode of NXT is discussed amongst Cathy Kelly, Pat McAfee, and Sam Roberts in the studio. At Full Sail University, the show is called by Mauro Ranallo and Nigel McGuinness. Roderick Strong makes his way to the ring for the aforementioned challenge, declaring that someone will get a "season's beating." Who answers the challenge? Former EVOLVE Champion, Austin Theory!
Match 1: Roderick Strong vs. Austin Theory (NXT North American Championship)
Strong and Theory jockey for position to begin, the champion applying a stretch. Theory rolls through. Strong executes a headlock takedown, which Theory escapes from before hitting a snapmare. The champion takes control once more, but the challenger takes him down. After a shove exchange, Strong stomps away on the fallen Theory. The challenger hits a high dropkick to take control. Theory hits a standing moonsault for a one-count. Theory hits a pendulum backbreaker of his own before dumping Strong out of the ring with a clothesline.
In case you didn't know, @austintheory1 is only 22 years old.

What have you done with your life? #WWENXT @roderickstrong pic.twitter.com/o4sp1pgJ3Z

— WWE NXT (@WWENXT) December 26, 2019
The fight spills to the outside, where Strong hits an Olympic Slam into the corner post! Strong rolls back into the ring while Theory makes his way back in just before the count of 10. The champion immediately pounces with a series of stomps. Theory begins to fight back, only for Strong to cut him off with a dropkick. Strong applies a surfboard stretch and wrenches back on Theory's chin and mouth. Theory fights back, but Strong catches him with a backbreaker. Strong applies a chinlock, but Theory counters with a snap suplex. Theory hits a dropkick, rolling between the ropes to do so. Theory fights back with a series of strikes, finishing with a fisherman buster. The challenger hits a standing blockbuster for a two-count.
Theory lands a buckle bomb followed by a ushi goroshi! 1… 2… Strong kicks out! Strong lands a superplex, rolling through, only for Theory to hit a sit-out powerbomb! The champion goes to the top rope, hitting Theory with a backbreaker across the turnbuckle! 1… 2… Theory kicks out! Theory drops Strong across the apron, back-first, before covering the champion for another two-count. After exchanging strikes, Strong lands End of Heartache followed by the Stronghold for the submission victory!
Winner: Roderick Strong
The show cuts to a larger venue in Brooklyn. The following match is called by Tom Phillips and Beth Phoenix.
Match 2: Isaiah "Swerve" Scott vs. Jack Gallagher
Scott and Gallagher feel one another out, exchanging holds. They count one another's moves before Gallagher applies a stretch. Scott lands a sit-out slam before cinching an armlock. Scott lands a headscissors followed by a basement dropkick. Gallagher retreats to the outside. After another exchange, Scott hits a kick from the apron. Back in the ring, Scott applies a chinlock. Gallagher counters by sending Scott into the corner as we cut to commercial.
We feel this, on many levels. #WWENXT @swerveconfident @GentlemanJackG pic.twitter.com/N2OqJP2bPE

— WWE Universe (@WWEUniverse) December 26, 2019
NXT returns to Scott and Gallagher exchanging strikes, Scott getting the better of the exchange with a clothesline. Scott follows up with a flying elbow from the second rope and kicks across the chest. "Swerve" lands a flatliner for a two-count. Gallagher applies pressure to Scott's shoulder, only to be caught with a pendulum backbreaker. After an exchange of strikes, Gallagher lays out Scott for a two-count. Gallagher applies a cross armbreaker. Scott counters with one of his own. Gallagher reapplies his own before Scott kicks back on his opponent's arm! One House Call later and Scott gets the 1… 2… 3!
Winner: Isaiah "Swerve" Scott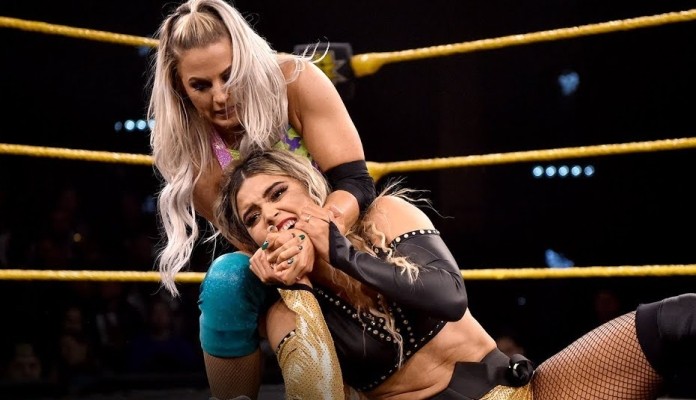 Match 3: Candice LeRae vs. Taynara
LeRae quickly blocks a kick and hits a lariat. LeRae follows up with a neckbreaker across the middle rope. From there, Taynara escapes to the outside, where LeRae attacks with a baseball slide. LeRae catches her opponent with a springboard splash before bringing her back in the ring. Taynara yanks LeRae off the turnbuckle before nailing a step-up knee strike. The show cuts to commercial before returning to Taynara catching LeRae with a slam for a two-count. LeRae finally ties her hair back before landing a series of strikes on Taynara, cornering her. LeRae follows up with a missile dropkick. 1… 2… Taynara kicks out!
Taynara goes for a kick, only for LeRae to counter with a roll-up. LeRae hits a senton followed by La Quebrada for the 1… 2… 3!
Winner: Candice LeRae
The show cuts to a video package hyping Arturo Ruas, who is "coming soon."
Match 4: Dominik Dijakovic vs. Bronson Reed
The match starts slow, Dijakovic applying a headlock. Reed counters with a headlock of his own. They exchange shoulder tackles, neither man backing down. They soon exchange strikes. Dijakovic goes for a supex, but Reed catches him with a shoulder tackle that takes him down. Reed sits on Dijakovic's back, applying pressure as we cut to commercial. NXT returns to both powerhouses exchanging strikes, Reed catching his opponent with a Germans suplex. Reed follows up with a running hip attack in the corner for a two-count. Continuing the attack, Reed lands a suplex for another two-count.
THiCC vs. DijakoVIC. Merry Christmas, everyone!#WWENXT @DijakovicWWE @bronsonreedwwe pic.twitter.com/gEEWt3AZTX

— WWE (@WWE) December 26, 2019
Dijakovic evades a corner splash. After some effort, and various strikes, Dijakovic lands a suplex of his own! 1… 2… Reed kicks out! Dijakovic catches Reed with a knee, Reed counters with a headbutt, and Dijakovic follows up with a cyclone boot. From there, Dijakovic lands a flying moonsault! 1… 2… Reed kicks out once more! Reed catches Dijakovic with a Lou Thesz Press from the middle turnbuckle for a two-count. Dijakovic catches Reed on the top rope. Dijakovic lands a chokebomb for the pinfall victory!
Winner: Dominik Dijakovic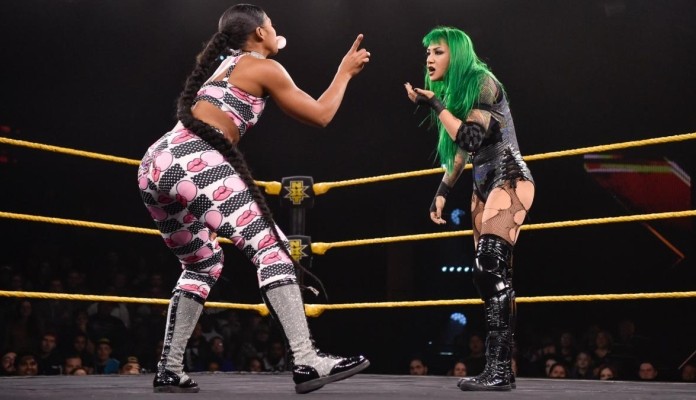 Blackheart wrestles Belair in the corner to begin. In return, Belair shoves her opponent and taunts.. Blackheart takes down Belair and applies a wristlock, only for the latter to counter with a hip drop. Belair tackles Blackheart, who goes for a sunset flip. After another taunt, Blackheart pops Belair's "bubble" from her bubblegum and nails a successful sunset flip. Blackheart lands a hurricanrana followed by a senton across the ropes! Belair catches Blackheart's wrecking ball dropkick and drops her across the apron as we cut to commercial.
NXT returns from break with Belair in control of Blackheart. The green-haired Superstar goes for a middle turnbuckle sunset flip. Belair takes control with a cravat. Blackheart fights back, hitting an avalanche splash followed by a reverse sling blade. Blackheart hits a series of elbows and a kick. Planting Belair face-first, Blackheart gets a two-count. The fight goes to the apron, where Blackheart lands a tornado DDT onto the apron in question! In the ring, Blackheart misses a top rope maneuver. Belair takes advantage by landing the K.O.D.! This is enough to earn Belair the pinfall victory!
Winner: Bianca Belair
From Full Sail to Brooklyn, it's time for tonight's main event!
Match 6: Damian Priest and Tony Nese vs. Lio Rush and Keith Lee
Nese and Rush start things off until Nese makes the tag to Priest. Rush stands up to the larger Priest, slapping him across the face. After quick maneuvering, Rush is tagged out by Lee. Priest rips the Santa hat off Lee before both men exchange strikes and techniques. Lee catches Priest with a crossbody. From the apron, Rush throws cookies at Nese, which incites a chase. The action spills to the outside, where Lee tackles Nese across the announce desk! The show cuts to commercial and returns to Rush and Lee double-teaming Priest. Lee goes for a flying maneuver, only for Priest to catch him with a forearm.
#BaskInHisGlory #WWENXT @RealKeithLee pic.twitter.com/QJv10fUhJV

— WWE (@WWE) December 26, 2019
Priest hits a back elbow in the corner followed by a suplex on Rush for a two-count. The tag is made to Nese, who rolls through a sunset flip and lands a kick on Rush. Nese follows up with a bodyscissors. Rush starts to fight back before rushing to his corner for a tag. After some difficulty, Rush hits the Come Up on Nese! Tags are made to both big men of the match! Lee takes control of Priest, hitting a series of strikes. Priest avoids the Spirit Bomb and tags Nese. Priest and Nese double team Lee, Nese landing a moonsault on Lee for a pin attempt. Rush tags himself in and the cruiserweights exchange moves. Rush tags Lee, who is dropped off the apron by Priest. Attempting a dive, Rush is a caught by chokeslam on the apron by Priest.
In the ring, Priest looks for his finish. However, Lee rises and ejects Priest to the outside. Lee catches a flying Nese and slings him into the barricade. Lee then catches a flying Priest and drops him with an apron powerbomb! Back in the ring, Lee plants Nese with the Jackhammer! Lee then tags Rush, who lands the Final Hour – with an assist from Lee – on Nese for the 1… 2… 3!
Winners: Lio Rush and Keith Lee
Rush and Lee celebrate in the ring as this holiday edition of NXT comes to a close.