NXT begins with a car pulling up and out walks Rhea Ripley as she prepares to challenge Shayna Baszler for the NXT Women's Championship. As the show begins we have Johnny Gargano preparing to come and address his future in NXT.
As the words LIVE FOREVER are emblazed in flames on the screen it could only signify the arrival of one ominous figure, Damien Priest.
Damien Priest vs. BOA
Singapore native BOA is set to square off against Priest. Priest backs off BOA into the turnbuckle. Once back into the turnbuckle Priest beats down on BOA and then follows up with a falcon arrow and then attempts to clutch his ear only for BOA to bring the fight back to Priest. Priest hits a tornado lariat and then hits a kick and hits the wreckening on BOA. Chalk up a three count and a win for the archer of infamy.
Winner: Damien Priest
We then see Velveteen Dream watching as Roderick Strong as his couch was lit on fire. But it is only to hype that next week the NXT North American Championship will be defended as Velveteen Dream faces Roderick Strong. Next week will appear on the debut episode of the USA network.
After the break, Johnny Gargano comes out sporting his Rebel Heart t-shirt and coming to address his future in NXT. The chants of 'Johnny Wrestling' take over the arena for a good few minutes. Gargano eventually sits on the bottom rope as the chants continue onward. As Gargano interrupts the crowd fans and he begins to address his future. To which fans begin to chant 'please don't go'. He said the last time he stood in an NXT ring he fell twenty feet and awoke to a crowd that appreciated his efforts. He spoke of how he and the fans helped to build NXT together. His love and passion for the brand are unbridled. Gargano said that everyone that has come and gone but that he has officially…been interrupted by Shane Thorne. Fans begin to jeer as Thorne walks to the ring. Thorne says that NXT will be fine without Gargano. Gargano then says that he isn't going anywhere and superkicks Thorne. He then signals in the air that he is 'NXT 4 Life'.
A vignette shows that the Forgotten Sons are the Savages of NXT.
Pete Dunne vs. Angel Garza
Garza comes to the ring as Dunne looks at him bewildered. Dunne takes Garza down and then Angel manages to recovers. This was until Dunne clutches the hand and arm of Garza and works on the wrist and fingers of Angel. Garza then puts on a side headlock turning into both men crisscrossing and Dunne clotheslining him. Dunne clutches the arm of Garza and that turns into Dunne ending up outside. Garza strips off his pants to show his tights but is decked by Dunne. Once back in the ring Garza continues to work on Dunne. Dunne recovers and hits a release German Suplex.
Dunne then stomps on both hands of Garza and follows up with a pinning attempt. Garza scouted a bitter end attempt and hit a dropkick on Dunne.  Dunne then hits a sitdown powerbomb on Garza. Dunne attempted a stomp on the head of Garza while holding the hands of Garza but to no avail. Both men wear down each other and Dunne attempts repeated kicks to the face of Garza while on his back. Dunne then hits repeated stomps to the head of Garza followed by a kick to the head of Angel Garza. While back on his feet, Dunne hits a chop on Garza but Garza recovers momentarily. He then attempts a moonsault from the middle rope but Dunne clutches him in a Triangle Choke and then snaps the fingers of Garza causing him to tap.
Winner: Pete Dunne
We see both women preparing for the match later tonight for the NXT Women's Championship and we see the Street Profits said that this is what success smells like in NYC. Dawkins said it isn't the same thing without them having the NXT Tag Team Titles. Ford says what a statement to be made by coming back and taking their titles on the debut episode on the USA Network.
Raul Mendoza vs. Cameron Grimes
Grimes comes out sporting a look similar to a carnival look and a freaking looking left eye. Mendoza gets the early advantage until he has him wrapped him up for a count of two. Mendoza attempts a springboard but is caught with a dropkick. Grimes catches Mendoza with a dropkick and then clutches in an armbar. Mendoza eventually makes a comeback and walks the ropes and dropkicks Grimes and hits a standing shooting star press on Grimes. Grimes holds the bottom rope and makes his to the ropes but once back in the ring, Mendoza hits a variety of strikes. With Grimes on the floor, Mendoza attempts a corkscrew shooting star press but lands on his feet and is caught with a double stomp by Grimes and a three count win.
Winner: Cameron Grimes
We then see William Regal in his office with Candice LaRae saying she doesn't understand why Io Shirai and states that the match next week will be a fatal four-way involving Candice LaRae.
A vignette airs that Dakota Ka will be returning to action.
Rhea Ripley vs Shayna Baszler
Ripley makes her way to the ring followed by Baszler. Baszler comes into the ring and we are reminded that if Ripley wins tonight that she could be added to the number one contender's match. Baszler and Ripley lockup with Baszler getting the advantage. Baszler attempts to trip up Ripley but Ripley blocks that and takes down the champion. The two then lock up in the middle of the ring with Baszler locks and armbar but Ripley scoops her up and slams her in the middle of the ring.
Ripley shows her aggression in this match taking the fight to Baszler. Baszler counters a suplex with a small package. Ripley then attempts a big boot but misses with Baszler coming in and goes for her leg and knee. With both women on the ground, Baszler has her chin locked but Ripley counters. Then Baszler has the karafuji clutch but Ripley recovers dropkicking the champion to the floor. Ripley follows Baszler outside the ring only to having been dropped face-first onto the steel steps. Baszler takes advantage of Shafir and Duke coming to the ring but Ripley uses a chair on the champion.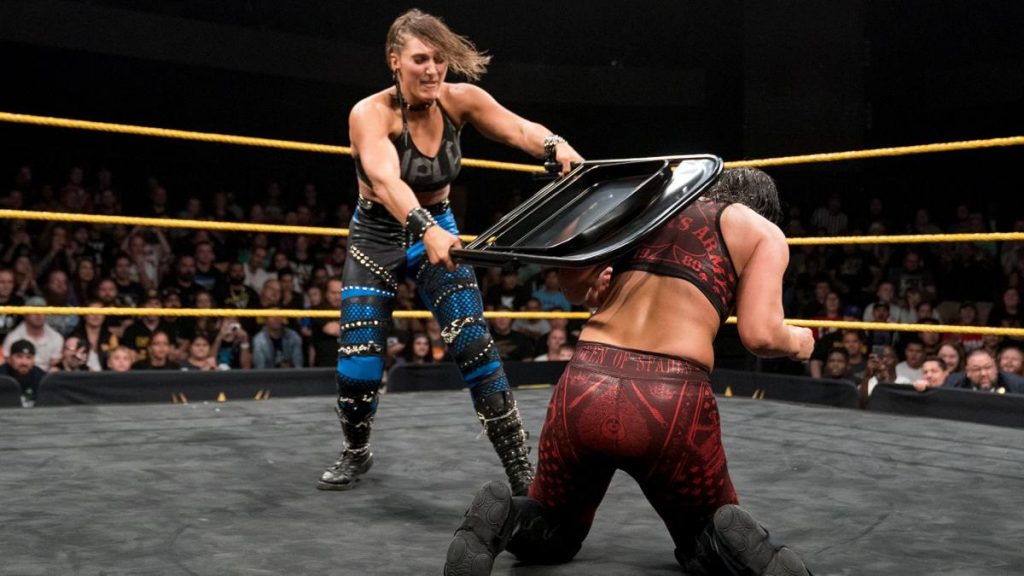 Winner: Via Disqualification Rhea Ripley.
Baszler is awarded the match but Ripley remains in the ring now sitting on a chair calling for the champ to come back to the ring.
After the match, we get a post-show promo by the
Undisputed Era with Roderick Strong states that he captures the NXT North American Championship and that their prophecy isn't a threat or a promise but rather..undisputed.
This will be my last NXT Inquest as we will be doing a bit of a shuffle here at ProWrestlingPost.com our NXT UK reviewer Robbie Sutter will now be taking over reviewing the program while Mark Blake will taking over NXT UK shortly. We hope you've enjoyed these. Thanks again for your time and your energy.