Today the National Wrestling Alliance uploaded a new episode of NWA USA to their YouTube channel, and the card features 4 matches as we review NWA USA for 10/08/22. We got the #1 Contenders to the United States Tag Team Titles, The Spectaculars squaring off against The Miserably Faithful in the main event. We also got The Country Gentlemen goes versus Rhett Titus & Gustavo Aguilar; The Now faces off against Erick Jackson & Jaden Newman & our only 1 on 1 match today is Joe Ocasio facing off with Fodder.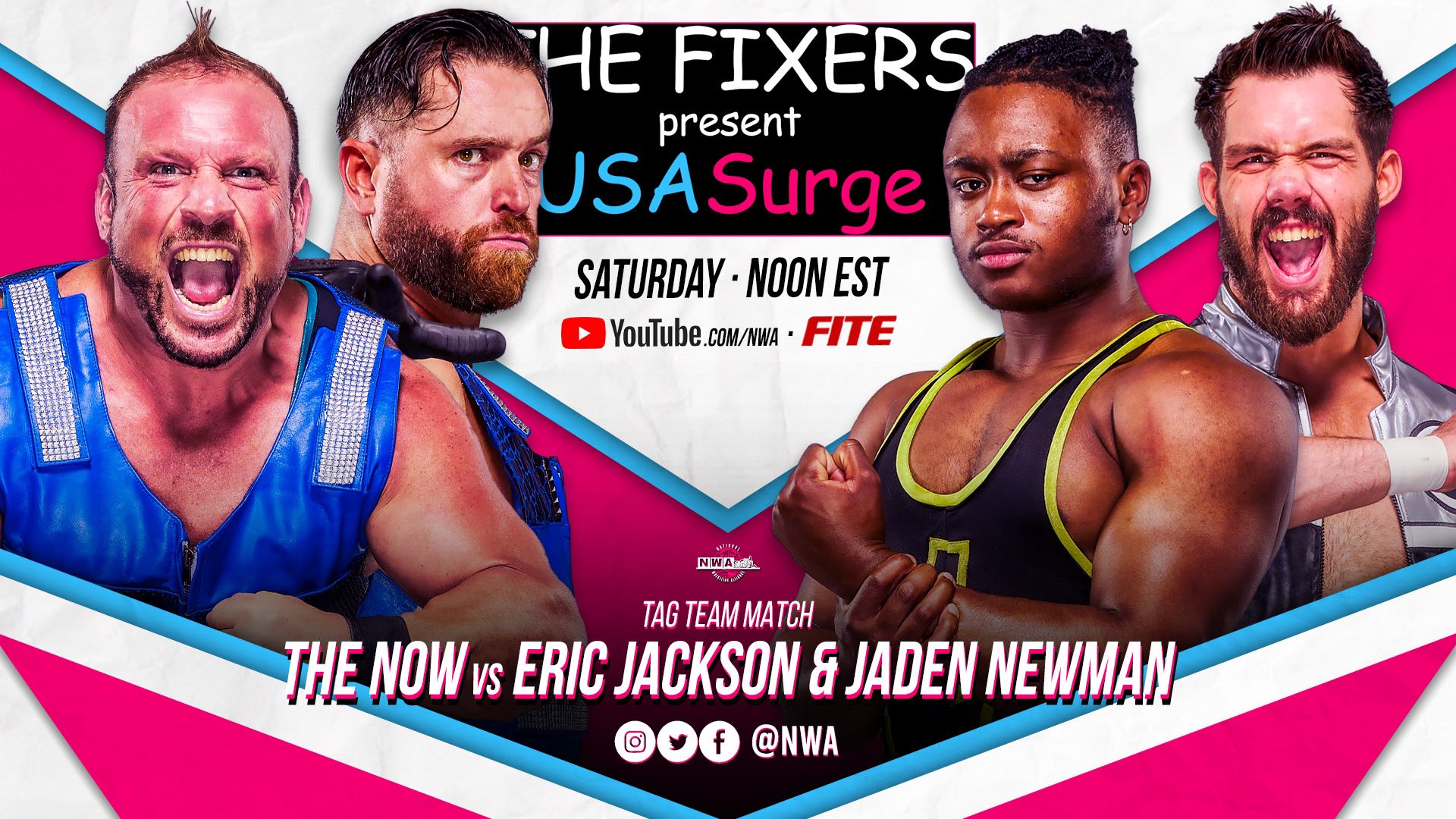 NWA USA for 10/08/22
Tag Team Match
The Now vs. Erick Jackson & Jaden Newman
Hale Collins & Jaden Newman will start things off then they lock up. Newman with a full nelson switch into a flying mare takeover Newman stops Collins in his tracks. Newman applies a wrist lock, dragging Collins over to tag in Erick Jackson and they connect with a double Irish whip. Newman drops down on the canvas and Jackson connects with a sling blade for a two count.
Collins reverses out of the Irish whip from Jackson. Dalishus drives his knee into Jackson's back. Collins clotheslines Jackson and tags in Dalishus & The Now hits a double vertical suplex then goes for a hook of the leg for a one count. Dalishus whips Jackson across the ring for a rebound dropkick, putting Jackson down for a one count.
Jackson returns with heavy body shots. Dalishus rocks Jackson with a forearm smash and then a neckbreaker for a two count before he tags in Collins, who applies an armbar. Collins hits a elbow drop off the top rope. Collins sends Jackson to the corner. Collins tags in Dalishus. Dalishus kicks Jackson in the gut and uses the ropes to choke him.
Jackson fights from underneath. Dalishus nails Jackson with a straight right hand before a back-elbow knocks Newman off the ring apron. Dalishus rams his boot across Jackson's face and whips him off the turnbuckles for a two count. Dalishus applies a rear chin lock,  but Jackson throws elbows into the midsection of Dalishus. Dalishus drops Jackson with a neckbreaker for a two count.
Dalishus bodyslams Jackson to set up a flying double axe handle strike, but Jackson ducks out of the way. Jackson side steps Dalishus into the turnbuckles and tags in Newman. Newman ducks a clothesline from Dalishus. Newman with forearm shivers. Newman whips Dalishus across the ring and nails Dalishus with a powerslam for a two count.
Jackson with a Flying Crossbody Block. Collins pulls Jackson out of the ring, and Dalishus hits a spinebuster. Dalishus tags in Collins. The Now connects with The Ticket To The Now to get the win.
Winners: The Now
The Fixers first guest is their favorite Australian, Mercurio. Bradley asks Super Mercado about catching alligators Down Under, whereas Legursky wants to know if the toilet bowls swirl the other way. Mercurio is flabbergasted by this, and then Bradley wants him to make the ugly face. Mercurio says there's two right here, pointing at The Fixers. Bradley retorts he is pretty, and Legursky is a Big, Beautiful Wrecking Ball.
We get a recap of EC3 challenging Tom Latimer at Hard Times from this past Tuesday on Powerrr.
Next, we head to the Control Center, where Kyle Davis says because there was a question about Taya Valkyrie getting a spot to face Kamille at Hard Times, she & Kilynn King will face each other on Powerr to settle who is the true #1 Contender to the Women's Title. Also, Davis notes that there will be a Triple Threat Finals of the National Title #1 Contenders Tournament between Dak Draper, Chris Adonis & Silas Mason to determine who will face Cyon for the National Title at the 3rd annual Hard Times.
Now The Fixers are with "Magic" Jake Dumas, as well as CJ smiling away. Bradley asks the hard-hitting question:  Where's the science in magic on the periodic table?  Dumas doesn't know what to do with this, but CJ does a magic trick for The Fixers as she makes one of her fingers disappear, which blows their minds, and Bradley is convinced she's a witch.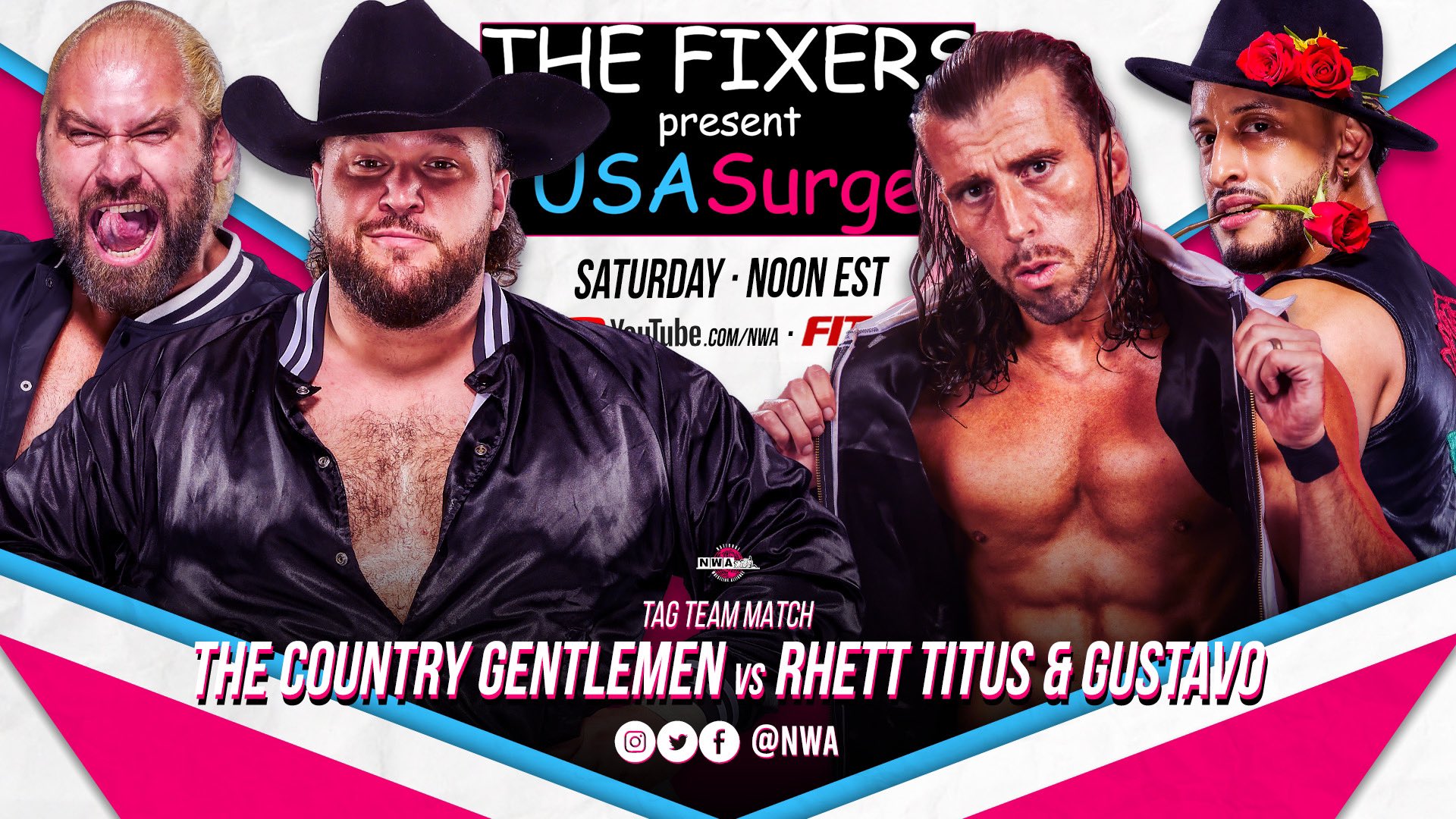 NWA USA for 10/08/22
Tag Team Match
The Country Gentlemen vs. Rhett Titus & Gustavo Aguliar 
AJ Cazana keeps Rhett Titus grounded at the start but a tag to Gustavo Aguliar has him coming down on Cazana's arm then Titus & Gustavo make quick tags to utilize their speed, but Cazana pushes Titus to the corner and makes the tag to Anthony Andrews.
Titus manages to get on offense as he hammers at the hamstring of Andrews.  Tag to Gustavo, as they both give a little swivel of their hips and then make a wish pulling apart Andrews' legs. Titus works over Andrews some more and attempts a tag but Gustavo loves the fans and keeps sways his hips.
Andrews uses that distraction to get him in the corner and now he gets back to work. Andrews connects with the Country Breakfast slam to Titus for a near fall, and then goes to a bear hug to push him back to the corner.
Titus manages to escape his opponents to finally tag in Gustavo and he tries to utilize his speed but Cazana is too powerful. He sets up Gustavo in a delayed vertical position and then tags to Andrews & he nails Gustavo with the The Ball Game Slam to get the win for his team.
Winners: The Country Gentlemen
The Fixers are with their old boss, Colby Corino, and they talk about his dad. Bradley asks when Corino got in trouble with his dad if he punished him with the Bronco Buster.  Corino is confused until The Fixers clarify if his dad is X Pac. Corino is flummoxed, and says his dad is Steve Corino. Wait, says Bradley. "You're dad is Mr. Wrestling III?"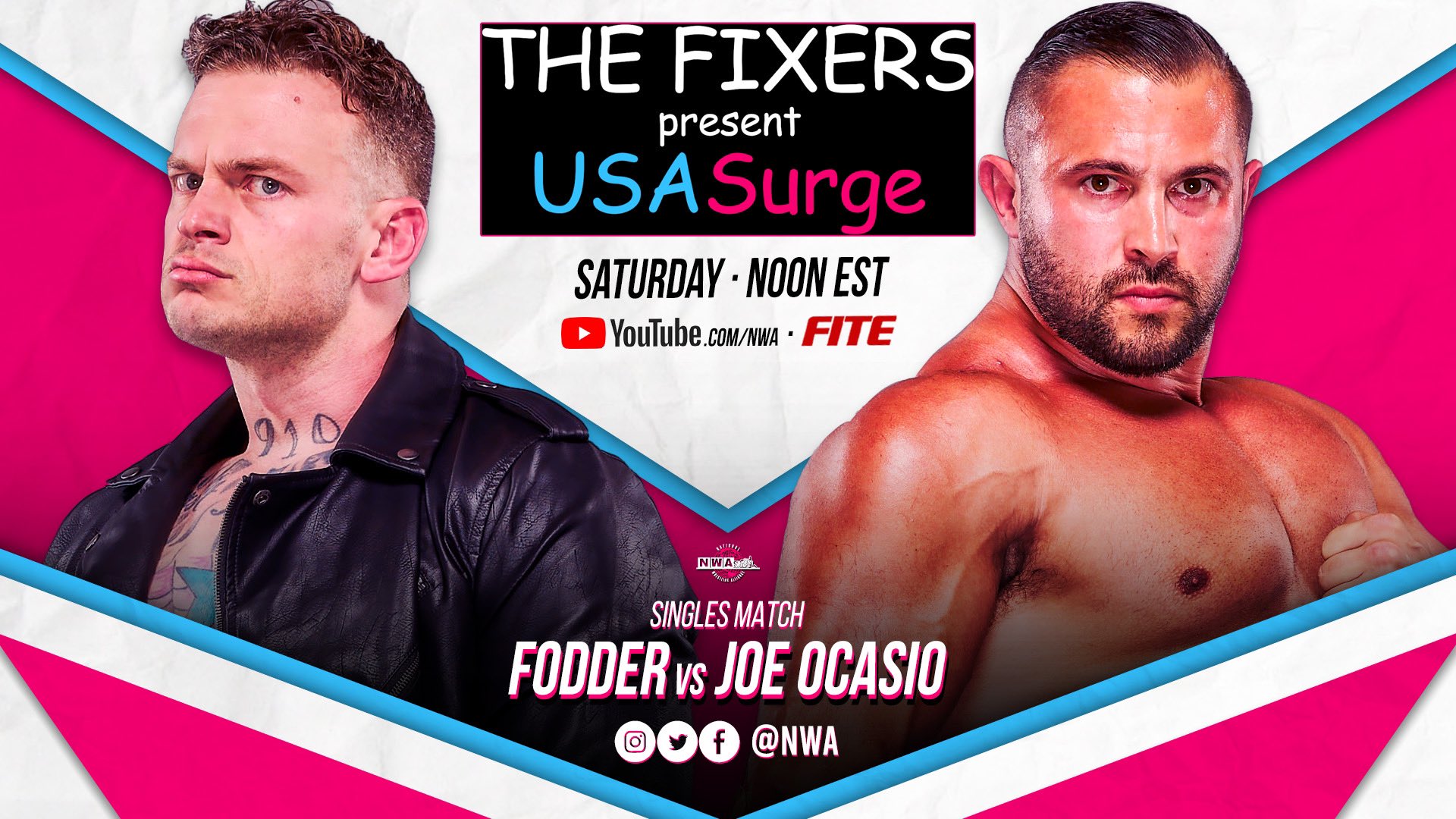 NWA USA for 10/08/22
Joe Ocasio vs. Fodder
Fodder refuses to shake Joe Ocasio's hand at the start of the match. They start into a lock-up then they go into a wrist lock exchange then a side headlock exchange.
Fodder whips Ocasio across the ring. Ocasio runs into Fodder. Fodder drops Ocasio with a shoulder tackle. With Occasio down on the mat, Fodder stomps on Ocasio's back. Fodder whips Ocasio across the ring and misfires on a hip toss. Ocasio ducks a clothesline from Fodder. Ocasio connects with an atomic drop then he hits a deep arm drag.
Joe Ocasio follows that with an inverted atomic drop. Ocasio hits a roundhouse kick and takes a bow. Fodder sends Ocasio shoulder first into the steel ring post.
Fodder with a running bulldog for a two-count. Fodder slams Ocasio's head on the top turnbuckle pad. Fodder rams Ocasio's face across the top strand. Ocasio unloads 3 knife-edge chops. Fodder kicks Ocasio in the gut. Fodder headbutts Ocasio, then hits a snapmare takeover, Fodder with a running neck snap.
Fodder hits Ocasio with a running boot he hooks the leg & Ocasio kicks out at 2. Fodder applies a rear chin lock. Fodder scores the elbow knockdown. Fodder with a running leg drop for a two-count.
Fodder with a gut punch. Fodder headbutts Ocasio, then he tries to Irish whip him but Ocasio reverses. Ocasio catches Fodder in mid-air, then connects with a double knee gutbuster, then a flying headbutt. Ocasio drills Fodder to the mat with The Changing Life to score the victory.
Winner: Joe Ocasio
The Fixers now have as their guests Silas Mason & Pollo Del Mar. Bradley says that he and Mason are cut from the same cloth and that he is a true American hero.  He asks Mason what it's like to follow in the footsteps of The Fixers, and Mason declares, It's like dinosaurs walking the earth! Legursky tries to ask Del Mar a question, but she is miffed that he didn't introduce her at the beginning. Bad Legursky! says Bradley. That's no way to treat a lady but Del Mar gathers her composure and says it's an honor proclaims her man will be the next National Champion.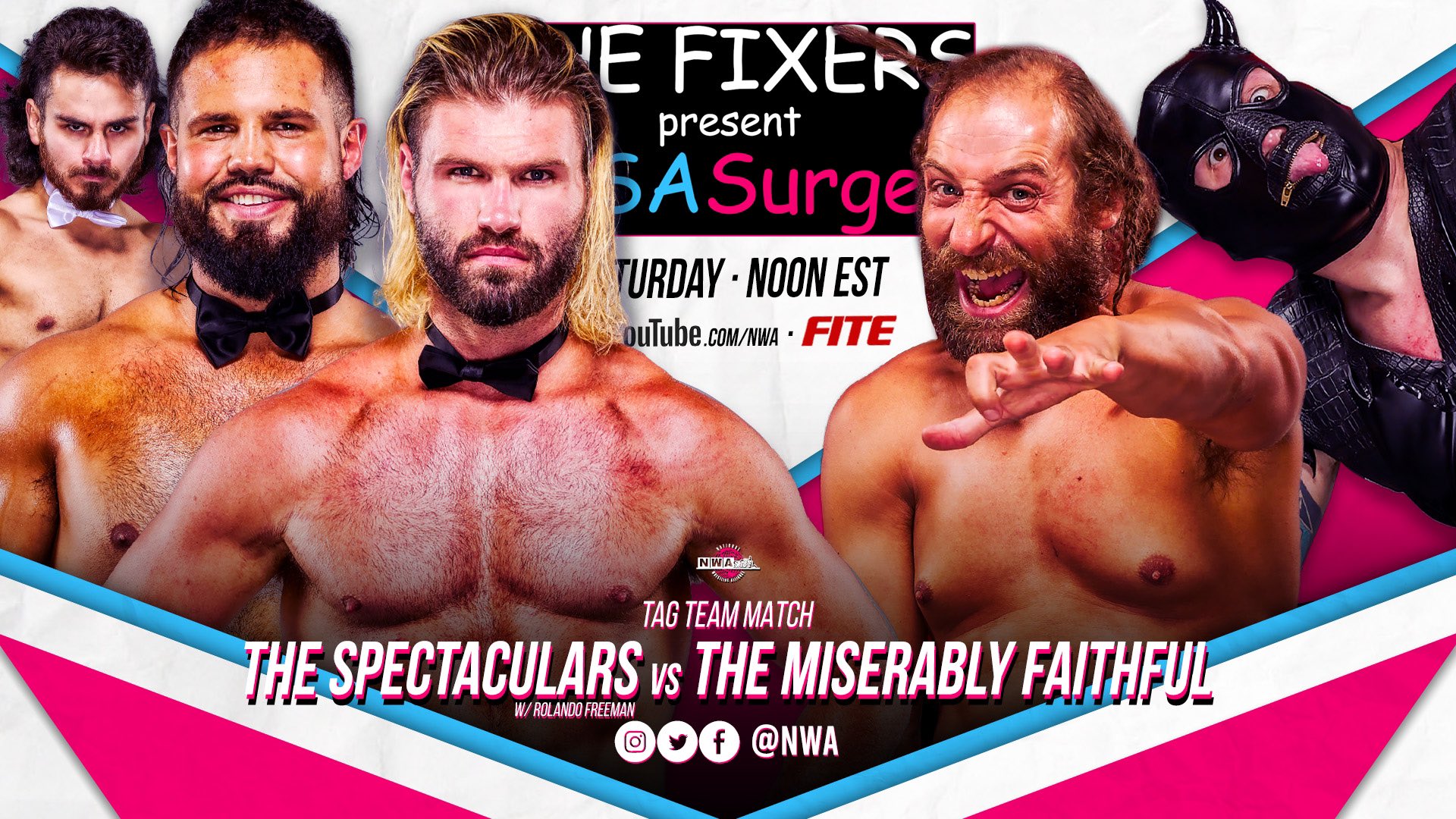 NWA USA for 10/08/22
Tag Team Match
The Spectaculars vs. The Miserably Faithful 
The match begins with Brady Pierce & Sal Rinauro. Rinauro opens with a waist lock go behind. Pierce flings Rinauro into the canvas then they do some side headlock exchanges. Pierce with a side headlock takeover. Rinauro, with a handstand escape. Rinauro is playing mind games with Pierce. Rinauro dodges the running boot. Pierce with a deep arm drag. Pierce applies an armbar and tugs on Rinauro's hair. Pierce tags in Rush Freeman.
Freeman with an axe handle off the top rope. The Spectaculars attacks the left shoulder of Rinauro. Rinuaro starts biting Pierce's fingers. Gaagz The Gimp & Freeman are tagged in. Freeman backs Gimp into the turnbuckles. Freeman with rapid-fire body shots. Freeman unloads two knife-edge chops. Gimp hits a running headbutt. Gimp tags in Rinauro. The Miserably Faithful gangs up on Freeman. Rinauro repeatedly stomps on Freeman's chest.
Rinauro nails a running knee strike then he stomps on the midsection of Freeman. Rinauro applies a front face lock. Rinauro headbutts Freeman. Rinauro tags in Gimp and The Miserably Faithful hits a double Irish whip then a double leg sweep & they also do some double ground and pound attack. Gimp fish hooks Freeman. Gimp drags Freeman to the corner.
Gimp rakes the back of Freeman; Gimp, with clubbing shoulder blocks Gimp puts his leg on the back of Freeman's neck. Gimp tags in Rinauro, who connects with a 619, then he stomps on Freeman's ribs. Rinauro tags in Gimp. Freeman avoids the assisted Rocket Launcher.
Pierce & Rinauro are tagged in. Pierce with a series of clotheslines and sledges. Pierce drops Gimp with a big boot. Pierce Powerslams Rinauro for a two-count. Rinauro returns with a spinning back fist. Pierce tags in Freeman & Pierce uses Rinauro's legs as a weapon. The Spectaculars connects with their backbreaker/flying elbow drop combination to get the win.
Winners: The Spectaculars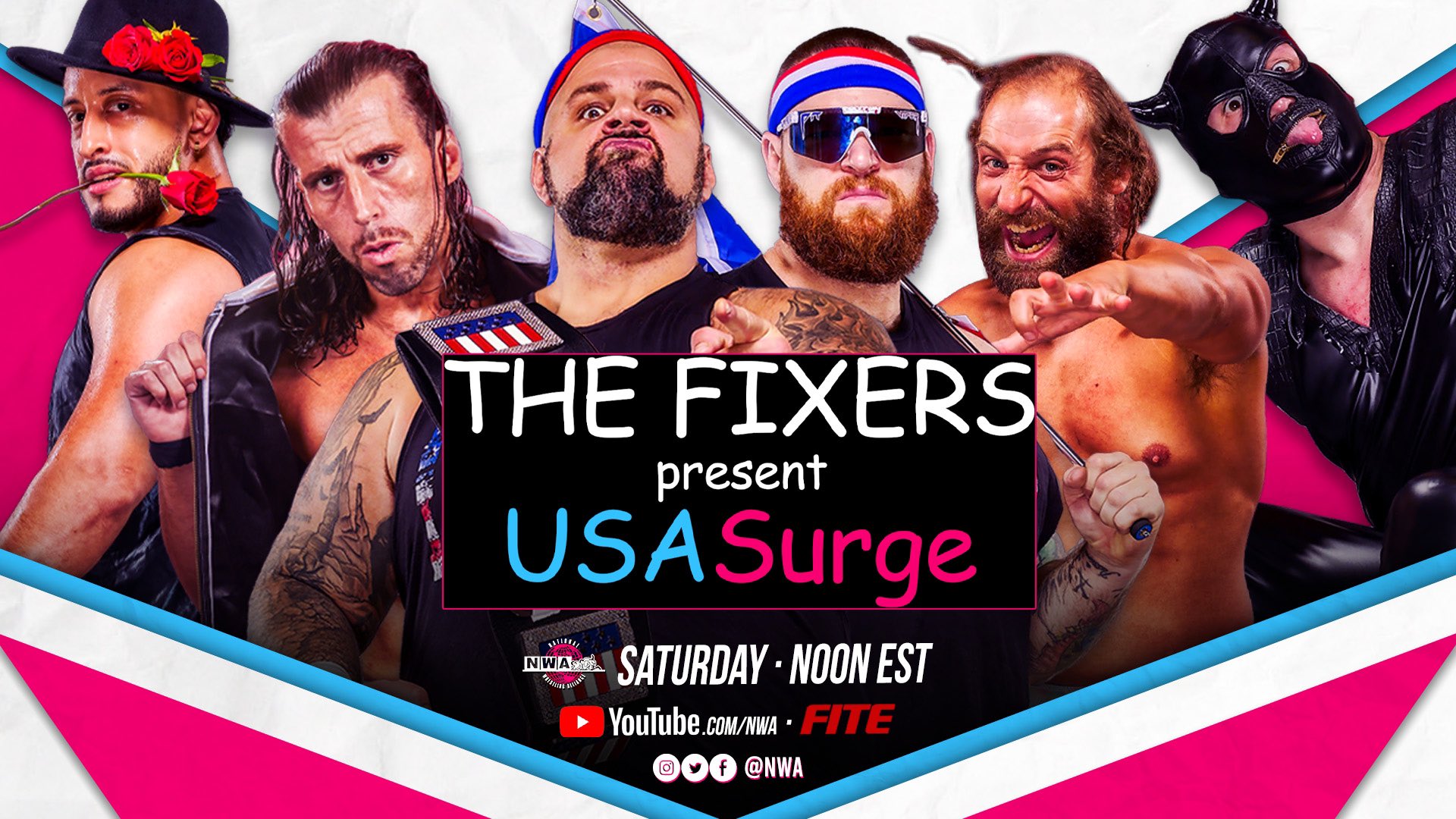 Please share with us what you thought of this past week's edition of NWA USA in our comment section below.
*****
Stay tuned to Pro Wrestling Post for this and additional stories from the wrestling world. Readers can rely on Pro Wrestling Post as their daily source for everything inside the squared circle. As a result, readers can expect daily news, history, and much more. Also, please visit the National Wrestling Alliance's official FITE TV page here for news and information on the promotion and upcoming events, and FITE TV's official website to watch the NWA.