On Tuesday, December 6th, 2022, NWA aired another episode of Powerrr as we review NWA Powerrr SURRRGE for 12/06/22. We start the Champions Series 8 Teams enter the team with the most points; every member gets a title shot & we also got a Fatal 4 Way Elimination where the winner gets to pick what team they are on.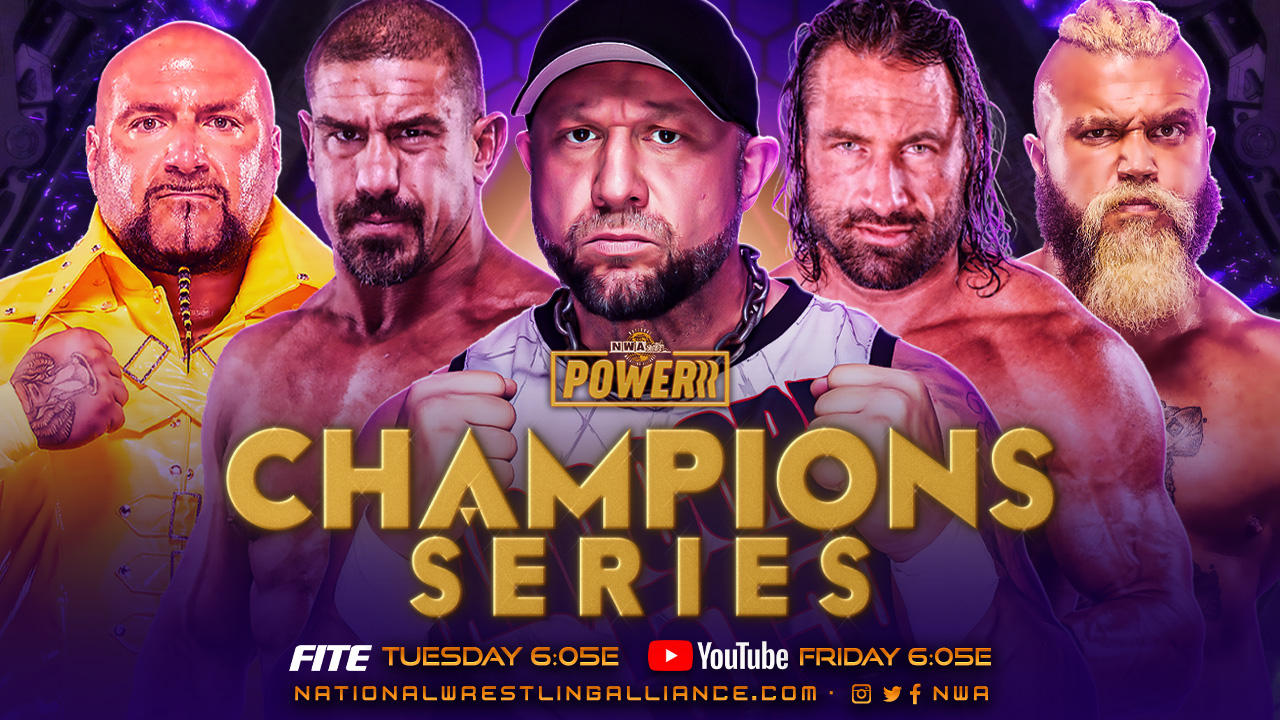 Champions Series Points Breakdown
Submission- 6 Points
Pinfall- 5 points
Count Out – 2 Points
Draw – 2 Points Each
Basic DQ – 1 Point
Extreme DQ (3 Points) (Not listening to the referee's command)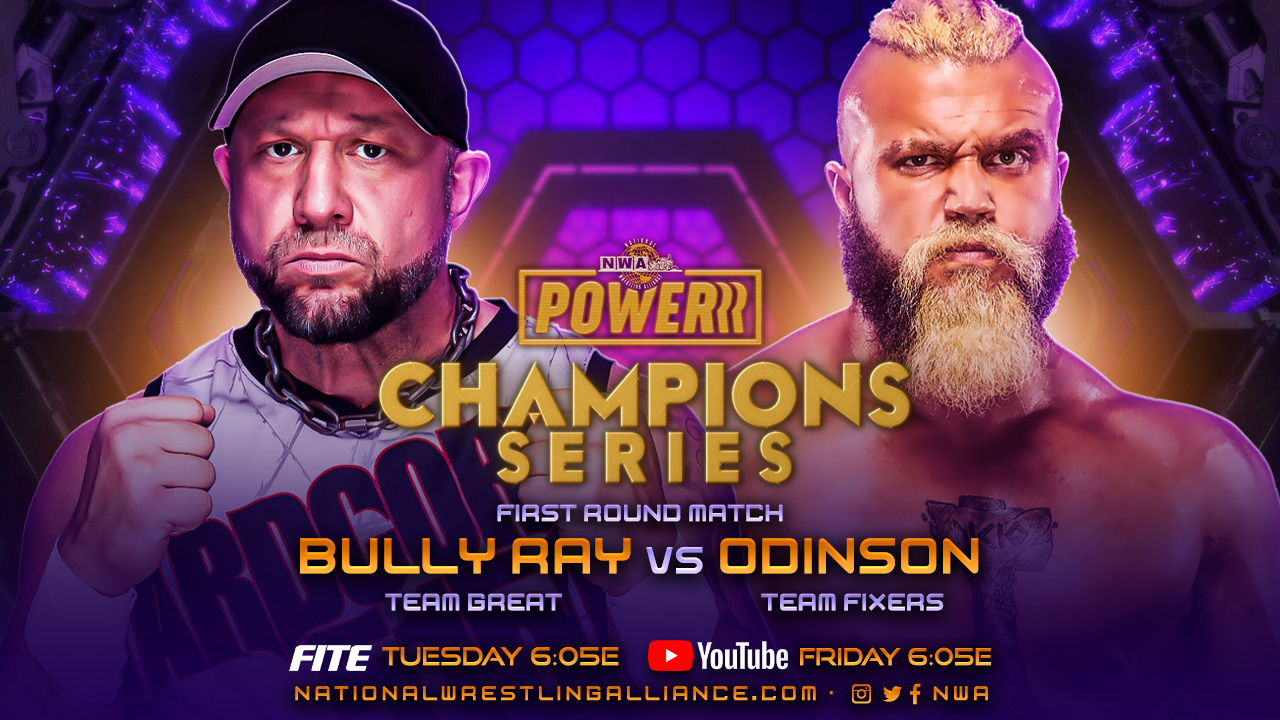 NWA Powerrr SURRRGE for 12/06/22
Champions Series 1st Round Match
Bully Ray (Team Great) vs. Odinson (Team Fixers)
Match starts off with Bully Ray & Odinson locking up Odinson got whipped into the turnbuckle multiple times and Ray worked him over with a nerve hold. Odinson fought out and hit a series of European uppercuts.
Odinson hit one more and Ray dropped to the mat, but went to the ropes to get away. Odinson charged Ray but ate a lariat. Ray hit a spear for a 2 count. Odinson grabbed the purpose spray and sprayed it, he then powered up and broke a Bully Bomb and hit a Pounce, but the bell rang for a time limit draw.
Winner: No One (Time Limit Draw) (Both teams get 2 points)
May Valentine was with World Heavyweight Champion Tyrus & BLK Jeez, and Tyrus talked about being the most viewed NWA Champion in history We also found out Tyrus was leading a team in the Champions Series, and his team was facing Team Brickhouse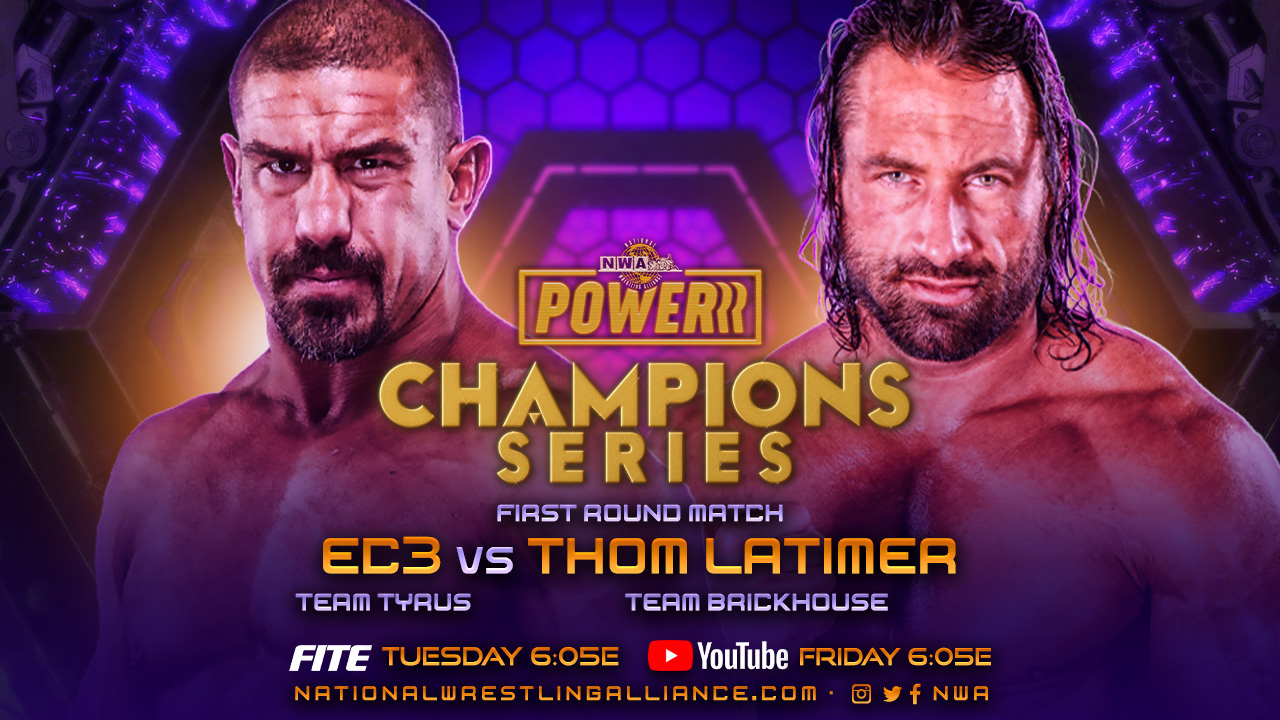 NWA Powerrr SURRRGE for 12/06/22
Champions Series 1st Round Match
EC3 (Team Tyrus) vs. Thom Latimer (Team Brickhouse) 
EC3 tries to get inside Thom Latimer's head but he wasn't ain't having it. He's able to get the better of The Essential Character, but soon EC3 reverses and gets a Thesz Press on Latimer and digs his thumb in his eye. The ref tries to get some semblance of order and then calls for the bell.
EC3 goes back to raking Latimer's eyes again. He drives Latimer's face into his knee and attempts the One Percenter. Although blinded, he reverses the finisher and gets EC3 into a crossface.  As he cinches in the submission, EC3 reaches the ropes but Latimer is so blinded he doesn't see and still keeps the hold locked in again the ref tries to regain order, but Latimer violently shakes him off and the bell gets called again.
Winner By Extreme DQ: EC3 (3)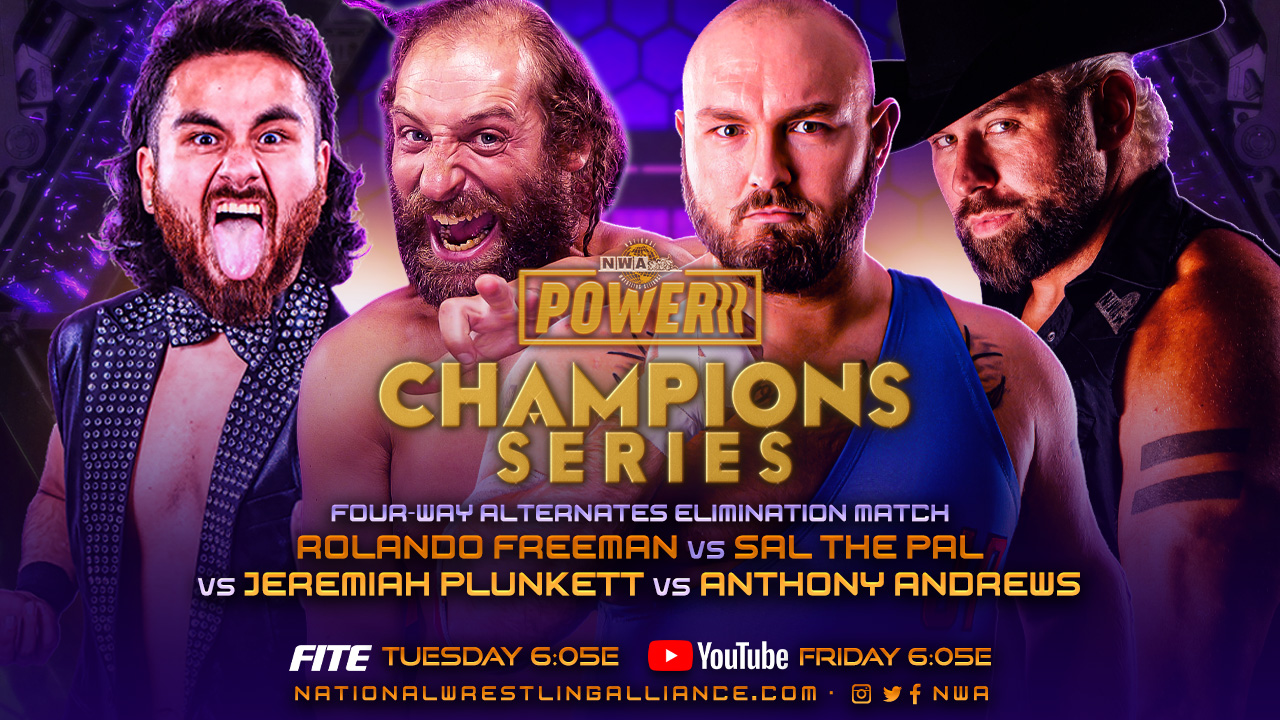 NWA Powerrr SURRRGE for 12/06/22
Alternates Fatal 4 Way Elimination Match
Sal The Pal vs. Jeremiah Plunkett vs. Anthony Andrews vs. Rolando Freeman
Anthony Andrews threw everyone around the ring then Rolando Freeman claimed he was the biggest man in the match, so Andrews used him as a weapon. Freeman turned it into a sunset flip and pinned Andrews to eliminate him. Freeman hit a dropkick off the middle rope on Jeremiah Plunkett.
Sal The Pal was thrown upside down by Plunkett into Freeman. Plunkett ended up throwing Freeman from the ring, letting Sal lock on a figure 4 on Plunkett. Freeman ran in and hit a back senton on Sal, pinning him, and then hitting the Biggest Boot on Plunkett for the win.
Winner: Rolando Freeman
United States Tag Team Champions The Fixers talked about Jay Bradley being the captain of his team.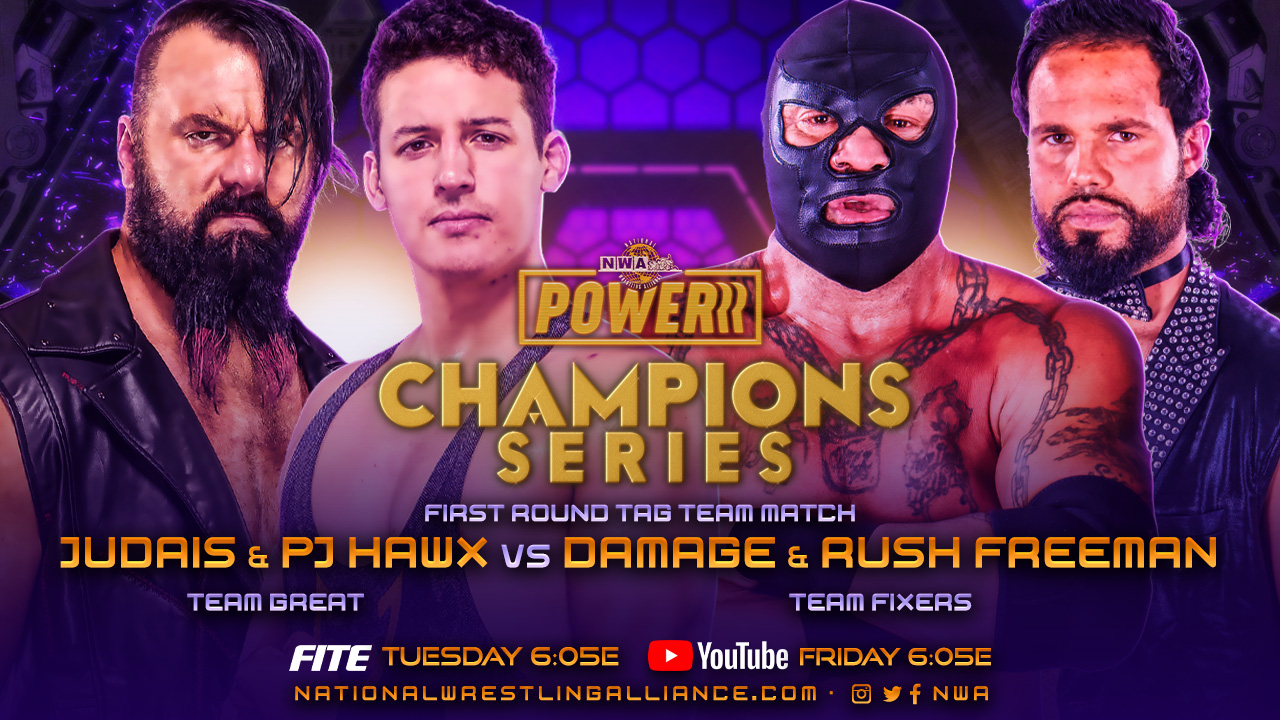 NWA Powerrr SURRRGE for 12/06/22
Tag Team Champions Series 1st Round Match
Judias & PJ Hawx (Team Great) vs. Damage & Rush Freeman (Team Fixers)
Damage & PJ Hawx started the match off. Judais hit a big boot on Rush Freeman for a two-count. PJ Hawx blind-tagged in and scolded Judais for being too rough on Freeman. Freeman & Damage took advantage of this with Hawx, beating him down.
The end of the match happens when Freeman gets hit him with a with a chokeslam from Judais for the win.
Winners: Judias & PJ Hawx (5)
May Valentine is with the National Champion Cyon and claimed that his team was having success because Austin Idol coached him; then Cyon claimed Austin Idol was on a secret mission for the Champions Series.
Women's Champion Kamille talked about how she was upset with EC3's actions for Team Tyrus. Kamille buried EC3 for speaking nonsense.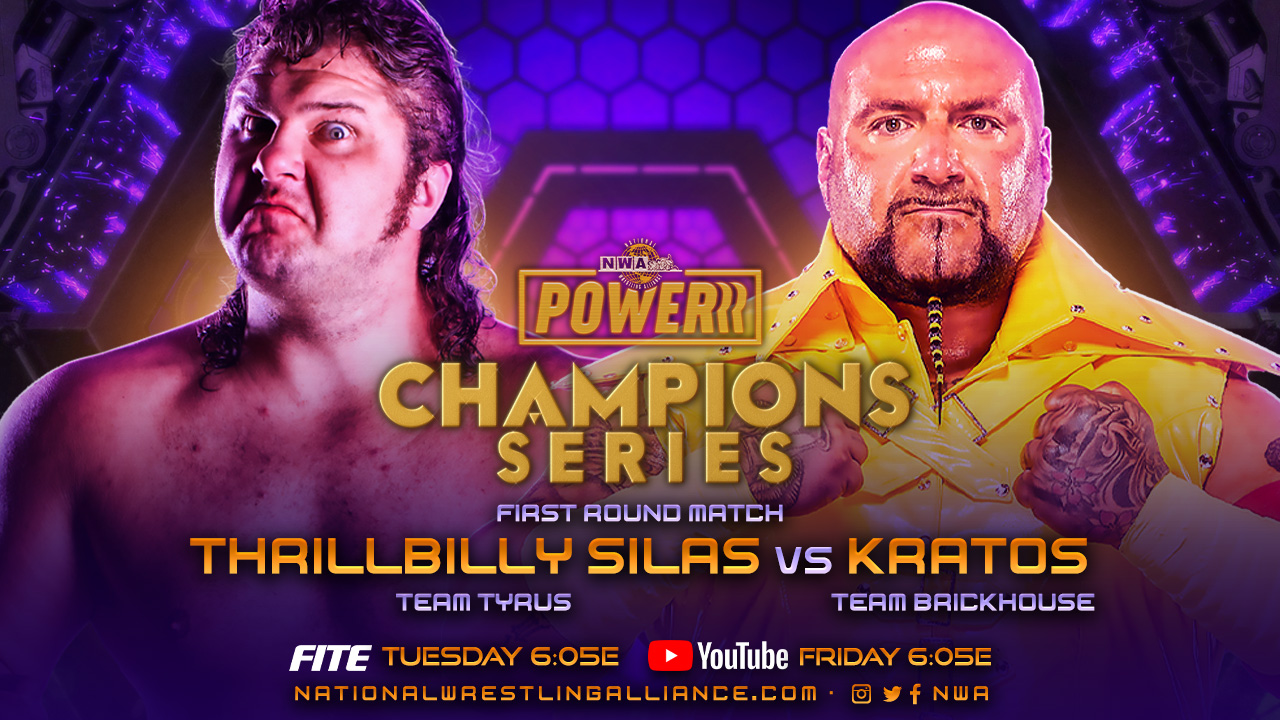 NWA Powerrr SURRRGE for 12/06/22
Champions Series 1st Round Match
JR Kratos (Team Brickhouse) vs. Silas Mason (Team Tyrus)
JR Kratos & Silas Mason used their power offense throughout this match before Kratos hitting a power slam. Mason kicks out and hits a running shoulder block. Mason hit a running power slam for a two-count. Kratos put Mason on the top rope, but Mason pushed him away and hit a flying shoulder block and 2 Polish hammers.
Kratos blocked a piledriver and hits a lariat. Kratos hit a flying forearm in the corner before hitting a suplex that sent Mason across the ring. Mason dodged a corner charge and hit a back suplex but didn't get low enough to get his head under Kratos' arm.
Mason hit an elbow for a two count before he went for a Thrill Ride, but Kratos fought out and hit a flying lariat. Mason got his feet on the ropes to break the fall. Mason got up and hit the Thrill Ride to get the win.
Winner: Silas Mason (8)
Champions Series Standings After Night 1
1st Place- Team Tyrus & Team Great (8 Points)
2nd Place- The Fixers (2 Points)
3rd Place- Team Brickhouse (1 Point)
Last Place- Team Pretty (0 Points)
Please share with us what you thought of this past week's edition of NWA Powerrr in our comment section below.
*****
Stay tuned to Pro Wrestling Post for this and additional stories from the wrestling world. Readers can rely on Pro Wrestling Post as their daily source for everything inside the squared circle. As a result, readers can expect daily news, history, and much more. Also, please visit the National Wrestling Alliance's official FITE TV page here for news and information on the promotion and upcoming events and FITE TV's official website to watch the NWA for International viewers. FITE+ currently boasts 1000+ hours of live action each year. $4.99 a month/$49.99 a year with 7-day Free Trial.