On Tuesday, November 22nd, 2022, NWA aired another episode of Powerrr on FiteTV as we review NWA Powerrr SURRRGE for 11/22/22. We got 2 title matches (Women's & WildKat Sports Revolution), we also got a tag team match & a non-title match.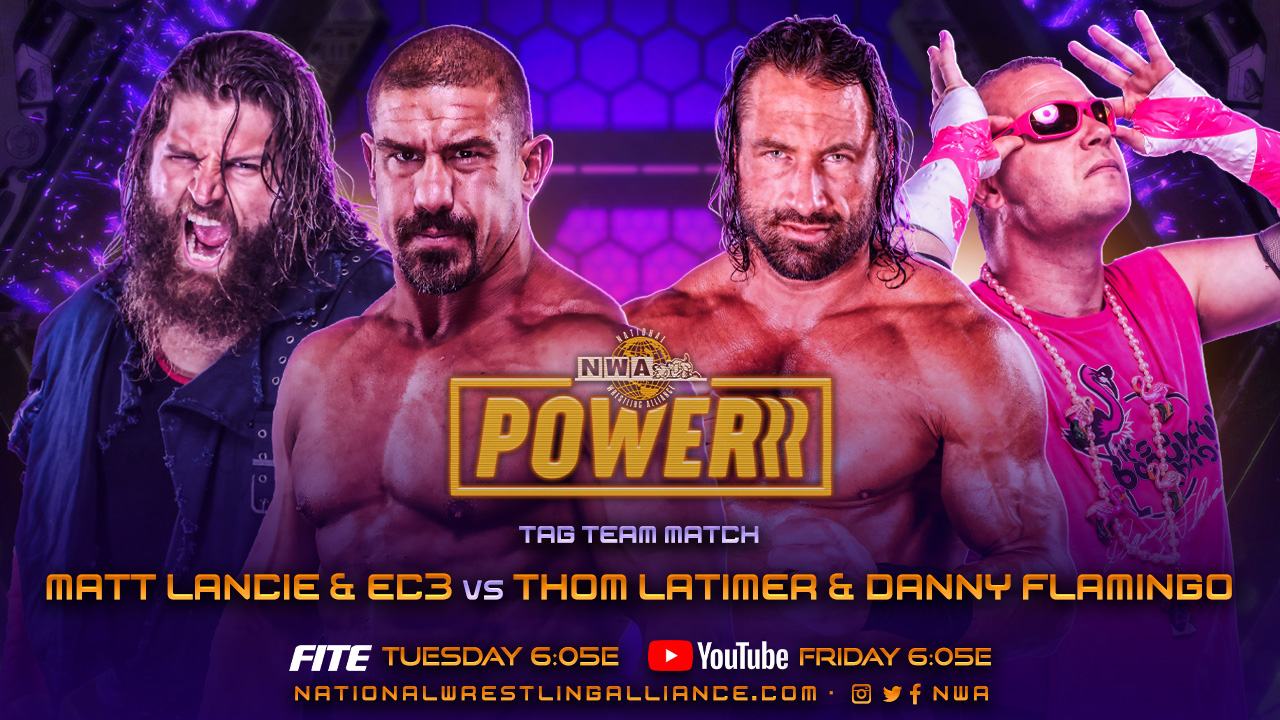 NWA Powerrr SURRRGE for 11/22/22
Tag Team Match
Thom Latimer & Danny Flamingo vs. EC3 & Matt Lancie
EC3 immediately tagged out to Matt Lancie, who locked up with Thom Latimer, then he tags in Danny Flamingo was over & took control of Lancie.
EC3 ended up bleeding after colliding with Flamingo, so he decided to take out revenge by choking and beating on Flamingo in the corner. EC3 continued to use boring offense to keep control of Flamingo. EC3 did an STO with his arm behind the head of Flamingo.
Flamingo hit a pump kick on Lacie and tagged out to Latimer, who hit a big spinning back suplex. Latimer demanded EC3 tag in, but he wouldn't and EC3 hit an inverted STO which also looked bad. EC3 demanded Latimer finish him and Latimer put Lacie in a crossface for the win.
Winner:  Thom Latimer & Danny Flamingo
After the match, EC3 then threw Hard Body Harper into the ring and Latimer put a crossface on him too. Danny Dealz did an ad for TV shirts with CJ, who he renamed Bubblegum.
Backstage Question Mark II opened a dojo and taught strikes to 4 different trainees in Mongrovian karate. As he was teaching him, Question Mark & unknown mask man ran in and attacked while Aron Stevens yelled I never lie! repeatedly.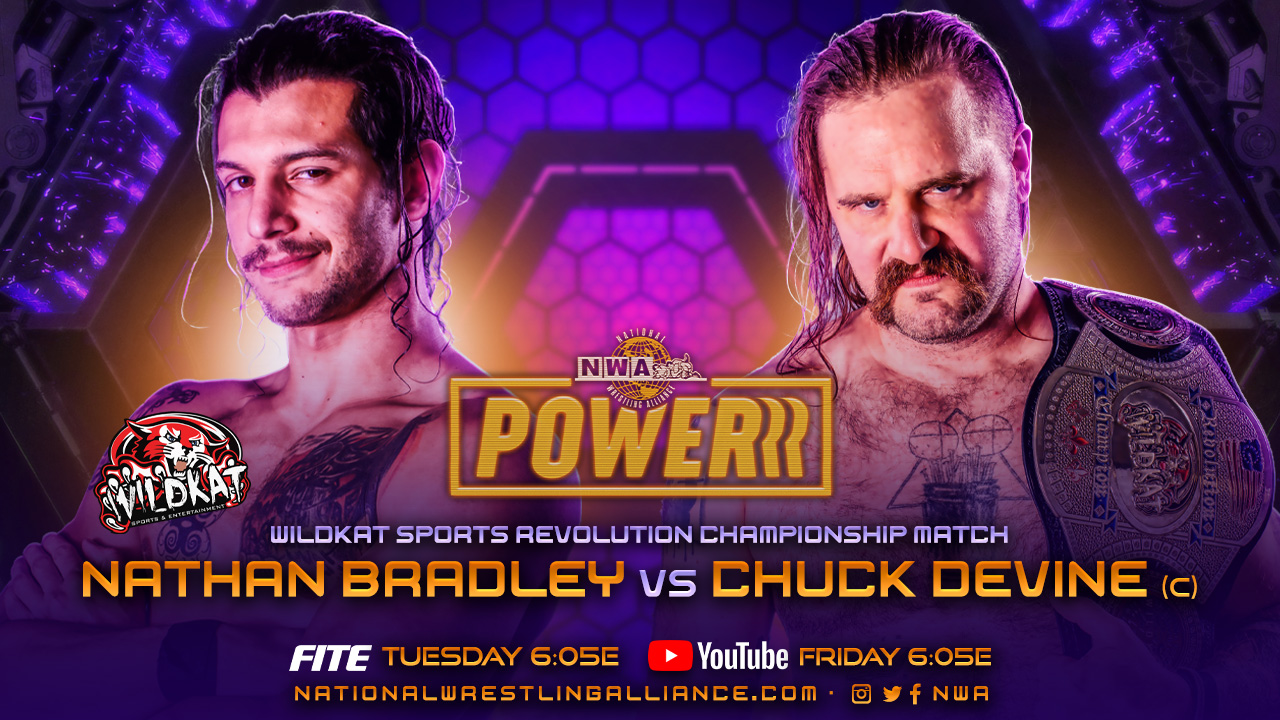 NWA Powerrr SURRRGE for 11/22/22
WildKat Sports Revolution Title Match
Chuck Devine (c) vs. Nate Bradley

Nate Bradley was smaller than Chuck Devine but used his speed to drive Devine all over the ring, hitting a running kick in the corner and suplex in the ring. Devine fought back and hit a fisherman's buster on Bradley. Devine slowed it down, locking his legs in a figure 4 around the neck.
Bradley broke it by kicking backward over his own head, but Devine body-slammed him and took the advantage again.
Devine continued to get the heat before Devine went to the top rope and Bradley jumped up from the mat, hitting a hurricanrana, a missile dropkick, and a standing shooting star press for a two count. Devine broke out of a full nelson and hits a DDT to score the win.
Winner & Still WildKat Sports Revolution Champion: Chuck Devine (STILL CHAMPION!!!)
We went to the backstage area immediately after the match for an interview with Da Pope & JTG. Pope talked about his history with JTG back when he was getting started in WWE, and that they were going to be Gagz The Gimp on NWA USA this Saturday.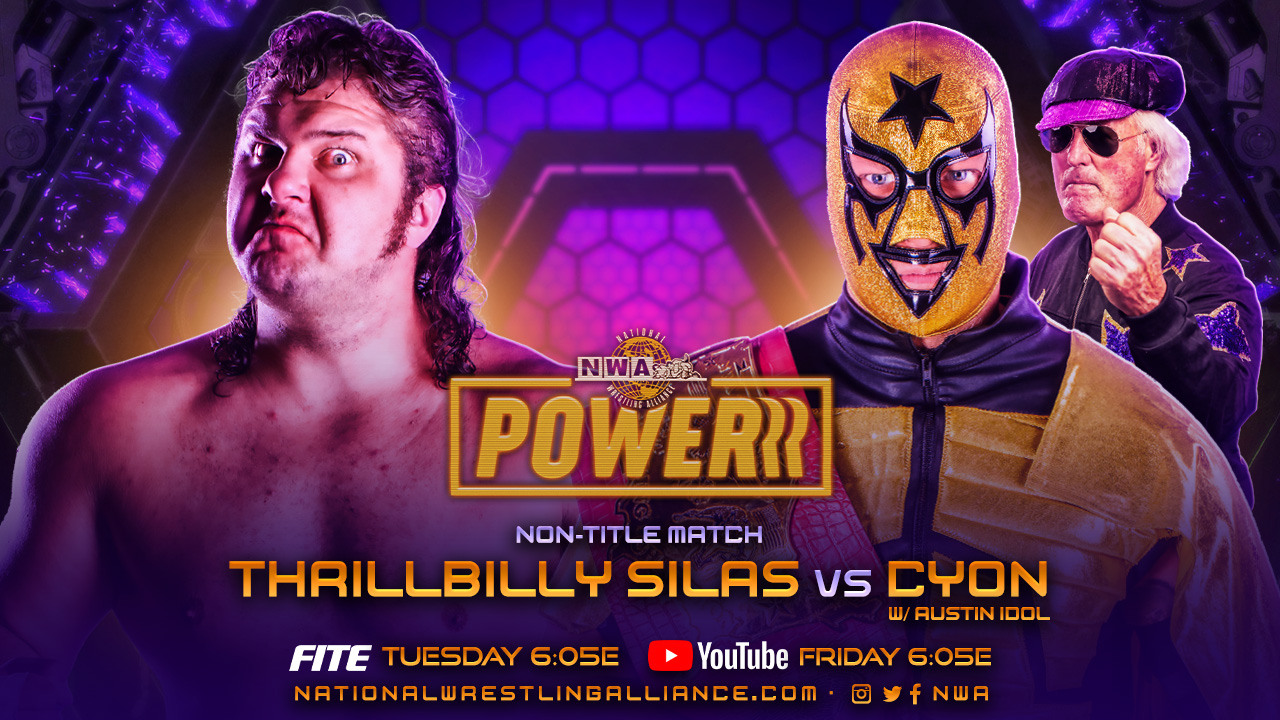 NWA Powerrr SURRRGE for 11/22/22
Non-Title Match
Cyon (c) vs. Silas Mason
Silas Mason threw Cyon outside the ring to start but was soon being bitten by Cyon in the corner and beat on in the corner. Silas chopped Cyon hard, and hit a lariat and slam. Cyon pins Mason after taking a snake eyes but then gets Mason in a jackknife with his feet on the ropes to get the win.
Winner: Cyon
Danny Dealz did an ad with the newly renamed CJ (by him) as Bubblegum again.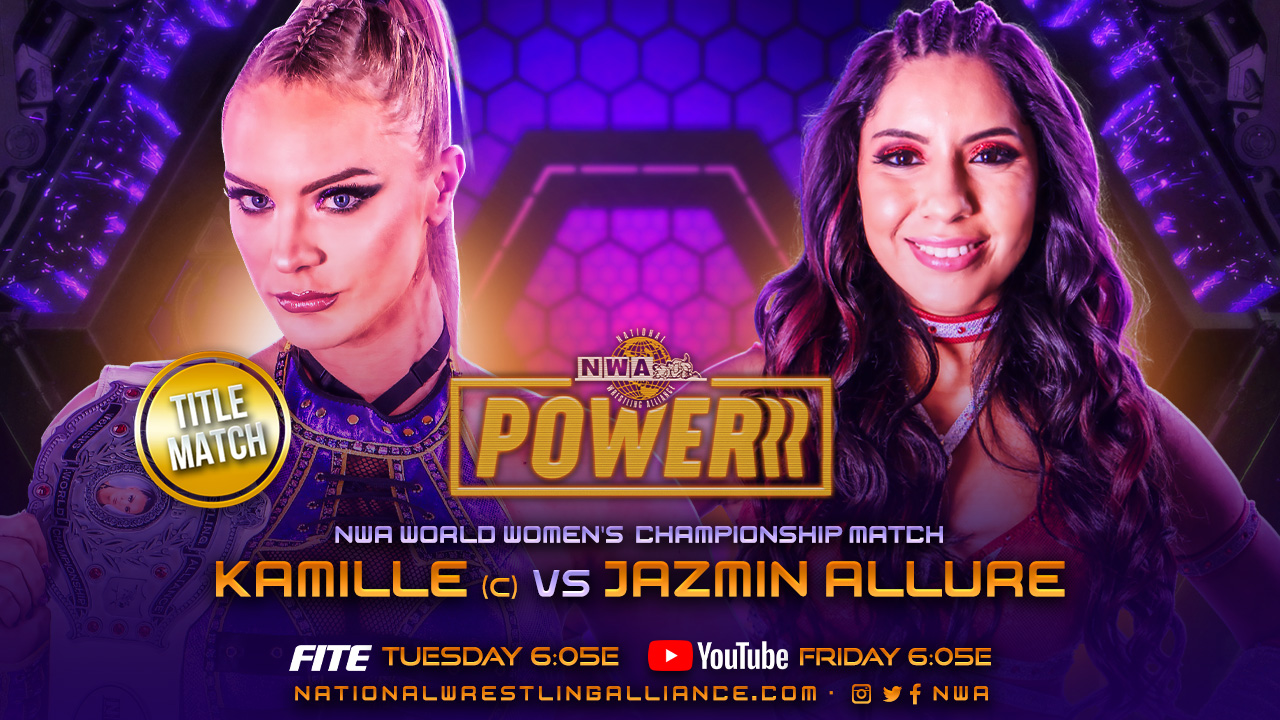 NWA Powerrr SURRRGE for 11/22/22
Women's Title Match
Kamille (c) vs. Jazmin Allure
The match kicks off with Jazmin Allure hit a headscissors. Allure went for a 2nd one off the middle rope, but Kamille stopped it and powerbombed her for a two-count. Kamille hit two gutwrench suplexes for a two-count.
Kamille hit a Canadian backbreaker, then goes for a cover, but Allure kicks out. Allure dodged a corner charge, but Kamille caught her on a crossbody and hit a powerslam that gets a two-count.
Allure slipped out of an Oklahoma Stampede and hit a backstabber for a two-count. Kamille responded with a pump kick and went for the Stampede again, but Allure floated over into a stunner. She went to the top rope but missed a double stomp, and Kamille connects with a spear to put Allure away.
Winner & Still Women's Champion: Kamille (STILL CHAMPION!!!)
Please share with us what you thought of this past week's edition of NWA Powerrr in our comment section below.
*****
Stay tuned to Pro Wrestling Post for this and additional stories from the wrestling world. Readers can rely on Pro Wrestling Post as their daily source for everything inside the squared circle. As a result, readers can expect daily news, history, and much more. Also, please visit the National Wrestling Alliance's official FITE TV page here for news and information on the promotion and upcoming events and FITE TV's official website to watch the NWA for International viewers.