On Tuesday, Oct 11th NWA aired another episode of Powerrr on FITE TV & on tap as we review NWA Powerrr SURRRGE for 10/11/22. We had four matches we will find out who challenges Kamille for the Women's Title at Hard Times 3 as Taya Valkyrie goes 1 on 1 with Kilynn King. We will also find out who will get the next shot at Cyon's National Title as it's the Finals of the National #1 Contenders Tournament; it's Dak Draper, Chris Adonis & Silas Mason face-off.
Also, we had the former Women's Tag Team Champions; The Hex were in tag team action against Natalia Markova & Taryn Terrell & Question Mark II went against KC Roxx.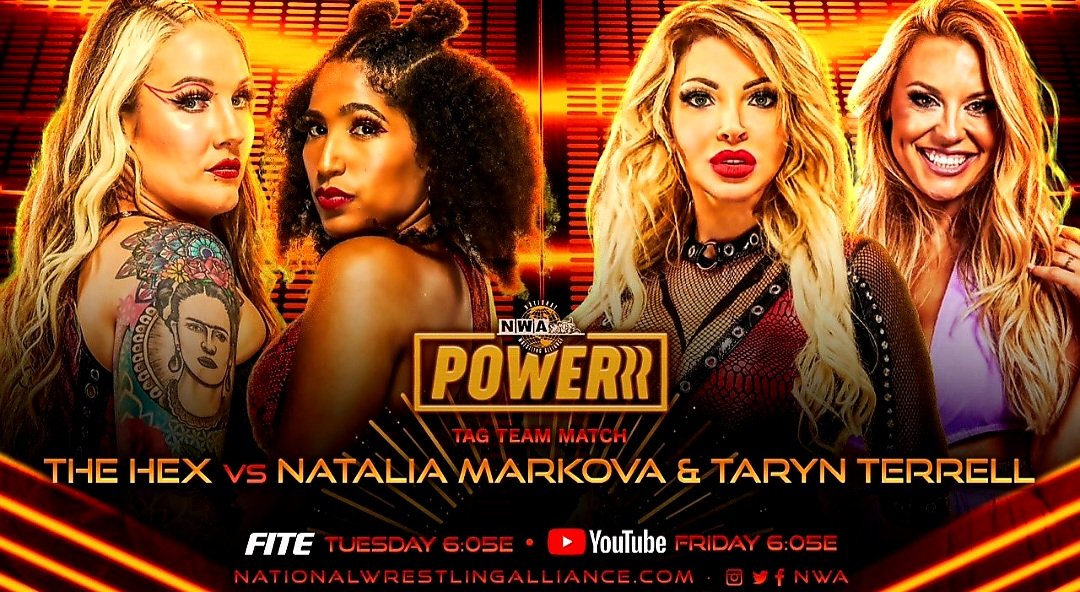 NWA Powerrr SURRRGE for 10/11/22
Tag Team Match
The Hex vs. Natalia Markova & Taryn Terrell 
Natalia Markova spent the early going trying to fight off The He,x but The Hex took control. Taryn Terrell threw her ring entrance skirt at Marti Belle to distract her & Markova hit a stunner while doing the splits before tagging out. Terrell tagged out as soon as Belle hit her but was able to keep Belle from making the tag.
Terrell tagged herself in for a pin attempt, which led to her & Markova arguing while choking Belle. Markova & Terrell eventually argued face to face leading to Belle tagging out to Allysin Kay entering and hitting a spinning neckbreaker on Markova. The Hex hits Hexand, Marks the Spot on Terrell for the win.
Winners: The Hex
Junior Heavyweight Champion Homicide was at the podium and took offense at Kyle Davis, saying he was slipping back into his old ways. Homicide said he was always the same and would do anything to ensure he stays as the Junior Heavyweight Champion.
We see May Valentine is with Question Mark II & she said he was in the NWA to fight for the memory of Question Mark. Valentine asked if he had a vis because she heard rumors that he could be deported.
Kyle Davis ran down the current card for the 3rd annual Hard Times on Nov 12th.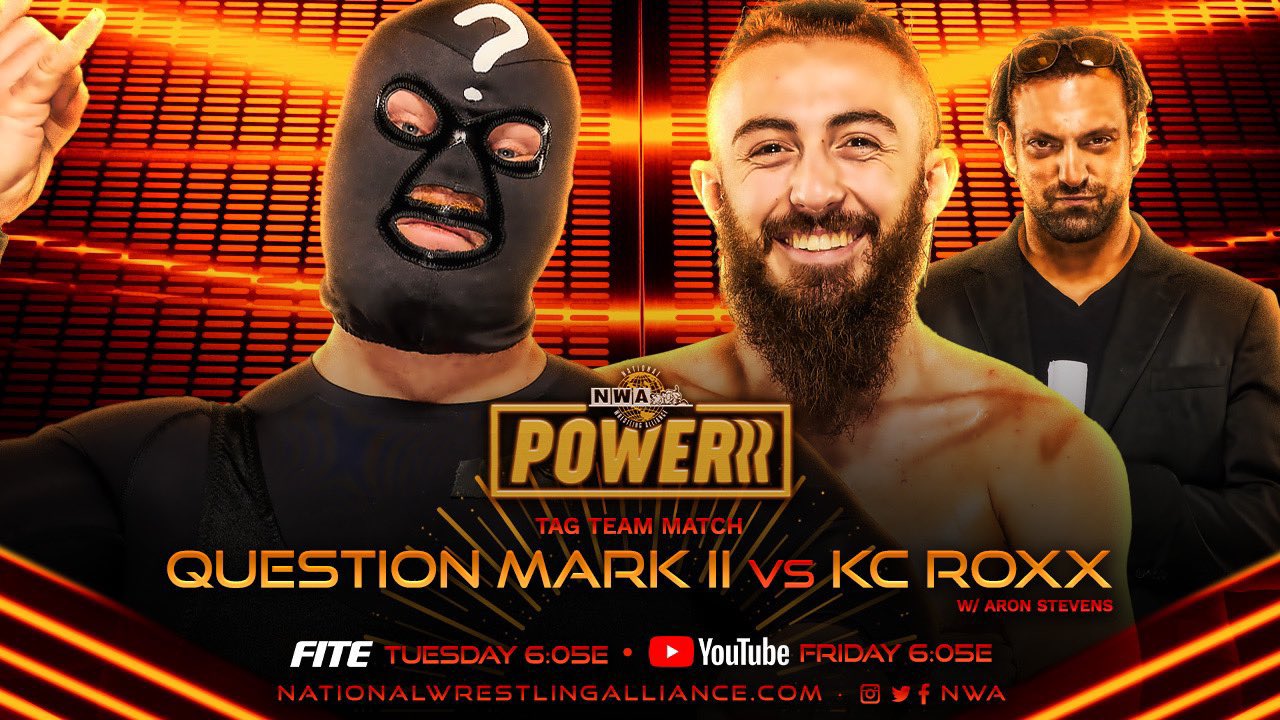 NWA Powerrr SURRRGE for 10/11/22
Question Mark II vs. KC Roxx
Question Mark II caught KC Roxx off a springboard and did Mongrovian squats before hitting a power slam.
Aron Stevens grabbed a mic and said that wrestling was in a horrible state because a man was pretending to be Question Mark, while he had the real one and that Roxx wished he could be his client, but he couldn't win a match.
Question Mark II bowed to Roxx before hitting the Mongrovian Spike to score the victory.
Winner: Question Mark II
May Valentine is with 1/2 of the #1 Contenders to the NWA World Heavyweight Titl,e Matt Cardona & Chelsea Green, and Cardona talked about how he wasn't worried about Tyrus or Trevor Murdoch in the main event of Hard Times; he also says he'd pin Billy Corgan if he had to.
Valentine then asked Green if she was still interested in winning the Women's Title. Green said it was a stupid question and that, of course, she was as every woman should be.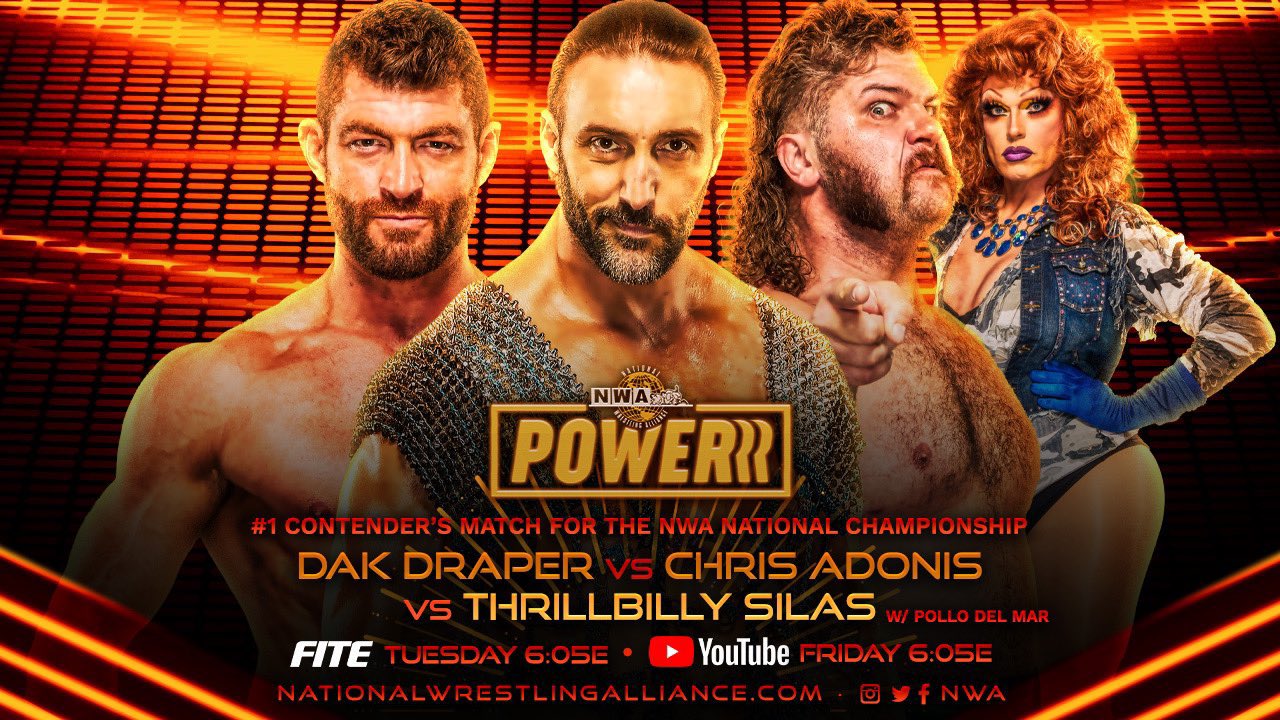 NWA Powerrr SURRRGE for 10/11/22
Finals Of The National Title #1 Contenders Tournament
Dak Draper vs. Chris Adonis vs. Silas Mason
The match starts off with Silas Mason trying to get Dak Draper to double-team Chris Adonis at first, but Draper doesn't bite. Instead, Silas shoved Adonis into Draper for a two-count. Next, Silas hit a snake eyes across the top rope on Draper before hitting a slam for a near fall.
Tom Pritchard screamed at the hard chops Draper hit Silas with.
Adonis came back in the ring and hit a spinebuster on Silas, but Draper hit a springboard elbow on Adonis. Then, Silas nailed Draper with a clothesline, and all three men were on the mat.
Silas went for the Thrillride, but Adonis countered into the Adonis Loc,k but Draper broke it up with a big boot and hit the Magnum KO to score the win.
Winner & #1 Contender To The National Title: Dak Draper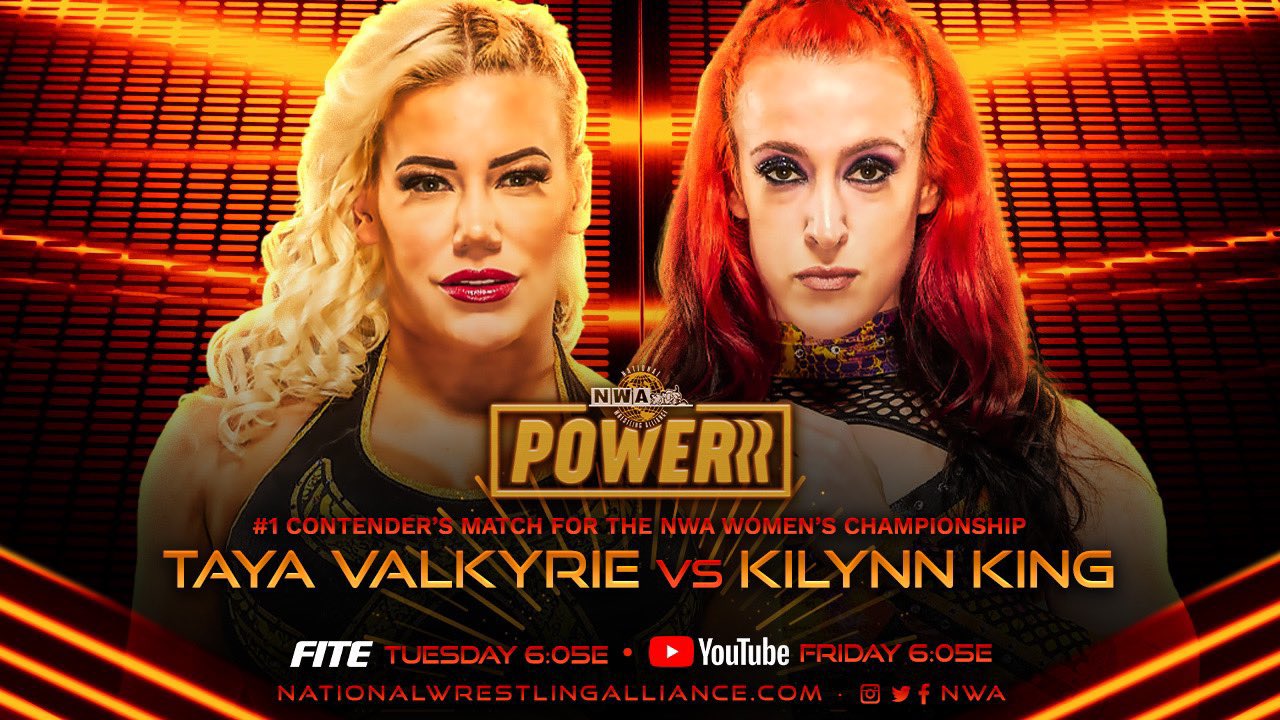 NWA Powerrr SURRRGE for 10/11/22
Women's Title #1 Contenders Match
Taya Valkyrie vs. Kilynn King
Kilynn King hit a uranage on the apron to take control in the early going. King followed that with a suplex for a near fall. King charged the corner, but Taya Valkyrie moves out of the way, and King crashes into the ring post.
Valkyrie goes after King's shoulder with strikes and submissions, but King was able to overcome them and lock on an inverted figure 4. Valkyrie & King exchanged several submission attempts, but it ends with Valkyrie hitting a curb stomp on King; she goes for the hook of the leg, but somehow King kicks out.
King hit a knee in the corner, but Valkyrie fought her off and hit a crossbody off the middle rope hooking the leg, but King kicks out at 2. King counts a kick attempt by Taya and then connects with the Excalibuster to put Taya away.
Winner & #1 Contender To The Women's Title: Kilynn King
Hard Times 3 Card So Far (Nov 12th)
World Heavyweight Title Triple Threat Match
Trevor Murdoch (c) vs. Matt Cardona vs. Tyrus
Women's Title Match
Kamille (c) vs. Kilynn King
National Title Match
Cyon (c) vs. Dak Draper
United States Tag Team Title Match
The Fixers (c) vs. The Spectaculars
Junior Heavyweight Title Match
Homicide (c) vs. Kerry Morton
Television Title Match
AJ Cazana vs. Jordan Clearwater
EC3 vs. Thom Latimer
Nick Aldis vs. Odinson
Please share with us what you thought of this past week's edition of NWA Powerrr in our comment section below.
*****
Stay tuned to Pro Wrestling Post for this and additional stories from the wrestling world. Readers can rely on Pro Wrestling Post as their daily source for everything inside the squared circle. As a result, readers can expect daily news, history, and much more. Also, please visit the National Wrestling Alliance's official FITE TV page here for news and information on the promotion and upcoming events and FITE TV's official website to watch the NWA for International viewers.