On Tuesday February 14th, 2023 (Valentines Day) NWA aired another episode of Powerrr as we review NWA Powerrr SURRRGE for 02/14/23. This is its the 1st episode after Nuff Said we got Jordan Clearwater defending his Television Title in a Open Challenge, Angelina Love who came off a brutal Women's Title No DQ Match at Nuff Said is in action against La Rosa Negra.
We also got we got the NWA World Tag Team Champions La Rebelion faces off with The Mortons & the main event NWA World Heavyweight Champion Tyrus whos coming off a title defense against Matt Cardona at Nuff Said & has another defense this time against Rolando Freeman.
Kicking off this week's Powerrr with Kyle Davis interviewing NWA World Heavyweight Champion Tyrus at the podium. Tyrus gives a shoutout to the internet haters. Aron Stevens & Rolando Freeman hijacks the interview. Stevens says that Tyrus owes him a favor and demands a NWA World Heavyweight Title shot. Freeman is tired of Tyrus ducking him. Stevens pokes fun at Freeman's size. Freeman challenges Tyrus to a match for the NWA World Heavyweight Title.
Kyle Davis is with Austin Idol & Television Champion Jordan Clearwater & Idol declares that just like he did with Cyon they're instituting an open Golden Boy challenge. They're all smiles Davis announces the 1st challenger for the Television Title is Thom Latimer.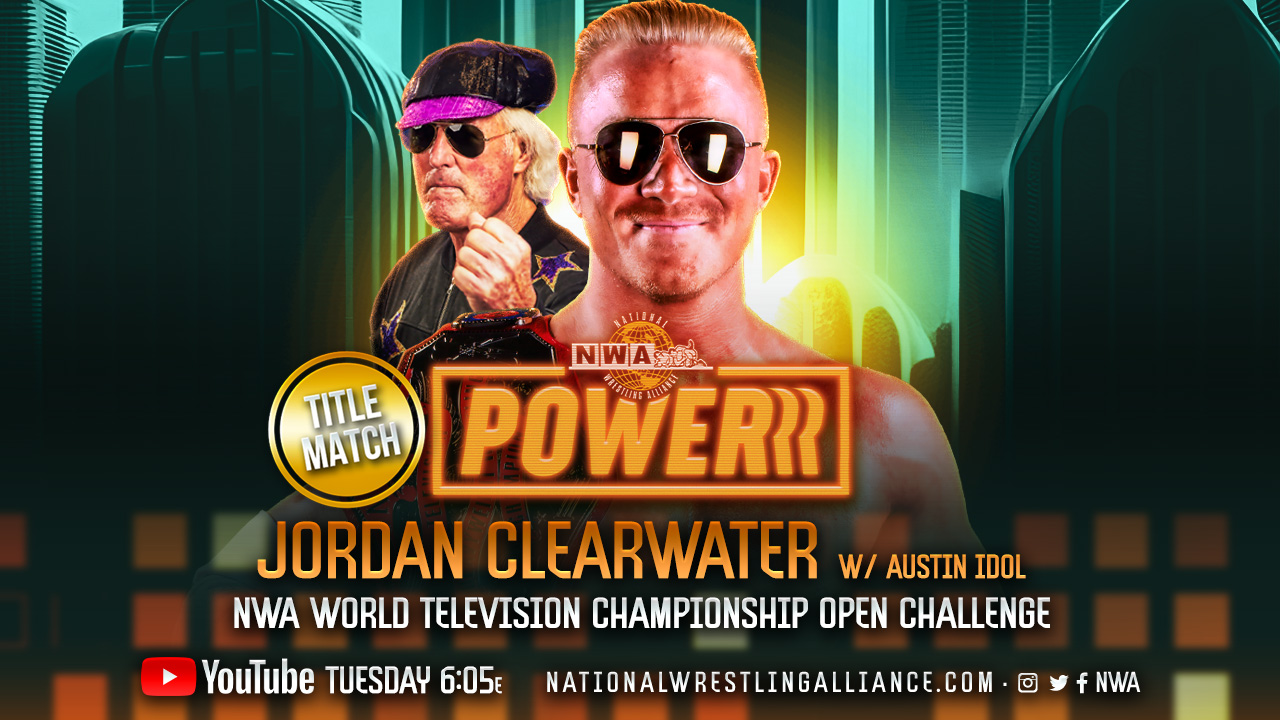 NWA Powerrr SURRRGE for 02/14/23
Television Title Match
Jordan Clearwater (c) vs. Thom Latimer
Match starts off with Jordan Clearwater is playing mind games with Thom Latimer. Clearwater with a straight right hand. Clearwater is raining down haymakers then he dumps Latimer out of the ring. Idol sends Latimer face first into the steel ring post. Clearwater rolls Latimer back into the ring.
Clearwater goes into the cover for a two count. Clearwater tosses Latimer out of the ring then the referee is distracted by Idol. Clearwater whips Latimer into the steel ring steps before Clearwater flexes his muscles. Clearwater with clubbing blows to Latimer's back.
Latimer eats 3 haymakers from Clearwater. Latimer with the atomic drop. Latimer clotheslines Clearwater. Latimer is throwing haymakers at Clearwater. Latimer ducks a clothesline from Clearwater.
Latimer hits a pop up powerbomb then locks in the Crossface & Clearwater has no choice but to tap out.
Winner By Submission: ANE NEW Television Champion: Thom Latimer 
After the match, Latimer celebrates with his wife Women's Champion Kamille.
NWA 312 PPV will be taking place in Chicago, Illinois on April 7th & at that event we will crown the 1st ever Womens Television Champion.
May Valentine is with National Champion Cyon & Thrillbilly Silas Mason as she asks Mason what's next after taking on Kratos at Nuff Said and Mason eyeballs the champ, saying he sees what's next: He wants his National Title and he wants him to put his money where his mask is.
Cyon states that since doing the Austin Idol open challenge for his National Title, he always seeks competition but he doesn't see the best, and he'll have to find it elsewhere. Mason is livid staring daggers at Cyon as Valentine throws it back to the studio.
Backstage May Valentine is with Matt Cardona and he's angry. He says Bully Ray screwed him out of his NWA World Heavyweight Title at Nuff Said then he blames everyone from no one having his back to his Cardona family, Mike Knox, being no help and Rolando Freeman had 1 job to do on last week's Powerrr and he blew it. Cardona promises this isn't over, and he's saving the NWA starting with Bully Ray
At The Podium with Davis are with the new Women's Tag Team Champions The Renegade Twins & they're honored to hold the Women's Tag Team Titles but then Pretty Empowered comes out and they start talking trash, saying they made those Women's Tag Team Titles.
The Renegade Twins suggest round 2 and Kenzie Paige agrees but she can't be in it because she's a little banged up but she sees them getting the Women's Tag Team Titles back with Roxy helping Ella Envy. Paige assures Envy that they're winning the titles from those Renegade rats.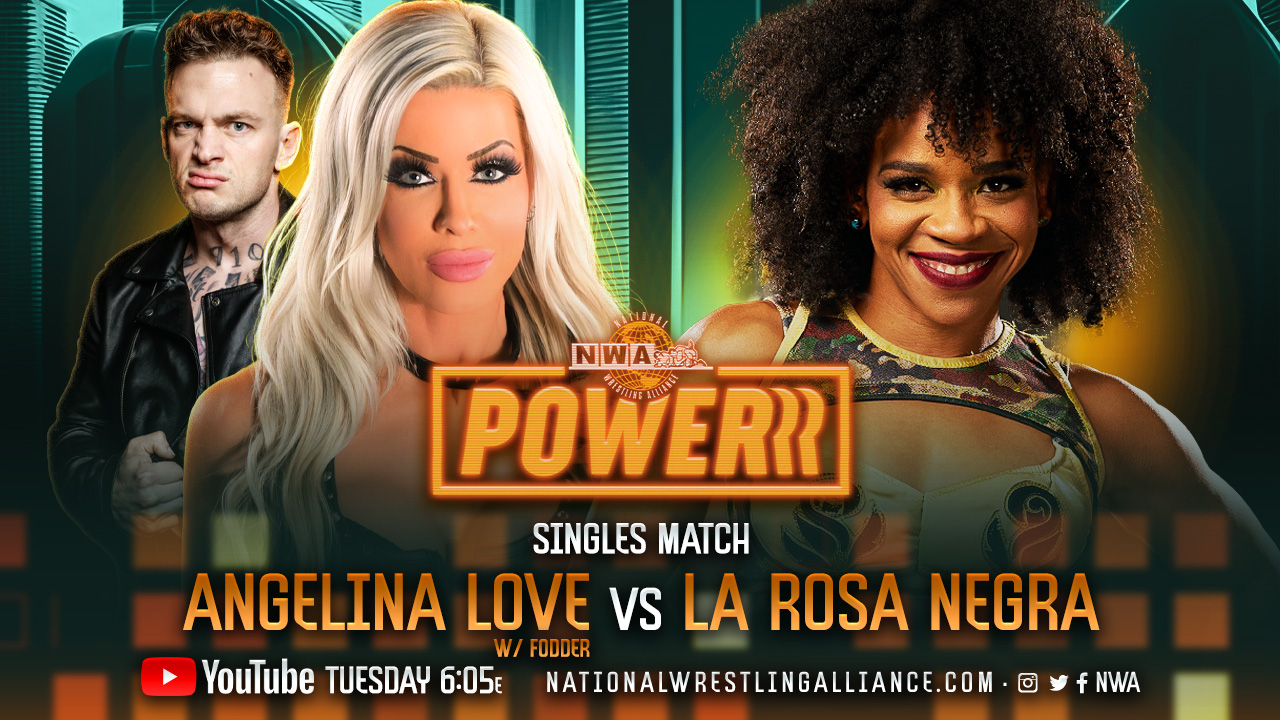 NWA Powerrr SURRRGE for 02/14/23
Angelina Love vs. La Rosa Negra
La Rosa Negra immediately gets distracted by Fodder so the referee has ejects Fodder from ringside. Angelina Love attacks Negra from behind. Love gets Negra tied up in the ropes. Love repeatedly stomps on Negra's chest. Love sends Negra to the corner. Negra side steps Love into the turnbuckles.
Negra with clubbing back elbow smashes. Love reverses out of the Irish whip from Negra. Negra with a springboard back elbow then they do some wrist lock exchange. Love with 2 forearm smashes. Short arm reversal by Negra.
Negra goes for the Alabama Slam but Love rolls her over for a two count. Love with a drop toe hold into the middle turnbuckle pad. Love stomps on Negra's back. Love is choking Negra with her boot. Love slams Negra's head on 2 turnbuckle pads. Love rams her boot across the back of Negra's neck.
Love with a side walk slam for a two count then applies a rear chin lock. Negra with heavy body shots. Negra with an inside cradle for a two count. Negra follows that with a schoolgirl rollup for a two count. Negra with 2 spinning back kicks then connects with a Frog Splash for the win.
Winner: La Rosa Negra
NWA Powerrr SURRRGE for 02/14/23
Non Title Match
NWA World Tag Team Champions La Rebelion vs. The Mortons
Mecha Wolf & Ricky Morton starts off the match and Ricky is in control with arm drags. He goes to tag Kerry Morton in and he seems a bit distracted now Kerry & Bestia 666 are in the ring and Kerry keeps pace with headscissors takedown but Bestia returns the receipt.  Now La Rebelión double team but Kerry fights back and is becoming aggressive mounting Wolf with punches in the corner.
He hits Wolf with his bad hand and Bestia is on the outside and yanks down hard on the bad arm/hand of Kerry on the top ropes. Kerry reverses to a crossbody but gets a two count then La Rebelion isolates Kerry, taunting Papa Morton on the other side. He finally manages a hot tag and Ricky & he makes a comeback.
He gets a Canadian Destroyer to Bestia to cover and Wolf breaks the count. Kerry is in the ring and goes for Kiss it Goodbye but he almost hits Ricky. He pumps the brakes just in time but the miscommunication allows Bestia to shove Kerry into his dad and as he throws him out of the ring & he rolls up Ricky for the win.
Winners: La Rebelion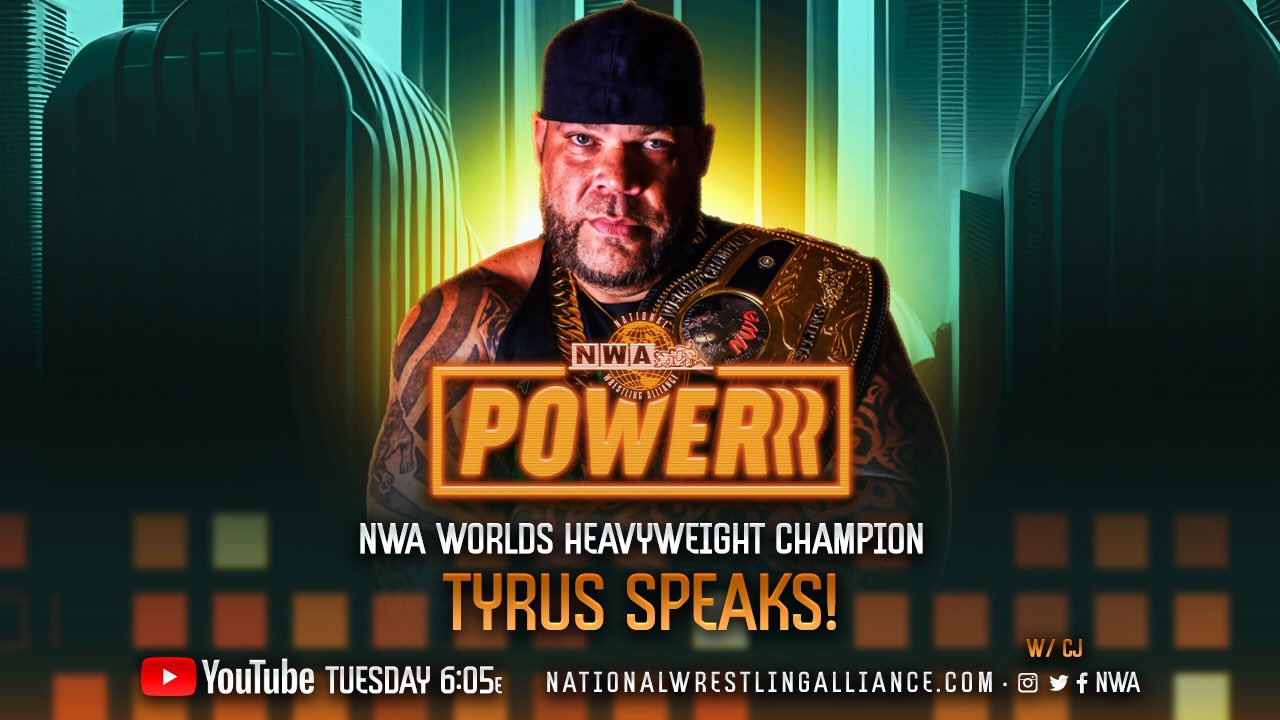 NWA Powerrr SURRRGE for 02/14/23
NWA World Heavyweight Title Match
Tyrus (c) vs. Rolando Freeman
The match starts off with Rolando Freeman talks smack to Tyrus then Tyrus blocks the exploder suplex. Tyrus launches Freeman across the ring. Freeman is favoring his ribs. Freeman says that if Tyrus was on his level, he would knock him out. Tyrus proceeds to get on his knees.
Tyrus shoves Freeman into the canvas. Freeman unloads two knife edge chops. Freeman is throwing hands at Tyrus. Freeman pie faces Tyrus. Tyrus grabs Freeman by his throat.
Tyrus backs Freeman into the turnbuckles. Tyrus with a hip smash. Tyrus with a release fallaway slam for a two count. Tyrus gets distracted by BLK Jeez who's standing next to EC3. Tyrus connects with a elbow drop to pickup the victory.
Winner: AND STILL NWA World Heavyweight Champion: Tyrus
Stay tuned to Pro Wrestling Post for this and additional stories from the wrestling world. Readers can rely on Pro Wrestling Post as their daily source for everything inside the squared circle.
As a result, readers can expect daily news, history, and much more. Also, please visit the National Wrestling Alliance's official FITE TV page here for news and information on the promotion and upcoming events and FITE TV's official website to watch the NWA for International viewers.
FITE+ currently boasts 1000+ hours of live action each year. $4.99 a month/$49.99 a year with 7-day Free Trial.