On Tuesday, February 7th, 2023 NWA aired another episode of Powerrr on their YouTube channel we we review NWA Powerrr SURRRGE for 02/02/23. We had a 6 Man Tag Team main event with the winner picking the stipulation for the NWA World Heavyweight Title match this Saturday at Nuff Said.
We also got some tag team action as Pretty Empowered faces off with The Renegade Twins, Jordan Clearwater defends the Television Title against Mims & JR Kratos & Silas Mason meet in 1 on 1 action & Thom Latimer is in action against Jax Dane.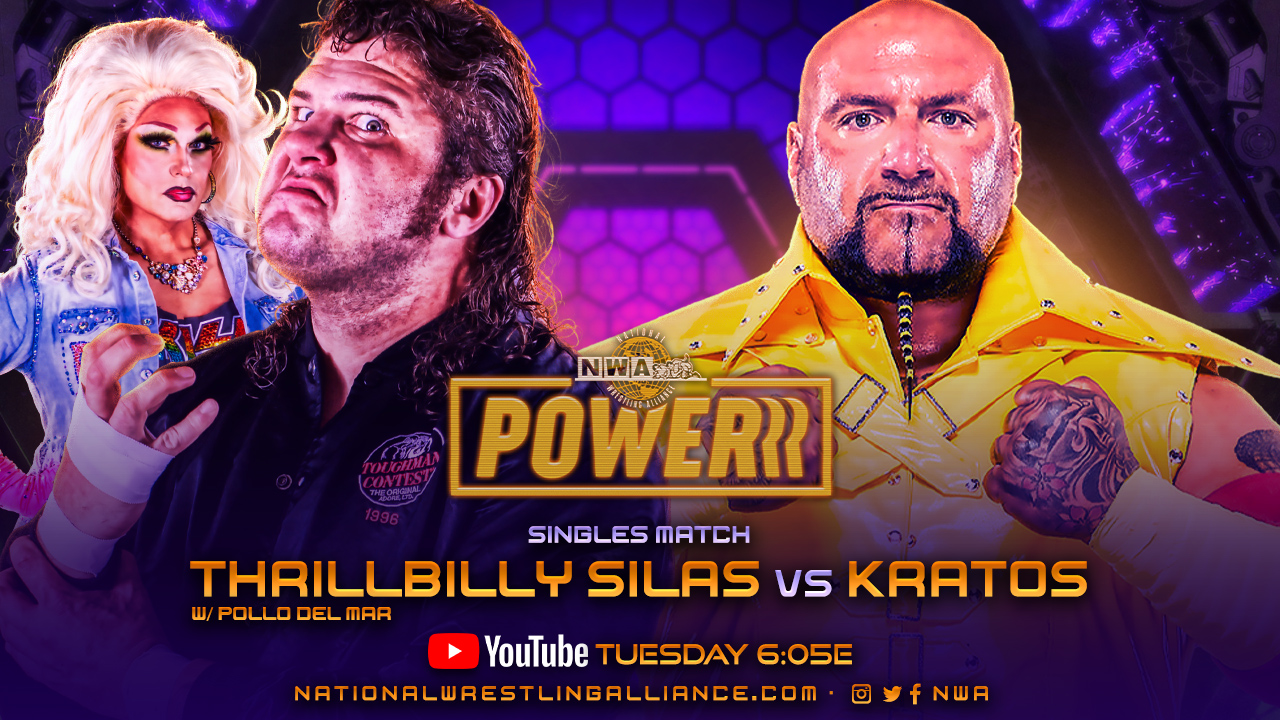 NWA Powerrr SURRRGE for 02/07/23
JR Kratos vs. Silas Mason
JR Kratos immediately dumped Silas Mason to the floor. Mason ran back into the ring. Kratos hit a flying forearm in the corner that looked awesome. Mason hits the ropes and hits a flying shoulder tackle. Mason & Kratos exchanged hard strikes until Kratos hit a drop toe hold into the turnbuckle.
Kratos hit a slam and climbs to the top rope. Mason grabs Kratos' goatee and threw him off the ropes before hitting a series of running strikes in the corner, later hitting a running powerslam. Kratos rallied with a spinebuster and went back to striking in the corner before suplexing Mason across the ring.
Pollo Del Mar got back in the ring to try and save Mason, so Kratos hit a pounce on Del Mar before he hits a flying knee strike for the win.
Winner: JR Kratos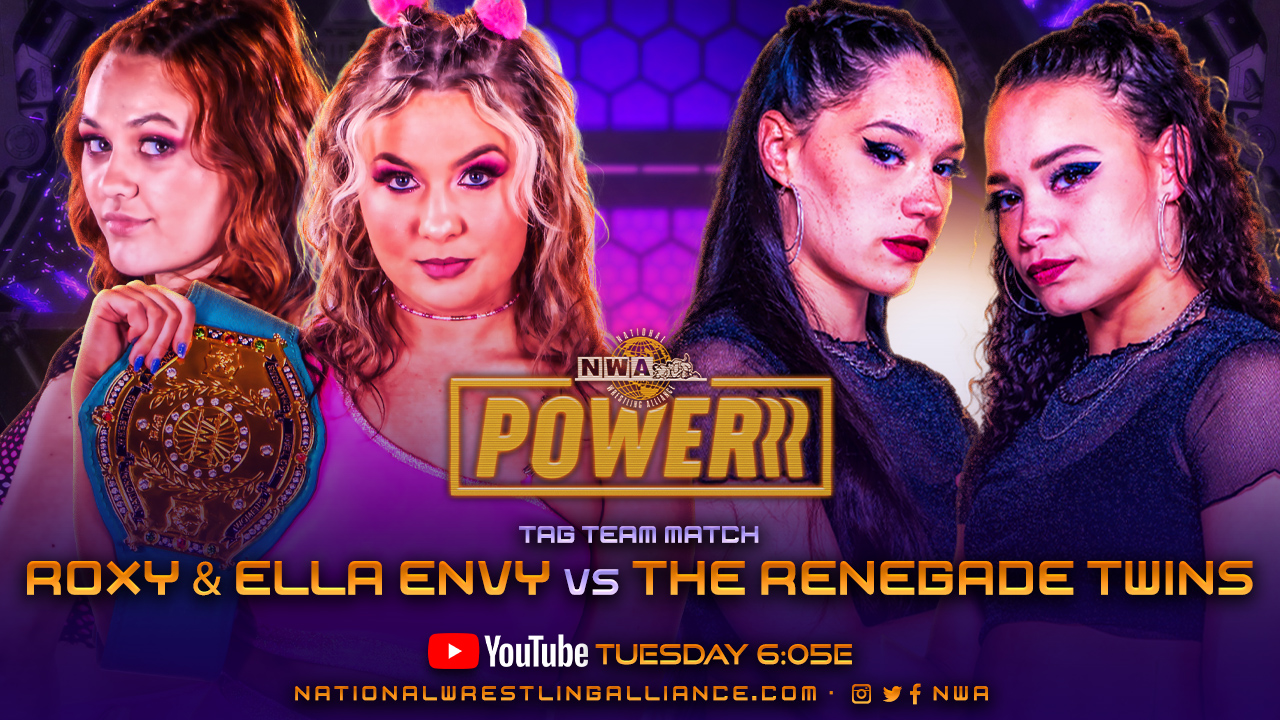 NWA Powerrr SURRRGE for 02/07/23
Tag Team Match
Pretty Empowered vs. The Renegade Twins
Robyn Renegade & Ella Envy starts this match then Robyn dropkicks her into the corner and hitting double knees to Envy's back.
Roxy tags in and took it to Charlette Renegade, trying to impress Kenzie Paige & Envy to keep her position in Pretty Empowered. Envy stomps Charlette in the corner before hitting a cannonball. Roxy choked Robyn on the ropes and Envy screamed, I'm almost proud of you.
Roxy & Robyn clotheslines each other and both went down. Both women tagged out and Charlette hit a Thesz press on Envy. That was followed by a fisherman's suplex on Envy who kicked out.
As this happened, Kylie Paige, the sister of Kenzie Paige, debuted and tried to get the handcuffs off her sister. She then jumped on the apron and tried to distract the Renegade Twins but it resulted in Envy getting hit with a Hart Attack gets the win for The Renegade Twins.
Winners: The Renegade Twins
May Valentine who was still in her wedding dress is with Matt Cardona saying that she couldn't get over last week's botched wedding with Aron Stevens.
Cardona said that he shouldn't even be wrestling tonight but he planned on winning so he can call the shots with a stipulation for his NWA World Heavyweight Title match against Tyrus this Saturday at Nuff Said.
Cardona said that he had a 3rd partner for tonight that didn't like Tyrus and that he would tell Knox who it was after the interview.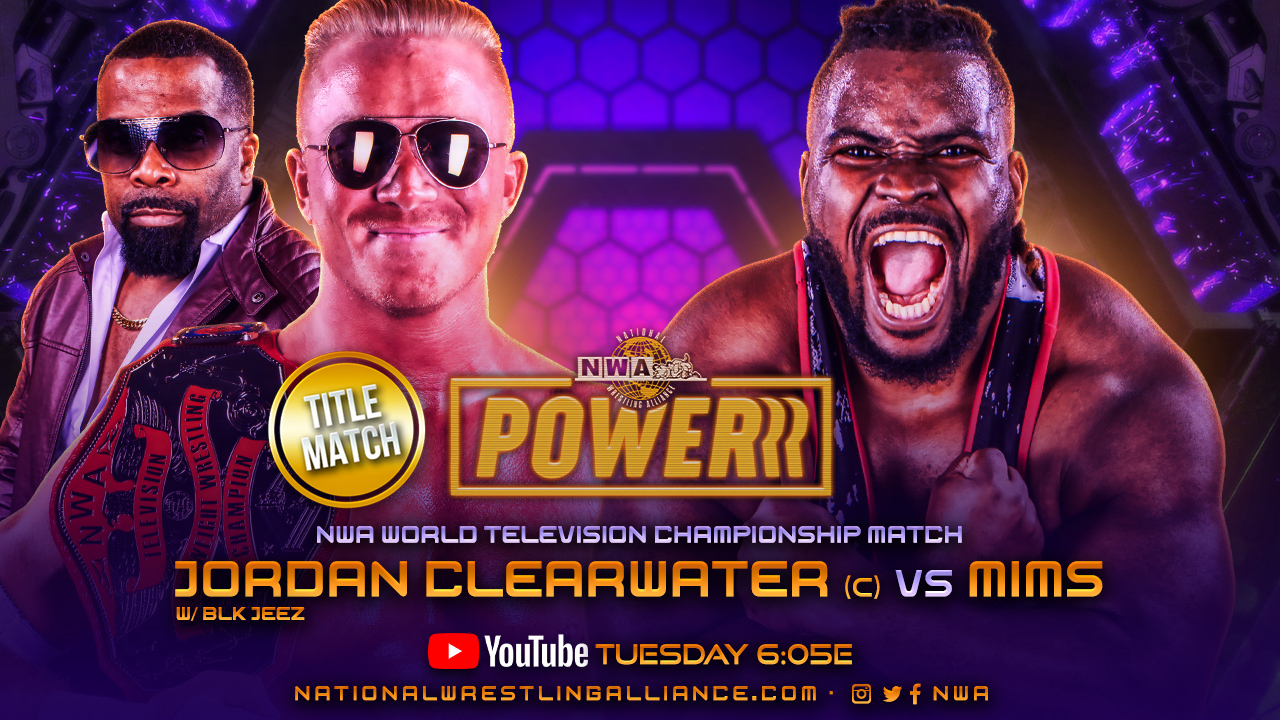 NWA Powerrr SURRRGE for 02/07/23
Television Title Match
Jordan Clearwater (c) vs. Mims
This is Mims Champions Series Cash In Match.
Jordan Clearwater tried to stall for time as it counts as a successful defense if he goes the time limit but Mims took it right to him with a lariat.
Clearwater sends Mims on the ropes and did it a 2nd time on the middle rope before coming back in the ring and choking him. Clearwater hit a vertical suplex on Mims for a two count. He locked in a chinlock on Mims to try and keep him grounded but Mims keeps firing back with strikes followed by a series of clotheslines.
Mims called for the Big Strong Slam but Clearwater rolled him up and then both men started exchanging roll ups. Clearwater went for the Midas Touch but Mims countered into a bear hug and the time limit ran out.
Winner: No One (Time Limit Draw) (6:05) (Clearwater retains)
Valentine was with Stevens and she asked him what happened. Stevens talked about the tag team division and Blunt Force Trauma. Valentine said she was talking about the wedding. Stevens went on about how the officiant was an idiot, and that Blunt Force Trauma would be Tag Team Champions soon before Valentine screams that she hated him.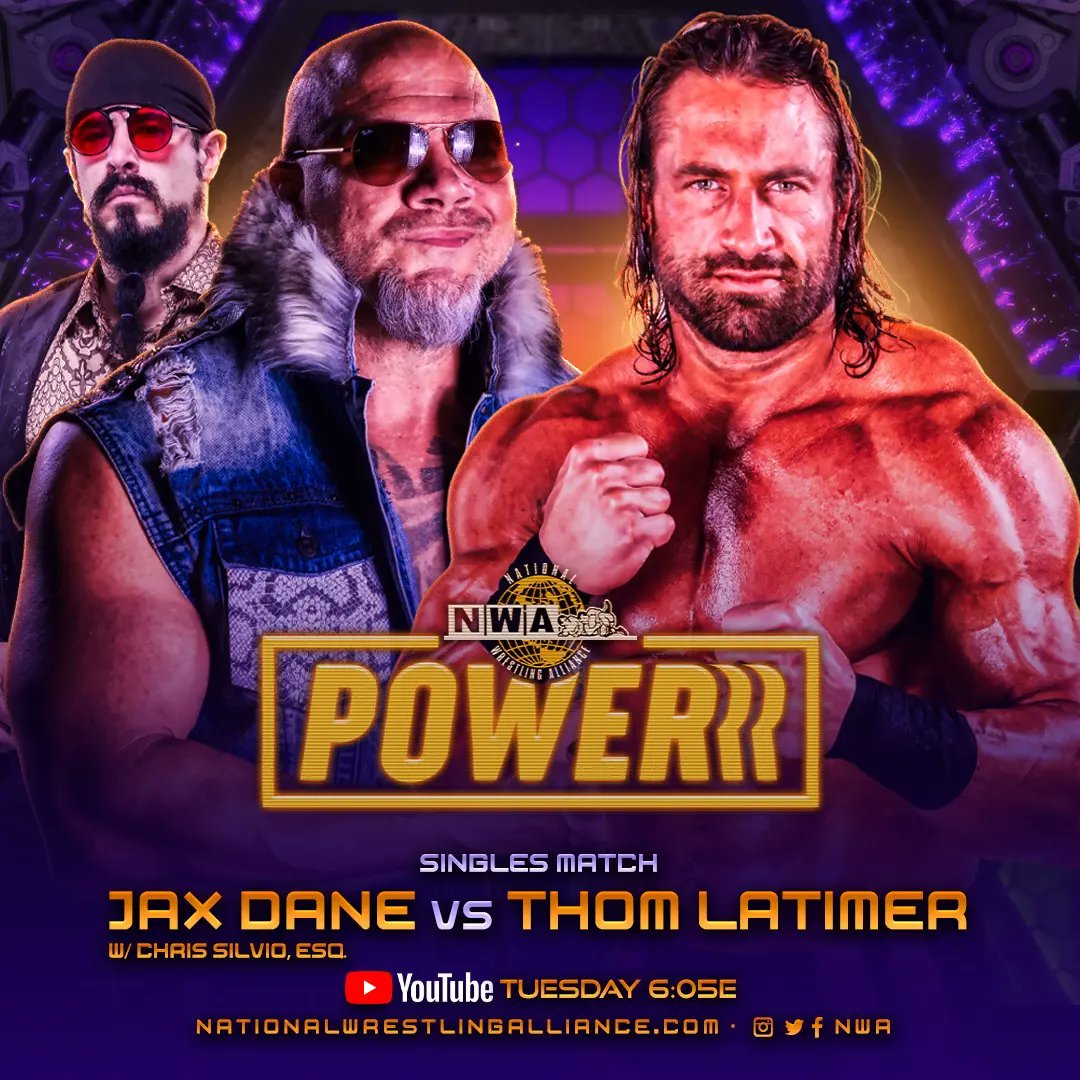 NWA Powerrr SURRRGE for 02/07/23
Thom Latimer vs. Jax Dane
Jax Dane hit a shoulder tackle and then went to the outside of the ring. Chris Silvio ran up to Dane and asked Dane to sign an autograph to give to a fan. Latimer attacks Dane from behind then the ref then turns around to see Silvio grabbing the foot of Latimer then Dane hit a few chop blocks and worked over Latimer.
Latimer hit a roll up and then stomped on Dane in the corner but sold his leg in the process. Dane shoves Latimer off the middle rope and hit a shoulder tackle before trying to smash his leg into the ring post.
Latimer pulls Dane face first into the post. Dane tried to hit a lariat but Latimer pulls Dane into a crossface and Silvio threw in the towel. Silvio tried to pull the towel away from Latimer, but Latimer pulled him in and went for a piledriver. Silvio got away as Latimer's knee gave out.
Winner: Thom Latimer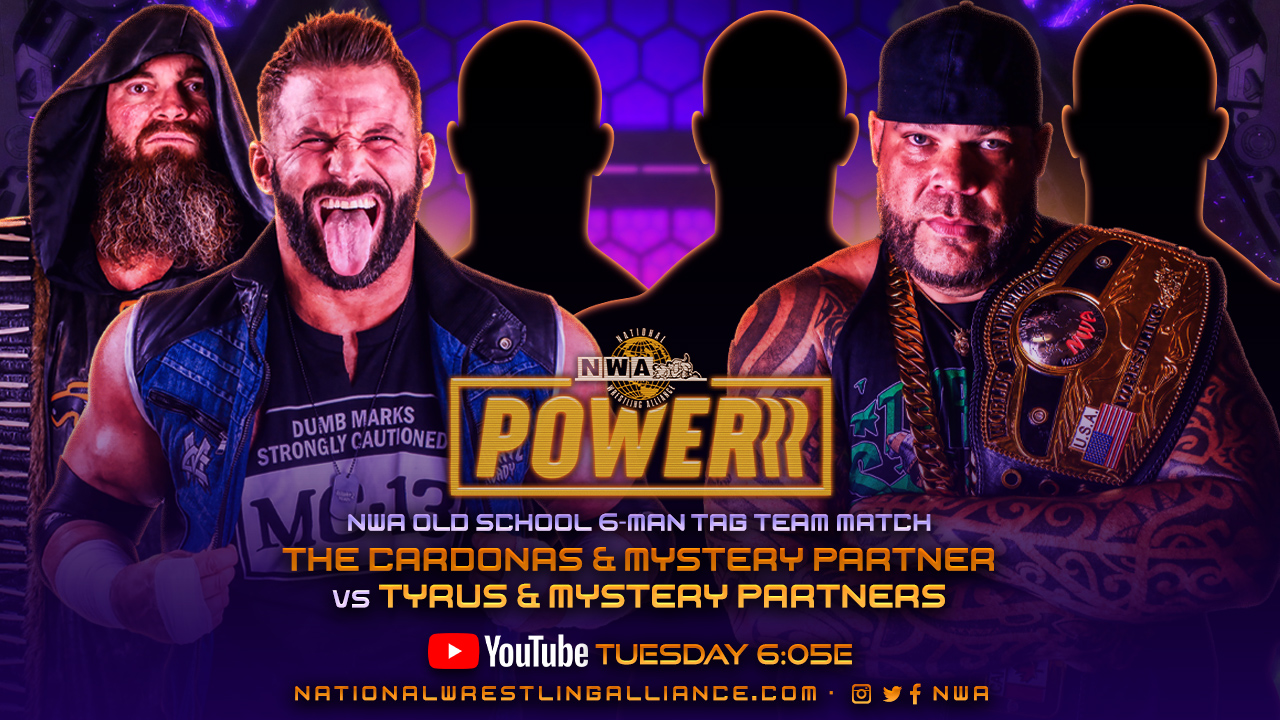 NWA Powerrr SURRRGE for 02/07/23
6 Man Tag Team Winner Gets To Pick Stipulation Match
Tyrus & Blunt Force Trauma vs. The Cardona Family & Rolando Freeman
Match starts off with Carnage & Matt Cardona but Cardona calls out Tyrus. Carnage obliges and brings in Tyrus and then Cardona tags in Mike Knox. There is some shoving between Tyrus & Knox until Rolando Freeman tags himself in & as Freeman comes in and dances away, Tyrus is just looking at him.
Freeman gets done, Tyrus plants him in the center of the ring with Tongan Death Grip to get the win.
Winners: Tyrus & Blunt Force Trauma (Since Tyrus' team won he gets to pick the stipulation for the match at Nuff Said)
After the match Tyrus says that his match with Cardona would be 1 on 1 with no outside interference to determine who would be Undisputed NWA World Heavyweight Champion.
Nuff Said Card (Feb 11th)
NWA World Heavyweight Title Match
Tyrus (c) vs. Matt Cardona (No one is allowed at ringside)
National Title Match
Cyon (c) vs. Homicide
Junior Heavyweight Title Match
Kerry Morton (c) vs. Alex Taylor (This is Taylor's Champions Series Cash In)
Women's Title No DQ Match
Kamille (c) vs. Angelina Love
Chris Adonis vs. Trevor Murdoch
EC3 vs. Kevin Kiley 
Singapore Cane Match
Thom Latimer vs. Fodder
NWA World Tag Team Titles Match
La Rebelion (c) vs. Blunt Force Trauma 
Women's Tag Team Titles Match
Pretty Empowered (c) vs. The Renegade Twins
Missa Kate vs. La Rosa Negra (Pre Show)
Tag Team Match
Dak Draper & Mims vs. Jax Dane & Blake Troop (Pre Show)
Tag Team Match
Mercurio & Natalia Markova vs. Jennacide & Max The Impaler (Pre Show)
Odinson vs. Joe Alonzo (Pre Show)
Stay tuned to Pro Wrestling Post for this and additional stories from the wrestling world. Readers can rely on Pro Wrestling Post as their daily source for everything inside the squared circle.
As a result, readers can expect daily news, history, and much more. Also, please visit the National Wrestling Alliance's official FITE TV page here for news and information on the promotion and upcoming events and FITE TV's official website to watch the NWA for International viewers.
FITE+ currently boasts 1000+ hours of live action each year. $4.99 a month/$49.99 a year with 7-day Free Trial.