On Tuesday, September 20th, NWA presented the latest edition of NWA Powerrr for 09/20/22. The show featured four matches and shared what is soon to come in the coming weeks of the show.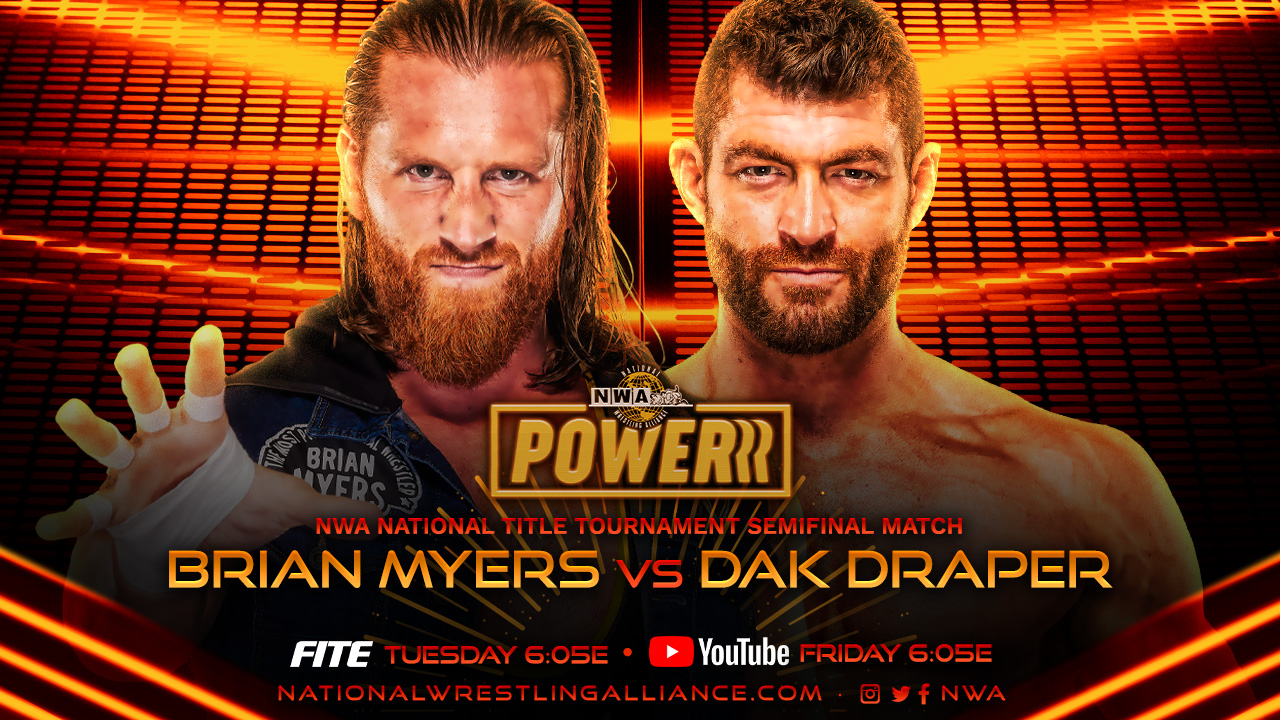 NWA Powerrr for 09/20/22
Semi-Final Match Of The National Title #1 Contenders Tournament
Brian Myers vs. Dak Draper
The match starts off with Brain Myers using the referee as a shield before the opening lock-up. Dak Draper applies a wrist lock and then switches to a hammerlock exchange. Draper with a fireman's carry takeover. Draper applies an arm bar. Draper with a back heel trip. Draper applies an arm bar but Myers counters with a gut punch.
Draper with a waist lock takedown. Draper grapples around Myers. Draper applies a front face lock. Draper backs Myers into the turnbuckles. Myers ducks under a chop from Draper. Draper scores an ankle pick. Myers push kicks Draper then Draper ducks a clothesline from Myers.
Draper hit Myers with a power slam for a two count, then Myers regroups on the outside, and Myers slams Draper's head on the top rope, then he connects with a running forearm smash. Myers transitions into a ground-and-pound attack. Myers stomps on Draper's face. Myers with a falling sledge for a one count. Myers drives his knee into Draper's back. Myers applies a rear chin lock.
Draper buries his shoulder into the midsection of Myers. Myers responds with a leg sweep. Myers sends Draper face first into the canvas. Myers repeatedly stomps on Draper's back and chest. Myers kicks Draper in the gut. Following a snap mare takeover, Myers kicks Draper in the back.
Myers hammers down on Draper's chest. Myers goes back to the rear chin lock then transitions into a side headlock. Draper with a belly 2 back. Draper kicks Myers in the gut. Draper with a shoulder block. Draper rolls Myers over for a two count. Draper clotheslines Myers then Draper dropkicks Myers.
Draper with a leaping back elbow smash. Draper with a springboard axe handle for a two count then Myers responds with a step up enzuigiri then a thrust kicks the midsection of Draper. Myers hits Draper with the Impaler DDT but only for a two count. Draper tries to hit Myers with the TKO, but it get denies then the referee catches Myers using the middle rope for a two count. Draper connects with a O'Connor Roll of his own to pick up the victory.
Winner: Dak Draper
Joe Galli had an exclusive interview with Bully Ray. Bully said that it's no secret that he's not the most loved person in the business. If Bully has to go into this tag team match by himself tonight, then he'll do it.
May Valentine is with Mike Knox & Matt Cardona who looked greatly pleased that Bully Ray didn't have a partner. Knox claimed he didn't lose his recent tables match with Bully Ray because he beat him up.
We found out that at Hard Times 3, The Fixers will put their United States Tag Team Titles on the line against The Spectaculars.
Idol Mania Sports Management's Jordan Clearwater & Marshe Rockett have their eyes set on obtaining their first tag team titles. BLK Jeez was not surprised that Tyrus cashed in his Television Title to get another shot at the NWA World Heavyweight Title.
After a promo vignette for Austin Idol, we see May Valentine is backstage with the Morton Family. Ricky Morton talks about the adage of trusting nobody in this business because they're all after the same goals. Kerry Morton wasn't blown away by The Fixers peace offering but he doesn't harbor ill feelings towards them going forward as long as they act cool.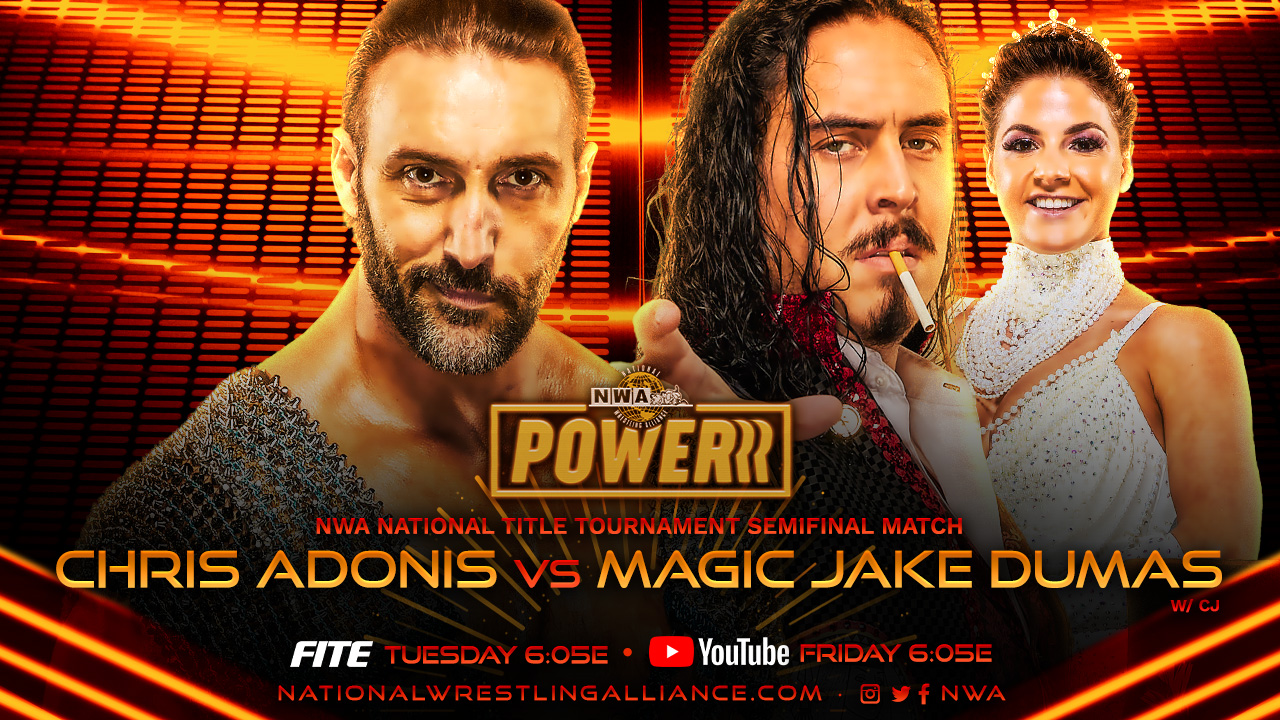 NWA Powerrr for 09/20/22
Semi-Final Match Of The National Title #1 Contenders Tournament
Chris Adonis vs. Magic Jake Dumas
Chris Adonis & Jake Dumas participate in a test of strength to start this match off, and it did not go well for Dumas. Adonis hit a back elbow and a suplex. Dumas raked Adonis' eyes across the top rope and hit a clothesline for a near fall. Dumas hit a Russian leg sweep for a near fall and followed up with a choke.
Dumas called for his own Master Lock, but Adonis powered out of it and hit some back elbows. Adonis hit a flying shoulder tackle and a big spinebuster. Dumas got a boot up on a corner charge. He then pulled a playing card out of his shirt while on the ropes, but Adonis locks Dumas in the Master Lock & Dumas had no choice but to tap out.
Winner By Submission: Chris Adonis (He will face Dak Draper in the Finals)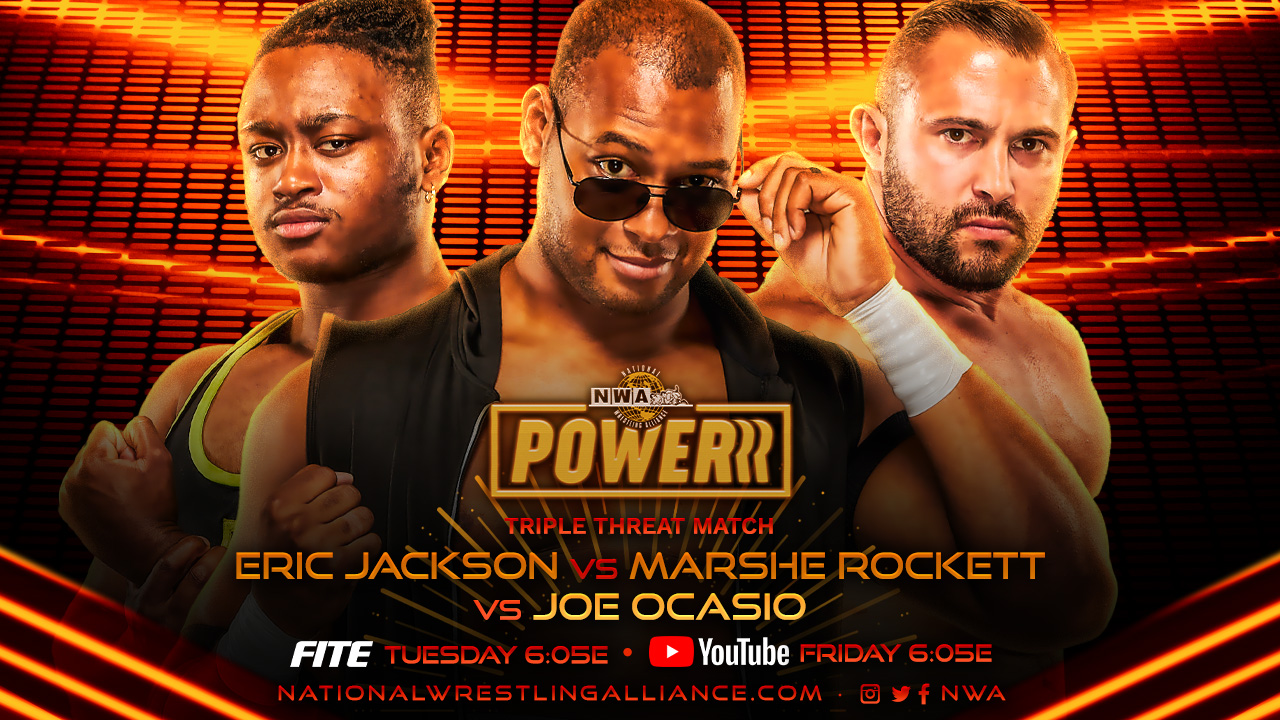 NWA Powerrr for 09/20/22
Triple Threat Match
Marshe Rockett vs. Erick Jackson vs. Joe Ocasio
Erick Jackson hits a crossbody on Joe Ocasio early on but was cut off on a suicide dive by Rockett. Jackson & Ocasio hit a double suplex on Marshe Rockett, and Jackson hit a slingblade. Ocasio countered a corner charge and hit a fireman's carry into a gutbuster for a near fall. Rockett hit a huge dropkick on Ocasio, then Rockett hit a Rockett Kick on Jackson for the win.
Winner: Marshe Rockett
We get a highlight video of NWA USA where Thrillbilly Silas getting a win over Anthony Mayweather.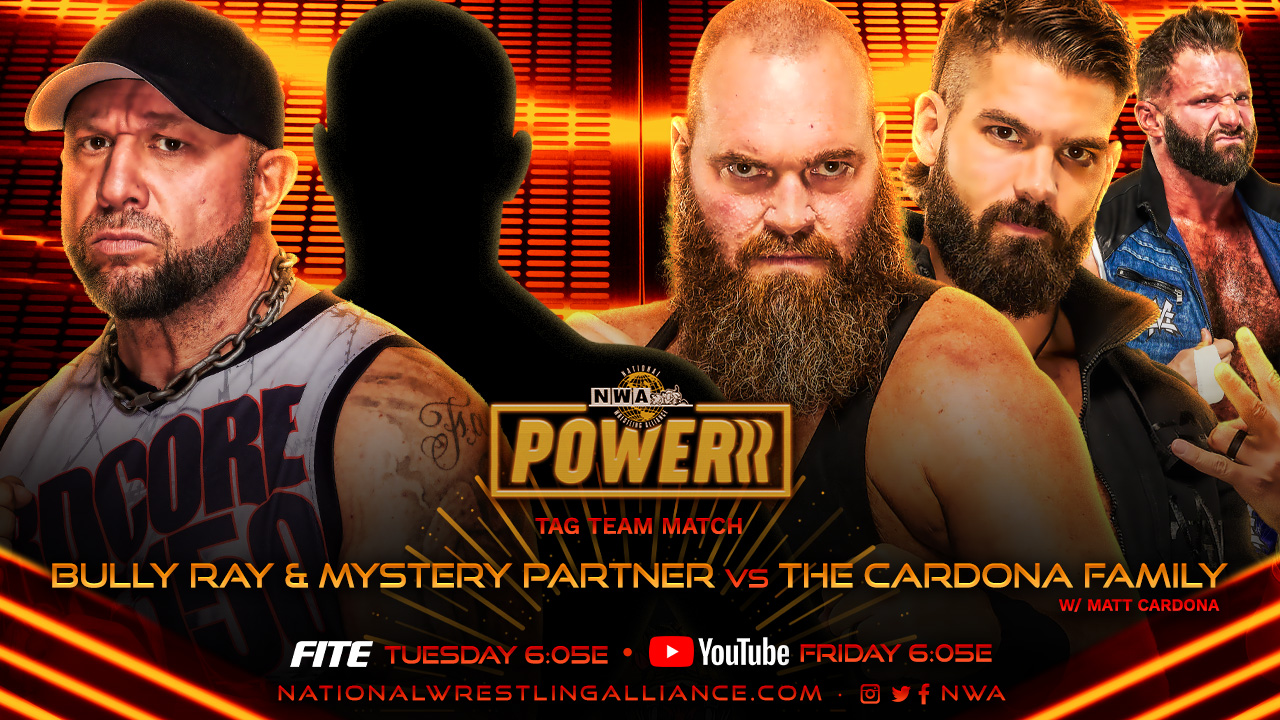 NWA Powerrr for 09/20/22
Tag Team Match
Cardona Family vs. Bully Ray & Thom Latimer 
Bully Ray appeared to have no partner and starts the match with VSK. Ray chopped him a few times then he gorilla pressed VSK off the top rope, but turned into a crossbody from Mike Knox. Matt Cardona attacked Ray behind the back of the ref.
Bully Ray gets his heat back & hits a back elbow on VSK, forcing him to tag out to Knox. Knox hit a big boot on Ray and the heat continued then out of nowhere, Thom Latimer made it to the apron and tagged in. Latimer ran wild on the Cardona Family ending with a huge pop up powerbomb on VSK for the win.
Winners: Bully Ray & Thom Latimer
NWA Hard Times 3 Card (Nov 12th)
NWA World Heavyweight Title Match
Trevor Murdoch (c) vs. Matt Cardona
Women's Title Match
Kamille (c) vs. Taya Valkyrie
National Title Match
Cyon (c) vs. Dak Draper or Chris Adonis
United States Tag Team Titles Match
The Fixers (c) vs. The Spectaculars
Please share with us what you thought of this past week's edition of NWA Powerrr in our comment section below.
*****
Stay tuned to Pro Wrestling Post for this and additional stories from the wrestling world. Readers can rely on Pro Wrestling Post as their daily source for everything inside the squared circle. As a result, readers can expect daily news, history, and much more. Also, please visit the National Wrestling Alliance's official FITE TV page here for news and information on the promotion and upcoming events and FITE TV's official website to watch the NWA for International viewers.