As first reported by Sean Ross Sapp of Fightful.com, the NWA announces its first all-women PPV. It's going to be produced by one of the most influential women in professional wrestling.
Fresh off of her release from WWE, Mickie James has announced her partnership with the NWA as a producer for the historic NWA women's pay-per-view. This would come on yesterday's edition of NWA Powerrr on FITE TV. James stated that this is something that she had wanted to do for a long time, but was "cut off at every single opportunity." Prior to her release from WWE, Mickie James worked as a commentator and producer in between in-ring competition, so it's possible that she was attempting to transition into a full-time producing role for the women of WWE. She said she hopes to get the most talented women in the world on this show, even if they're under contract with other companies. Is there a possibility that we see WWE and AEW talent competing at this show? Probably not, but never say never in professional wrestling!
NWA Announces All-Women PPV Produced By Mickie James
Is NWA Reimagining Evolution?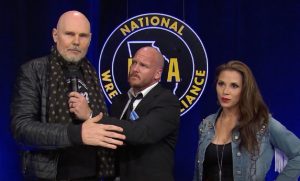 This would not be the first women's PPV in a major American wrestling promotion. On October 28, 2018, Mickie James would actually take part in WWE Evolution (World Wrestling Entertainment's only all-women pay-per-view). She has gone on record since her release to discuss how WWE turned down requests for a second all-women pay-per-view. It seems as though James has taken it upon herself to make professional wrestling history for a second time.
This pay-per-view comes as one of the two events taking place in St. Louis, Missouri, on August 28 and August 29, 2021. On August 28, an unnamed all-women pay-per-view will be held. This would be followed by the NWA 73 Anniversary Show the next night. This is certainly one of the biggest announcements to come from the National Wrestling Alliance since the COVID-19 pandemic struck and ruined the momentum this promotion was building.
It has not been confirmed if Mickie James will be in action at this unnamed women's pay-per-view, but one can only hope that James would get to enjoy the fruits of her labor. Who do you want to see appear at NWA's first women's pay-per-view?
******
Be sure to stay tuned to the Pro Wrestling Post for this and additional stories from the wrestling world. Readers can rely on Pro Wrestling Post to be their daily source for all things inside the squared circle. As a result, readers can expect daily news, history, and so much more. Please visit the National Wrestling Alliance's site here for news and information on the promotion and upcoming events pertaining to NWA programming!