Chapter 9: Poetry in Motion
As I sit here after writing a ten-page final essay about famous serial killer H. H. Holmes, I am finally able to catch a breath and reflect on the week that was. A lot of things have been going on — wrestling twitter will always find something scandalous to talk about and even the different subsects of the "territories" will create their own specific drama. There have been numerous occasions where pacific northwest wrestling social media has exploded about one person or another and the bad things they have done. This is poetry in motion.

This week was no different, but that's not the thing I want to talk about here. I try to keep this blog (and my online experience, in general) more on the lighter side as it is better for my mental health. If you came here seeking my "hot take" on the latest talk of the town — you will be sorely disappointed. I will discuss my experience as it relates to the theme of today's chapter, and that will be all.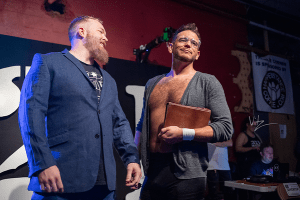 Whew, that got a little too heavy for my tastes. Anyways, as I was saying: I am just now, at this very moment, having the opportunity to reflect on this past weekend. It was a bit on the busier side, especially compared to what I have gotten used to recently. I had been going through what some may call "a bit of a drought" for a while, for whatever reason.
Poetry in Motion
Like, I would still get the random booking here and there but nothing was really catching on to steadily bring Nick Radford and/or The Academy in on a regular basis. Remember that The Academy is still a relatively new institution, and before that, I had to go through a bit of a transformation; from coffee-obsessed hipster to embracing my education and passion for soft sciences and above all literature. During those transitionary times, fewer people looked to book me and I didn't really seek out new places to work, because nobody (including myself) knew who I really was.
This weekend was a good example of how things have started picking up for myself and The Academy as a whole. I was booked to wrestle on shows every day of the weekend; Friday, Saturday, and Sunday as opposed to the one (or zero) bookings per weekend I had become accustomed to. On Friday night, the Academy was set to wrestle Four Minutes of Heat at 321 Battle in Seattle, Saturday was a singles against Jack Stevens with Thom Alman in my corner that took place down in Tacoma, and Sunday was a lovely afternoon show for WCWC against someone new (yet strangely familiar) in Jay Cafe.
Writing One of My Famous Poems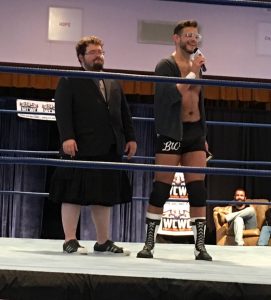 I took it upon myself to write one of my famous poems for each of the shows and the specific matches I was scheduled to have on each. I was excited and intimidated at the prospect of writing so many poems in such a short period of time, but I suppose I can only blame myself since I wrote myself into this corner by making poetry my "thing".
To accomplish writing three different poems about three different characters in three different scenarios on top of writing that paper I mentioned earlier, I took a step back and reevaluated my writing process and how I format my poetry, in motion. I determined that perhaps I had gotten too wrapped up in setting the scene, building the world, and really painting a whole picture in poems, which had caused them to become a bit long-winded and much more of a daunting task.
Maybe I didn't *need* all the exposition to set the scene, maybe I could just jump right into the action a bit, and maybe I could allow the reader to reach their own conclusions about the stories I was presenting them. I almost felt like, though I still enjoy my more recent poems, they had lost a little bit of the magic that the first few had. I especially felt that way after revisiting my debut poem and seeing the simplicity of it.
Something I've been doing in wrestling recently is trying to branch out (a tiny bit at a time because I'm a shy, timid cat who is afraid of his own shadow). But I've begun attending different pieces of training to try and learn different styles and hear different philosophies about wrestling. 321 Battle has welcomed me to their trainings a few times in recent months and it allowed me to try things I wouldn't normally try and push myself in different ways than I'm used to being pushed and I find it beneficial to my craft.
I was scared to branch out like this and I was scared to limit my poetry and make it more interpretive. I worried that if I left things too open-ended that it wouldn't make sense or the points wouldn't land and therefore people would think my poetry was bad, in motion. But art is interpretive and can be tweaked and played with to figure out what works and what doesn't. Play around with your art and try something new. As I've stated before, there are so many different flavors of ice cream and the excitement is in the mix and match. Not everyone will like the specific flavor combo that you might come up with but all that matters at the end of the day is that you're proud of the sundae you came up with with this poetry in motion.
Upcoming Dates:
Social Media: